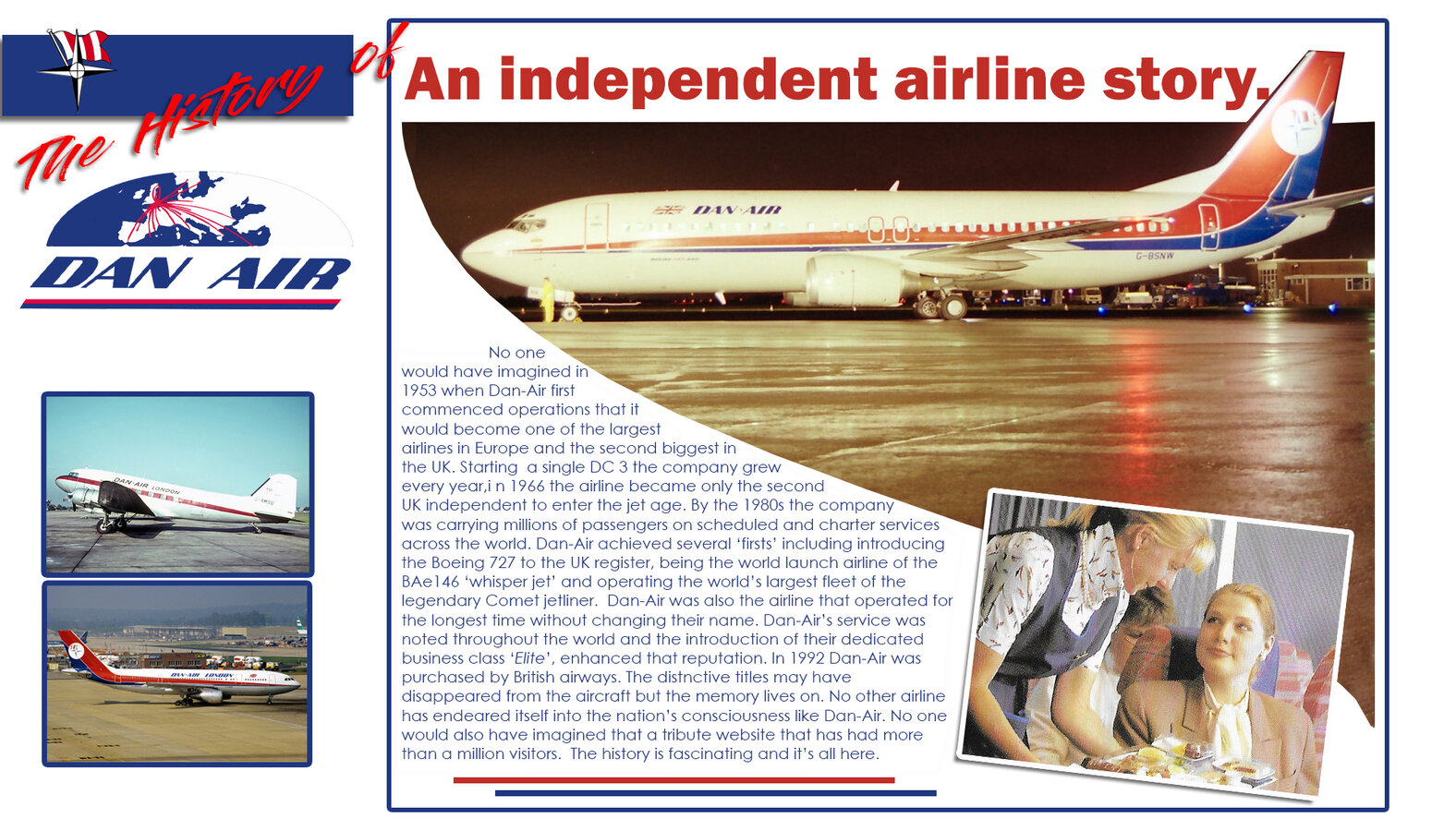 Dan-Air - Dan-Air Services Limited, to give it its correct name, was a UK airline initially based in Southend Airport. The company commenced operations with a single DC3 aircraft. Davies and Newman, a 1922 established firm of ship brokers had acquired the aircraft as payment of an outstanding debt from one of its customers, Meridith Air Transport. Fred Newman, the chairman of the company, had no intention of entering the aviation scene and was unsure what to do with the aircraft. Once a decision to start an airline was made, Davies and Newman started Dan-Air Services Ltd with a capacity of just £5,000.

Dan-Air's first commercial service – an ad hoc charter flight from Southend via Manchester to Shannon – took off in June 1953. Operations initially continued from Meredith's base at Southend Airport. Meredith managed Dan-Air's operations for the first six months of operations.
The aircraft, G-AMSU was next contracted for six months to fly into Berlin's Templehoff Airport. Crews were recruited from Meredith, including the chief pilot F.R Garside. Newman used his contacts to urge fllight crews and cabin staff. Davies and Newman's own administration team were given jobs at Southend and in a very short time the airline was flying both passengers and cargo from the airport. Two further DC3s were purchased over the next two years. Both of them, and the original G-AMSU had previously seen service with the RAF. Dakotas were relatively cheap in price in post world war two years as they were surplus in number. The Southend base proved not to be sufficient for the new airline that had proved successful very quickly, so within two years, a new home was found. The new base at Blackbushe Airport would be the company home for the next five years.
In case you are wondering where the name Dan-Air came from - The parent company was called Davies And Newman Air Services Ltd. Those titles were painted on the first aircraft. People did initially believe the airline was Denmark based and to emphasise the Britishness of the company Air Services Ltd was replaced quickly with the word 'London'.

Pictures: R.A Scholefiled, Dave Parsons
By the time Dan-Air had relocated to Blackbushe the three DC3s were joined by an Avro York which was put to work on cargo flights. Within the first year at the new base, three more Yorks joined the fleet. Blackbushe had much better passenger facilities than Southend and a good runway. Before long however, that runway beame a major issue. The runway itself crossed a major highway. With a four strong fleet operating many services this was a problem.
Drivers had become accustomed to having to wait before crossing the road to allow a Dakota or Avro York to taxi past. There was virtually no chance of an independent airline being allowed to operate from Heathrow and Gatwick was still under construction. This meant, that for the meantime, at least, Dan-Air would have to stay at Blackbushe.
Meanwhile, Dan-Air located an engineering base at Lasham, Hampshire. Lasham was equipped with hanger space, runway and workshops. The former RAF base woud become home to the three Yorks that Dan-Air had purchased. As well as maintaining Dan-Air's ever growing fleet, the engineering division took on engineering contracts from other operators.
The DC3 aircraft had maximum seating for 36 passengers andy were suited for carrying lighter cargo loads and passengers to northern European airports. The DC3s, or 'Dakotas' as the type was known as, in the UK, found themselves flying to further afield airports as the airline grew. Dan-Air quickly needed an aircraft with a larger payload. The 55 seat Avro York joined the fleet. The York could fly a great deal further with a much higher payload. Dan-Air had quickly developed a reputation as an airline with a 'can do' attitude. Several new carriers came and went in the 1950s, Dan-Air however, looked certain to be around for a long time.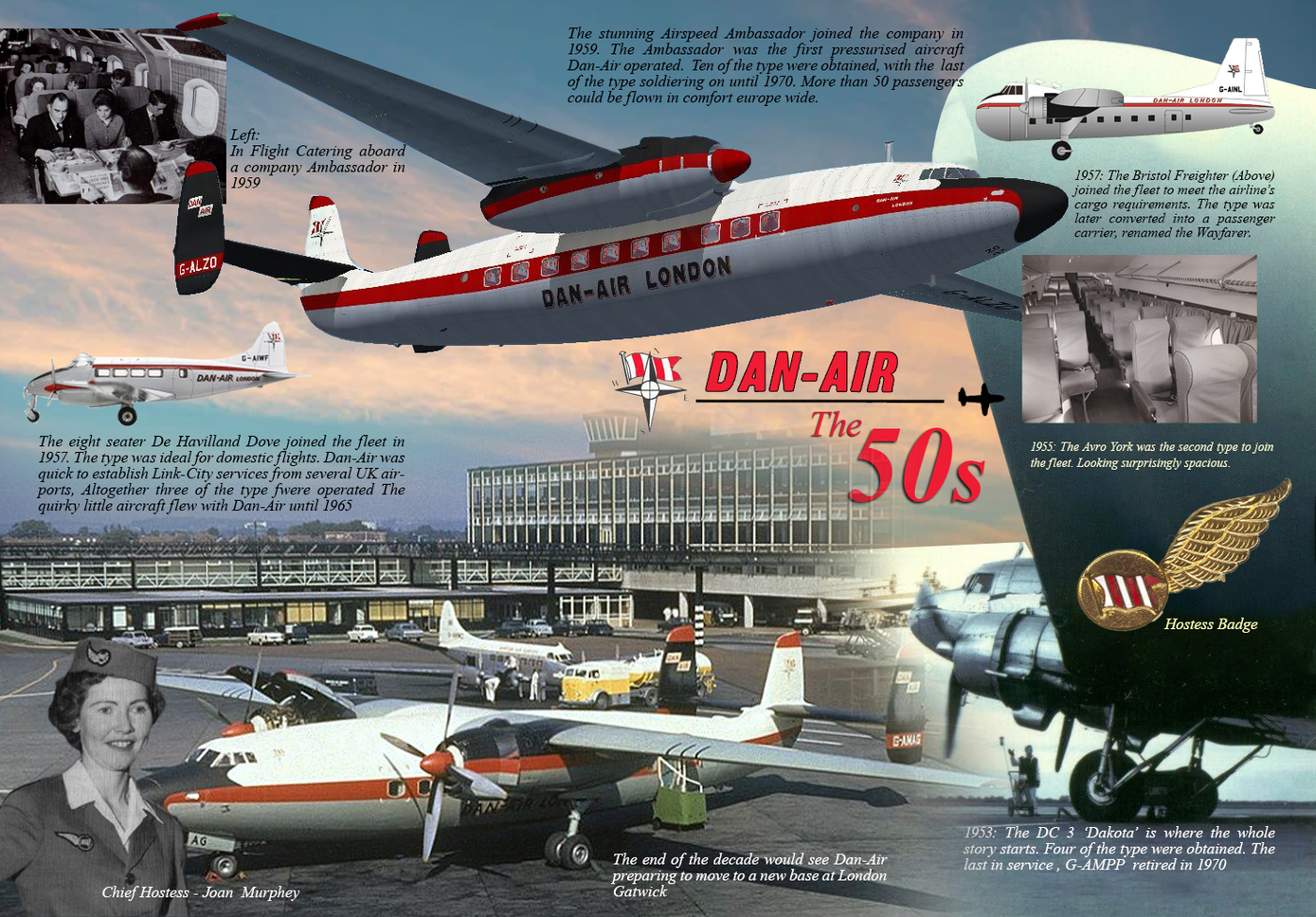 The inclusive tour business was in its infancy in the 1950s, however, Dan-Air aircraft were regularly chartered to fly passengers to European sun spots. Horizon Holidays, in particular, chartered Dan-Air arcraft to fly to Sardinia, Spain and France. The Yorks could offer a level of comfort that the Dakota couldn't match including hot ovens for in flight catering. In 1957 The company purchased its first all cargo aircraft, The Bristol Freighter. Whilst the type could never be described as 'pretty' it proved to be an effective work horse for the carrier, and flew all corners of the world. One notable charter carried out by the Bristol Freighter was to fly the 'Black Knight' rocket from the UK to Woomera, Australia. The Bristol was the only British aircraft capable of carrying the secret, experimental rocket. Dan-Air successfully carried the rocket via a convoluted route to avoiced suspision of the highly sensitive device. The Dakotas flew charter flights on behalf of Fregata tours to Biaritz, Ostend, Paris, Perpignan and Pisa. In 1958 after five years of operation two of the airline's aircraft were involved in accidents. The first saw a company Avro York slide off the runway at Malta, fortunately there was no loss of life., Thankfully all five crew members were uninjured. Just five days later another of the type was lost after suffering an engine fire. The aircraft was forced to land a Guragaon, India. Four crew members died in the crash with only one survivor. A happier occasion saw Dan-Air awarded a contract to operate British European's Heathrow - Glasgow route for the next two years. A Dan-Air Dakota commenced the service in May 1959. Such was the demand for charter services that Dan-Air converted one of its Bristol Freighter aircraft into a passenger configuration. The renamed 'Bristol Wayfarer' carried 44 passengers on charter flights to Europe. The aircraft had not been designed for passengers and sound proofing was a major issue. Piston aircraft, by nature of their design do rattle. Passengers and crew were quick to nick name the aircraft 'The Bristol Frightener'. Manchester flights were operated to several cities including Palma, Nice, Basle and Zurich.
Dan-Air had been quick in attaining commercial success, the IT charters increased each year. More and more passengers were taking overseas trips and Dan-Air was at the forefront of the blossoming industry. Government rules strictly regulated charter flights with Air Transport Licencing Board (ATLB) not being in favour of regular charter flights on behalf of tour operators. The two state run airlines British European Airways (BEA) and British Overseas Airways Corporation (BOAC) also baulked at the notion that charter flights carrying passengers might take some of their business away.
It was not only people wishing to leave the UK on holiday that travelled on Dan-Air. In 1956 amid a situation in Hungary, Dan-Air was asked to airlift 350 refugees to from Hungary Austria. The airline successfully carried out the mission.
The professional manner that the company showed impressed everyone. No one more so than the British Government who requested that Dan-Air start providing troop flights for the Air Ministry. This would initially see stores carried to Singapore. These flights were later supplemented when the company carried service personel. This provided work for these aircraft for several years. With all this additional work, the fleet needed to be expanded, and so a further two Yorks joined the fleet.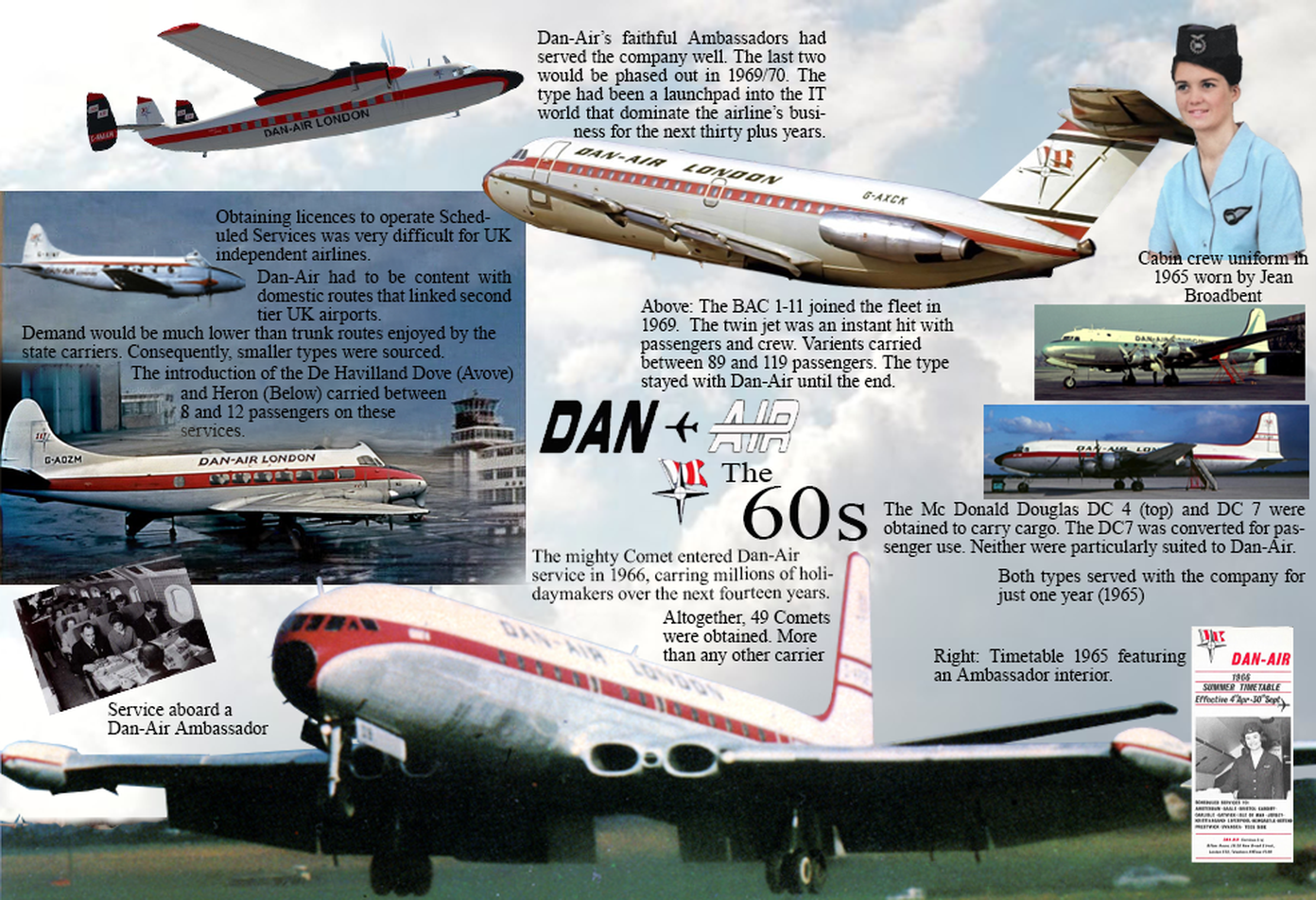 The situation at Blackbushe was nearing breaking point. The runway problem affected several carriers and protests were made by many airlines. In a shock move, t
he Air Ministry decided to close the airport, leaving Dan-Air homeless. The seach was on to find an alternative base, the sooner the better. Gatwick Airport had been a small airport that had been closed down for redevelopment. It would open in 1958 as London's second airport.
The authorities in the UK insisted that UK airlines wishing to operate from London would only be permitted to do so from Gatwick, and this would suit Dan-Air. The airport is 26 miles from the centre of London and was closer to Brighton than Buckingham Palace. However, the upgrade of the terminal facilities would include a direct rail link from terminal to the centre of London. Dan-Air set up their new home in 1960. By now a new chief pilot, Arthur Larkman, had been recruited. The facilities at the new airport were first class. With piers for aircraft parking meaning passengers were able to walk practically to the aircraft steps. Dan-Air realised it would need new aircraft to continue with its expansion, this came in the form of three Airspeed Ambassadors that were purchased from the Australian airline Butler Air Transport. The company had been formed by Arthur Butler who had seen his airline grow into a flourishing company. Legal wrangles and boardroom arguments saw his company eventually swallowed when Ansett Airlines bought out Australian National Airways, thereby obtaining a large chunk of Butler. Butler himself was offerered managinng directorship, but walked away from the company. The Ambassadors were put on the market and quickly purchased by Dan-Air. This was a major opportunity for the airline as the aircraft were relatively new and for the first time Dan-Air had obtained pressurised aircraft. BEA also operated the type, named 'Elizabethan Class'. The Ambasssador was a beautiful aircraft. If could fly faster, higher and further than the other aircraft in the current fleet. It could carry 55 passengers in relative luxury. Hot food could be served on flights that could reach as far as Malta without a refuelling stop.

Bristol Airport had been converted to a civil airport in 1959. The established Welsh airline Cambrian was a major airline at the airport, when it ceased operations that year, the airport operated with just one service a week. The local council contacted Dan-Air with a view to them establishing a network from the city to connect it to the whole of the UK. Dan-Air were up for the challenge. After seven years in the industry they felt sufficiently experienced. After rejecting a couple of aircraft, Dan-Air settled on the De Havilland Dove to carry out the new services. The eight seat aircraft would be used on flights to Liverpool and the Isle of Man. In a short period Dan-Air's West Country network flourished with Liverpool, Bristol, Cardiff and Plymouth soon being added to the network. A small maintenance facility was also established at the airport. Dan-Air proved so popular at the airport that Newcastle was added to the newly christened' LinkCity' network in 1960.
Dan-Air's arrival at Gatwick in 1960 heralded the beginning of a major expansion into the IT charter market. The year saw Dan-Air's first charter programme from Manchester. Horizon Holidays being the first tour operators to contract the airline's aircraft. To supplement the 'Link City' network an additional Dove was acquired as was a larger De Havilland Heron. The Heron was capable of carrying 14 passengers. The Bristol Wayfarer was replaced on the Heathrow-Glasgow service by Avro Yorks. As the airline grew further Airspeed Ambassador aircraft were added to the fleet. By 1963 the fleet had grown to three
DC-3, two Avro York, three Bristol Freighter, One DH Heron, two DH Dove and Six Ambassador. In just ten years the airline had grown from a single aircraft to a fleet of eleven aircraft.
Scheduled Services had grown slowly. It was not easy to gain licences in the fiercly protectionist environment of the early 1960s. Dan-Air had started a Gatwick-Jersey service in 1960. This had previously operated from Blackbushe and the licencing authorites had permitted the airline to transfer the service to Gatwick. Further domestic routes slowly joined the network over the next couple of years, before the first international service to Basle which would operate from Bristol via Cardiff. More trooping contracts followed, thus giving the aircraft a steady income. IT charters took up the majority of flights with The Netherlands, Belgium, Germany, Spain and France all being regular destinations for Dan-Air aircraft.
The Scottish airport at Prestwick was a springboard for Dan-Air when a scheduled service to the Isle of Man commenced in 1961 whilst Liverpool - Newcaslte - Dundee started in July. This was later extended to Perth. In Summer the Perth-Newcastle-Gatwick joined the network.


A second international service was added when the company launched Liverpool-Rotterdam, followed by a third route from Gatwick-Ostend. Bournemouth became anoither of the 'LinkCity' airports. An further international connection was added when the Bristol - Bournemouth - Basle service commenced. It came as no surprise that passenger numbers had risen to more than 115,000 by 1963 with 35,000 of the passengers had flown of scheduled services. The Ambassadors had lived up to their name for Dan-Air and by 1963 the company were operating six of the type. The 'Amby' was a frequent visitor to Gatwick and Manchester where it carried IT passengers to destinations including Barcelona, Madrid, Munice, Palma, Nice, Zagred, Tarbes, Munich and Milan. IT work usually means an aircraft will be full - Load factors at this time on charter flights were 90% with scheduled services having load factors of 50%.
The York aircraft was reaching the end of its viable service life and Dan-Air would need to look for a replacement type soon. By now they
were primarily carrying race horses.
No one could accuse Dan-Air of not trying to diversify. Day charters were also included in their roster. The company would offer relatively cheap hire rates to charterers. If a factory social club with several hundred members could find 36 people to travel then the cost of the flight would be fairly affordable. For less than £7 per person a DC3 could be chartered to operate a day return to Jersey. Provided a demerrage was paid in case passengers failed to show, then the day trip could go ahead. Many of these flights were subsequently operated. Flights to the Netherlands to see the bulb fields followed in their wake . These charters proved very popular, more so than the Tees Side - Chester - Cardiff service that was scrapped after only 27 days! This was sad story as the airline had high hopes for the route, providing a Dakota to operate it. However a Cardiff - Bristol - Amsterdam route was started as a replacement. When airlines applied for a route they would often find it was objected to. For example, Liverpool - Dublin; a rival airline currently flying from Manchester-Dublin could well oppose the application, claiming that the north west was already served! Not only that, but the UK Government sought, at all times, to protect its own interests by giving the best routes to the state owned British European and BOAC. The two flag carriers were not interested in regional airports as much as Heathrow. Nevertheless they would usually oppese the independents applications.
In 1965 a Dakota was retired and two DC4 propliners were added to the fleet. The DC4s primarily carried cargo, sometimes, however, they would fly passengers on the Isle of Man services if loads had increased. This happened during the TT races. The DC5 would also serve on long haul charters. Later in the year they were returned to their lessor to be replaced by a DC7. The aircraft was a vast improvement on the capacity of the York. It could carry twice the load over a distance of 2,800 miles. It was also faster, flying at 300mph. The aircraft was beset with technical problems and was nicknamed 'Torrey Canyon' by engineers because of its tendency to leak oil!

The mid 1960s saw Dan-Air engaged in all manner of operations. Very little was happening on the scheduled service network with just Liverpool - Amsterdam added as a new service. The airline had continued to grow its charter services, although no makor expansion would really be possible without the introduction of a new type. The problems all independents faced when acquring new aircraft were many. For a start, brand new aircraft were out of the price bracket of the independents. BEA and BOAC had the luxury of Government money. Second hand aircraft were the only option. There lay the net problem for airlines like Dan-Air. BEA and BOAC had many newer aircraft - mostly manufactured in the UK. The available UK aircraft for sale were practically obsolete. To obtain US built aircraft was easier. They were produced in much higher numbers. The problem was - they carried a high import tariff. The Government leaned on UK carriers to purchase British built airliners. Several UK independents had purchased Bristol Britannias
aircraft configured to seat 100 people.
These magnificent propliners had been available as BOAC had introduced jet liners on their international routes. When BEA replaced piston engined Ambssadors with turboprop Viscounts on their European services Dan-Air was able to take advantage by purchasing these relatively new airliners, despite their obvious short comings.
As much as Dan-Air diversified its sphere of interests the company
had reached a point where it had to either expand, be taken over or close down. The solution came in 1966 when BOAC decided to operate the Boeing 707 which was much larger and more efficient than the Comets currently in service.
In a hush hush move Dan-Air had taken delivery of two De Havilland Comet jets that were flown to Lasham. The jets had not yet been purchased. The Comets sat at Lasham for six months before Dan-Air and BOAC signed the sale contract. The aircraft had been previously part of BOAC's intercontinental network. They had been fitted with 79 seats. Dan-Air's requirements for entry into their own operation would need major modifications. The first requirement was to increase the seating capacity to 99. This would involve strengthening the floor. The galleys would be made smaller, as well as several minor other alterations. The Comet was massively overpowered, so the exta payload would not be a problem. The Comets were by no means old, but the improvements the 707 offered meant that BOAC had to obtain them. The Boeings would be delivered over a period of time and therefore the Comets would be replaced in a one 707 in and one Comet out basis.
Dan-Air would purchase the Comets with very few flying hours on them, at a relatively low price. As well as purchasing the Comets, Dan-air had managed to negotiate a deal to include spares, crew training and even a simulator. In 1966 Dan-Air became only the second UK independent to operate pure jet aircraft. In a heartbeat, Dan-Air had leap frogged Monarch Airlines, British Eagle, Lloyd International and Britannia Airways who didn't have a jet order.
The clamour of would be charter customers was instantaneous. Clarkson's Holidays had time chartered one of the Comets. This meant that the entire aircraft would be used for the whole of the upcoming season. Other operators were quick to snap up any available capacity. 1966 would see the entire Dan-Air charter fleet fully utilised.
In the first year from May-October 1966 the Comet carried over 45,000 passengers. The schedules services were also boosted with
Tees-side-Chester - Cardiff added, closely followed by Cardiff - Bristol - Amsterdam and Gatwick - Newcastle - Kristiansand in Norway. Dan-Air knew oil workers would fly the Norwegian route thus paced an Ambassador on the service. The sixties may have seen the liberalisation of many things, but air travel was not one of them. The Labour government in office from 64-70 continued to protect the state owned airlines. BEA operated from Heathrow to every capital city in Europe as well most major cities. In addition also BEA flew direct from Manchester to several capitals. BOAC had licences from Heathrow to almost all Capital cities outside Europe. When Dan-Air applied to operate from Liverpool to Amsterdam, BEA objected as they flew there from Manchester!
The latter part of the decade saw a Carlisle-Isle of Man service introduced. The Ambassador fleet was boosted by two models reaching a peak of eight in '66. As further Comets were introduced, the Ambassadors were phased out to just three of the type in 1969. The Dove and Heron aircraft were disposed of as was the DC7. The success of the Comet meant that Dan-Air had quality interantional business and did not need to be scurrying for work in Chester and Middleton!
Dan-Air had great faith in the Comet, putting them to use on not only the blossoming Mediterranen routes but also to further afield cities in the Caribbean and United States. Such was the versitility of the jet. It was capable of very long ranges with lighter loads. Surprisingly the Comet also adapted very well to high utilisation on the Med' services. The sole Bristol Freighter still found a place as a faithful workhorse as the airline entered the 1970s. The last DC3 still remained, but Dan-Air knew its suitability was fast coming to an end and a replacement would need to be found. In 1969 an unexpected stroke of luck came when two BAC 1-11 200 series jets appeared on the market when American Airlines put them up for sale. The aircraft were only two years old when Dan-Air bought them. They carried 76 seats and would be ideal for Dan-Air's operation. Being Britjsh built the 1-11s wouldn't incur heavy tax tariffs coming into the UK either. Caledonian and Laker would also operate the 1-11. The former having been more or less forced to do so by the Government. Caledonian had wanted the 737. Eyebrows had been raised when BOAC ordered the Boeing 707, after the carrier had taken delivery of British VC10 jets, hich had been built to BOAC's specifications. Shortly afterwards BOAC then ordered the 707 - opting not to order any more VC10s, which were pretty much useless to most airlines other than BOAC.
1969 was also the year that the airline took over the Gatwick-Newquay service that had been relinquished by British Eagle. The decision to place a Dakota on the service was a bad move. British Eagle had used Vickers Viscounts and BAC 1-11s. Naturally customer satisfaction was low and the service was dropped within a year. Despite this minor set back more than half a million passengers had flown with Dan-Air that year. A little under 30,000 of them were scheduled service passengers.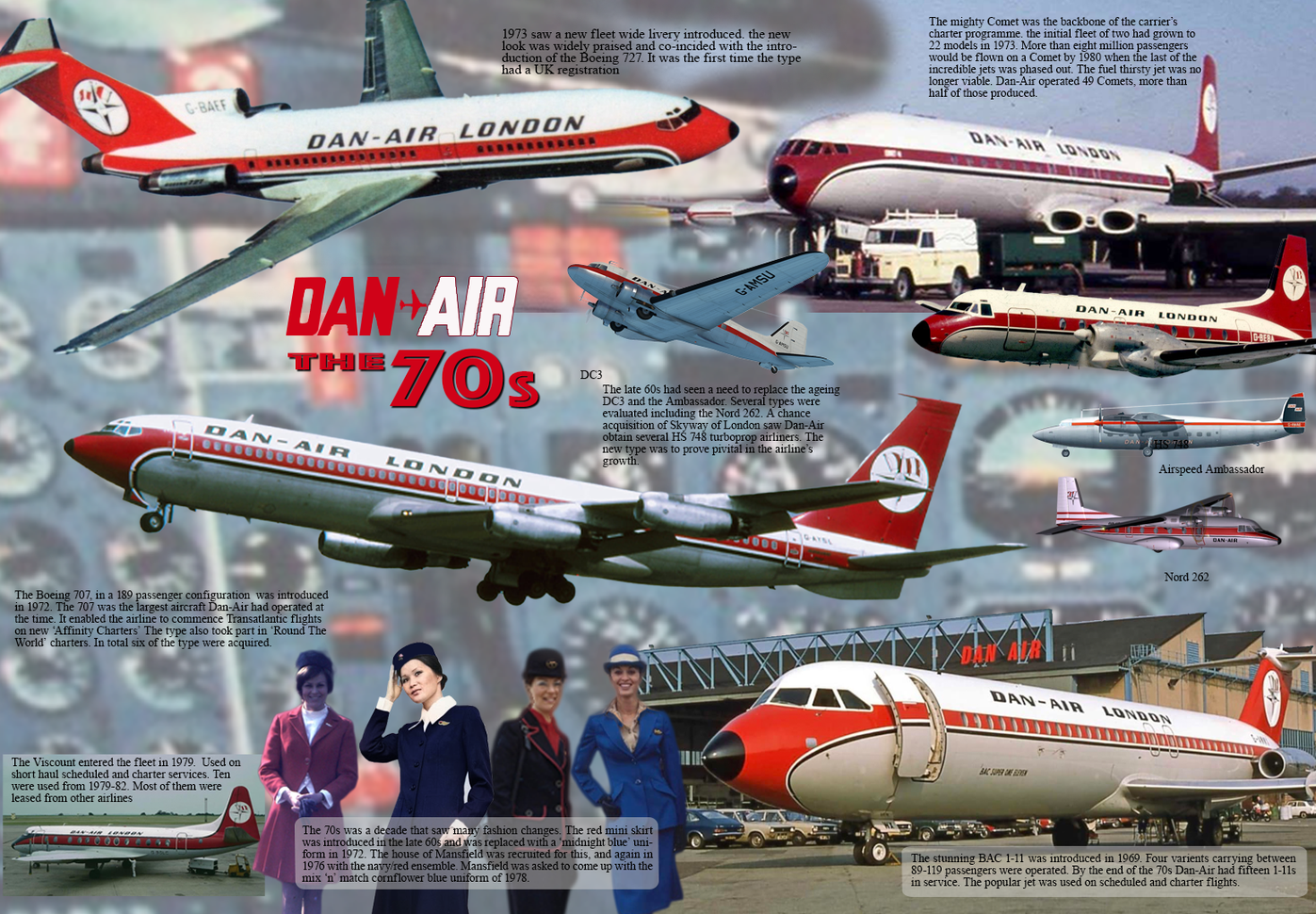 Dan-Air entered the 1970s with confidence. The fleet had continued to expand and looked good in their new red and black colour scheme. The stewardess uniform had risen to new heights too with mini skirts the designed by the house of Mansfield. The first year of the seventies saw the introduction of a new dining concept which would change in flight catering forever; 'Sky Diners' The new style of catering would see pre packed meals in specially designed cardboard boxes, lined with foil. The steel cutlery was replaced with plastic, cups and trays were made of a lightweight resin. The weight savings would mean that £20,000 could be saved over the year with a million passengers carried. It would also mean that items would not have to washed. This would improve hygiene standards too. Introduced in June, the meals initially were cold. Britannia Airways were hot on the heels of Dan-Air and followed with hot fayre. Dan-Air introduced hot food on Comet charters later in the year. Twenty one aircraft now flew in Dan-Air colours. The BAC 1-11 fleet was doubled to four and twelve Comets were in service. The single Dakota and Brostol Freighter would see just one more year in service. By the end of 1970 just one Ambassador remained. The other two 'Ambys' had been scrapped. Sadly one of the Comet aircraft was lost in June when it crashed into a mountain in Spain. Fault could be laid with poor communication with AirTraffic Controllers, 112 people lost their lives. More Comets joined the fleet, including the 4C which could be reconfigured to seat up to 119 passengers. BOAC had used a four abreast seating layout and Dan-Air opted for five. Over twenty rows this made a considerable increase in seating capacity. Surprisingly it was not too much of a discomfort for passengers. The BEA layout was over generous and Dan-Air's seating was in line with other charter operators.
As the Ambassador and Dakota reached the end of their viable service life other aircraft needed to be evaluated as a replacement. The Handley Page Jetstream was tested as was the Nord 262, The Brittan Norman Islander, The Twin Otter and The Beech 99. The Nord 262 was selected.
The BAC 1-11 was popular with passengers and crew. Dan-Air Engineering had increased the seating from 76 to 89 by altering the galley and moving the toilet from the front to that back of the aircraft. Two of the 1-11s were chartered to Everyman and Lunn Poly for their 1969 season. This was extended the following year, with additional flights departing from Luton and Manchester. The new flights would mean the establishing of permanent bases as the two regional airports. This would include not only flight deck and cabn crew, but engineers, and office staff. The Comets and 1-11s worked flat out, not only from Gatwick and Manchester, but from other regional airports. Aircraft would fly to these on positioning flights before carrying out flights and returning to their home base. The space at Luton was limited, but Dan-Air managed to establish quite a presence. In the peak months of summer more than 60 flights a week left Luton on the Lunn Poly contract alone. That amounted to eight flights a day! Manchester saw ten charter flights a day in addition to the scheduled services that the airline operated. Almost 100,000 passengers flew by Dan-Air in 1970 alone. These flights were served by two Comets that were based there. BAC 1-11 were ferried to Manchester for additional weekend flights. Manchester had always featured heavily in Dan-Air's business. With a permanent base established with ground and cabin crew, flight deck crew and office staff the airport was in a good position to handle further expansion. Later years would see the bond with Dan-Air and Manchester get stronger when the engineering division opened a major engineering base on the airside of Ringway. This base would be responsible for the BAC 1-11 and soon to be introduced Hawker Siddeley 748.
The first Nord 262 was introduced into the fleet in 1970 with a second example joining the following year. Dan-Air was awarded licences to fly Affinity Group Charters, also called Advance Booking Charters (ABC). This allowed people to bypass expensive scheulded services to the United States. Rules stated that passengers had to all be members of the same 'affinity' group. This would often be abused by travel agents who booked passengers as members of bird watching groups or ancestoral link groups - almost every imaginable group was used. Membership would be back-dated to permit travel. At one point, airports employed staff to check the vlidity of travellers. Several airlines were penalised. At the start of these operations Dan-Air used Comets on the flights. It would soon become apparent that they were too small. Dan-Air executives flew out to America for talks with both Boeing and McDonnel Douglas. Both the DC8 and the Boeing 707 were considered. In the end Dan-Air selected the Boeing 707. In true Dan-Air tradition, brand new aircraft were rejected in favour of available Pan Am models that had recently become available. The 707s were sixteen years old when they joined the fleet. Dan-Air Engineering made the necessary modifications to suit their new style of operation. The main change was to increase the seating capacity to 189. The jet was by far the largest that the airline had used. Although the main use of the 707 was transatlantic flights they also found themselves flying to European sunspots at busy times. Jetsave chartered the aircraft from several UK airports including Birmingham, Prestwick and Newcastle as well as Gatwick and Manchester. Clarksons Holidays chartered Dan-Air Comets for the season and the surviving Ambassador flew day trips flights to places such as Amsterdam as well as Jersey services.
In 1971 a small independent airline called Skyways was about to go into liquidation when Dan-Air stepped in to buy it. Along with a couple of routes the airline bought its fleet of Hawker Siddeley 748 aircraft. This attractive 48 seat propliner was ideal for Dan-Air. The 748 performed better than the Nord 262 and was quickly introduced onto its West Country network. Along with the aircraft obtained by the takeover of Skyways came several routes. Skyways flew from Ashford in Kent and Dan-Air was able to transfer those routes into Gatwick. Thus,, Montpellier and Clermont Ferrant, a new route opened in 1971 - that of Gatwick - Berne.

Dan-Air's parent, Davies and Newman Holdings, became a publicly listed security when it was floated on the London Stock Exchange in late 1971. The group was capitalised at £5 million at its stock market debut. This provided the funds to expand its charter business, build a network of regional scheduled services between secondary airports across Europe (with particular emphasis on the United Kingdom and Ireland), enter the transatlantic affinity group/ABC market and establish itself as leading fixed wing operator of oil industry support flights.
Hambros Bank floated the new Davies and Newman Holdings Limited by an initial public offering in October 1971, when the offer was of 1,133,000 ordinary shares of 25p each in the new company, priced at 130 pence per share, payable in full on application. Although the airline itself wasn't floated on the stock market, Davies and Newman was. Several companies formed the group. Inculding
Dan-Air, Dan-Air Engineering, Dan-Air Flying Services, Dan-Air Intercontinental, and Davies and Newman Travel. The company also owned Gatwick Handling, jointly with Laker Airways. This new venture was highly successful and went on to be the largest handling agent at Gatwick. The company went on to expand at Manchester with Manchester Handling.
In 1972, Dan-Air co-founded Gatwick Handling, a Gatwick-based handling agent, with Laker Airways. Each owned 50% at its inception.
By the mid-1970s, Dan-Air had become the second biggest resident operator at Gatwick after British Caledonian. From then on, it operated the largest of the UK independent airlines' fleets as well as Britain's largest charter fleet. Operating a large fleet comprising aircraft of various sizes gave the airline unrivalled flexibility among European charter carriers to meet the requirements of different tour operators. In the UK, Dan-Air was second only to British Airways in fleet size. For most of this period,
Also under the control of the company were Airways Leasing Co and Romantic Trading Ltd, both of which were leasing companies and D &C Chauffeur Car Ltd. Dan-Air Bonded stores was formed in the mid 1960s. It worked alongside Intercontinental Air Caterers. What had started out as a small bonded area went on to be a much bigger company based at Charlewood. The impressive warehouse in Crawley amounted to 5,000 square foot premises. For those who are unfamiliar with bonded stores, put simply, it is a warehouse for the storage of duty free goods such as cigarettes, spirits and perfumes. Having an in house bonded store was good for business. The sealed trolleys could leave the warehouse destined for Dan-Air flights. The catering operation saved on paying other companies to provide Dan-Air's passengers with meals. The airline could therefore devise its own menus. Scheduled services had to provide superior catering to charter flights. Several charter companies at the time wished their passengers to be catered for with hot food. Others did not. Often passengers were not aware of this and could be critical of an airline who only provided sandwiches or biscuits. It would transpire that on charter flights where more than one tour operator had chartered only part of the flight, all passengers were provided with the same meal, at the airline's expense. For no other reason than good public relations.
Bonded stores were later opened at Bristol and Tees Side.
Gatwick Handling had come about as a result of the boss of an existing agent, Airbourne Aviation leaving to form his own company - Gatwick Handling. The company went backrupt rather suddenly. Dan-Air realised that it needed extra capacity for check in desks and ground handling facilities, it therefore sought approval from the British Airports Authority to take over the company. Gatwick Handling was a large company with a great deal of surplus product. Rather than close it, Dan-Air sought a partner. Caledonian was the favoured airline. Before contracts were signed Caledonian pulled out and instead purchased another airline. Laker Airways had just been formed and naturally wanted ground handling facilites. The two airlines ran Gatwick Handling for a decade before Laker itself went bankrupt. Laker's 50% share was bought in 1982 by Delta and Northwest Orient who would have one director each on the company board.
Despite difficult ecconomic conditions 1972 was the busiest in the airline's history to date, with 1,741,000 passengers carried. The nineteen strong fleet rose to twenty to the following year. Dan-Air were late onto the ABC charter market, but still managed to fully utilise the Boeing 707 fleet that now stood at to models. A further 1-11 was purchased and the HS 748 fleet now numbered six. The Nord 262 was returned having not fully met the requirements that the 748 had.

In April a Bournemouth - Birmingham - Liverpool/Manchester - Newcastle service started followed by a

Luton-Leeds-Glasgow service. Leisure routes were far easier to establish that business services and so in May

Swansea-Jersey and Newcastle Carlisle-Jersey services were added to the network. June saw the introduction of

Gatwick-Beme service followed in July with

Bournemouth-Guernsey/Jersey. In 1971 the Conservative government headed by Edward Heath made a surprisingly unconservative decision. His Transport Minister, John Peyton oversaw the merger of the two state owned airlines, BEA and BOAC. This made two large airlines into a mega carrier with over 200 aircraft. The airline had even parked on the charter carrier's lawns by starting its own charter airline BEA Airtours (Later British Airtours) This newly formed airline operated a network that was second to none worldwide, BA
had a fleet that the state paid for and any wages paid also came from the Chancellor's pot. Irrespective of how unprofitable BA was, it was certain to survive. This made it all the more difficult for independents to grow and thrive. When the smaller carriers applied for a route British Airways would object saying competition was bad for them.
Dan-Air had made the choice to obtain Comets from wherever they could. There had been less than 80 Comet 4 types built. Dan-Air possessed 49 of them. A fuel crisis in 1972 caused chaos in the aviation world. No other industry has such small profit margins, and fuel is by far the biggest expense to them. Fuel prices rocketed that year. Dan-Air's Comets were particularly fuel thirsty. The low cost of purchasing them in the first place meant that the balance was in favour of using them. However, the airline knew that they could not continue into the next decade, despite their relatively low flyinng hours. Spare parts were getting harder to obtain and so a new aircraft type would have to be found.
Initially Dan-Air looked at the Boeing 737. Another UK airline, Britannia had been operating them successfully over the last four years. Dan-Air were interesting in having them in a 140 seat configuration. Britannia had a 130 seat layout. For its style of operation Dan-Air looked around further and found three Boeing 727 100 jets on the market which it purchased from Japan Airlines. The first arrived in 1973. The trijet was, as the time, the most popular jet in the world. Dan-Air was the fiirst airline in the country to introduce the type to the UK register. Several adjustments had to be carried out for the aircraft to be ready for the busy operation the would soon be part of. Dan-Air wanted the layout to be increased to 151 seats. This had never been done to the aircraft before. Boeing's Seattle factory carried out the conversion and installed extra emergency doors at the rear of the aircraft. The instruments would have to be changed from metric to imperial and an anti stall system needed to be installed. This was a costly operation but the aircraft became the backbone of Dan-Air in a very short time. Jetsave had chartered Dan-Air's 707 fleet for transatlantic flights from Gatwick, Manchester and Prestwick. This contract was for £1.7 million, soon ABC charters began to Hong Kong. As the fuel crisis rumbled on Dan-Air were fortunate to have the Lasham base. It meant that aircraft that were not needed could be parked free of charge. Much greater emphasis was placed on the new Boeing 727. In
March of 1972 Tees-side was added to the 'Link City' network followed in
April by the Tees-side-Amsterdam service. The company wasted no time when in May it commenced
Ashford (Lympne)-Jersey services.
In March 1973 a new base was opened in West Berlin at the Tegal airport. German tour operators wanted to charter Dan-Air aircraft for their busy summer programme. This would be the beginning of a flourishing partnership that would last for twenty years. It would mean that aircraft would be permanently based at Berlin. Local cabin and groud crew would be recruited.

The prolonged fuel crisis the year before had seen Dan-Air reduce its Comet fleet for the first time. Although fourteen of them remainned. The airline purchased as many available models as they could mainly for spares. Some of the purchased aircraft never saw airline service. It was rumoured that one was purchased for just £6,000. It was not uncommon to see aircraft from Sudan Air, Egyptair, Aerolineas Argentina and Middle East Airlines being cannibalised at Lasham. A further two Boeing 727s were obtained and the HS 748 fleet was increased to seven with five BAC 1-11s. Between them they flew more than 2,193,000 passengers. The first time the airline had passed the two million mark. It carried more passengers than any other UK airline except British Airways. A single Hawker Siddeley 748 was based in Aberdeen to carry oil support workers to Shetland and Orkney. They could then catch helicopters to their rigs. Scheduled services continued to grow with small improvements, in April the

Newcastle-lsle of Man weekend service started and the Cardiff-Bristol-Amsterdam service re-started using HS748 after several years suspension and a t

wice daily Gatwick-Newcastle schedule commenced using Comets the first time Dan-Air had used jets as part of their scheduled services network. In

October - A Leeds/Bradford-Bournemouth service was started. The Leeds-Luton service was discontinued due to poor load factors.

Dan Air relocated its cross-Channel services from Lympne to Lydd.
In 1974 rival airline 'Court Line' went bust. The airline had been solvent. Clarksons - the tour operator - had been on the verge of going bankrupt when Court Line stepped in to rescue it. It would appear that they had over stretched themselves and Court Line's collapse was dramatic. Thousands of passengers were stranded abroad and tens of thousands of people had holiday bookings that were now not going to happen. Dan-Air was one of the many airlines who provided rescue flights. The newly elected Labour Government and their Transport Secretary, Tony Benn did little to help. It did mean however that Dan-Air were able to capitalise by grabbing spare charter work and they were in a position to purchase four of Court Line BAC 1-11 fleet, plus one from Air Zambia. They also bought seat covers from Court Line by the thousand that were seen in Dan-Air aircraft for many years. Clarksons had been one of Dan-Air's largest customers, luckily the spare capacity was snapped up by other operators with Intasun and Global expanding.
In 1974, Dan-Air began replacing the 748 with Comets and One-Elevens on its seasonal, scheduled services between Gatwick, Clermont-Ferrand and Montpellier, as well as on its year-round Luton–Leeds–Glasgow schedule, the first time the airline had used jets on scheduled services. The turboprop capacity that had been released enabled re-introduction of scheduled services between Bristol, Cardiff and Amsterdam, as well as the launch of direct scheduled services between Newcastle and the Isle of Man. During April that year, Dan-Air launched a year-round, same-day-return Gatwick- Newcastle jet schedule, the airline's first UK mainland domestic feeder route from Gatwick. This twice-daily service, promoted with British Caledonian, initially utilised Comet 4Bs. From November 1974, BAC One-Eleven 300/400s replaced Comets on one of the rotations.In May 1974, Dan-Air launched a twice-daily Gatwick–Ostend service using HS 748 aircraft, in conjunction with Sabena. One of the two daily round-trips was operated under Sabena flight numbers.
Further airworthy Comets were obtained and in 1975 the figure stood at 19 x Comet. More Bac 1-11 were purchased and thirteen of them were flying a mix of scheduled and charter flights. The aircraft had been stretched from its first version through the 200/300/400 series to the latest 500 version. The latter had seating for 119 passengers. The one drawback was that it lacked ovens it its galley. The airline was able to navigate this by providing hot meals cooked on site and kept in specially designed vacuum ovens that would keep meals hot. The Viscount saw Dan-Air colours for the first time. The type was used mainly on Channel Island work as it carried more passengers than the 748. Dan-Air Carried over 2.5 million passengers that year in a fleet that was unrivalled in terms of size and diversity. It could cater for any requirements a would be charterer might need. Nine 748s with 44 seats, the two Viscount with 55, The 1-11 with between 89 and 119 seats, The Comet with up to 119, the Boeing 727, which now amounted to five, carried up to 151 people through to the Boeing 707 with 189 seats. Neckermann and Reisen, the German tour operator chartered Dan-Air aircraft to fly to the Canary Islands. They required that Dan-Air have less high density models. These 727 did not have the additional emergency exits at the rear. Extra fuel tanks for installed allowing the aircraft to fly none stop from Berlin to the Canaries. Amsterdam had not proved to be a popular destination for Dan-Air from Liverpool and it was dropped, despite utilising a Comet aircraft with flight times of less than an hour.
In 1975, Dan-Air commenced a year-round scheduled service between Newcastle and Bergen, as well as two new, seasonal scheduled routes linking the Isle of Man with Aberdeen and Gatwick. The latter was the first non-stop scheduled air service between Gatwick and the Isle of Man. 1975 was also the year the airline converted its seasonal Gatwick–Bern scheduled service into a year-round operation. During that year, the company extended its seasonal scheduled service between Gatwick and Clermont - Ferrand to Perpignan, and introduced One-Eleven jets on its seasonal, Gatwick – Jersey schedule. 1975 furthermore saw the acquisition of two former Zambia Airways One-Eleven 200s, the first time the firm had acquired jets to be exclusively operated on scheduled services. One aircraft was based at Gatwick, the other at Newcastle. Moreover, 1975 was the year Manchester became the sole stop in the Northwest on the Link City Network.
The Boeing 707 was not really a suitable aircraft for Dan-Air. The ABC charters had been successful in that they were busy. The 707 was a fuel thirsty beast and some of the models were prone to technical difficulties. One in particular G-AYSL call sign - Sierra Lima - was known to crews as 'Sick Lil' as she often broke down down route. Another - Tango Golf - was called 'Tree Grazer' as it required exceptionally long runways to get airbourne. One of the 707 crashed in Lusaka in 1977 whilst operating with IAS Cargo. Five people lost their lives. The crash was a result of metal fatigue and further tests showed similar damage in the type all over the world. Dan-Air had been unlucky. The 707 was fast reaching the end of its commercial life. Boeing 707 aircraft were put to use on certain European charters as well as their long haul work. Dan-Air anticipated that they would withdraw from the ABC market at the end of their ten year contract.
Almost three million passengers flew with Dan-Air in 1976. Several of them on a newly acquire Boeing 727. The number of these had risen to six, With 14 BAC 1-11 working alongside them. So successful had the oil support work become that more HS 748 aircraft were purchased to carry out the work. Now eleven of them flew domestic services as well as the oil charters. Eighteen Comets carried on gallantly. The Viscounts had been disposed of and the 707 fleet stood at four. The year started with considerable expansion with

a year-round scheduled service between Newcastle and Stavanger.

January saw the introduction of the Bristol-Cardiff - Leeds - Glasgow 748 aircraft. In

April a Boumemouth - Dinard and

Carlisle-Jersey service commenced, whilst in

May the Newcastle - Stavanger service started. Just the following month

Gatwick - Perpignan and Kristiansand service got off the ground. Dan-Air opened up a second engineering base, this time at Manchester. The new base would service the HS 748 and BAC 1-11 fleets. The Ministry of Defence granted Dan-Air a contract for troop flights to Gibraltar, and the airline welcomed passengers on their first series of charter flights to Tel Aviv. A five hour flight operated by Boeing 727 aircraft.

A new uniform was introduced in 1976. Once more the House of Mansfield was selected as designer. The fashion house
had established excellent relations with the company and presented Dan-Air with a brown uniform that was rejected in favou of a cornflower blue one. The now familiar bowler hat was widely admired. The 1978 uniform was named 'Mix n match' Crew could choose whether to wear the dress, adorned with a print of the airline's compass and flag logo, skirt and blouse or trousers. Accessories included blue or cream tank tops, scarf and gloves. Two overcoat was presented in beige. As much as the uniform had praise heaped upon it, staff complained upon washing the blouse that the logo ran and stained the dress. The bowler hat was often the victim to strong winds at UK airports. It regularly landed in oily puddles and when wet was almost impossible to put back into shape.
The year 1977 was to be a pivotal one in Dan-Air's history. The airline passed the three million passengers mark for the first time. They not only passed it, the smashed all records for any British airline other than the state owned flag carrier. In total 3.591,000 people flew with the airline on a mixture of charter and scheduled services. The Comet was to see three more years service and still seventeen of them were operated. Their successor, the Boeing 727 numbered eight. The aircraft were difficult to obtain second hand as they were very popular. Six Boeing 707 worked on freight and ABC charters. Some scheduled services were now being operated on one of fourteen BAC 1-11. The oil support charters had grown to such a level that no other UK airline operated as many flights as Dan-Air. For the first time the airline tried an Irish Republic service which would operate from Bristol/Cardiff to Cork. In response to the flourishing EEC Dan-Air introduced a Gawtick-Strasburg flight using BAC 1-11 aircraft. The 'Link City' network introduced an East Midland / Birmingham and Isle of Man service. It was announced that Dan-Air felt that some of their 'Link City' routes would never make a profit. Whilst some were breaking even and some were profitable, therefore they would need to evaluate the viability of some routes.
Dan-Air's silver jubilee was in 1978 and the had plenty to celebrate. Dan-Air had become the UK largest independent airline in terms of practically everything. Fleet size, passengers carried, and number of flights.Including

the launch of a scheduled service linking Gatwick with Bergen.

The fleet comprised of 56 aircraft at the end of summer 1978. The Comet fleet was reduced to thirteen and the 748 fleet expanded to nineteen. This was to enable it to cope with the demands of the oil support charter flights. At Christmas upwards of 5000 oil workers had to be ferried from The Shetlands and Orkneys back to the mainland. They were ferried back in the new year. It was a huge task and Dan-Air's scottish division was universally praised for its skill. The 1-11 fleet numbered fourteen. Eight Boeing 727 carried out the majority of charter flights, whilst the 707 had just two years to complete its contractual work.

April saw the Gatwick - Jersey route commence and Maythe

Bournemouth-Isle of Man and Jersey-Cork begin operating. Dan-Air had a feather in its cap when

China's Vice-Premier Wang Chen chartered a BAC 1-11 for his tour of the UK.
In November 1979, Dan-Air replaced British Airways as scheduled carrier between Gatwick and Aberdeen, a feeder route for the oil industry. 1979 also saw the launch of a Gatwick–Toulouse scheduled service. In an effort to phase out the Comet two further BAC 1-11 aircraft were purchased in 1979 making fifteen in total. The HS748 fleet swelled to 21. Two Vickers Viscount joined the fleet on lease and the Boeing 727 fleet stayed at eight. The airline announced that it had carried a record 3,548 passengers. The Comet 4b was the first to retire with just seven Comet 4C remaining. One 4B was donated to the Science Museum. There had been plans to keep one upon retiring at Lasham. In
April - Dan-Air and Intra Airways made each other joint licensees on Carlisle, Swansea and Staverton to Jersey/Guernsey routes, to be able to use each other's aircraft. and a
Bristol/Cardiff-Guernsey route started. Further expansion came in
May when the Newcastle-Birmingham-Isle of Man and the
Gatwick - Dijon routes commenced operations. Sadly another aircraft was lost along with fifteen passengers and two crew who died in the afternoon on 31st July when HS 748
G-BEKF crashed on take-off from Sumburgh in the Shetlands. Twenty nine of the 44 passengers and the air stewardess survived. The Stewardess later decorated for bravery in swimming in the sea to rescue passengers. British Airways had long been losing money on its Highlands and Islands services. Locals had petitioned officials to removed the licences on some routes. Dan-Air took over the Gatwick-Aberdeen route from BA. In
December French ties with Dan-Air were strengthened when the Gatwick-Toulouse route started.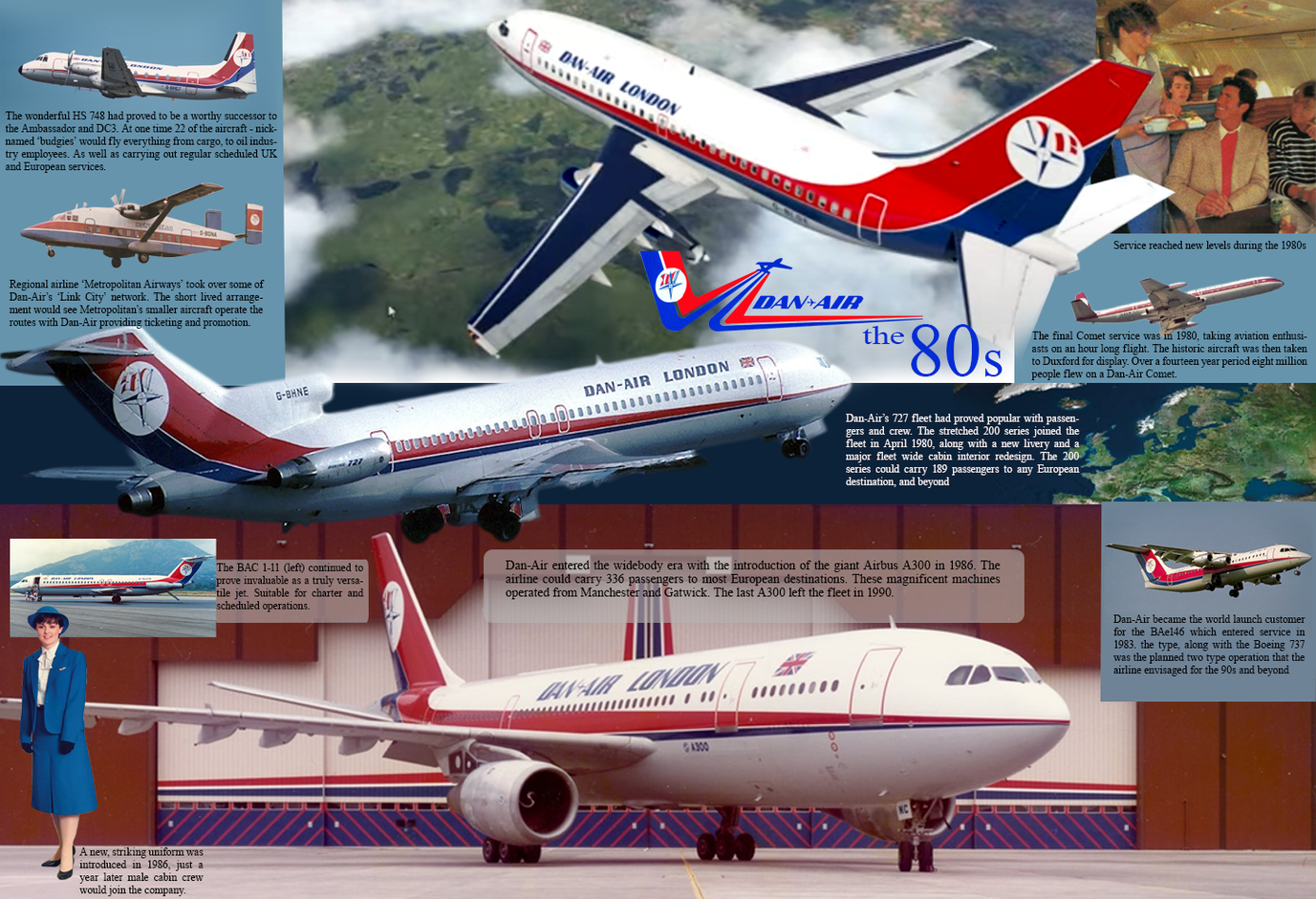 Dan-Air marked the 1980 with a corporate makeover. The first stage entailed a new fleet-wide livery. One Boeing 727–100, and its first Boeing 737 were first to appear in the new livery. The second stage gave the fleet widebody look interiors as each aircraft underwent maintenance. The final stage changed stationery, ticket wallets, timetable covers, airport signs and baggage tags as well as its logo in advertisements and public relations campaigns.

Dan-Air had become Gatwick's second-largest slot holder, accounting for 16% of slots.

In April 1980, Dan-Air took over British Airways's loss-making regional services from Bristol, Cardiff and Newcastle to Belfast and Dublin, as well as from Bristol and Cardiff to Jersey, Guernsey and Paris Charles de Gaulle, and from Leeds/Bradford to Guernsey. Slightly fewer passenger were carried in 1980. Two new airlines had launched in the last two years. Air Europe and Orion. Both airlines had the backing of their respective tour operators in Intasun and Horizon. Both these companies had been major Dan-Air customers. It was logical to them to use their own airline where possible. With two aircraft seating 130 passengers an airlinne could fly more than half a million passengers a year. Air Europe had started up with two aircraft in 1978 and the fleet had doubled by 1980. At the start of the year Dan-Air had four Comet 4C aircraft. The last of these was retired in November when G-BDIW took 119 aviation enthusiasts on a one hour flight. If one looks at the interior of the Comet you will see how primitive it was compared to aircraft even in 1980. The Comet had no flight deck door instead curtains flapped! The Comet had no overhead lockers, instead a hat rack was in place that could not take a lot of weight. Even the windows were without blinds - relying on pull to curtains. It may have had a special place in aviation enthusiasts' hearts but in modern aviation it had become a bit of a joke. Vastly overpowered with four engines, the aircraft used as much fuel with 119 passengers as a DC10 with 345 passengers. Despite releatively low flying hours - the aircraft had to go. Tragedy struck in April when a company Boeing 727 100 crashed into a mountain in Tenerife. In total 146 souls were taken in the accident whih has been discussed many times. The uneventful flight suddenly went horribly wrong when a series of moves were given from air traffic control that took the aircraft to high ground. Before the crew could avert the situation it was too late. The accident was a terrible blow. Dan-Air had found two Boeing 727 200 advanced for sale and quickly introduced the type to the fleet. They seated 189 passengers, the same as the Boeing 707 which had now left the fleet. The new livery was striking and gave the airline a much needed confidence boost. The cabin refit was said to have cost £1 million per aircraft. An additional BAC 1-11 purchased brought the total for fifteen, eight of which were the largest 500 series with 119 seats. Twenty HS748 continued working on domestic flights and oil support work. They would also fly on lower density international services. In the late 1970s Alan Snudden and Martin O'Regan, both directors on the Dan-Air board, had tried in van to get Fred Newman to purchase the brand new Boeing 737 200 advanced. His reluctance had infuriated them so much that they left the company and found backing from Harry Goodman and his International Leisure Group - the parent company of Intasun. They purchased the Boeing 737 200 advanced and started Air Europe. As well as poaching several key members of Dan-Air flight deck and cabin crew. Cabin crew training was carried out by ex Dan-Air stewardess trainers. It was easy to see what lured people away from Dan-Air in 1978. The prospect of flying in a brand new - straight from the factory Boeing 737 or staying put to fly on twenty year old Comets. Snudden and O'Regan had emphasised to Newman that by purchasing the 737 200 advanced that they would, in an instant leap from their biggest rival, Britannia Airways. Britannia flew the 737 200 and the new advanced version outperformed the standard 200 by huge margins. Thus Dan-Air could offer would be charterers far better rates or the same rates with increased profits for the airline. It is impossible to say whether the two would have stayed at Dan-Air had Newman yielded to their request. The formation of Air Europe might not have happened so quickly had he done so. Two Viscounts rejoined the fleet for a brief spell in 1980. The aircraft was an excellent, albeit, old aircraft that had served in the fleet of many British airlines, most notably British Midlland who used them extensively on their scheduled services. It was not as ecconomical to run as a BAC 1-11 nor did it carry as many passengers but it was useful on some of the Channel Island routes in busy periods, carrying 55-65 people. The Viscount never had the enduring appeal of some other aircraft that appeared in the Dan-Air fleet. A total of ten were purchased or leased at one time or another. The first year of the new decade saw

3,510,000 passengers fly by Dan-Air. Far more than any of its competitors.
1981 saw Dan-Air launch a scheduled route linking Gatwick with Cork, its first scheduled service from Gatwick to Ireland, as well as a new, seasonal scheduled service linking Newcastle with Jersey and a new, year-round combined Gatwick– Newcastle–Aberdeen weekend schedule. During that year, the airline inaugurated scheduled services between Berlin and Amsterdam Schiphol, the company's first scheduled route from Berlin as well as its first scheduled route not to touch the UK. In addition to that in November, Dan-Air withdrew its application to the CAA to take over British Airways's Highland and Islands scheduled operation.
Seventeen BAC 1-11 were in service in 1981 and one Viscount was retained. There was a further reduction in the number of passengers carried to 3,226,000 still more than any of its competitors. But the other airlines had began to bite into Dan-Air's business. By now the Boeing 727 had been increased to eleven, four of them the 200 advanced series. Thomas Cook had long been a major Dan-Air client, they were able to succeed where Alan Snudden and Martin O'Regan had failed. They told Fred Newman that unless new 737 aircraft were available, that they woud use other carriers. The move shocked Neman into action and 737s were quickly added to the fleet. Although these initial models were, unsurprisingly, second hand!
The Two Boeing 737 that joined the fleet matched those of contemporary airlines in the UK. 21 HS 748 continued apace with their oil support charters and domestic flights. The
Cardiff/Bristol-Paris service was closed in January due to low load factors. In
April the - Gatwick-Cork service started.
In May Boeing 727, BAC 1-11 and HS748 charters were operated into Shetland for the official opening of the Sullom Voe Oil Terminal. and just two months later two routes were added to the network, Aberdeen-Newcastle and Newcastle-Jersey. As if Dan-Air had not had enough bad luck, on the evening of June 26th company HS 758 748 G-ASPL crashed at Nailstone Leicestershire whilst engaged on a mail flight from Gatwick to East Midlands Airport, with the loss of both pilots and the loadmaster. Initial fears of a terror linked crash were ruled out and a faulty door was found to be the fault. In August - The CAA granted a Gatwick - Dublin licence to Dan-Air.

1982 saw an increase of passengers for the first time in two years when 3,599,000 people flew by Dan-Air on a mixed fleet that included twelve Boeing 727 jets and the Beoing 737 fleet was further supplemented by two new models bringing the total to four. Nineteen BAC 1-11 and the same number of HS 748 completed the fleet.
Three company 748s were leased to British Airways (Highland Division). In March,
Metropolitan Airways, a commuter carrier, took over the 'Link City' network between Newcastle, Manchester, Birmingham, Cardiff and Bournemouth, operating under the Dan-Air banner. The same month Dan-Air Engineering drastically modified a HS 748
A specially with the addition of a large cargo door. After meeting CAA approval the aircraft was put into service. The successful Irish route was hoped to be repeated when a d
aily Gatwick - Dublin service was launched. In an attempt to boost scheduled services
reductions of 10% were on Norwegian fares and licence to operate Gatwick - Zurich granted in August. As was the n
ew direct Bristol/Cardiff -Glasgow flight started using a Metropolitan Airways Bandeirante.
28 October - The airline applied to take over the British Airways London Heathrow - Inverness route when British Airways stopped in March 1983.

As the recession began to bite and passengers for 'Link City' flights dwindled, the company contracted them to regional airlines operating smaller aircraft. 1982 saw Metropolitan Airways, a subsidiary of Alderney Air Ferries (Holdings), take over Dan-Air's Bournemouth – Cardiff / Birmingham – Manchester–Newcastle schedule.
In March 1983, Dan-Air took over British Airways's loss-making Heathrow–Inverness route. This was the first time the airline had operated a scheduled service out of Heathrow. In May 1983, the company flew the world's inaugural BAe 146 scheduled service between Gatwick and Bern, the first commercial jet service into the small airport serving the Swiss capital. The same year, the company started scheduled Gatwick – Zürich flights, the second time it had launched daily scheduled services on a European trunk route. In November 1983, Dan-Air joined Travicom, the computer reservation system (CRS) used at the time by travel agents in the UK.

A new BAC 1-11 joined the fleet in 1983 bringing the total to twenty. The Boeing 737 had proved to be an iinstant hit and the fleet double again to eight models. Eleven Boeing 727 and two brand new BAe 146 joined the airline. Dan-Air was the world's launch customer for the type. Finally eighteen HS 748 carried out their usual work. A record 3,702,000 passengers were carried. New scheduled services started including the take over of BAs London Heathrow - Inverness. The first time the airline had flown a scheduled service out of Heathrow. In
April - Gatwick - Zurich daily service started. Joining the following month were
the - Inverness Aberdeen and Gatwick services.
The 146 took over services from Gatwick to Berne and Dublin, Perpignan and Toulouse and from Newcastle to Gatwick, Bergen, Stavanger and from Leeds to Jersey. The two new BAe 146 aircraft would be based at Gatwick and Newcastle.
It was announced that

Davies & Newman PLC's turnover of £196,127,000; operating profit of £3.511,000.



January 1984 saw Dan-Air take over Touraine Air Transport's scheduled internal German operation between Berlin and Saarbrücken, the first time the airline had operated a scheduled route entirely within another country. That year also saw Dan-Air assume British Midland's scheduled route between Gatwick and Belfast International Airport as well as launch a scheduled Manchester–Zürich service. In May1984 Dan-Air began stationing an aircraft in Jersey, increasing the frequency of its scheduled service to Gatwick and converting it into a year-round operation. In addition, 1984 was the year Metropolitan took over Dan-Air's remaining Link City schedules between Bristol, Cardiff, Leeds and Glasgow. The fleet was joined by a lone Handley Page Herald. The aircraft was involved in an emergency landing and was immediately returned to British Air Ferries. A third BAe 146 joined the fleet. There was a lage surge in passenger numbers meant that 4,559,000 people were carried. More than any independent airline had ever carried in the UK. The scheduled services division was enjoying expansion too.

The airline started a Saarbrucken-West Berlin service in January.The following month it

took over the Gatwick-Belfast services from British Midland. The

twice-daily jet service was increased to three times daily and Dan-Air introduced the lowest fares on the route. In March the

Gatwick-Zurich route went twice daily and the Berne services increased to nine weekly. Manchester was boosted with the launch of the d

aily Manchester-Zurich and Inverness services. The

Gatwick-Jersey service was changed from Summer only to year round. On

16 July - Newcastle/Tees-side-Amsterdam service started. The third BAe 146 was to be used on the Bristol - Jersey service - the first time a jet had been provided.
The CAA awarded Dan-Air the licence for the London Heathrow - Manchester in competition with British Airways Super Shuttle starting and planned to start Inverness - Manchester on same date. In August a Tees-side/Newcastle-Belfast service started replacing Genair. The Link City services between Glasgow, Leeds Cardiff and Bristol were handed over to Metropolitan Airways to operate. Follwoing the success of the Boeing 737 Dan-Air ordered its first Boeing 737-300. to be delivered the next year. A new hanger was proposed and planning permission was granted. The £10m hanger would be run by Dan-Air Engineering. The year was rounded off very nicely with a series of BAe 146 Birmingham-Geneva flights for a 16 week period of ski flights.

In 1985, Dan-Air inaugurated a seasonal scheduled route linking Gatwick with Innsbruck, operated with a BAe 146. Innsbruck was the airline's first scheduled destination in Austria, which began receiving commercial jetliners on a scheduled basis for the first time. 1985 was also the year Dan-Air launched a year-round Manchester–Newcastle–Oslo scheduled route, the company's first scheduled services to the Norwegian capital.
In 1986, Dan-Air launched a year-round non-stop Manchester–Amsterdam scheduled service.
In 1987, Dan-Air began a scheduled service between Gatwick and Lisbon, its first scheduled service on a main trunk route between the UK and the Iberian peninsula. The same year, the airline joined the International Air Transport Association (IATA) as a Trade Association member.
Dan-Air added a second Heathrow route with the Heathrow - Manchester sevices commencing in competition to British Airways. Dan-Air began with five flights a day each way. It had timed its flights not to be in direct competion with BA. British Airways responded by increasing the number of flights it had on the route, with some timed to depart minutes before each Dan-Air flight. Dan-Air reduced the number of flights to three a day, then one and finally it withdrew from the route. Using Heathrow was a costly process and unless load factors were high then it is ineffective flying from the airport for the sake of it. Flights to Munich from Gatwick were resumed after a four year gap. Manchester was not ignored and routes were opened from the city to both Montpellier and Inverness and a Gatwick - Lourdes service was introduced. Dan-Air carried more than five million passengers in 1984 (5,007,000) The fleet was unchanged.
Metropolitan Airways had taken over a number of domestic routes which they operated under the 'Link City' network for Dan-Air. Metropolitan had operating agreement with Dan-Air since l982 when they provided the aircraft whist Dan-Air provided reservations and other facilities. Agreement was for this to happen for two years then Metro would take over the routes.

When Metropolitan Airways began to lose money on some its routes it turned Dan-Air for financial assistance. The aircraft had been painted in Dan-air colours and Metropolitan had made much use of this. Dan-Air refused to bail out the loss making airline and it was forced to close. The routes that Dan-Air had insisted it couldn't make money from had turned out to be a correct prophecy.
Dan-Air Entered the wide body market in 1986 when two Airbus A300 joined the fleet. These 336 seat aircraft were an instant hit with holidaymakers. They were used primarily on the popular Spanish and Canary Island flights where the high volume of passengers would be most needed. Five HS 748were sold leaving fourteen in the fleet. The oil support work had dropped significantly as newer helicopters were able to fly directly to oil rigs from the Scottish mainland. This would mean that the Gatwick- Aberdeen service was reduced to twice daily. The 1-11 fleet remained unchanged at nineteen, two Boeing 727 were sold leaving ten in the fleet. Eight Boeing 737 and three BAe 146 made up the rest of the fleet. A record breaking year in terms of passengers with 5,309,000 carried. Hopes were pinned on the Manchester to Amsterdam service when it commenced in March, this came after the airline decided to close its service to the city from Bristol after eight years. Luxor was to appear on route maps for charter passengers.
the following year one of the BAC 1-11 was sold, as were two HS 748 leaving twelve in company colours. Ten Boeing 727 and eight 737 flew company charters. Two new BAe146 joined ad 5,481,000 making this the most a UK independent had ever carried. Dan-Air had an enviable reputation for cabon service. It had always employed female only cabin crew. One rogue male applicant had been rejected along with an explanation about the female only policy. This was seized upon and the company found itself in court. A ridiculous defense that male cabin crew were homosexual and that cabin crew in general were promiscuous was submitted. Dan-Air claimed that the close working conditions in galleys might make spreading of HIV a high risk. It wished to protect its passengers and crew. The court was not impressed, and dismissed Dan-Air's arguement. It was instructed to rectify immedietely the flaw. Males were recruited and served the company well. In terms of scheduled services the company was able to commence a
Manchester-Lourdes service in April, a
Gatwick-Lisbon service in May, w
on approval for Gatwick - Toulon in Southern France and o
perated Gatwick - Perpignan during winter for first time.
Dan-Air had applied to the Civil Aviation Authority to serve Lisbon and Oporto from Manchester from 1987 and hoped to win appeal against rejection of Gatwick - Lisbon service.
It did, however, Civil Aviation Authority approval to operate London Gatwick - Santiago in Portugal and Seville subject to foreign government approval.
Following British Airways's takeover of British Caledonian in December 1987, Dan-Air's scheduled services transferred to Texas Air's SystemOne CRS.
In 1988, Dan-Air commenced scheduled services between Gatwick and Madrid. Towards the end of that year, the airline also assumed the former British Caledonian routes from Gatwick to Paris Charles de Gaulle, Manchester, Aberdeen and Nice, gaining access to some of Gatwick's most important feeder routes, as well as some of the densest and most lucrative short-haul European trunk routes.
At the start of the 1988–1989 winter timetable, Dan-Air became a two-class scheduled airline when, under the stewardship of Vic Sheppard, it introduced its Class Elite business class between Gatwick and Paris and between Gatwick and Nice on three refurbished One-Eleven 500s. Sheppard had joined Dan-Air from British Caledonian. The company were operating nineteen 1-11, the majority of which flew on scheduled services. The HS 748 fleet was down oone to eleven. There were ten of each Boeing 727 and 737, two A300 and 3 BAe 146. With an impressive fleet the airline carried 5,809,000 passengers
In 1989, Dan-Air introduced Class Elite on all scheduled flights from Gatwick to Dublin, Zürich, Lisbon, Madrid and Toulouse.
The start of the nineties saw Dan - Air introduce year-round two-class scheduled services from Gatwick to Tegel and Vienna. Gatwick – Tegel was Dan - Air's first scheduled link between its main UK base and its long-established overseas base. At the start of the 1990–1991 winter timetable, the firm replaced one of the two Berlin HS 748 turboprops with larger BAe 146 jets on Berlin – Amsterdam and introduced direct scheduled services linking Berlin with Manchester and Newcastle via Amsterdam. In addition, the company took over the Gatwick–Amsterdam feeder route from British Airways. The
£l0m hangar complex opened at Gatwick by HRH Princess Alexandra amid great fanfare. In May the
Gatwick - Madrid, Mahon and Ibiza services started. Three of the company 1-11s were refurbished with the class elite seats specifically for use on the Gatwick - Paris service. The
Gatwick - Nice and Manchester -Aberdeen services started. Followed by the
Gatwick - Manchester service. In December the airline took delivery of its first Boeing 737 400 series.

A fleet renewal was underway in 1989. The HS 748 was down to ten models. As well as not carrying out anywhere near as many oil flights as previous years. They were sometimes chartered out. The Liberal Democrat Party chartered one for the 1992 general election. They could be used on short haul routes that were low denisty. More people were flying than ever. Jet capacity was needed on most routes. One of Dan-Air's unique selling points was offering hot food on short flights. This could be achieved, as mentioned earlier, on BAC 1-11 with vacuum packed meals. The 748 had limitations in both speed and could only carry 44 passengers. One airport that had relied on 748 flights was Berne. Runway length prevented jet travel until the BAe 146 came along. Now up to 100 passengers could travel in jet comfort on the route. Four BAe146 were working on scheduled services during weekdays. Late evenings and weekends saw the aircraft join the charter fleet, flying to Mediterranean destinations. The Airbus A300 fleet had reached three, but 1989 saw the airline sell one A300 in a cost cuttnig measure. Seventeen BAC 1-11 orked on the European scheduled network. More of the 1-11 fleet was earmarked for refurbishment, giving hte aircraft a class Elite cabin. The Boeing 737 in three variants increased in size to eleven. Most of these aircraft worked alongside the twelve the twelve 727s. Several of the 737 aircraft began to operate scheduled services as demand increased. A new record of

6,276,000 passengers were carried. More than a million of them on scheduled services. In March Dan-Air i

ncreased weekly services Gatwick-Dublin from 9 to 12. The Gatwick - Cork route was dropped following poor yields. The Berne services began in December, aimed at winter sports travellers. Several chose Dan-Air as they flew the only jet the airport could handle.
17 December - Manchester-Berne 146 weekly service between l7 December and I8 March 1990 for use of winter sports visitors. 'Class Elite' introduced on Gatwick - Dublin, Toulouse, Madrid, Lisbon and Zurich services.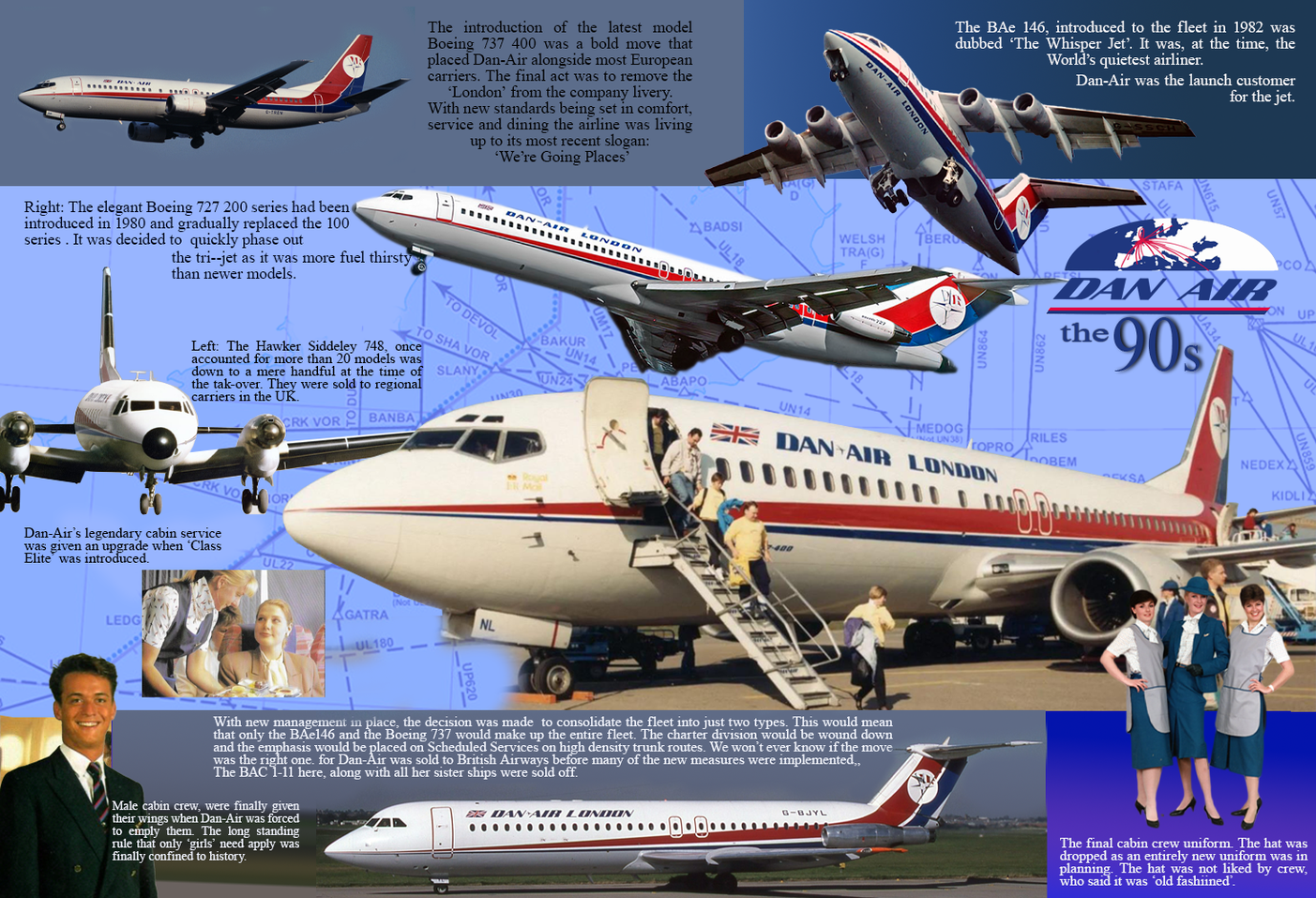 One BAC 1-11 was purchased and one HS 748 was sold as were two Boeing 727 bringing the number in the fleet to ten. This was compensated by a new Boeing 737 joining the fleet. Now twelve of these fine jets flew in compay colours. One A300 was sold and the BAe 146 was boosted by a new 300 series. Shceduled services were getting a higher profile in preperation for the deregulation of the skies in 1992. In April a new Gatwick - Berlin was commenced while the Gatwick-Dublin route was dropped. Fierce competion was blamed with both British Airways and Aer Lingus aggresively marketing and dropping fares to squeeze out any competition. In May Vienna joined the Dan-Air stable when a service from Gatwick was introduced.
David James joined Dan-Air following a disappointing set of figures. More can be found out by reading further on this page under 'causes of decline' and 'The Failure Of Air Europe and Disaster' Three of the BAC 1-11 were sold leaving fifteen in the fleet. The new board announced that they wished to consolidate the fleet on two types. The Boeing 737 and the BAe 146. The 737 now numbered sixteen. The sale of three Boeing 727 brought thier total to seven. In March arch rival Air Europe went bankrupt. Dan-Air were quick to organise applications to take over the Gatwick-Brussels service. Dan-Air were granted an emergency licence for the route. James' board recruited advisors to work on a business plan for the new services. In
November a twice daily, except Saturday, Gatwick-Oslo service started.
Dan-Air's rival's collapse also enabled it to increase frequencies and introduce larger aircraft on the busy Gatwick–Charles de Gaulle and Gatwick–Manchester routes. At the start of the 1991–1992 winter timetable, Dan-Air increased the frequency of its Gatwick–Charles de Gaulle Airport services to nine return flights per day and Gatwick–Manchester to eight daily returns. The airline replaced BAC 1-11 500s with Boeing 737s on both routes. From then on, Dan-Air carried more scheduled passengers than British Caledonian had ever carried in one year throughout its existence.
The expansion of Dan-Air's scheduled operation at Gatwick continued throughout 1992, resulting in the resumption of former Air Europe routes to Stockholm Arlanda in February and Rome Fiumicino in April. In addition, Dan-Air launched Gatwick–Athens in March and re-launched Gatwick–Barcelona in May. During that period, Dan-Air became Gatwick's largest resident, short-haul scheduled operator controlling 18% of all slots, and 21% of all morning peak time slots between 8am and 9am.
Financial issues
1989 marked a watershed – it was the first year since the era prior to the decision to introduce jets in the mid-1960s, and the only time apart from a blip in 1981–1982, when the company lost money over a whole 12-month period. The loss of £3 million was in contrast to the profit of £10 million made the year before. Like most charter-focused operators, Dan-Air used to make a loss during the winter because of the seasonal nature of its business. However, this was compensated by the profit it made during the summer, giving a modest profit for the entire financial period. The financial position deteriorated during the early 1990s. It lost £35 million in 1991, its last complete 12-month period, and £24 million during the last six months of its existence until October 1992.
Among the reasons for Dan-Air's decline was the lack of vertical integration with a UK tour operator. the company had contracts with 130 Tour Operators many of whom did not charter a full aircraft. The company claimed that this suited them, as they could offer the spare capacity to other smaller Tour Operators, who also could not justify chartering a full aircraft. Dan-Air was the last major independent provider of charter airline seats to numerous large, medium-sized and small tour companies in the UK and overseas. This was at a time when most UK Tour Operators had set up their own airlines. Thomson had started Britannia Airways early on in its history. In 1978 Air Europe was launched with many executives on the board having been former Dan-Air directors. Harry Goodman's 'Intasun Holidays' were Dan-Air's biggest contractor. Although Air Europe started with only two aircraft, its expansion caused a major dent in Dan-Air's business. Owners Abroad was another large company Dan-Air worked with. In 1987 they too launched their own airline; Air 2000. Cosmos holidays used Monarch who initially were a small airline. With backing from Cosmos, they were able to increase their fleet and utilize them with Cosmos passengers. Another major blow came when Airtours, a Manchester based Tour Operator launched its own airline - Airtours. Once again chipping away at the number of aircraft that they would charter from Dan-Air.
These companies then competed with Dan-Air for the bulk of these, and other operators' business, leading to a decline in utilisation and rates. This resulted in a decline in Dan-Air's importance as a business partner for these tour operators, reducing its status from main to marginal provider.
Air Europe even dropped Dan-Air Engineering as it's preferred engineering company. It appeared that Dan-Air was being attacked on all fronts. The privatisation of the hitherto state owned British Airways was a tremendous blow to all airlines. None more so than Dan-Air. British Airways had not only a huge network and fleet, but, when
privatised, got it all for free. A share option to the public gave BA a massive cash injection.
Another reason was that its fleet contained too many different, incompatible aircraft types. Some of these aircraft were older and less efficient than those operated by competitors such as Air Europe. Consequently, the Dan-Air fleet was costlier to operate and maintain. The Boeing 727s, which Dan-Air continued to acquire throughout the 1980s, including some on unfavourable leases, proved a financial millstone. Air Europe had made disparaging comments to the press that they would not be using Dan-Air's aircraft in future as they were 'Old, gas guzzling jets.' To some extent this was true. Newer types had been introduced in the 1980s. The Boeing 737 and BAe146 aircraft performed well and were comparable to any similar aircraft operated by rival airlines. Britannia and Air Europe had purchased newer, larger Boeing 757 and 767 aircraft. It was said by Dan-Air's last chairman David James "The Boeing 727s were a terrible burdon. They were so expenive to fly. we were flying them just to pay to keep them flying." The variety of different aircraft had, in the 1970s and 80s been a major selling point. No other airline could offer charterers availability from 44 seats, through 89-119 with 1-11s and up to 189 with Boeing 727. The aircraft fleets were managed separately, almost as airlines within airlines. By the 1980s most UK charter airlines were operating Boeing 737 200 series on all flights.
Dan-Air's decision to embark on a major expansion into scheduled services from Gatwick at a time when the UK economy was still mired in the early 1990s recession made the financial position worse. The economic conditions in the UK meant that actual revenues fell short of budget in the 1991–1995 business plan, which aimed at sustained profitability by 1995 with a £42 million profit. This meant an injection of £49 million of additional working capital into Dan-Air's parent company from a successful share issue in 1990 was insufficient to fund the airline's needs. The funds raised through new shares were insufficient to standardise Dan-Air's fleet on the Boeing 737 300/400 series and the Avro RJ115 (marketed but never built). The funds were also insufficient to finance transformation from a cheap-and-cheerful charter carrier with a motley collection of poorly performing, 'low visibility' regional scheduled routes into a top quality, 'high visibility' mainline short-haul scheduled operator plying trunk routes.
Dan-Air's last chairman, David James, said weak marketing and its charter mentality, even after the decision to make high-profile scheduled services the focus of commercial activities, was a reason it failed to achieve results. That meant that instead of making Dan-Air the airline of choice for high-yield business travellers on prime scheduled routes where it had become a major force in the wake of the demise of British Caledonian and Air Europe – such as Gatwick to Paris Charles de Gaulle – through carefully targeted marketing and publicity, Dan-Air continued selling the bulk of its scheduled inventory to consolidators and discount travel agencies, in the way it had sold its charter inventory to package tour operators. The airline saw this as risk minimisation to fill seats on scheduled services. However, Dan-Air surrendered control over its scheduled seats to third parties whose sales were volume-driven. This deprived Dan-Air of the opportunity to boost the profitability of its scheduled operation by concentrating on maximising revenues from high-yield travellers.
The Failure Of Air Europe - Major Changes And Disaster
The original board members had started to turn the airline into a predominantly scheduled services carrier as early as 1988. Its scheduled services had been increasing steadily, loss making routes were dropped in favour of high yield trunk routes. Dan-Air had capitalised on routes taken away from British Caledonian and British Airways at the time of their merger. Several Gatwick routes were up for taking and Dan-Air were awarded six of them.
Dan-Air's
'Class Elite'
was also launched in 1988. A business class cabin that meant aircraft had to be refurbished. Where aircraft had six abreast eating the centre seat would not be sold, but instead a table would be placed. On five abreast the row with three seats would also see the centre seat unsold. Arthur Larkman, a senior board member who had recently retired was not impressed with the business class name. He had reservations about the cost too. Drinks would be free, passengers would have improved in flight catering with glass ware and china crockery as standard. The use of airport lounges would also be included in the fare. More expense came in the construction of a new hanger at Gatwick for Dan-Air Engineering (DAE) costing £10million . DAE had proved to be a successful company in its own right. The new hanger would be capable of handling aircraft up to the size of a Boeing 747 400.
Many experienced board members had now retired or passed away. Newer members came in their place. Dan-Air invested heavily into a computer reservation system that was way ahead of anything that its competitors had. The 1989 results were published in 1990 and did not make good reading. Out of a turnover of £376,000,000 a loss of £3,340,000 was recorded. In a damage limitation excercise the airline sold two Airbus A300 aircraft. This off set the loss to £1,856,000. Selling the aircraft at approximately £700,000 each.
By 1990 the figure was even more alarming a record turnover of £380,745,000 was recorded. The airline had carried more passengers than ever. Had a wider network and had met challenges that the Gulf War had presented. Fuel prices had increased however to alarming prices at $90 a barrell from a pre war price of $40. The Summer months of 1990 were looking positive. However, the war began in August - the busiest month of the year. Several people cancelled their holidays and many decided against flying altogether. August was also the month that airlines made requests to banks for funding to cushion them from the Winter downturn in business. In August 1990 Dan-Air's request was turned down. It was a stunning rejection. Davies and Newman had banked with Lloyds since 1922. Dan-Air had been in profit in all but two years of its existence. At the time of the request, Dan-Air was in debt to the tune of £26,000,000 which was normal for the time of year. These debts were widely known to be secured against the group's assets, of which there were many.
In a twist of fate, Air Europe's bankers were also Lloyds, As were British Island Airways - Air Europe's debt at this time was £90,000,000. They had financed their fleet through lease arrangements and had little in the way of assets. Furthermore, all of their office space was rented. Their first action was to waste no time trying to destroy the reputation of Dan-Air.
1990 was the year Air Europe announced that they would not be chartering ANY Dan-Air aircraft or using their maintenance services. Air Europe announced an operating profit of £35 million. This was all because of an increase in the value of their aircraft, because of this they were able to refinance the aircraft several times. Air Europe had actaully placed orders for their planes before the Amercian operators had. This made their aircraft more valuable. However The 1990 Gulf War brought about a spectacular collapse.
In the negotiations that followed a further loan of £30,000,000 was indeed secured to Dan-Air, bringing the debt to a total of £56,000,000. However this loan came with a wide range of heavy conditions. Firstly the company would have to have a new Chairman. This meant that Fred Newman would have to step down. The New Chairman was to be David James. He would have the freedom to choose who he wanted on the board. He quickly recruited his own team, Dan-Air's Graham Hutchinson, and EC Hartwell would leave. Other names too would be leaving, but agreed to stay until replacements were found. David James said on BBC's 'Money Programme' that: 'I will not have, or accept the responsibiltity for a rescue, unless I also have the total authority to see the job through. If I'm going to put my reputation, and indeed, in some cases, my own financial substance on the line then I'm darn well going to have the authority to back up that responsibility'.
Fred Newman and his family on the board even gave assurances that they would not using their voting rights. James was seen on camera saying: 'Operationally Dan-Air was heading in broadly the right direction.' However he claimed that they 'didn't have a financial strategy to take it towards the future.' It was, he said: 'Essential that Dan-Air recapitalise.
As 1991 approached it and it looked like the war was almost at its conclusion. Fuel prices had begun falling and people were once again flying. The directors who had left the board were astonished to find their services were no longer required. Between them they had years of experience in running a highly successful airline. The industry is known to be particularly specialised and it is not without dangers. Margins are low and competition is fierce. To replace board members with people from none aviation sources was a great risk. People watched with interest and worry as these new board members took over. Some of the outgoing directors were not given a formal farewell party. There was to be no formal recognition of these people from senior management in the new board room. Danny Bernstein left to become Managing Director of Monarch Airlines. His great skill in the industry saw Monarch go from strength to strength and become one of the most successful UK airlines of the 1990s. Graham Hutchinson was aknowledged as a supreme airline manager, respected all over the World. How could anyone take such a risk in removing these two people? Only three people on the new board had a background in aviation. Michael Newman, John Mayes and Peter Sommers. The new Davies and Newman Chairman himself, David James was well known in the business world. He had earned the moniker 'The Company Doctor' Banks the World over had recruited him to save ailing business. He was an accountant by profession and had been trained by Lloyds. James had saved companies from going under in the past, none of them however, were airlines. How could he be expected to know about this kind of industry? Others to come with James were Peter Ryan a chartered engineer and Charles Whyte, an engineer.
On the board would be Roger Payton, Sir Ian Pedder and David Herbert. Herbert was a solicitor and had been deputy chairman of Dan-Air for six years. He would lose that role and instead be responsible for legal affairs, pensions and insurance. Sir Ian Peddar who had prior to the changes been Chairman and Director of Dan-Air Services would be removed from that role and given the role of overseeing operational and engineering apects on behalf of the Dan-Air board. It was an extraordinary move. A newcomer to the board would be Roger Payton who came from the collapsed Barings Bank. John Mayes was promoted to 'Director - Airline Services'. Dan-Air's new Chairman would be Peter Ryan. Fred Newman, the man who was respected throughout the aviation world bowed out and issued a statement. He was a man known to shun away from courting publicity. He was graceful in handing power over to James and his team. Newman must have been devastated at what was happening around him. He was widely known to have been a major force in shaping the airline. Not a soft touch by any means, but a kind hearted, decent and honourable man. By 1991 nine of the senior directors of the company had been removed.
The next move surprised everyone in the aviation world. On January 11th 1991 it was announced that a Danish engineering company called FLS Aerospace had bought Dan-Air Engineering for £27,500,000. It was an astonishing decision. Lasham Airfield had been leased by Dan-Air since 1954. It had several hangers and state-of-the-art testing equipment, ground equipment and spares. There was a second large base at Manchester with similar equipment. The newly built hanger space at Gatwick had cost more than £10 million and was able to handle the very largest of aircraft. Any debts DAE had would be almost all wiped out and all creditors would be paid. The deal had secured, for three years, the maintenance of Dan-Air's fleet. This was with a guaranteed payment of £15 million annually. In November 1990 a valuation of Dan-Air's spares in stock was carried out - The figure - £30,000,000. The sale had caused alarm in that this had seemed to happen in the blink of an eye. James announced that this was a "
Happy Occasion, where both parties achieve something of major benefit
" He claimed that the sale would open the way for the new Davies and Newman board to concentrate on the development in future strategy. Was the new board actually saying that a profitable airline engineering company that gave priority to its own aircraft, had worked with the airline since 1954, serviced the aircraft of thirty other airlines was a hinderance to the airline? That somehow it was too difficult to manage? That it didn't
want
to have this company running side by side with it? In any case. The 1,600 employees would have to wait to hear their fate.
James' company was paid a staggering £30,000 a month. He stated at the time that it was a short term appointment. The advisors who would put together the route applications following Air Europe's collapse cost the airline half a million pounds. Bank loans secured by James came with a heavy price tag. After selling Dan-Air Engineering and refinancing the airline, Dan-Air would owe NINE MILLION POUNDS to them alone.
Citibank had made many loans to Air Europe's parent company ILG on the security of their aircraft, and on March 7th 1991 they demanded that ILG had 24 hours to find new financing. Or they would call in all their loans. Lloyds Bank meanwhile who had been suprisingly negative to Dan-Air, had made restrictions so wide ranging, were now trying to keep ILG afloat. This policy was understandable from Lloyds point of view. They were the Bank who ILG's owed the majority of their debts to. So misguided were Lloyds by ILG that they had attempted to persuade ILG to take over Davies and Newman as part of the D & N rescue package. As it happened, no financing came.
Air Europe did not own any of the shiny, new aircraft in its fleet. (These were usually procured on highly favourable terms from the manufacturers and then sold upon delivery to ILG's in-house leasing subsidiaries, such as AE Finance or AE Norsk, or to third party lessors, such as Guinness Peat Aviation (GPA), from whom the airline subsequently leased them back. If you remember Air Europe had placed orders first and so the aircraft were particularly valuable as they were new on the market. This enabled AE to keep the aircraft off its balance sheet, thereby being relieved of the financial burden resulting from the aircraft's depreciation, while keeping a substantial interest in the aircraft's residual values, which were booked as profits. This sale-and-lease-back activity was a central plank of ILG's corporate strategy. It also constituted a major part of ILG's business and accounted for a large slice of its profits.
Neither did the group hold the titles to the freehold of any of the properties that housed its offices and other facilities that formed an integral part of the business. Consequently the airline went bankrupt with 4,000 jobs lost. What was breathtaking at this point was that a huge gap in charter business had opened up. Dan-Air was ideally placed to swallow up not only this available business, but also many of the bankrupt airline's scheduled routes. It would mean that Gatwick-Paris would now not face any competition from Air Europe. It could have been the saving of Dan-Air. It is widely regarded now that had they done this the airline would have gone into profit again that year. The board chose not to do this. They had already announced that they wanted to be a scheduled services airline. In fact - instead of taking on this available work they actually
reduced
the charter and IT work that year. After ILG had collapsed, Tour Operator, Sunword was formed by ILG bosses. They wanted to charter Dan-Air aircraft for their entire programme.
To compound all that was going on in the airline even more changes took place in the board room in 1991. Vic Sheppard was appointed to lead a large team at the Traffic department. This would cover every aspect of in flight service. Meanwhile David James addressed shareholders who had recently been invited to buy shares in a new share offer aimed at giving the company a further cash injection. He stated that his prime objective was to bring a '
return to profitablility
' which he saw as being '
feasible
'. He also pointed out that all of the board had come to that conclusion. Furthermore he reiterated his intention to concentrate on making the airline a scheduled services operator. Just one month later he announced that the company needed more funds. This time to the tune of £40 million. The vision the board had could only be achieved with this additional funding which he stated that the '
professional team of professional advisors
' he had assembled in the board room were going to assist in the process. The majority of the new routes Dan-Air had applied to fly were ex Air Europe destinations. They had acquired some of British Airways and British Caledonian's routes at the time of their merger (Effectively a takeover) in 1987. Dan-Air had also benefitted from this, when the Government had only allowed the merger to go ahead if some of their routes were released. As it was, Dan-Air had gained Madrid, Lisbon and Mahon. The routes now lost by Air Europe were largely taken up by Dan-Air.
Subsequently Dan-Air were given rights to operate from Gatwick to Cairo, Athens, Istanbul, Rome, Malta, Stockholm, Gibraltar, Ibiza and Brussels. Some of these had started and some would commence in late 1992 - early 1993. Route proving is a costly excercise and over the years Dan-Air had taken great pains to work out if a route was viable before applying to commence services. In addition to flying the service an airline would normally need a base manager, to recruit ground handling staff or use the services of a ground handling agent. Cash would need to be invested on signage, advertisments, office space and equipment.
Profitable routes can, and often do, supplement loss making routes until the correct load factors are achieved. Or dropped altogether should they fail. In the case of Dan-Air their charter work was usually a safe way of ensuring this could happen. Charter flights carried much less risks. The airline was not responsible for selling seats. Tour Operators carry all the responsibility. If a flight is empty that is the tour operator's fault and the cost is theirs to bear. They have hired an aircraft, which provided catering, level of service and entertainment as the Tour Operator sees fit. The airline in return provide a serviceable aircraft with the correct flight crew. The airport provide assistance to passengers. It is a much easier operation from an airline's point of view. Not that this airline ever took their duties lightly. Dan-Air's standard of service was the same whatever flight you happened to be travelling on. Dan-Air had made the decision to feed all passengers on charter flights with the same food, even if varying Tour Operators had higher or lower requirements.
Running at a profit quickly is vital when implementing new routes. Even more so if you are taking the risk without the cushion of charter work as a back up.
By now just two members of Dan-Air's board had an aviation background. Sir Ian Peddar and Captain John Mayes. No significant noises were made opposing the policy of mass expansion. There had been disagreement over whether to obtain aircraft first or secure the route first. It had been Dan-Air's usual policy to make sure that if you were flying a route, that you make sure you had the epuipment to operate it. James and his board didn't agree, insisting aircraft were easy to get hold of. Not all aircraft were so easy!
All airlines know about route proving and implementation and how risky and expensive it is. It was a simple fact that Dan-Air did not, at that time, have the financial muscle or flexibility to expand in this way. Dan-Air had always been far sighted and cautious about expansion. Only ever taking the chance if there was a significant cash reserve and plenty of profitable charter work to support new routes. Only then would they ever add a new route. This had worked over years. Let's not forget that when the airline had carried more than six million passengers in 1991 - almost two million of them had flown on scheduled flights. Dan-Air had, at times, tried routes that had failed. Either because of poor load factors or aggresive competition on a route. All airlines had been through that. It was sometimes a case of
'Some you win, some you lose'
. A state airline may have a moral obligation to support a loss making route if it is servinig a remote community. An independent has no such obligation. Dan-Air would often start a new route at the same time as dropping an unprofitable one. The Civil Aviation Authority were never even handed in the early days of independent airline history. The state owned airlines always having the pick of the crop, while the independents took the left overs. Independents were forced to try and make routes work from regional British airports.
The decison was taken to consolidate the Dan-Air fleet into just two types. The Boeing 737 and the BAe146.
The £30 million loan that had been taken out had almost been paid off. Things should have began to improve on the balance sheets. Sadly, new services and new management structures with many new departments and initiatives had proved to be costly. Especially when the chairman's company is being paid £30,000 a month! The debt had now risen again, this time to £11,250,000, although this included the £8,750,000 arrangement fee that Lloyds had arranged. Although Fred Newman had been ousted from his role of Chairman of Davies and Newman he could take some comfort from the sale of the ship broking company which David James now sold to Fred and Michael Newman. Through all of this the company carried on as professional as it always had been. This professionalism irked British Airways who had been losing money on its scheduled services out of Gatwick. Various attempts were made by BA to strengthen is position at London's second airport. Long haul flights were trialed without success. The intention of turning Gatwick into a hub for UK and European feeder flights was not realised. Where it competed with Dan-Air at Gatwick BA was not successful either. Talks between BA's management and some of Dan-Air's board took place in October with a view of using Dan-Air as a franchise airline similar to what had been tried with success with Manx Airlines in the Isle Of Man and Loganair in Scotland. Not only would Dan-Air operate its own schedules, but those of British Airways short haul flights from Gatwick. This was a real lifeline to Dan-Air. Talks seemed to be going well. Dan-Air would have the added advantage of having surplus aircraft that could fly its charter programme simulataneously. At the late stages the
Dan-Air
team withdrew, to the shock of all involved.
With all this uncertainly an Extraordinary General Meeting was called in late October 1991. David James formally introduced John Mayes to the board stating that "
H
e came with a wealth of experience in aviation
" Once again James insisted that he was working towards bringing the company back to profitability. He went on to point out that the board had been examining all aspects of the company with '
i
ntensive analysis and research.'
He also pointed out that '
both Barings Bank and County Natwest had required the company to appoint se
parate independent external professional advisors, specialising in civil aviation matters
' Looking back, this seems an odd decision. A board of extremely qualified, experts in aviation
had been released of their positions only the year before
. They had been replaced by men who were highly skilled in business, but had little or no knowledge of the airline industry. If these experts were to be recruited, what was the price of their renumeration? The figures were jaw dropping. From £400,000 in 1989, rising to £2,500,000 in 1990 and a slight reduction to £2,300,000 in 1991 - This was made even more disturbing when one sees that that figure was for only
SIX MONTHS!
Expertise does not come cheap. The fact that Dan-Air's existing board already had all the knowledge that
ANY
airline could possibly need, and had been relieved of their duties cannot be overlooked. David James announced at that time that he had '
N
ever been more certain about the wisdom and validity of any rescue in my life as this one.....I think that that what has happened in the last year has been one of the best demonstrations I have sever seen of a company getting off its butt end'
Meanwhile, UK aviation carried on. With substantial availability suddenly available, new airlines sprang up. Airtours International came from its parent company, Airtours. Inter European Airways began with the backing of Aspro Holidays and Air World came on the scene from the ashes of ILG and Intasun's successor, Sunworld. These airlines grabbed all the spare capacity leaving Dan-Air floundering with its new scheduled routes. During the Summer months the airline reported a loss of £5 million, at a time when it had always made a profit from charter work. The Rights Issue offer in October was for 107,500,000 shares. A paltry 2,500,000 would be available to Dan-Air employees. Priced at 50p per share, David James was convinced of a surge in shareholders and he claimed it
'would immediately return the airline to profit'.
The reverse happened. As aviation analysts would point out - The Summer months were the most profitable for airlines. The share offer was made in the Autumn. The employees raised £1,250,000 and the share issue was a success raising £40 million - but the writing was clearly on the wall. Further expense came when the new board recruited John Olsen as the airline's new Group Chief Executive, David James would be group chairman. Fred Olsen had an avaition background working for Cathay Pacific for 23 years. His expertise was hoped to save the company (wasn't that James' job?). With him came a raft of new departments and managers. The question on everyone's lips was whether an executive used to working with a large, international airline, flying long haul flights on super sized aircraft would be able to produce results with an airline with a mixed fleet of smaller aircraft and a European only operation?
The company was struggling for survival and by June 1992 James once more claimed that he thought
''(It)reasonable to expect a return to profit for the 1992 year
.' He even claimed that there was '
N
o dminuation of the board's confidence in the future of the company
' Just three months later he announced that Dan-Air would run out of money by
'The third week of October
' All the money that the airline had made during the Summer months had been passed to the banks. On top of that, two BAe146 aircraft and six HS748 prop liners were sold. Shortly after this sale, all of the company's BAC 1-11 aircraft were sold, thus reducing the debt to £22 million. The bank would not be at any major risk with this debt as the airline still had considerable assets. By comparison Air Europe had crashed with debts reported, by the Guardian to be, £500 million.
Another lifeline appeared to be thrown by Virgin Atlantic. Branson was quoted as saying that 'Dan-Air mustn't go bust'.
As the final round of negotiations began in October with Virgin the two sides indicated that there would be no statement until early the next week.
There were growing fears, however, that the deteriorating financial position of Dan-Air might make it impossible to agree terms.
Dan-Air was rumoured to be heading for losses of between £30 million and £40 millon in 1992, compared with the £20 million profit forecast at the time of its recapitalisation the previous year. '
It certainly isn't a pretty picture
,' One source, close to the talks was quoted as saying. However, suddenly Dan-Air withdrew from the talks. British Airways were now more than ever, aware of Dan-Air's weakened position, and for a second time approached Dan-Air, this time with a revised offer. Now they wished to purchase 14 routes from Dan-Air and their fleet of Boeing 737 400 aircraft. Dan-Air rejected the offer. Despite heavy debts, the airline actually made a profit during the peak summer months. Assets for the company totalled almost £20 million. Was the company really in such a bad position? One must challenge that assumption. Government Ministers were invited to help with the European Commisioner for competition declining to get involved as the company was '
too small
'' It would be fair to say that despite debts, the company was more or less sound. If emphasis were placed on the charter market once more then perhaps it could have returned to profitability sooner. Even more so if the risky scheduled services had paid off. On the 8th November 1992 Dan-Air was sold to British Airways for the nominal sum of £1. Negotiations had been going on for several days behind closed doors. Often into late into the night. For the purchase of £1, British Airways would take
on Dan-Air's financial commitments of £50 million which included debts of £37 million. For its part, British Airways got 12 of Dan-Air's most modern Boeing 737s, all of the airline's short-haul scheduled routes from Gatwick, the Heathrow–Inverness feeder service and about one-fifth of its 2,500 workers, and Dan-Air's pension scheme. The rest of the aircraft would be sold. Dan-Air was absorbed into British Airways' Gatwick operation. On 27 November 1992, the company's name was changed from Dan Air Services Ltd to British Airways (European Operations at Gatwick) Ltd. This rump of the former Dan-Air formed the nucleus of what British Airways intended to be a low-cost short-haul feeder for its Gatwick long-haul scheduled services, with the aim of helping to return British Airways' loss-making Gatwick operation to sustained profitability. But was that all that British Airways would get? The short answer is '
No
' - Gatwick Handling was a success story in its own right. From its inception Dan-Air owned 50% of it. Initially with Laker Airways being the other 50% shareholder. After Laker's demise Delta and Northwest Orient bought 25% each. They would have one member each on the board.
The vast majority of airlines at Gatwick used Gatwick Handling - it was a precious asset. Then the landing slots at UK airports, and for that matter, European airports were of tremendous value. Particularly the daytime slots at Gatwick. People outside the industry would be unlikely to know how valuable they are. Would the new board have known this? Dan-Air owned prime real estate in the shape of their purpose built headquarters in Horley - 'Newman House' as well as Norway House in London, new offices at New City Court in the centre of the capital. Bilbao House was a large property of great value. Dan-Air also had travel companies, an insurance firm, leasing companies, bonded stores, and a catering company. What's more, the pension fund of £20,000,000 was transferred to Britiish Airways. All of that for £1. All of the airline's flight crew had trained on specific aircraft. Only those qualified to fly Boeing 737 aircraft would go on to British Airways. Most of the Dan-Air staff were made redundant. The pilots who found themselves unemployed would have to train on other types to find work. Dan-Air were the only UK airline to use the Boeinig 727. Fortunately for them Sabre Airways set up shortly after Dan-Air's sale to grab some of the available charter work. They used ex Dan-Air 727s and some crews found work. It is interesting to note that Sabre Airways would become XL airways and have many years of profitable flying. Some the 727's were sold to new start up airline, Cougar Airlines, who flew the 727 with ex Sabre crews. Meanwhilie the ex Dan-Air pilots had to pay for their own training to qualify on new types. Redundancy payments were not large for most people. With pilots receiving only two weeks basic pay for each year they had served in the company. In contrast the severence pay for the former board members who were in charge of the airline for the last two years received a figures totalling £742,233. Having sold aircraft and the airline with its assets David James issued a statement.
As the Company now has no assets the Board is of the opinion that that if the resolution of the voluntary winding up is not passed, the Board will have no alternative but to petition the court to wind up the Company - Yours Faithfully David N James."
He later went on to say
"I think what has happened is an unfortunate outcome, but it is an infinately better solution than the awful alternative of recievership"
The Company has no assets? if that really was the case, then someone had sold them!
Was that the end of the story?
Some time after the event is was disclosed that British Airways was set to inherit a tax credit of between £50 million and £100 million. Even the worst case scenario would mean that by taking on Dan-Air's debt of £55 million it would benefit to the tune of £15 million for a £1 investment. The rebate was only to apply if and when Dan-Air or the new subsidiary makes a profit. The British Airways plan was to run the Gatwick arm of its company as an independent holding company known as European Operations At Gatwick (EOAG) Dan-Air explained that this was known at the time of the takeover, but Dan-Air had no hope of making a profit so it could not claim the cash. Whilst the company folded and charter flights were grabbed by the llikes of Airtours, Air 2000, Inter European and Britannia, staff that had tansferred to the BA's new British Airways European Aviation At Gatwick would have different contracts to the ones that they held with Dan-Air. Some would be transferred to Heathrow and many contractual obligations were now disregarded and the unions seemed powerless to intervene. Shortly after the takeover many former flight deck crew got together and with a combined effort and with huge legal fees mounting, the crew took British Airways to a tribunal. BA was accussed of corporate arrogance. The Dan-Air crew won their case. This meant that British Airways was looking at a huge bill of up to £8million. The tribunal heard that: '
The criteria adopted to
make the pilots redundant was unreasonable
' Michael Ingle, solicitor, representing the Dan-Air Pilots' Action Group said that "
British Airways had been disingenuous in portraying itself as Dan-Air's saviour, when in fact, it stood to gain several lucrative routes in the deal.
' It was claimed that '
BA made much of the fact that it rescued Dan-Air when it completed the purchase in November 1992
' Going on to say
'It now appears rather disingenuous when British Airways achieved significant benefits from the way it structured the purchase.
' Lawyers claimed that it had acquired some very large tax losses but gained valuable new routes with which to boost its loss making operation at Gatwick. '
There was a complete failure
', the tribunal heard. '
To
inform the pilots about their redundancies or tell them it was likely. There was also a complete failure to implement redundancies on the basis of seniority, which is traditional throughout the airline industry, including British Airways. There was also a complete failure by BA to consider if it had any alternative jobs for pilots throughout the whole group.'
This successful claim was only the first hurdle in the pilots battle for compensation. On February 27th they returned to Croydon to make a claim for the maximum compensation the tribunal could award, £10,000 each. After that, the airline staff planned to take their case to the High Court where they could claim up to £40,000 each which would take the BA bill to £8,000,000. One pilot claimed he was 100% sure that a former pilot, who he refused to name, had taken his life because of the upset. Several families, the pilots claimed, had split up, with pilots being forced to work overseas. It was noted that most of the pilots who had found alternative jobs were paid far less than when they were at Dan-Air because of the seniority system. Having to work for another airline meant that any seniority accrued would be wiped out on commencement of service with another carrier. The pilots union BALPA was critisised by pilots for advising pilots to accept the redundancies. British Airways said that at the time of the takeover, because of Dan-Air's troubled finacial status, it was not obliged to follow normal redundancy proceedures, an argument rejected by the tribunal. Lawyers said afterwards that 'The landmark decision would allow workers rights to prevail. The press had a field day calling British Airways "Brutish Airways" and one claimed that David James had treated Dan-Air like a horse with a broken leg.
On December 8th David James said he was donating £100,000 to a hardship fund set up to help unemployed staff of the defunct Dan-Air.
But his act of magnanimity failed to impress Dan-Air shareholders and employees, as they turned out in droves to attack the deal.
Shareholder after shareholder stood up to criticise the sale and the performance of Mr James during a rowdy meeting to approve the voluntary winding up of Davies & Newman, Dan-Air's parent company.
Faced with the barrage of dissent, Mr James, chairman of Davies & Newman, disclosed that he was contributing £60,000 severance pay and £40,000 of fees to a trust to support hardship cases.
But this was not enough to placate shareholders, including a former Dan-Air captain with 22 years' service who was receiving just £4,000 in redundancy pay.
Shareholders had been treated with contempt, one small investor said to loud cheers, while another accused Mr James of having 'conned' staff about the prospects of saving the airline.
Some accused the banks of 'shamefully helping destroy another business' but others laid the blame squarely at the door of Mr James and fellow board members.
There were gasps when Mr James disclosed that severance payments to directors of Davies & Newman totalled £742,233.
Mr James conceded that the situation for pilots was not satisfactory but said their severance payments had to be seen in terms of the 'overall aggregate cost to make the deal possible at all'.
Maintaining an urbane delivery throughout, Mr James explained that Dan-Air had fallen foul of the vicissitudes of the charter market, its own image, the banks and an ageing, expensive aircraft fleet. The deal with BA was not a pretty one but it had more merits than the 'awful alternative' of receivership.
But his critics were not persuaded. 'At the moment there are three losers - Britain, the employees and the shareholders,' pronounced Peter Frankel, one of the latter group.
Although the resolution to wind up Davies & Newman was defeated overwhelmingly on a show of hands it went through on a poll with a 97.23 per cent vote in favour after proxy votes from institutions had been counted.
Dan-Air was no more.
There is still tremendous affection for the company throughout the World. This website has had more than a million individual visits in the years it has been running. Facebook groups have been set up to reconnect staff members and this site has its own Dan-Air Directory where people can send pictures of their time at 'Dans' as it was, and is affectionaltely known by former staff. Whatever the rank of staff and whatever the job a person had with the company held no discrimination. First name terms were the norm. People constantly refer to their time with Dan-Air as "The best working days of my life" There was a genuine affection for the company from all its staff. We have had only one person get in touch with us to tell us how much he hated working for the company. The ribbings that the airline received were mainly unjustified. Dan-Air was an incredibly large and complex organisation. It operated superbly despite the many obsitcles. In the beginning their were obsticles from Government Ministries who regulated the industry with such an iron grip that actively held back independents in favour of the state run monoliths. Dan-Air consistantly grew in terms of passenger numbers and fleet size and profitability. Without the Government picking up the tab for any losses. BA had the most prestigious routes from the most prestigious airports. The independents were left with the crumbs. Despite this, Dan-Air grew. Its aircraft were not new in most cases in the early days. In spite of that hinderence it did manage to operate largely the same aircraft, at the same time as most other airlines. Let's not forget that in the 1980s BA still flew Tridents from the 1960s and their BAC 1-11s were still flying at the takeover in 1992. In the sixties it was fair to say that Dan-Air aircraft were a mish mash of old piston aircraft. Did other independents have better aircraft? Certainly not. Britannia and Monarch were flyiing Bristol Britannia aircraft well into the 1970s. Caledonian flew across the Atlantic in DC7 piston prop liner aircraft in the late 1960s when Dan-Air had began to re equip with Comet jets. If one reads the cabin staff manuals from Dan-Air one will see just how rigorous the standards were for in flight service. Even cabin crew uniform regulations and where they stood on an aircraft or at the foot of the steps to greet passengers came with strict rules. Testiment to that finesse is that Air Europe poached Dan-Air's chief stewardess to train their new recruits. The standard of service was envied the World over. Many cabin crew members have since gone onto fly with the world's major airlines reaching very senior positions. It goes without saying that the same thing happened with flight deck crew. Their engineers continued with their new company at Lasham and with a new owner, many of the younger Dan-Air Engineering staff are still working. Dan-Air was a safe airline. One can forget the very early days when start up operators flew by the seat of their pants. Safety and navigation aids were in their infancy. Aircraft technology was basic. Dan-Air had commenced flying less than fifty years after man made the first successful flight!
Back then, ailrines flew cargo in old, ex RAF aircraft. Faults, sadly were inevitable. Dan-Air learned and improved while other carriers rightly went out of operation. Dan-Air had a period in its history that it would rather not have happened 1979-81, and yet there was not one of those tragic accidents where the airline itself was to blame. Its crews, its safety proceeedures or it's technical standards were first class. The capability of DAE was second to none. Rated by the CAA and the FAA in America, it maintained aircraft belonging to Royalty as well as private aircraft and the aeroplanes of other operators. The type of work undertaken by some of Dan-Air's operation with oil related work in the Shetlands carried higher risks at the time than flying a jet to European sunspots. Other airlines had major disasters throughout their history. The aviation rule was never to critisize another airline's safety record because the next time it might be one of your aircraft that goes down. Despite that, an investigation was ordered to carried out on the airline. Even then, the CAA found nothing of any major concern. It was a great airline - going about its business. This website pays tribute to the skill of the airline and the great esteem with which it is held.
It was never set up to make money, or to point the finger at David James and his board. It was to tell the story as accurately as could be. The aim was to celebrate the wonderful memories and history of this incredible airline. To pay tribute to the staff - of all departments. To show what flying with Dan-Air was like. Yes in the old days as well as more recently. This is the 30th anniversay of Dan-Air's departure from the airline stage. I wanted to say - you may be gone - but you are not forgotten.
From 1953 to 1987, Dan-Air had its headquarters at the City of London in Bilbao House.
From 1988 to 1992 headquarters - Newman House
Dan-Air was the first airline to transport a live dolphin. The mammel was flown to Malta.
Dan-Air laid claim to be the first to introduce disposable catering equipment aboard its aircraft in 1969.
Dan-Air ordered its first new aircraft in 1969, a single Handley Page Jetstream to replace the DC-3 assigned to Link City. However, the order lapsed when Handley Page went into liquidation in 1970.Despite the negotiations being at an advanced stage, with the manufacturer's future in doubt, it was difficult to finance the purchase and the order could not be completed.
Dan-Air ran its first transatlantic charter flight in October 1969 from Gatwick to Trinidad with a Comet.
Dan-Air operated a dozen 707 round-the-world charters for German tour operators during the mid-1970s.
Dan-Air was one of the first UK airlines to employ female pilots, with five among 550 during 1978.]
Dan-Air was also the first UK airline to have a female pilot in command of jet aircraft. Yvonne Sintes, who had started her career as an airline pilot with Morton Air Services in 1965, joined Dan-Air as a Bristol-based DC-3 first officer in 1969. She gained her command as a captain on the HS 748 fleet before becoming a One-Eleven captain in 1975. Sintes flew One-Elevens and Comets until her retirement in 1980.
During its 39-year history, Dan-Air passed several important passenger number milestones. In 1960, Dan-Air carried 100,000 passengers.It carried 500,000 passengers in one year for the first time in 1969. 1971 saw more than 1 million passengers. 1973 was the first year the company carried more than 2 million. 1977 was the first time with more than 3 million. Four million was reached the following year, the silver jubilee. It took until 1985 to reach 5 million. In 1989, over 6 million flew with Dan-Air, the highest number ever. 1984 was the year Dan-Air carried more than 1 million scheduled passengers for the first time. Between 1966 and 1980, Dan-Air's 38-strong, active Comet fleet carried 8 million passengers.
Throughout Dan-Air's 39 years, the airline suffered seven accidents involving the loss of aircraft and lives, three of which killed fare-paying passengers. These accidents were :
12th June 1968 a Dan Air Comet returning from Palma to Gatwick with 95 passengers on board was approaching Gatwick with a suspected engine fault. The cabin filled with smoke. The aircraft landed safely without incident. Fire crews and ambulances were on standby. The problem was caused by an electrical fault. Smoke was detected in both the cabin and flight deck. Passengers evacuated the aircraft via slide. Nobody was hurt.
In 1971, one of the airline's Comets operating a charter flight carrying Turkish migrant workers from Berlin Tegel to Istanbul was "escorted" by Bulgarian fighter aircraft into Sofia. The crew flying the aircraft was attempting to take the shortest route to Istanbul when leaving Yugoslav airspace by entering Bulgarian airspace, instead of taking the longer route through Greek airspace. They were not aware of the then communist government of Bulgaria's decision not to let any aircraft enter its airspace whose flight had originated or was going to terminate at a West Berlin airport, without stopping en route at another airport outside West Berlin. The aircraft landed safely at Sofia. It was released along with its crew and passengers when the flight's commander paid the fine the Bulgarian authorities had imposed for violating their country's airspace.



In May 1972 (19th) A Comet returning to Manchester from Alicante had indicators in the flight deck saying there was a problem with the undercarriage. Passengers were informed about the problem. The aircaft flew around Gatwick burning fuel before being diverted to Manston. The runway was coated with foam and the aircraft landed. The undercarriage did indeed collapse on impact with the runway. The aircraft carried along the runway before stopping. Fire was averted with the spraying of foam. The Comet was carrying 113 passengers plus crew. Passengers were told to adopt the brace position for landing. Luckily no one was hurt. Few were treated for shock before being ferried by coach onwards to their final destination of Manchester. Please read our newspaper article and picture by clicking the thumbnail images.



Click To Enlarge
In 1973, Somali fighter aircraft forced a Dan-Air Boeing 707 flying through Somali air space en route from London Gatwick to the Seychelles and Mauritius with 83 passengers on board to land at Mogadishu Airport. Captain Tony Kirk was in command. The aircraft was flying through Somali airspace in violation of the prescribed procedure to apply for permission to do so in advance, as a result of an "administrative oversight" on the airline's part. As a consequence of this violation, the aircraft's captain was taken to court and a fine of £600 was imposed on the airline.



In 1974, one of the company's Boeing 727s (a Boeing 727–46, registration: G-BAEF) hit the localiser antenna of Luton Airport's Instrument Landing System while taking off on a charter flight to Corfu, rendering the system inoperative. The aircraft diverted to London Gatwick where it landed safely.



February 23rd 1978 a company HS 748's wingtip smashed the flight deck window of a French Caravelle and then hit another Dan Air HS 748 at Aberdeen. The two Dan Air arcraft were put out of operation and repairs carried out on site.
February 26th 1978 for the second time in three day Aberdeen aiport saw a Dan Air aircraft in trouble. A company HS748 made a full scale emergency landing at the airport with fire crews and ambulances in attendance. The airport praised the skill and professionalism of the crew who landed the aircraft without incident.
August 2nd 1979 a company HS 748 made an emergency landing at Glasgow airport.
In 1979 a company HS748 landed in Sumburgh, Scotland. The aircraft had come in a little too fast and was fast running out of space to stop on the icy runway. The crew decided to divert onto the grass. The propellor blades bucked and the front landing gear collapsed. Fire crews were on scene shortly afterwards. There was no evacuation of the aircraft. Parts were flown into the island and a repair carried out on site. The aircraft returned to service.
Click To Enlarge.

Click To Enlarge
In January 1984 a Handley Page Dart Herald airliner owned by British Air Ferries and on lease to Dan-Air was invovled in a full scale emergency alert after a wheel brake failsafe light had lit up, on its outward flight to Stavanger.



Upon completing the repair and run-up of the faulty engine that had caused a rejected takeoff due to an engine oil warning at Berlin Tegel during the late 1980s, a Dan-Air Boeing 727–200Adv. collided with a jetway at the airport's terminal building while maintenance engineers taxied the aircraft back to its stand. This badly injured the ground crew member manning the jetway and ruptured the fully refuelled aircraft's centre wing tank at the left wing root. As a result, a large quantity of jet fuel spilled onto the tarmac. The maintenance engineers' failure to pressurise the aircraft's hydraulics had resulted in a complete loss of hydraulic pressure just before reaching the stand, making it impossible to steer the aircraft and rendering the brakes ineffective.
Click To Enlarge.
On 2 March 1989, a Dan Air HS 748 mistakenly landed at Langford Lodge Airport instead of the nearby Belfast Aldergrove Airport, the intended destination of the scheduled service from Newcastle. When the aircraft broke cloud over Lough Neagh on short finals for Aldergrove's runway 07, the pilot in command thought what he had spotted was the correct runway and proceeded to land the plane at what turned out to be the adjacent, privately owned, Langford Lodge airfield, just under a mile short of the approach to runway 07 at Aldergrove.



On 25th May 1990 Emergency services at Newcastle Airport were placed on full alert when a passenger plane with a burst tyre approached to land. The Dan Air flight from Gatwick which had as almost full complement of 72 passengers and 5 crew on board, reported suspected damage to a tyre, sustained on take-off. It flew past the Newcastle control tower so air traffic control staff could make a check on the damage to its undercarriage. It was confirmed that the starboard inner tyre had burst. A full emergency procedure was put in place but the aircraft, a British Aerospace 146, managed to land safe
On 6th May 1992 A Dan Air Boeing 737 with 125 passengers and 4 crew on board made an emergency landing at Newcastle Airport after flying into a flock of birds. Emergency services were scrambled when the aircraft turned back just a few minutes after take-off. The plane landed safely and shaken passengers were taken back to the terminal to wait for a replacement jet for their flight to Lanzarote. You can see the larger image by clicking on it.



DISCUSS THIS SUBJECT
28 Mar 2022
LGWOODA - Mandy was a cute chick xx