1960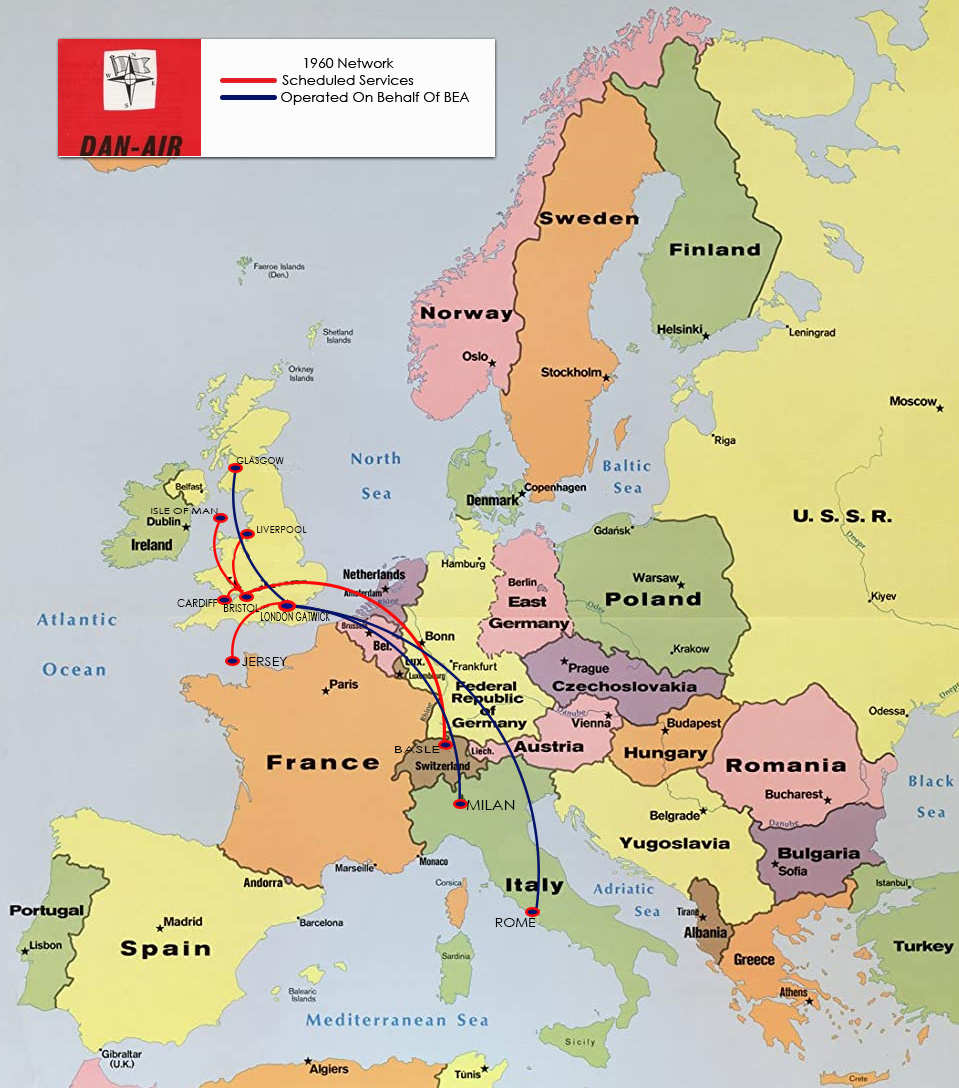 The BOAC / BEA duopoly in UK aviation carried on throughout the entire decade. Each of the handful of domestic services that Dan-Air had been awarded had to be fought for. Dan-Air flew regional routes that linked towns and cities. The cities were close to one another. The second scheduled service added to the network was one such example. Bristol - Liverpool that had to include a stop at Cardiff. The flights would depart from Liverpool on Mondays, Wednesdays and Fridays at 8:20am.Returning at 5:40pm. These secondary routes often carried business travellers on flights as short as fifteen minutes. The flights were flown by DH Dove and Heron carrying between 9 and 20 passsengers. The flights were timed for business travellers. Airlines like Dan-Air could not even connect these cities to Heathrow for onward world wide flights with other airlines. Their best hope was to link cities to Gatwick and Manchester. The next link was to Plymouth in the Summer months. Flights would make the four airport link thrice weekly using two recently acquired DH Dove aircraft. As it appeared to be successful, Dan-Air planned to introcuce a DC3 aircraft on the route.
4 April – Bristol - Cardiff – Liverpool route started.




1 May - Bristol - Cardiff - Isle of Man route started.




31 May Dan Air moved it's entire operation to Gatwick following Blackbushe's closure.




18 June - Gatwick - Jersey service. (This followied the closure of the Blackbushe - Jersey route)




16 July - Bristol - Cardiff - Basle route began - Dan-Air's first international schedule.




IT charters charters from Gatwick to The Netherlands, Spain, France, Belgium and Germany. UK Armed Forces trooping contracts were obtained.
1961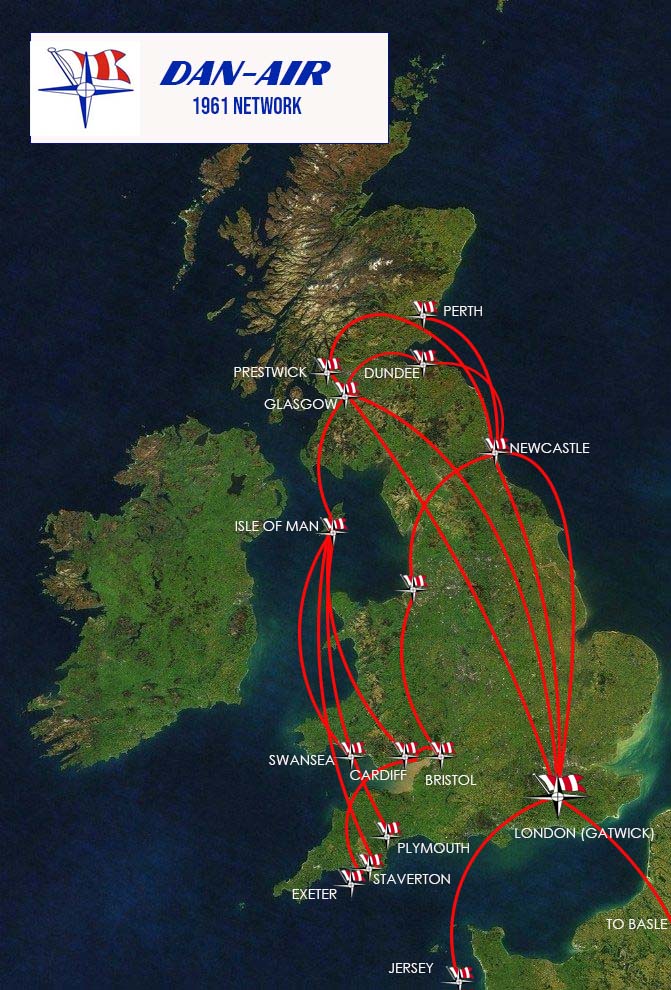 4 January - Plymouth-Cardiff / Bristol-Liverpool schedule was extended to Newcastle.



27 May - Prestwick - lsle of Man route commenced. The Isle of Man also served from Bristol, Cardiff, Plymouth, Exeter, Staverton and Swansea.



7 July - Liverpool - Newcastle - Dundee route commenced, followed by Perth (Scone) - Prestwick- Gatwick and Perth-Newcastle-Gatwick
1962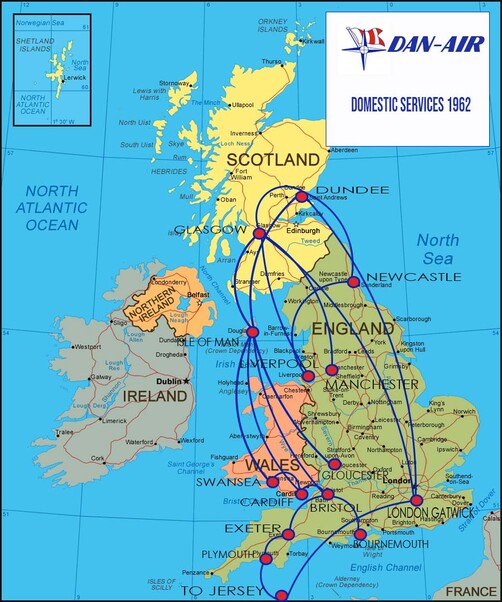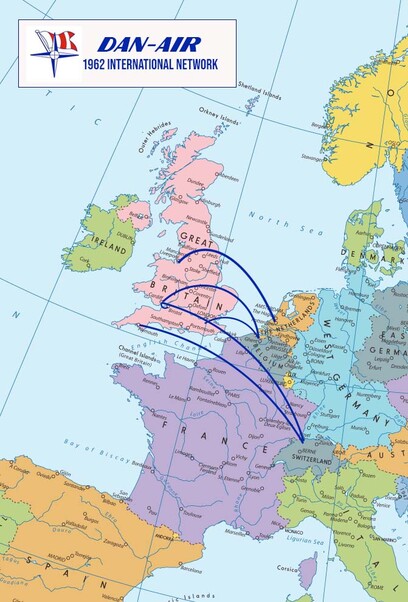 Second international service commenced
NEW ROUTES
Bournemouth to Basle

Bristol and Gatwick-Ostend began.



1963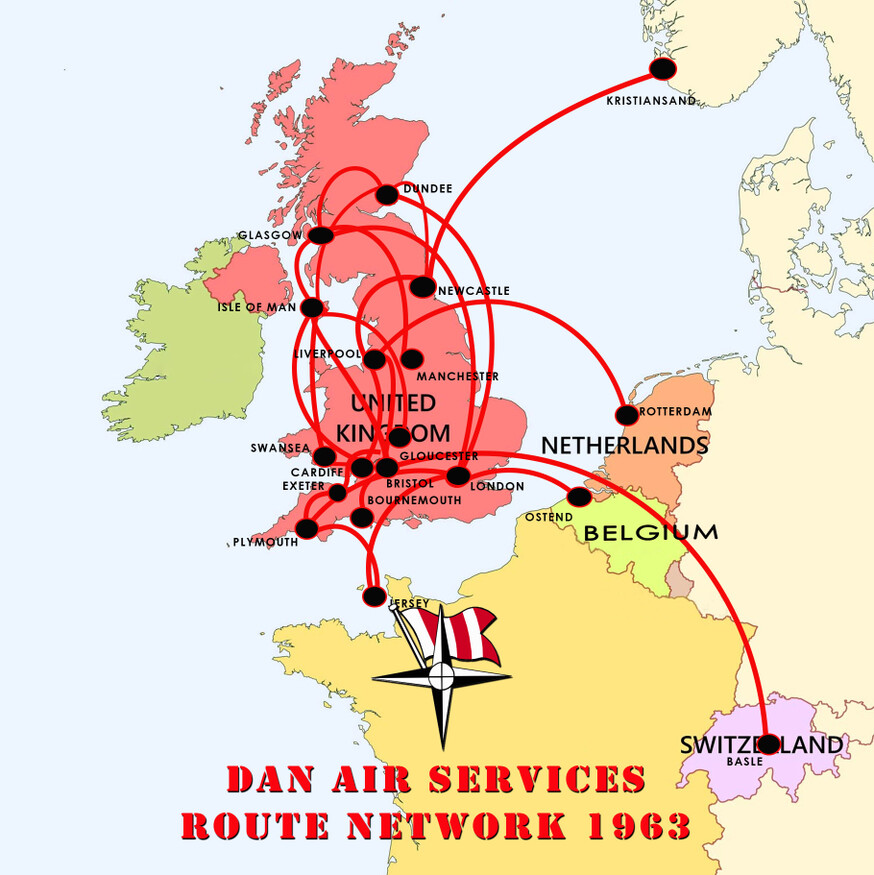 1964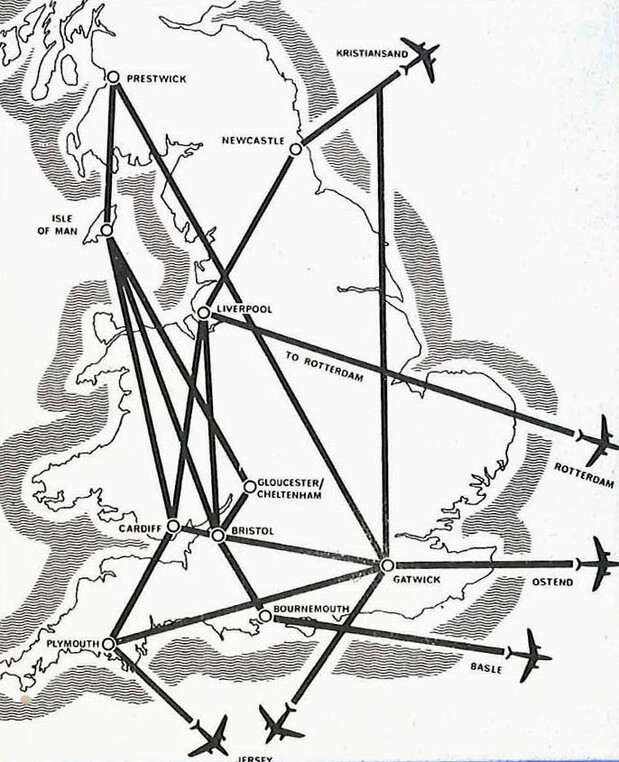 1965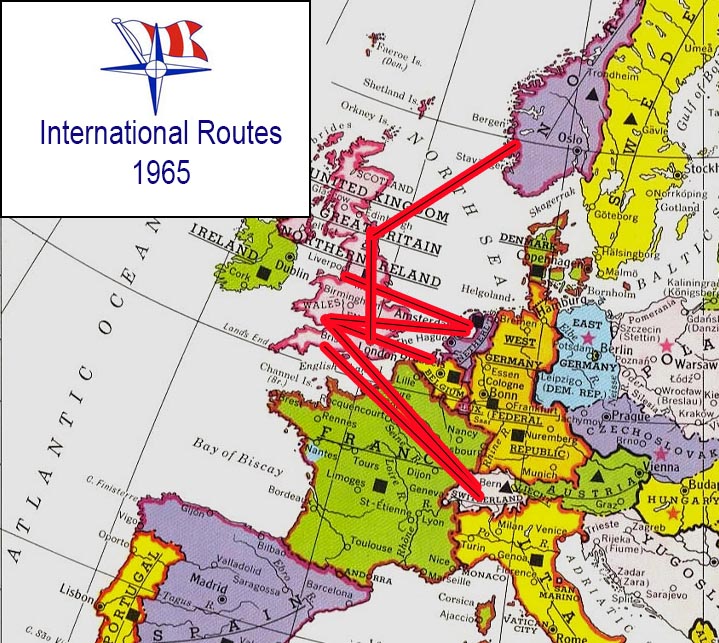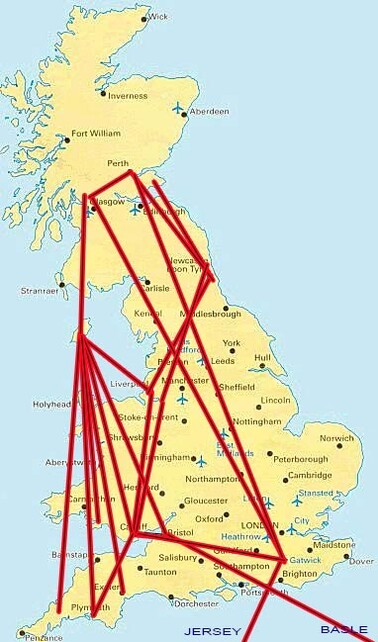 New services introduced were:
Tees-side -Chester -Cardiff service started, followed by Cardiff - Bristol - Amsterdam and Gatwick - Newcastle-Kristiansand services.



4 October - Liverpool - Amsterdam service began.
1966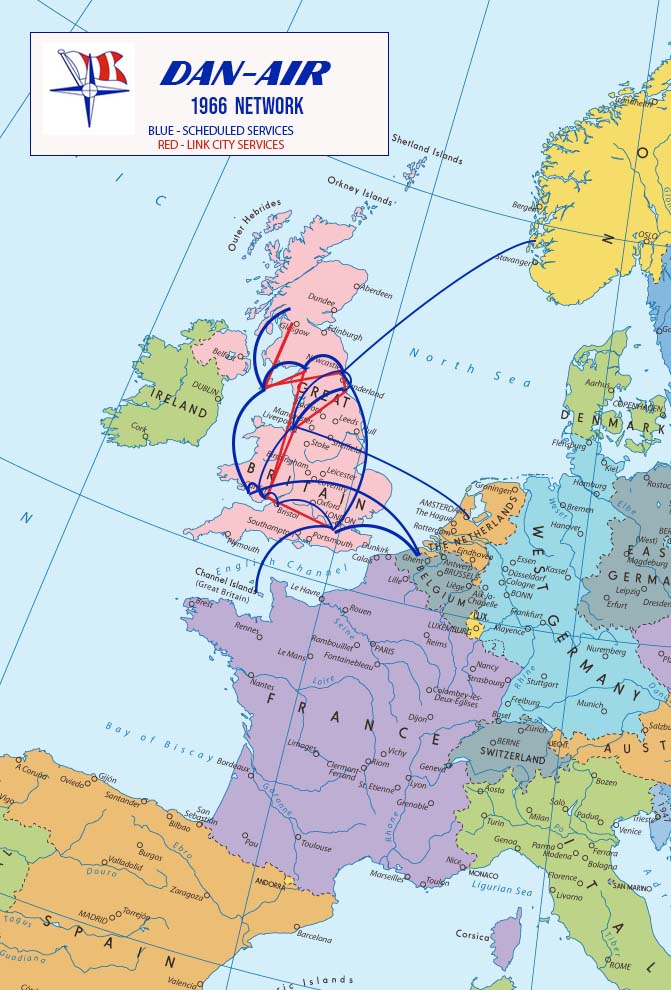 1967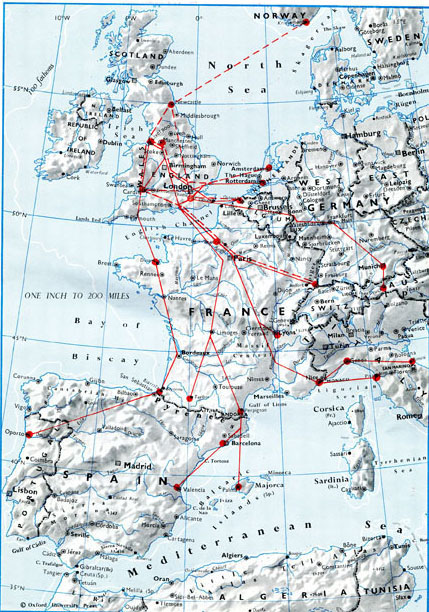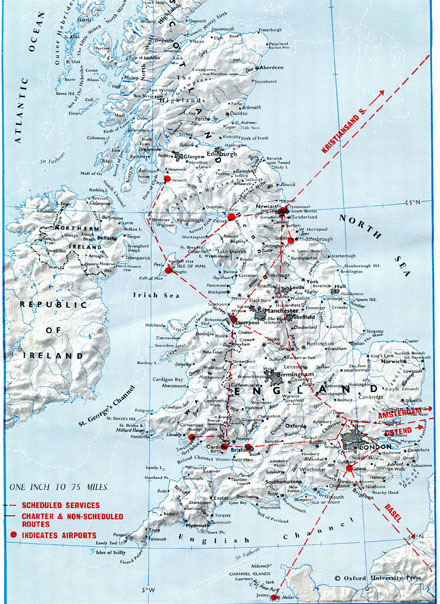 NEW SERVICES
1968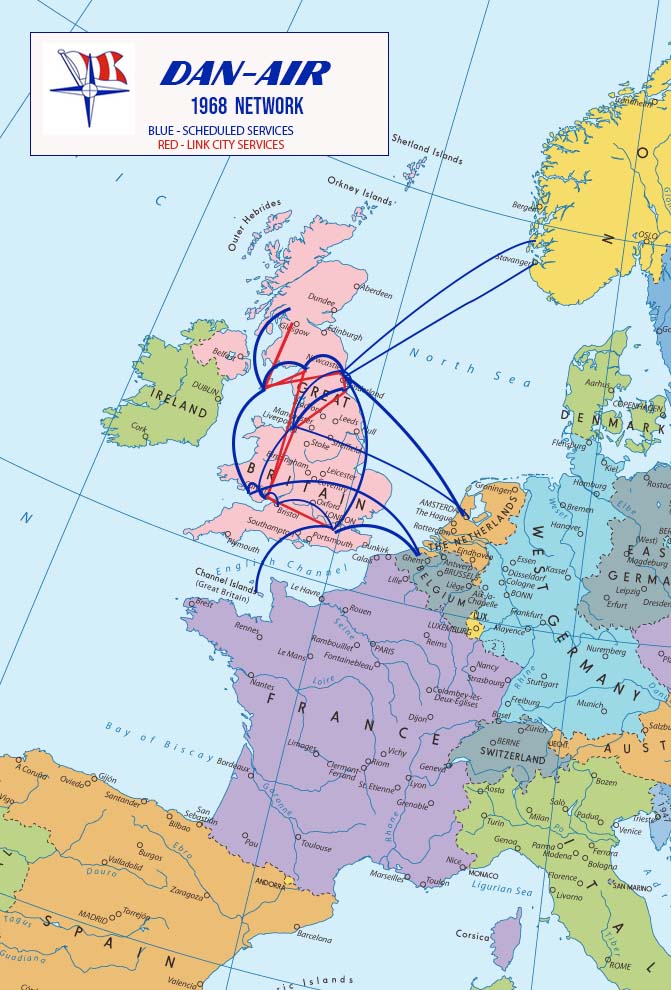 1969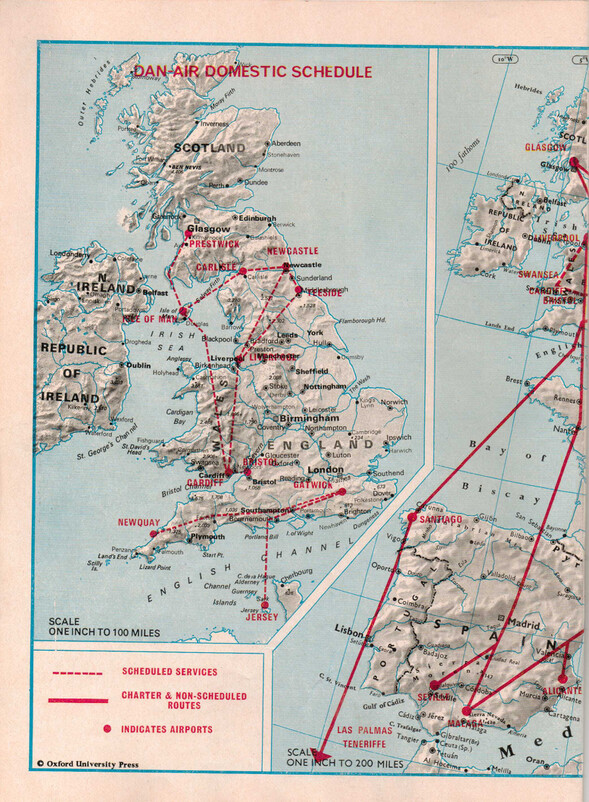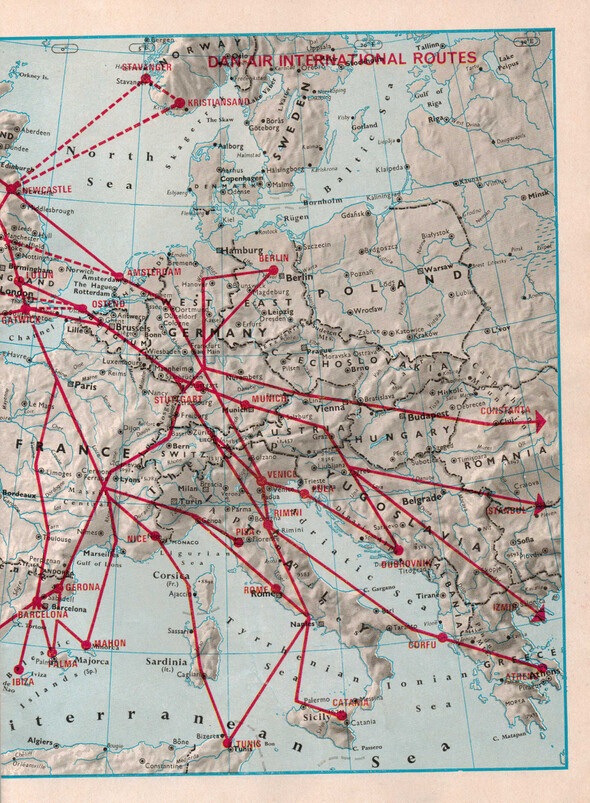 NEW ROUTES