1990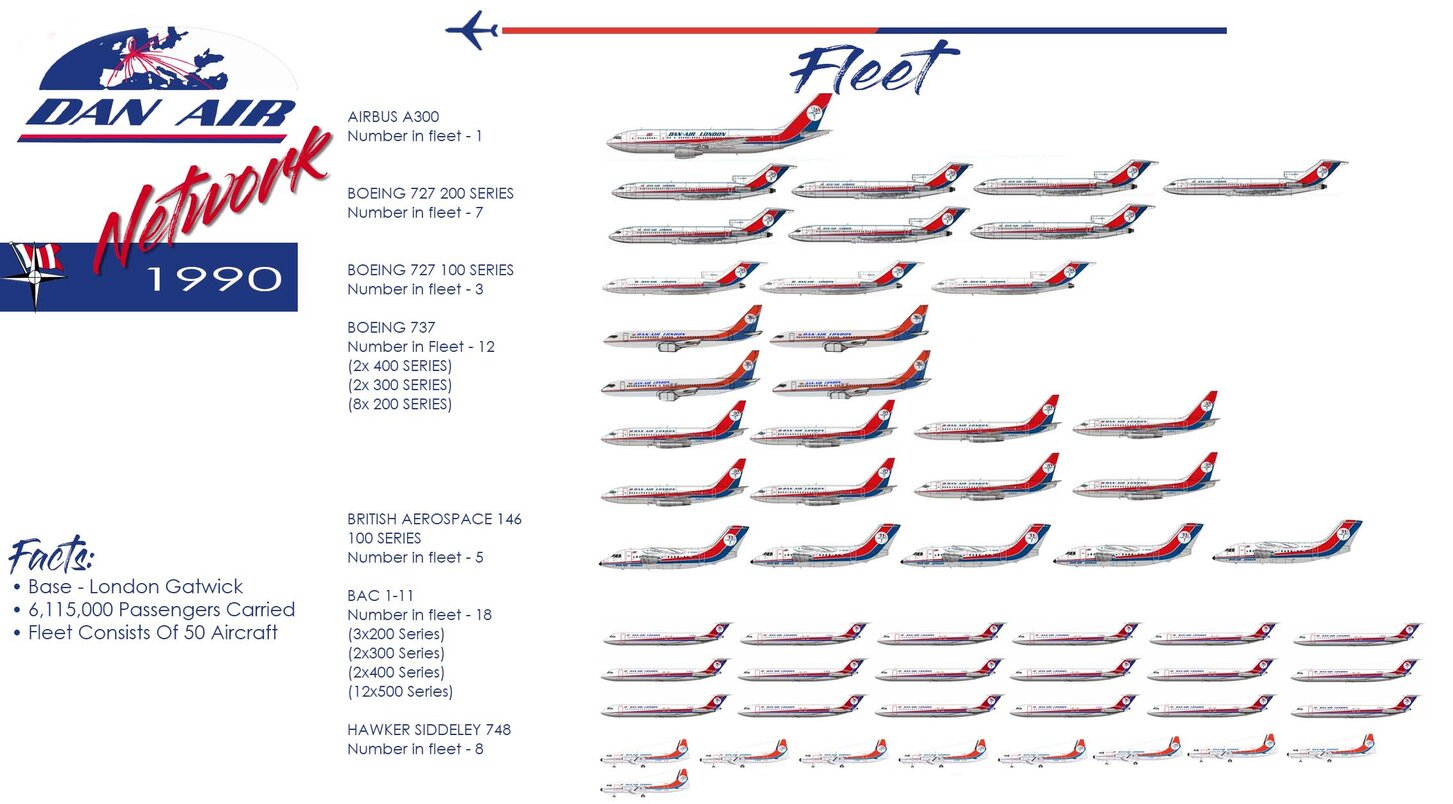 Pop Princess Kylie Minogue flew on Dan-Air in January this year. The airlline offered
to whisk the star through a quieter part of the airport, but Miss Minogue insisted on meeting fans. The airline announced it was withdrawing from th
e Dublin-London route, saying over capacity from several carriers was the reason. Dan-Air were also under pressure to increase services on other, less populated routes where they could maximise revenue. Five staff at the Dublin office wh
ich would also close in March would be offered other jobs within the company. The expansion of other services was no more evident than in Scotland. A company BAC 1-11 was named 'Scottish Connection' in February at a special ceremony.
In February, British Island Airways (BIA) collapsed. The airline had operated just two scheduled services, to Malta and Sicily. However, 4000 charter passengers had been booked to fly with BIA in the forthcoming months. BIA had debts of £10 Million. Two of the airline's eight BAC 1-11 jets had been sold off, in an attempt to raise capital. BIA had been profitablle until 1988, and was even the chosen carrier for two of Mrs. Thatcher's Election tours. British Island Airways had been a stand alone carrier until they joined with other airlines to form Air UK. A few years later BIA broke away and had formed a second tier airline, based at Gatwick. Many staff had been shareholders and had pitched in to restore their derelict headquarters, with pilots painting signs and cabin crew acting as cleaners. The airline knew, as did Dan-Air, that the BAC 1-11 had to take some of the responsibility for BIA's collapse. The 1-11 could make profits on scheduled services, where fares were often higher, but when pitched to tour operators, the aircraft fell short of the Boeing 737's performance, using as much fuel as a 737 but only carrying less passengers. These facts were compounded as airlines using 737 were operating the 300 and 400 series of the jet. The newer models had greater capacity and a much lower fuel consumption. They were also a lot quieter!
To put this in context: Below is a list of how much fuel (in kilogrammes) is cunsumed per hour and the seating capacity on each type.
BAC 1-11 500 - Fuel Consumption 2,800 kg/h (119 passengers)
Boeing 737 200 - Fuel Consumption 2,800 kg/h (130 passengers)
Boeing 737 300 - Fuel Comsumption 2,400 kg/h (149 passengers) (Dan-Air 30 Class Elite -40 Economy - Charter config 161)
Boeing 737 400 - Fuel Consumption 2,600 kg/h (156 Passengers) (Dan-Air 30 Class Elite - 66 Economy - Charter config 169)
BAe 146 100 - Fuel Consumption 1,700 kg/h (88 Passengers) (Dan-Air 12-40 Class Elite - 20-62 Economy)
BAe146 300 - Fuel Consumption 1,920 kg/h (96 Passengers) (Dan-Air 16-40 Class Elite - 46-82 Economy)
Boeing 727 100 - Fuel Consumption 4,140 kg/h (141 Passengers)
Boeing 727 200 - Fuel Consumption 4,500 kg/h (189 Passengers)
Boeing 757 200 - Fuel Consumption 3,320 kg/h (231 Passengers)
Boeing 767 200 - Fuel Consumption 4,500 kg/h (276 Passengers)
Airbus A300
- Fuel Consumption 5,000 kg/h (350 Passengers)
Tristar - Fuel Consumption 5,000 kg/h (350 Passengers)
TU 134
- Fuel Consumption 2,500 kg/h (85 Passengers)
TU154B
- Fuel Consumption 6,200 kg/h (135 Passengers)
TU154M
- Fuel Consumption 5,100 kg/h (152 Passengers)
As you can see, the BAC 1-11 compares quite badly. Dan-Air were also being hit hard by using the Boeing 727 on European charter flights. There seems little logic in using a Boeing 727 200 carrying 189 people, when a Boeing 767 could carry 276 people for the same amount of fuel. The Airbus A300 that Dan-Air used only slightly more fuel, but carried 74 more passengers than the Boeing 767. Yet still, Dan-Air chose to reduce the Airbus fleet, in an effort to raise cash. Dan-Air's 727 in both 100 and 200 series, used much more fuel than rival carrier's aircraft. The only factor to justify keeping them in the fleet was that they were bought and paid for. Fully owned by the airline. Britannia, Air Europe and all the other charter carriers leased their aircraft; resulting in substantial monthly lease payments to the lessor or manufacturer.
Whether the balance sheet tippped in favour of the fully owned
aircraft was up for debate. One thing is for sure, if a would be Tour Operator came to Dan-Air requiring an aircraft, to match the competitor's price, Dan-Air would be operating on a vastly reduced profit margin. If there was a profit at all.
In 1990, the worldwide recession started to bite in the UK. One of the first things that people forgo, when times are hard, is their overseas holiday. UK bookings were down 40% on the previous year, at the time of the BIA collapse. Press reports said that 'Even industry giant ILG who own Air Euroope were feeling the pinch.'
Following the collapse of BIA, Air Europe had jumped on the available Malta services and were soon operating Boeing 757 aircraft out of Manchester and Gatwick to the sunshine island. I
n April, Dan-Air announced that for only the second time in its history that it had made a loss. 1989's pre tax profits of £9.9m dropped to a loss of £3.3m. Share prices tumbled 50p to 355p (An all time high was last year's 570p) Fred Newman stated that high interest rates were partly to blame, as well as an exceptionally hot UK Summer. Newman also claimed the merger of BCal and BA had hurt the airline. Over-capacity on some services had not helped either, as this meant they were unable to increase fares. Their charter division was down 7%. Despite this, overall, Dan-Air had maintained their share of the charter market of between 15 and 20%. Turnover was up 11% at £376m. The sale of two Airbus aircraft had raised £5.1m and the company sold more than £1 million in surplus spare parts. Despite carrying 4.5 million passengers on the charter division, which was only 1% lower than last year. The airline was not able to increase revenue from those charter flights . the reason for this was because they were operating on the same margin as the previous year. This operation was carried out amidst much higher fuel costs. The cost of launching Class Elite had been costly, but almost two million passengers flew on Dan-Air's scheduled network, an increase of 40%.
Secret talks that had taken place in May were leaked to the press. The talks had been between Dan-Air and several interested parties, resulted in a dramatic increase in the Davies and Newman share price, rising from 150p to settle at 575p. This increassed the value of the stock market company from £10m to £40.3m. Exactly who was involved in the takeover talks was initially unclear. It was rumoured that both British Midland Airways and British Airways were not involved as they knew any such merger would be referred to the monopolies and mergers commission. Aviation insiders believed that a European or American airline would be most likely to buy Dan-Air, as it was the easiest way to get into the already congested airports of Gatwick and Heathrow. These carriers would also be aware that Dan-Air had massive hanger space at both Gatwick and Manchester. Dan Air went to great lengths to reassure passengers that any passengers booking with Dan-Air would in no way be at risk with contractual obligations. Dan-Air announced that they would
be withdrawing from the Inverness-Manchester-Gatwick service, that had been in operation for only fourteen months. I
nstead, they would be concentrating on the Gatwick-Manchester route which had far better yields. The successful Inverness-Heathrow and the Aberdeen-Gatwick services would increase frequencies. Dan-Air revealed that only 7% of passengers at Inverness had opted for the Gatwick service over Heathrow. The Inverness-Heathrow route had been so successful, that not only
had frequencies increased they were now increasing capacity on all flights. The flights would all now be carried out using the larger,
104 seat BAC 1-11 500, adding a further 20 seats to each flight.
The BAC 1-11 500 series fleet now stood at twelve.
At the start of March, Dan-Air replaced one of the Berlin based HS748 propliners with a BAe146 jet. Dan-Air also took over the
Gatwick-Amsterdam feeder route from British Airways. The airline praised the airport management at Inverness who had helped by not increasing their landing charges. Saying that the landing fees at Inverness included navigation service charges but did not include a passenger service charge. At Heathrow the landing charges were simply that - for landing. Thus, a BAC 1-11 with an 80% load factor would incure a landing charge of £878 at Heathrow. Whilst Aberdeen was £856 and Inverness £705.
In a year of pretty bleak headlines, Dan-Air had reason to chee
r when in August their tea was awarded best in the world. A panel of 10 judges had travelled almost 300,000 miles to find the best brew in the sky. Dan-Air's tea is a blend of Indian teas. The company were delighted to accept the award.
Shares in the parent company Davis and Newman suddenly plunged by 25p in August. Closing at just 150p. Speculation about the impending crash of the company was rife. A further blow came when Airtours - Dan-Air's fourth biggest charterer annouced that it was setting up its own airline early in 1991. Despite this, a brand new aircraft joined the fleet, bringing the total fleet size to 51 aircraft. The new aircraft came in the form of the newest version of the BAe146. The 300 series was a 110 seat, ultra quiet aircraft that would be used on the
Newcastle-Jersey and Gatwick-Jersey services. The fuel effiiciency of the 146 was not to be underestimated. The Gulf Crisis that was engulfing the world saw fuel prices increase by more than $35 a barrell. Something that no airline could ignore.
Press speculation about the future of Dan-Air was rife by late September. Dan-Air denied there was anything wrong, going as far as saying they 'were baffled' as to why the share price had fallen so sharply. Just a few weeks later the company said they would be issuing a statement to 'clear up confusion' as soon as they could. In that time, the board of directors at Davies and Newman had been in talks with their banks, looking at resolving the current situation. On 19th October, Dan-Air announced that respected 'Company Doctor' David James would take over the airline on November 1st. Fred Newman would step aside. James would be paid a rumoured £30,000 a month, plus heavy 'arrangement fees'
At the time of his employment, he was chairman and chief executive of the Eagle Trust, a position he intended to keep.
Davies and Newman had been involved in a series of meetings with Bearings Banks. In order for them to allow them to keep financing Dan-Air, the pre-condition that David James be made chairman. Fred Newman had called James whilst James was in America on another matter. Upon hearing the news it is claimed that James refused the offer of the job. Saying that the £15million special fee was 'outrageous'. The Board then went on to tell James that, if that were the case, then the company would have to fold. James immediately flew back to the UK and took part in further meetings with Barings in a last ditch attempt, as they had to issue bonds by 3pm Friday 19th October. Had that not happened, the airline would have folded that same day. James negotiated a smaller special fee of £8.75 millilon and said he had improved the terms of the transaction substantially. Meetings went on until past midnight, and at 1.05am hands were shaken. The airline had been saved, with three hours to spare.
At a press conference that morning James said;
'The will be no fires sales and no bargain deals. All next year's charter holidays which have been booked are absoultely sound.'
"
Most of the company's staff will keep their jobs. My arrival does mean a threat to the established regional routes, I have no preconceived ideas about closing off any routes."
Although he did not have a background in aviation he went on to say;
"One has to look at profits, but you cannot go cherry picking and just keep the best routes. You have to look at the total."
James' appointment came with the reassurance that they were no longer looking at selling the airline or joining up with another carrier. They were looking at returning the airline to profitablility. At his appointment, banks were willing to increase working capital for Dan-Air to £70m from the previous £40m. The Davies and Newman families, who, between them owned 52% of the company, agreed to restrict their voting rights while James was Chairman.
One of James' first moves as Chairman, was to replace most of the Board of Directors at Dan-Air with people he had personally chosen. Many had no experience in aviation. He then told the press and the industry that he saw no reason why Dan Air could not be turned around. He was
"
Pleased at Dan-Air's present perfomance which has seen it sell 85% of its charter capacity for 1991."
His next move
James put Dan-Air Engineering (DAE) up for sale. The price tag of £25 million would give a massive injection of cash to Dan-Air.
DAE employed 1,600 people at Lasham, Manchester and Gatwick and had staff at 11 UK Airports.
James' idea revolved around Dan-Air securing a re finance package and concentrating on becomming a stand alone scheduled airline. He said he wanted to commence a fleet renewal programme. The General Manager - Europe - Vic Sheppard announced that in 1990;
'Dan-Air would be phasing out our smaller aircraft and thinner routes
'
Those aircraft would be replaced by newer, quieter and more economical jets on high density routes such as Gatwick - Paris, which would soon be offered up to ninie times a day.
'I am well aware that people only see Dan-Air as a cheap and cheerful charter airline, and all that goes with that, but when people have tried our scheduled services, in particular the 'Class Elite' they are often pleasantly surprised at the level of service we offer. Our market research shows this, and it shows that they are highly likely to come back for more.'
In 1990, 24% of Dan-Air's scheduled passengers were travelling on business class, 40% of flights were on the scheduled network and the plan was to take that to 60% in 1991. The six domestic services into Gatwick offered other airlines '
Interlining'
with their own flights. In particular, American carriers were impressed with Dan-Air's ability to bring passengers into
Gatwick to join one of their flights Stateside. Dan-Air had no ambitions to enter the long haul market and the agreements worked well. As Europe prepared for the de-regulation of the airways in 1992, Dan-Air found itself having BA as a direct threat on its Gatwick-Toulouse route. BA wanted to get back into Paris, but was hitherto restricted by only being permitted to fly into Paris Orly.
Announcing pre tax losses of £18.7m in October for the last six months trading, the figures made grim reading. A further 15p fell off the share price of Davies and Newman. Having increased by 20p at the announcement of David James' appointment. They now stood at 140p. James was quoted that day saying;
"
Whatever happens, in any circumstances the core business Dan-Air is certain to survive in one form or another."
Further going on to say '
The board's first task, is to give priority to addressing the corporate strategy for the future and deciding precisely which parts of the organisation should be developed and which may present potential for realisation'
The BAC 1-11 fleet stood at eighteen examples. The type was beginning to be a problem, some of the older 1-11s would not meet the noise reduction targets set by the EU. They were also lacking CAT III technology. Some had been fitted to CAT I. This had been considered not to be a problem on charter routes, because they generally had good weather. When the 1-11s were placed on Northern European Scheduled Services some of them became problematic when weather was bad. The airline's strategy was to ditch BAC 1-11, HS 748, Boeing 727, and Airbus aircraft and consolidate the fleet on just two types. The Boeing 737 and the BAe146.
Rumours circulated, that Aer Lingus were interested in buying DAE, shortly afterwards Aer Lingus said they had no longer wished to purchase it.
James then claimed that Cathay Pacific were interested in purchasing the engineering division.
A Dan-Air Boeing 737 flew to Moscow on a charity flight in December. Charities had managed to get a plane load of baby food and Dan-Air agreed to fly the food destined for hungry Soviet babies free of charge
. The flight brought much needed good news to the company. As did the award 'Airline of the Year' awarded to Dan-Air by ILG. This was ironic as
Air Europe were ongoing in their campaign to smear Dan-Air;
In what seen as an attempt to finally finish Dan-Air, ILG said that it would not be chartering any Dan-Air aircraft beyond this year. Just two years prior, ILG had time chartered six aircraft. The following year only three.
ILG went on to say that they had no plans to use any Dan-Air aircraft in future. Dan-Air Engineering had lost the contract to service Air Europe's aircraft last year.
There was no doubt,
Dan-Air was in deep trouble. The banks that Dan-Air had used for their entire history refused to extend their overdraft facilities.
The sale of Dan-Air Engineering (DAE) was handled by Barings Bank. Davies and Newman, unlike Air Europe, was asset rich, with real estate that they actually owned, aircraft that were often owned outright and spare parts valued at millions. The Engineering division was profitable and as well as maintaining Dan-Air aircraft, serviced the aircraft of 30 other airlines, including British Airways BAC 1-11 at Manchester. Dan-Air would hope to retain a 20% share in the company and wished that their aircraft be serviced by the new owner.
James' decision to sell off Dan Air Engineering is explained in great detail in the
company history section
of this site.
1990 had been a record year for the amount of passengers Dan-Air carried 6,276,000 passengers. 4,472,000 on charter flights and 1,804,000 on Scheduled Services. Their aircraft had flown 68,903 flights. Of those 35,560 were charter flights and 34,343 were scheduled flights. In terms of its network, all flights covered 72,666,000 aircraft km. Forty scheduled Service destinations had now been added to the network and in total 220 airports had been visited
The
HS 748 aircraft was seen to have reached the end of its use, t
hey did not have the capacity nor efficiency of most of the jets in the fleet. The oil supply charter flights had dwindled to a mere trickle, an
d several 748s were sold, leaving the fleet total at just eight.
NEW ROUTES AND ROUTE CHANGES
Gatwick - Amsterdam feeder route - March (Taken over from British Airways)

2 April - Gatwick-Berlin service commenced - April 2nd

Gatwick-Dublin service discontinued - April 4th

Gatwick-Vienna service started - May 2nd

Gatwick - Ibiza - 'Class Elite' introduced. May

Connecting flights introduced between Manchester, Newcastle, Tees-side and West Berlin. October 29th
1991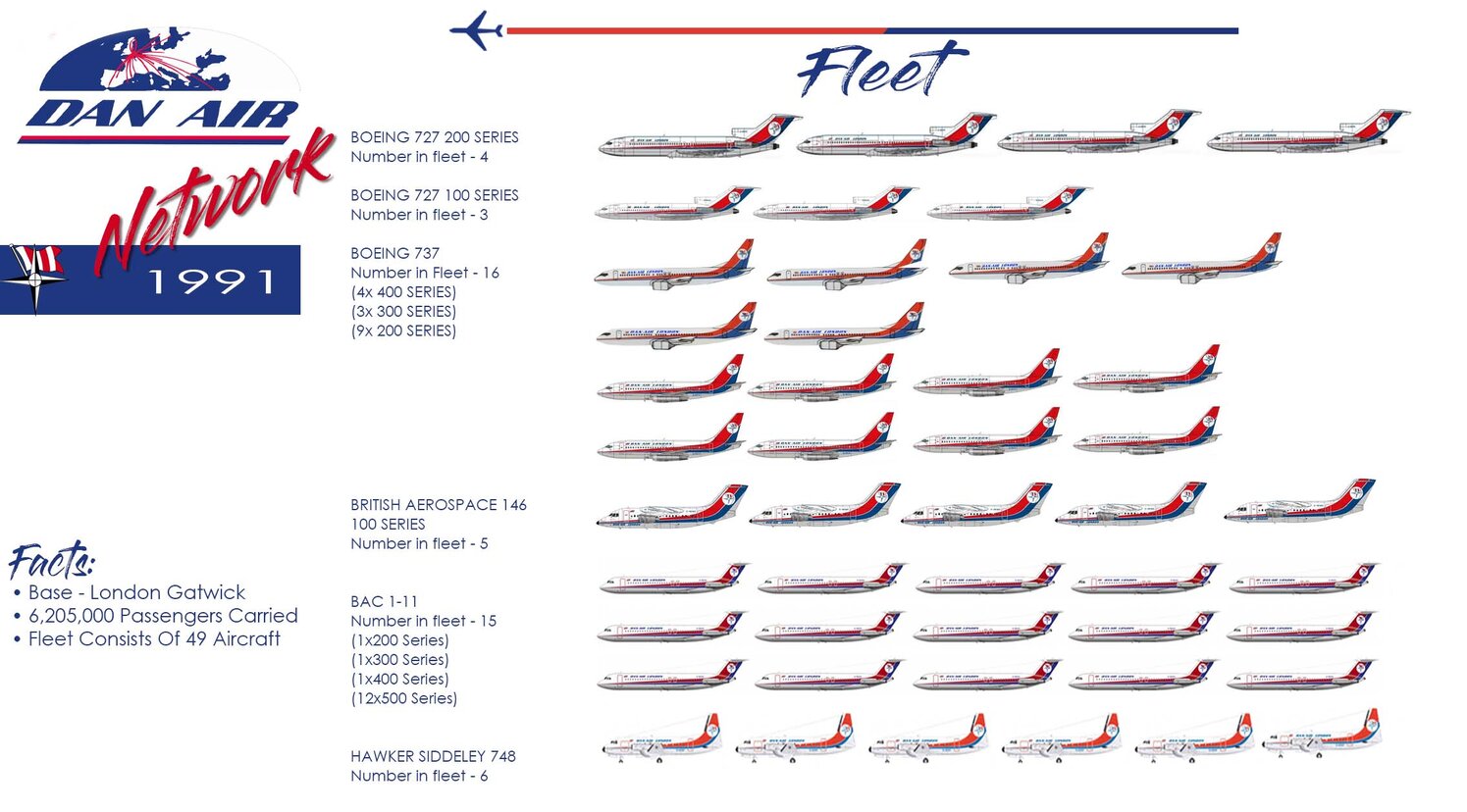 New Year brought much needed good cheer when Dan-Air was given the licence to fly
Gatwick-Amsterdam after British Airways dropped the service. Dan-Air would commence operations in March. This was a premium route that was guaranteed to succeed. However, Dan-Air announced it was scrapping routes from Newcastle and Tees Side to Norway in March. This was in response to a challenge from Norwegian airline Braathens Safe who announced they would be goiing head to head with Dan-Air. It was felt by many that they were not in the mood for a price war with another airline after being stung so heavily on the London-Dublin service.
The Inverness-Heathrow service continued to grow and for the second year in successio
n Dan-Air announced they would be replacing the 104 seat BAC 1-11. the service would be upgraded with a 124 seat Boeing 737 200 series. The aircraft used the same amount of fuel but could carry 20 more passengers.
Dan-Air announced on 13th February that they were withdrawing eight flights a week from the Aberdeen-Manchester- London service citing the Gulf War and recession as the main reason. The airline said it was holding up well compared to some of the larger airlines, but that they had lost 15% of business passengers. The 10am DA133 daily flight from Aberdeen was cut both ways leaving just Fridays. Other services between Manchester and London would still operate as would the direct flight between Aberdeen and Gatwick. Dan-Air said the flights would definately be back for Summer and possibly before, stating that they were constantly monitoring the situation.
What was unknown to most people, was the seriousness of Air Europe's financial position. Both Air Europe and Dan-Air used the same bank, Lloyds. International Leisure Group (ILG) had received a rescue package earlier in the year thats was not reported in the press. Lloyds Bank, and major creditor had agreed to swap the £50 million ILG owed into shareholdings. But implementation of that deal depended on ILG putting together other elements of a package which involved Swiss financier Werner Rey. Mr.Rey's Omni Holdings owned a 49% share in ILG and planned to inject £40 million into ILG. But serious doubts had been cast on the move since Omni had sought receivership from the Swiss courts while its own financial position was clarified.
Air Europe carried on business as usual in the short term.
David James had stated that whilst his relationship with the Civil Aviation Authority had improved, when he was at Dan-Air he felt them to be 'sticky'. He knew that both Dan-Air and Air Europe were having considerable difficulties, but felt that the CAA did not perceive the problems Air Europe had, when at the same time, they were very aware of the ones Dan-Air had. He felt that he was getting a raw deal from the CAA, feeling that the pressure that was being applied to him was not being applied to Air Europe. James felt that the CAA were very hard to deal with during the early part of 1991, feeling that not only were the CAA considering withdrawing licences that Dan-Air held, but that the CAA did not expect Dan-Air to be able to succeed with re-financing. James said;
'I was not in the least bit surprised when their problems surfaced, and it became clear that they had a far greater terminal risk of collapse than we did.'
For six weeks of the Gulf War Dan-Air suffered an outflow of funds amounting to £28 million. By Friday 8th March 1991 the amout of money that James had available to draw on was just £920,000.
The Gatwick - Manchester service had seen a drop in figures as the recession had hit the travel industry hard. The war iin the Gulf made American travellers, including those on business, reluctant to travel. One of the reasons the Gatwick-Manchester service had been popular was because of the connectivity it offered to worldwide destinations only served from the capital. With numbers so badly affected, Dan-Air
attempted to boost sales by offering off peak, return tickets on flights in April for £50. The take up was instant with flights heavily booked. So successful was it, that the airline decided to carry on the offer for the whole year.
At an extraordinary general meeting new chairman David James announced that the airline was going to need a substantial injection of cash. He hinted at a share offer. The shares fell and then increased by 5p to 125p as James announced that they had sold Dan Air Engineering (DAE) for £27.5m to the Danish Engineering company FLS Aerospace. This massive injection of cash and the sudden upturn of business following the end of the war helped.
What was not known to the general public was that the banks had to decide which airline they were going to offer the rescue package to.
Dan-Air's strategic advantages included its 11 domestic routes and 36 European routes. James said flights on some of these routes had "Been curtailed to save fuel and maximise payloads. Partly to offset the five fold increase in fuel costs since the Gulf War."
Air Europe, and ILG had been seeking assistance from banks and backers. In terms of product, the carrier was strong. It had a good brand image and their standards of service were highly regarded. In terms of assets, the company, as it happened, had very little. Office space had been rented, and the smart, shiny aircraft were, with the exception of three, all leased. Air Europe had made great headlines with their new aircraft orders. Whilst, at the same time, calling Dan-Air aircraft, old and gas guzzling. Effectively,
Dan-Air was asset rich.
On Friday 8th March Air Europe collapsed. With the collapse, the holiday plans of 400,000 people were thrown into doubt, and 25,000 people were stranded abroad, a further 12,000 were due to travel over the weekend. ILG went to the High Court to appoint a receiver, and announced that unless a buyer was found within week, that the company would fail. At the hearing, it was disclosed that ILG had lost £30 million in the three months to the end of January of 1991. It was also told that ILG had liabilities of £15.4 million.
The Assosciation of British Travel agents reassured those booked on package deals that they would get their money back, saying:
'If a company does have to cease trading, the ABTA will protect those who are on, or have booked a holiday. But those booked on scheduled services with Air Europe might not be so succefful as there is no automatic money back guarentee for them.'
There was a ray of hope for some. Tour Operator organisation - the Tour Opertor Study Group - said they would arrange for passengers stranded abroad to get home. They also pledged that ILG customers who were due to fly on other airlines and due to depart before midnight on Sunday 10th March would go ahead as planned, and that anyone who had booked and paid for a package holiday with an ILG brand could either have a full refund or an alternative holiday with another operator.
Over the weekend Dan-Air operated 41 rescue flights to meet that promise or to repatriate those abroad.
The administrators KPMG Peat Marwick McLintock said: 'There is a small margin of window, through which the airline could be sold as a going concern'. They said they were in talks with several people, including airlines, and that they hoped the suspension of flights would be lifted soon. The company continued to trade, with holidaymakers and passengers told to contact their travel agent for information. Holidaymakers would not lose money as ILG was a member of the bonded scheme, ATOL and ABTA. Those on scheduled services were told to contact their travel agent. Twelve of Air Europe's 36 aircraft fleet were impounded by an aministritive receiver, appointed specifically for those aircraft. Other secured lendors tried to take possession of their aircraft. Tim Heyward from KPMG says:
'The airline's only assets, as far as we could see were the routes, take off and landing slots and the actual organisation, which consisted of a strong Tour Operation with Intasun, Global, Lancaster and 18-30. Sadly, even in that instance, the offices were rented. Overseas transfers were carried out on hired coaches and resort reps either used shared, rented office space or worked from hotels. It became clear very quickly that the company had very little of its own.'
Air Europe advised holidaymakers abroad to carry on as usual with their holidays, and that they were working with other carriers to arrange to get them back home with other carriers. Mr. Heyward was tasked in finding a buyer for ILG
'Obviously I was very disappointed, but I certainly gave it a good try. The Tour Business as one combined operation was over. There were still some small assets that could be sold, but the companies were all placed in liquidation over the next few weeks. There was some interest in Air Europe, and the Civil Aviation Authority (CAA) extended their operating license a further 24 hours. I believed that any would be buyer could arrange for more favourable leasing terms on the 34 aircraft that Air Euope leased. If a buyer bought the carrier they could sell the three aircraft that Air Europe owned or keep them. Once the Tour Operators were placed in liquidation they could be snapped up quite quickly. The value would drop significantly. There was a specialist school holiday company ILG owned called Quest Leisure Group and there was a lot of interest in that, within a day of its liquidation talks were at an advance stage. Talks ultimately failed and Quest was closed down. We almost had a buyer for Air Europe and the press picked it up. I became less confident of an eleventh hour rescue. There was a lot of interest in Club 18-30 as well. I was shocked at how ruthless and swift the travel industry can be. ILG stopped flying on the Friday and Dan-Air had a special licence from the CAA to operate the Gatwick-Brussels service the next day. They were after eight of Air Europe's Gatwick flights.'
Quest Leisure had three Tour Operators, Hourmont Tours, Schools Abroad and School Plan. They had a market share of approximately 33% and carried 75,000 school children and teachers on holidays. Days after the collapse talks to buy it failed and administrators closed the operation. It was revealed that Intasun had debts overseas of £5.5 million in Spain alone, for coaches, hotels and other firms.
On 19th March, a new UK charter airline, Airtours International made its first departure from Manchester to Rhodes. The start up carrier baulked at being called the son of Air Europe. The parent company, Airtours said that they had increased capacity to try to plug the gap left by Intasun. Airtours was the third largest Tour Operator in the UK and were set to take 750,000 people on holiday. The increase in bookings might take them over the one million mark, they said at a press conference.
'Airtours has ordered five MD 83 aircraft and would base them at head office Manchester and Birmingham.'
Airtours had been a regular client of Dan-Air's for many years.
One of our contributors says:
'It was a familiar story over the last few years. We would just about get over a Tour Operator who did big business with Dan-Air setting up an airline, and then another came and the pattern repeated itself. Right back to the days of Air Europe starting. They would always start with just two aircraft....Then the Tour Operator would get bigger and for a while things would be good at Dan-Air because their two aircraft couldn't fly all their business. Within a year or two the new airline would have half a dozen aircraft and they wouldn't want to charter Dan-Air aircraft anymore. That was the case until they went bust!'
One air steward, called Danny told us:
'Oh the irony. Loads of us were on days off and standby, and then the phones rang saying to report for duty. Air Europe had gone bust and their staff were calling us to charter us to bring them home! I have to say, I had a spring in my step. Not at them losing their jobs - but at me keeping mine! There had been a heavy cloud over us for months, we knew what ILG were doing, they were out to destroy our company. One thing I had always felt at Dan-Air was a sense of family. We were a nice company, and I don't think ILG were the same. We never set about destroying another company to get what we wanted. A company isn't just a workplace. It is people who had rents and bills. Business shouldn't be so hard and in a way that lot at the top of their organisation got what they deserved. The saddest part was that their staff probably felt the same about ILG as we did about Dan. They were people too.'
Another stewardess called Helen said;
'I had been successful getting in Dan-Air in 1990 and I was certain that we were going under. I knew a girl called Zena (Not her real name) at Air Europe and, although she usually said 'I'm only joking' aferwards, she would say 'You should come over to Air Europe, because Dan-Air won't be around next year. She said things 'in jest' about our aircraft being clapped out old bangers. She even said to a group of friends once that 'after the safety demo Helen goes and sits next to the rear gunner on her aircraft'. I hadn't heard the Dan Dare tag until I started with them. I had been on lots of holidays, but actually never with Dan-Air. When I started working on them, I swear, I didn't see anything different about our aircraft than anything else I had been on. I don't recall a single thing that made me think we were dodgy. On the day that it happened I had a phone call from Zena and she was in tears. She actually asked me if there were any jobs at Dan-Air! I joked and said 'Are you sure we would be good enough for you?' - I was a great feeling knowing that we were, for the time being at least, safe in our jobs. Zena, by the way, applied for Dan-Air and was rejected. I don't know if it was because she failed at something, or because she was from Air Europe!'
Dan-Air offered passengers booked on flights to Jersey and Paris where Air Europe operated in direct competition with Dan-Air, would be offered standby tickets with Dan-Air.
As well as ILG holidays, other Tour Operators had seats booked on Air Europe planes. Owners Abroad said they had about 1000 passengers abroad who had travelled on Falcon, Sunmed and Sovereign holidays. They would be flown home with other carriers. Travel Agent Thomas Cook said any passengers booked on Intasun or Air Europe would be offered an alternative or a full refund.
The crash of ILG sent shudders throughout the industry. Optimism after the Gulf War had ended so quickly evapourated at the thought that it was not just the small Tour Operators who were at risk. The struggle to keep up with the UK's top Tour Operator, Thomson, had also taken its toll.
Within hours of the collapse becomming public knowledge, Dan-Air had applied for several of the routes that Air Europe had hitherto operated. David Lammy MP, chairman of the Labour Party's aviation sub committee said
'I blame organisations like the CAA for not putting restrictions on companies like Air Europe getting a license.'
The Transport Secretary, Malcolm Rifkind was blasted in the media for not revealing he knew of Air Europe's troubles for two weeks. It is difficult to say whether he had made the right call. Had he revealed all he knew, he could have made the situation worse, with passengers and holidaymakers all rushing to cancel their holidays and flights.
Days before the collapse Harry Goodman, ILG's boss,checked himself into a £300 a night private hospital,saying he was suffering from delayed shock after a car crash a month previously. Then, after ILG went under Goodman said:
'It's not a good day, it's a shame we can't take people on their holidays, but their money will be safe. The recession hit us harder than some. It all cost us more than £70 million.'
Dan-Air could also take a breath. Those 'old, gas guzzling, jets that ILG did not want to charter anymore, from an airline they wanted to consign to the history books, had helped save the day. They were owned outright by Dan-Air and whilst they did not have the value or efficiency of Air Europe's aircraft, in avaition, there is no value in a rented anything! Dan-Air had spare parts worth millions, offices and real estate, a small tour opertion, a 50% share in Gatwick handling, cash from the sale of Dan-Air Engineering and a rescue package from the bank. But all was not good.
The decision to replace board members with people from none aviation sources was a great risk. People watched with interest and worry as new board members took over. Board members who lost their seats included
Danny Bernstein, who left Dan-Air to become Managing Director of Monarch Airlines. His great skill in the industry saw Monarch go from strength to strength and become one of the most successful UK airlines in the 90s. Also, Graham Hutchinson who was aknowledged as a supreme airline manager, respected the all over the World.
How could anyone take such a risk in removing these two people? Only three people on the new board had a background in aviation. Michael Newman, John Mayes and Peter Sommers. The new Davies and Newman Chairman himself, David James, was an accountant by profession and had been trained by Lloyds. James had saved companies from going under in the past, none of them however, were airlines. How could he be expected to know about this kind of industry? Others to come with James were Peter Ryan, a chartered engineer and Charles White, an engineer.
The new strategy, moving Dan-Air forward was to be a five featured plan; To concentrate on Dan-Air's operation and development as an independent airline - To develop the airline as a specialist, short haul, scheduled service provider within Europe and the UK, based at the Gatwick hub - To maintain subsidiary scheduled services, spoke centre based at Newcastle Manchester and Berlin - Progressivly modernise the fleet of aircraft - and to continue a strong presence within the charter market, albeit with a reduced, but more flexible capacity than before.
Just five days after the collapse of ILG it was announced that administrators had failed to find a buyer for the Tour Operator section of ILG, as they had not been able to sell it as one business. In total 800 UK and 750 overseas jobs would be lost. Resort representitves were flown home and dismissed. Talk would continue to find a rescuer for Air Europe with a deadline placed of seven days. Citibank had made many loans to Air Europe's parent company ILG on the security of their aircraft, and on March 7th 1991 they demanded that ILG had 24 hours to find new financing. Or they would call in all their loans. Lloyds Bank meanwhile, who had been suprisingly negative to Dan-Air and had made the restrictions so wide ranging, were now trying to keep ILG afloat. This policy was understandable from Lloyds point of view. They were the Bank who ILG's owed the majority of their debts to, estimated at £100 million. So misguided were Lloyds by ILG that they had attempted to persuade ILG to take over Davies and Newman as part of the D & N rescue package. As it was, no financing came, and ILG along with Air Europe collapsed. David James said
"
Dan-Air needs a substantial injection of new funds." and "This might entail a 'rights' offer to shareholders" James continued,
Significant new equity investors, would benefit in the enhancement of the overall corporate entity!" The other option was for Dan-Air to be sold as a going concern,'
adding that
"No talks were taking place, but past expressions of interest might recur once market conditions began to improve.'
The final option was to merge with a similar airline, stating
"Again this might requite the approval of shareholders or new investors with additional funding."
James announced that
"Dan Air's strategic advantages were its 11 domestic and 36 European routes - but flights to some of these would have to be curtailed to save fuel and maximise payloads. Partly to offset the five fold increase in fuel costs and the Gulf War."
Group losses were £30.4m from £18.7m in the first half of last year. This figure included £5m in 'exceptional costs' to pay for 'special fees' to the banks for their lending lifeline, relocation of head office and 'professional fees' in forming the group's future strategy. In other words - bank charges and fees for management.
Tim Hayward from KPMG again:
'ILG's liabilities looked at being about £400 million, the whole organisation had assets that were likely to raise no more than £10 million. It was clear that the company was insolvent and had to be liquidated. The situation was quite bleak. It would be a long time before any dividend could be paid to any creditors. Sorting out the creditors was a lengthy and expensive task. The best that creditors were looking at was 2p in the pound.'
A
ll

was not lost. The brand Club 18-30
was taken over as a management buy-out backed by venture capitalists County NatWest Ventures, Grosvenor Capital and Causeway Capital, in a transaction valued at £167,000. After being briefly rebranded as 'The Club' due to regulatory rules precluding the use of the name for 3 years, it reverted to the original name in 1994. In 1995, the company was sold for around £9.75m
Air Europe and ILG's collapse in March left significant gaps in the travel market. Companies that had booked seats or whole aircraft from Air Europe would be looking for a replacement carrier. Dan-Air was ideally placed to swallow up not only
this
available business, but also many of the bankrupt airline's Air Europe's scheduled routes. It would mean that Gatwick-Paris would now not face competition from Air Europe. It could have been the saving of Dan-Air. It is widely regarded now that had they done this, the airline would have gone into profit again that year. The board chose not to do this. They had already announced that they wanted to be a scheduled services airline. In fact - instead of taking on this available work the new board actually
reduced
the charter and IT work that year. Despite claiming that now they had refinanced the airline and that they were in a position to '
take advantage of market opportunities.
'
Later in the year a new Tour Operator sprung up. Sunworld. It had been born out of the ashes of ILG. Iberotours in Spain were its founders. By late Summer they had launched and carried a few thousand passengers. They said they would be launching a full package for the Summer of 1992. They would sell 360,000 holidays and would be using Dan-Air as their main charter airline. The irony of this is that Sunworld's managing director was the former Manager of Intasun, Peter Long.
One of our contributors said
'All the discrediting ILG had done to Dan-Air, all the attempts to deal us final blow - came from a company that had rented everything - grew too fast and were in debt up to their necks. Now, this new company was being formed. chartering Dan-Air aircraft!! You could not make the story up! Loads of people lost their holiday, or at least had it inconvenienced. Scheduled passengers who had paid by debit card lost money. All those people stuck in resort having to be repatriated. It stank! Then there were thousands of staff. Talented people, who had faith in their company, all out of a job. Some of the people working for Sunworld were previous contacts of ours. Sunworld were saying they were going to use us!
Sunworld advertised in the national press, and it is worth repeating the words on the adverts.
'YOU CAN BOOK A SUNWORLD HOLIDAY WITH COMPLETE CONFIDENCE. WE ARE PART OF AN EXPERIENCED TRAVEL GROUP WITH OVER SIXTY YEARS OF EXPERIENCE, A £200 MILLION TURNOVER AND TEN YEARS SUCCESSFUL TRADING IN THE UK. OUR AIM IS TO PROVIDE THE BEST HOLIDAYS AT THE BEST PRICES.... Just when you thought you might not get away to your favourite sun spot at this popular holiday time - Look again at SUNWORLD. '
Incidentally - the advert said 'We WON'T be beaten on price.'
Industry Observers noticed the lifeline thrown to Dan-Air from Sunworld. They suggested that the main reason Dan-Air had lost out on charter work was the lack of vertical integration with a Tour Operator. They urged Dan-Air to join forces with one or to start one of its own. Their advice was ignored. In a further twist, the new Dan-Air board had decided to concentrate on scheduled services AFTER the Air Europe/ILG collapse. Thomson holidays said that the crash had resulted in a 25% surge in bookings. Horizon's sales was up 30% and Airtours, who aimed at the cheaper end of the market had soared by 40%, which in real terms meant a million people would book an Airtours holiday. Airtours had decided to add three more aircraft to its fleet, it did so because it couldn't find any capacity with existing UK airlines. The Airtours fleet now stood at eight aircraft. Could Dan-Air not have leased a similar aircraft? If Sunworld was able to produced a full holiday programme immediately after ILG had gone bust - could Dan-Air have not done the same?
Airtours share price had rocketed to 795p. This enormous gap in the market was largely ignored by Dan-Air's management. They were hopeful that in 1992 they would break even. The following year have a profit of £20m rising to £42m by 1995.
In April BBC TV's 'Money Programme' devoted an entire epidsode to the struggles facing Dan-Air. Captain Mike Ralph was interviewed on the programme and said: '
'
Our aircraft are old....they were dirty...and the paint would be flaking off them. The ground equipment would be in a similar state....And....the image the projected wasn't a good one. We pressed the mangement to do something about this and we hope now that something will be done.''
This was not particularly helpful, nor particularly true. The sixteen Boeing 737 aircraft in the fleet were pretty new, in particular the 300 and 400 series models. Certainly of a comparable age to those in the Britannia Airways fleet. The BAe 146 fleet were new aircraft when introduced to the fleet, they had been upgraded since their introduction. The fifteen strong BAC 1-11 fleet of varying models, were, it is true, older models. The type was the exact model to those in the British Airways fleet, as were the HS 748s. Only the seven Boeing 727s could be described as old, and they had already started to be phased out, to be replaced by Boeing 737 and BAe146 aircraft. Even the older types were airworthy and maintained to an excellent standard. The 1-11s were profitable on both scheduled and charter services. In the UK, British Airways were also flying the same type.
The Boeing 727, despite its excellent pedigree was a terrible burdon for the airline and their replacement was vital. Although it is worth noting that the 1-11s and the 727s went on to fly for several years in the UK, after the takeover, with European Aviation, British Air Ferries, British World Airways, Sabre Airways, Ryanair and Cougar Airlines.
The Gatwick-Brussels licence had been hastily granted as there was no British airline operating the service. Within a few weeks bookings had increased by 14%. The Gatwick-Paris service had seen an increase of 12% since Dan-Air became the sole airline on the route. Frequencies increased between Gatwick and Manchester, with a new service from Gatwick to Gibraltar launched in May. Dan-Air were graned licences to fly to Malta, Athens, Gothenburg, Palma, Stockholm, Istanbul, Cairo, Rome and Oslo. Should these services be profitable, then there could be a way forward for Dan-Air.
Some of these services would commence in 1992.
Ian Peddar and Captain John Mayes were the only two pre David James board members to remain on the board. One of James' appointees, James Ryan left the board to take up the post of chairman with another company.
All but six of the HS748 aircraft had been sold by the end of the year.
Of the forty nine aircraft in the fleet, nineteen were in the charte
r division and 30 aircraft were now carrying scheduled service passengers. The plan David James envisaged was to carry two million charter passengers in 1991 and two million scheduled passengers. There were plenty of airlines that were successfully operating as scheduled carriers that carried two million passengers. James had managed to refinance Dan-Air, the sale of Dan Air Engineering had raised £27m. In addition, the sale of 105 million Davies and Newman shares had raised just over £50m. Total losses for the year were £35m of which £5m was accounted for with the relocation of the head office!
James said the cash would be used to balance the bank accounts and to go towards financing new aircraft.
Dan-Air replaced BAC One-Eleven 500s with Boeing 737s on many new routes. From this period on, Dan-Air carried more scheduled passengers than British Caledonian had ever carried in any single year throughout its existence. Total losses for the year were £35m.
NEW ROUTES & ROUTE CHANGES
Gatwick - Brussels - Route commenced - April

Gatwick - Oslo - Route commenced - Twice daily except Saturday - November

Gatwick - Paris Charles De Gaulle - Increased to nine flights daily - May

Gatwick - Manchester - Increased frequency to eight flights daily. - May

Gatwick - Gibraltar - May

Gatwick - Rome

Manchester - Gothenburg (Proposed Route - CAA Granted Licences)

Gatwick - Athens

(Proposed Route - CAA Granted Licences)

Gatwick - Cairo

(Proposed Route - CAA Granted Licences)

Gatwick - Malta

(Proposed Route - CAA Granted Licences)

Gatwick - Palma

(Proposed Route - CAA Granted Licences)

Gtwick - Istanbul

(Proposed Route - CAA Granted Licences)

Gatwick - Stockholm

(Proposed Route - CAA Granted Licences)
1992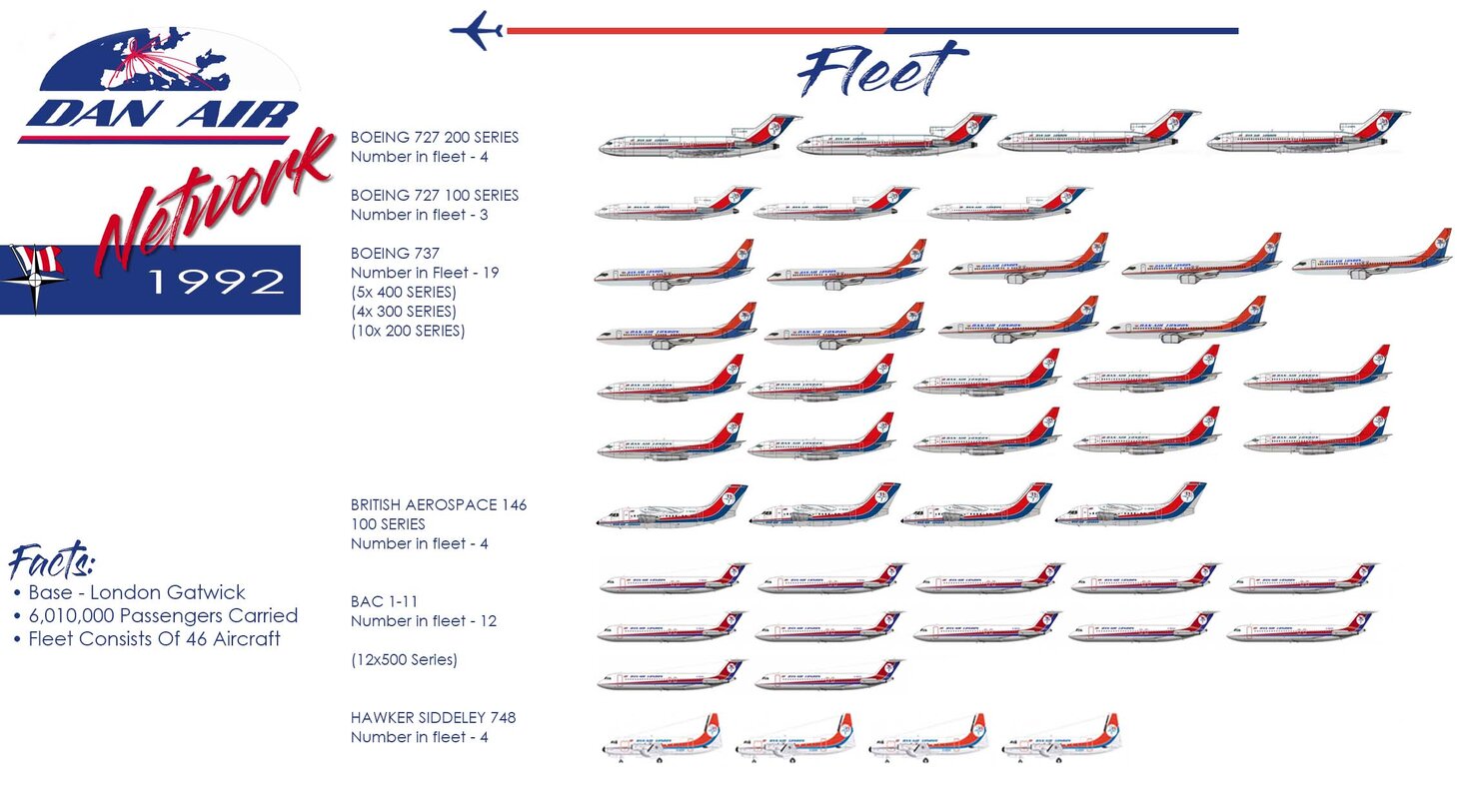 The previous year had been a terrible year for the whole airline industry. Two major carriers had gone bankrupt and the country's second largest Tour Operator had failed. The fact that the banks had chosen to save Dan-Air had been a relief. There would be no room for complacency though, 1992 would be tough. The belief that the airline would go into profit again gave Dan-Air's staff the impetus to try even harder.
In keeping with modern times, Dan-Air had relaxed the rules on male cabin crew, cabin crew being married, the age of cabin crew and even the wearing of jewellery - now the famous Dan-Air hat would be optional. There had been many changes in uniforms over the years, the latest hat had never been popular. In January, management agreed that wearing it was up to the individual, but that hats might return and be compulsary. A spokesman said:
'The type of hat that we were using was a bit outdated. But we can't just change the hat - but when we change the uniform in the near future, we will look at the question of hats again.'
John Olsen, the Company Manager of Cathay Pacific Europe was appointed as Director, Dan-Air Group Of Companies. He took over from David James who became Chairman of Dan-Air and the Group Chaiman.
A General Election was called for April 9th this year. The Liberal Democrats chartered a Dan-Air Hawker Siddeley 748 (G-BUIV) for the use of their leader, Paddy Ashdown. The aircraft had a slight change of livery, with the'Dan Air London' titles replaced with Liberal Democrats. The famous compass and flag logo on the tail was pasted over with a giant yellow circle with the legend 'My Vote'. The aircraft made several appearances on the TV news. Neil Kinnock used a British Air Ferries BAe146 jet, whilst the Prime Minister chartered a British Midland Boeing 737.
In April, the company announced that it had performed better than expected. Turnover was £312m and, in fact, had been £317 - the losses were £18.9m against an expected £19.1m. The airline also announced that four of the older BAe146 aircraft (100 series) were being sent back to British Aerospace along with two BAC 1-11 jets. They would be replaced with four of the latest varient of the 146 - The 300 series. The jets were eight years old and the newer models would bring down the average age of the fleet. The cost was explained as negligable. In addition to these changes, there would be a further two BAe146 300 series brought into the fleet at a cost of £20 million. David
James went on to be chairman of another loss makinng company, LEP.
The new Group Managing Director was John Olsen. His salary was a reported £150,000. The recruitment of Olsen was seen as a positive appointment. No one had thought for a single second that Olsen would have left such a successful airline to work for one that was predicted to fold.
In May, Dan-Air rolled out what was announced as its largest ever expansion at Gatwick from February to May. Then, at the end of May, David James stated that the sustained increase in passengers that was needed to lift the airline back into profit had failed to materialise. He said bookings from April to May had shown no recovery, but that bookings over the last two weeks had shown a marked improvement. This was despite him saying earlier in the year that the airline had been performing better than had been forecasted. The airline had posted slightly higher turnover and slightly less losses than forecast. Now James was saying."This erratic and unpredictable pattern does underline the difficulty of accurate forecasting in the present conditions." He had told the Annual General Meeting that "by adding just two business class passengers on every Dan-Air flight they would add £20m to annual profits." In April, the airline had posted pre tax losses of £35.5m compared with losses of £38.7m the previous year. James had said that the airline's survival plan was 'on course'. A runway extension at Sumburgh was given the go ahead, and it was revealed that Dan-Air, who were under charter from BP to fly out of the airport, were looking to get out of the arrangement. Dan-Air had refused to sign a renewal contract and were instead carrying passengers on a month by month basis. The airport could not handle jet aircraft and Dan-Air were in the process of replacing all propliners with jets.
Dan-Air joined the Air Miles scheme in June. This was seen as a positive move as it would complement their frequent flier programme, run joinly with Virgin Atlantic. Leaked information disclosed that Dan-Air were looking for a partner company to formally merge with. This further unsettled staff and passengers. At this time Dan-Air dropped its sponsorship of a football league.
Passenger numbers on the Newcastle & Tees Side -Amsterdam flights went into freefall, forcing Dan-Air to suspend the service from July 31st. Dan-Air blamed the drop in figures on falling demand and the recession. Flights from Newcastle -Gatwick would continue to operate on weekdays but the weekend flights would also be dropped, as the airline put the squeeze on unprofitable routes. The move would mean that thirteen temporary tabin staff would have their contracts terminated two months early. Chief Executive John Olsen said: 'T
he continued effects of the recession have led to a drop in demand, and this has forced us to take this action. Like all airlines in the current ecconomic climate we consistently review our routes to remain competitive. Despite all our earlier efforts to safeguard the route the continued effects of the recession has meant a lack of demand to support the service profitably.'
The proposed Gatwick-Cairo service was licenced in September, with flights set to start in January. The service would be flown three times a week using a Boeing 737 400 series offering a two class cabin. Dan-Air said that leisure and business travel had bounced back in Egypt following the end of the Gulf War.
On the 28th September it was revealed that Dan-Air had been in talks with Richard Branson with a view to a possible merger. Davis and Newman's share trading was to be suspended from that day until the emergency talks had been completed. The share price at the time of suspension was just 21p down from 550p just two years previously. Concern that British Airways share prices might suffer as a result of a Dan-Air / Virgin merger proved to be unfounded. Branson was looking at keeping Dan-Air as a holding company. David James denied that the Civil Aviation Authority (CAA) were on the verge of closing down Dan-Air. Saying that the company needed funds for future expenditure. Virgin's shareholders would be given the option to invest and the 40 aircraft in Dan-Air's fleet would be used primarily as feeder flights for Virgin Atlantic flights wordwide. In return Virgin would rebrand Dan-Air as Virgin European Airways and provide operational and marketing support. The Dan-Air name would disappear. Meanwhile it was revealed that Peter Ryan, Dan-Air's Deputy Chairman was found to have seven other jobs as a none executive director. Dan Air said of the merger talks that there were no plans for Dan-Air and Virgin to merge or for Dan-Air to be taken over. They were, they explained, 'talks aimed at getting financial backing. Flying operations would continue as normal.'
The very next day David James issued a message to shareholders to say that "Talks of a merger between the two airlines was untrue - they were to result in co-operation between the marketing and operational activities of the airline." He strongly denied reports that Dan-Air had been threatened with the loss of its licences. He also described talk of the loss of hundreds of jobs as "pure speculation". Losses for this year were now forecast at £60m.
On 10th October it was rumoured that Branson was only willing to invest £10m in Dan Air and even then he would like to see Dan-Air stripped back to a core network of highly profitable routes and feeder routes for Virgin Atlantic. Dan-Air were looking for heavier investment of up to £40m. James said "One way or another some sort of proposal will come out to try and save Dan-Air." Industry analysists speculated on TV that Dan-Air would need up to £60 million investment.
This was in total contrast to the statements James had made last year that spoke of the 'certainly Dan-Air would be saved'.
The talks between Branson and Dan-Air broke down on 13th October. New talks were going ahead with other carriers, with the speculation that the talks were with British Airways. This turned out to be true. A second round of talks were soon completed. The announcement that BA had saved Dan-Air was made on 23rd October 1992. In total 1600 jobs would go at Dan-Air. The entire charter division would close. The only aircraft to be taken over by BA would be the Boeing 737 fleet. It was discovered that almost all the scheduled service routes were in profit.
After the British Airways take over, James claimed to have got the best deal for Dan-Air, saying that he had been in talks with twenty other carriers, none of which had been able to match the one BA offered.
Dan-Air's final year of airline service saw just four HS748 in the fleet. The BAC 1-11 fleet was reduced to 12 models. The Boeing 727 which had dominated the charter market for so long stood at seven. Nineteen Boeing 737 aircraft of 200/300/400 type flew, primarily on scheduled services and four BAe 146. Several of the BAe146s were on order but never arrived. In the aftermath of the Air Europe collapse several things had happened. The beginning of the deregulation of the airways had begun in earnest with airlines now free to fly on any route of their chosinig. Malta for instance, a small island in the Mediterranean was suddenly served by Air Malta, Air Europe, British Island Airways and British Airways. Both Air Europe and British Island Airways had gone bankrupt. This left the stage clear for Dan-Air to apply for and obtain several routes in 1991. By 1992 the service had not fully started. Dan-Air had sold its share of the profitable Manchester Handling in January. David James, the Chairman of the company said "
From now on Dan Air will be an airline - just an airline."
The new board intended every route Dan-Air flew to be a high density, business or leisure route. Their plans included greater frequency on the most popluar routes, a much more scheduled service approach and a fleet that was to be consolidated to two types; the Beoing 737 and the BAe146. The Gatwick - Stockholm / Rome / Barcelona routes all started. Route testing and appreciation could take two years. In the pre deregulation days this was possible. Now, Dan-Air was faced with massive competition. The Barcelona route closed after just six months. The expansion of Dan-Air's scheduled operation at Gatwick continued throughout 1992, resulting in the resumption of the former Air Europe route to Stockholm Arlanda in February and Rome Fiumicino in April. In addition, Dan-Air launched Gatwick - Athens in March and re-launched Gatwick - Barcelona in May. During that period, Dan-Air became Gatwick's largest resident, short-haul scheduled operator controlling 18% of all slots, and 21% of all morning peak time slots between 8am and 9am.
Anyone who knew the aviation industry should have known that these routes, with landing and take off slots, were worth a small fortune. As was the spare parts in Dan-Air Engineering's three bases. Further huge assets remained with the real estate in Horley and London City. Gatwick Handling was a major company with large profits. When Air Europe collapsed not only were its scheduled routes up for grab, but a substantial charter programme. The board at Dan-Air rejected the chance to try and take this work. Instead concentrating on the scheduled services.
The funds raised through new shares were insufficient to standardise Dan-Air's fleet on the Boeing 737 300/400 series and the Avro RJ115 (marketed but never built). The funds were also insufficient to finance transformation from a cheap-and-cheerful charter carrier with a collection of poorly performing, "low visibility" regional scheduled routes into a top quality, "high visibility" mainline short-haul scheduled operator plying trunk routes.
Dan-Air's chairman, David James, said
weak marketing and its charter mentality, even after the decision to make high-profile scheduled services the focus of commercial activities, was the reason it failed to achieve results.
That meant that instead of making Dan-Air the airline of choice for high-yield business travellers on prime scheduled routes where it had become a major force in the wake of the demise of British Caledonian and Air Europe — such as Gatwick to Paris Charles de Gaulle — through carefully targeted marketing and publicity, Dan-Air continued selling the bulk of its scheduled inventory to consolidators and discount travel agencies, in the way it had sold its charter inventory to package tour operators. The airline saw this as risk minimisation to fill seats on scheduled services. However, Dan-Air surrendered control over its scheduled seats to third parties whose sales were volume-driven. This deprived Dan-Air of the opportunity to boost the profitability of its scheduled operation by concentrating on maximising revenues from high-yield travellers.
British Airways paid a nominal £1 for Dan-Air - in return taking on financial commitments of £50 million which included debts of £37 million. For its part, British Airways got 12 of Dan-Air's most modern Boeing 737s, a similar number of short-haul scheduled routes from Gatwick, the
Heathrow—Inverness feeder service and about one-fifth of its 2,500 workers. Dan-Air was absorbed into British Airways' Gatwick operation. On 27 November 1992, the company's name was changed from Dan Air Services Ltd to British Air
ways (European Operations at Gatwick) Ltd. This rump of the former Dan-Air formed the nucleus of what British Airways intended to be a low-cost short-haul feeder for its
Gatwick long-haul scheduled services, with the aim of helping to return British Airways' loss-making Gatwick
operation to sustained profitability. The spares at DAE had a value of £20m alone - With the slots at Gatwick being worth millions and their office space and headquarters also. It is staggering that the airline failed. Or was allowed to fail.
NEW ROUTES AND ROUTE CHANGES
Gatwick - Stockholm - Twice daily, except Saturday. February 24th

Gatwick - Rome - Daily service commences February24th

Gatwick - Athens Daily service commences - March 26th

Gatwick - Barcelona - Daily service commences - May 18th

Gatwick - Barcelona service closed. October 2nd

Gatwick - Oslo

Gatwick - Istanbul

Gatwick - Malta

Gatwick - Cairo
Among the reasons for Dan-Air's decline was the lack of vertical integration with a UK tour operator. the company had contracts with 130 Tour Operators many of whom did not charter a full aircraft. The company claimed that this suited them, as they could offer the spare capacity to other smaller Tour Operators, who also could not justify chartering a full aircraft. Dan-Air was the last major independent provider of charter airline seats to numerous large, medium-sized and small tour companies in the UK and overseas. This was at a time when most UK Tour Operators had set up their own airlines. Thomson had started Britannia Airways early on in its history. In 1978 Air Europe was launched with many executives on the board having been former Dan-Air directors. Harry Goodman's 'Intasun Holidays' were Dan-Air's biggest contractor. Although Air Europe started with only two aircraft, its expansion caused a major dent in Dan-Air's business. Owners Abroad was another large company Dan-Air worked with. In 1987 they too launched their own airline; Air 2000. Cosmos holidays used Monarch who initially were a small airline. With backing from Cosmos, they were able to increase their fleet and utilize them with Cosmos passengers. Another major blow came when Airtours, a Manchester based Tour Operator launched its own airline - Airtours. Once again chipping away at the number of aircraft that they would charter from Dan-Air.
These companies then competed with Dan-Air for the bulk of these, and other operators' business, leading to a decline in utilisation and rates. This resulted in a decline in Dan-Air's importance as a business partner for these tour operators, reducing its status from main to marginal provider.
Air Europe even dropped Dan-Air Engineering as it's preferred engineering company. It appeared that Dan-Air was being attacked on all fronts. The privatisation of the hitherto state owned British Airways was a tremendous blow to all airlines. None more so than Dan-Air. British Airways had not only a huge network and fleet, but, when
privatised, got it all for free. A share option to the public gave BA a massive cash injection.
Another reason was that its fleet contained too many different, incompatible aircraft types. Some of these aircraft were older and less efficient than those operated by competitors such as Air Europe. Consequently, the Dan-Air fleet was costlier to operate and maintain. The Boeing 727s, which Dan-Air continued to acquire throughout the 1980s, including some on unfavourable leases, proved a financial millstone. Air Europe had made disparaging comments to the press that they would not be using Dan-Air's aircraft in future as they were 'Old, gas guzzling jets.' To some extent this was true. Newer types had been introduced in the 1980s. The Boeing 737 and BAe146 aircraft performed well and were comparable to any similar aircraft operated by rival airlines. Britannia and Air Europe had purchased newer, larger Boeing 757 and 767 aircraft. It was said by Dan-Air's last chairman David James "The Boeing 727s were a terrible burdon. They were so expenive to fly. we were flying them just to pay to keep them flying." The variety of different aircraft had, in the 1970s and 80s been a major selling point. No other airline could offer charterers availability from 44 seats, through 89-119 with 1-11s and up to 189 with Boeing 727. The aircraft fleets were managed separately, almost as airlines within airlines. By the 1980s most UK charter airlines were operating Boeing 737 200 series on all flights.
Dan-Air's decision to embark on a major expansion into scheduled services from Gatwick at a time when the UK economy was still mired in the early 1990s recession made the financial position worse. The economic conditions in the UK meant that actual revenues fell short of budget in the 1991–1995 business plan, which aimed at sustained profitability by 1995 with a £42 million profit. This meant an injection of £49 million of additional working capital into Dan-Air's parent company from a successful share issue in 1990 was insufficient to fund the airline's needs. The funds raised through new shares were insufficient to standardise Dan-Air's fleet on the Boeing 737 300/400 series and the Avro RJ115 (marketed but never built). The funds were also insufficient to finance transformation from a cheap-and-cheerful charter carrier with a motley collection of poorly performing, 'low visibility' regional scheduled routes into a top quality, 'high visibility' mainline short-haul scheduled operator plying trunk routes.
Dan-Air's last chairman, David James, said weak marketing and its charter mentality, even after the decision to make high-profile scheduled services the focus of commercial activities, was a reason it failed to achieve results. That meant that instead of making Dan-Air the airline of choice for high-yield business travellers on prime scheduled routes where it had become a major force in the wake of the demise of British Caledonian and Air Europe – such as Gatwick to Paris Charles de Gaulle – through carefully targeted marketing and publicity, Dan-Air continued selling the bulk of its scheduled inventory to consolidators and discount travel agencies, in the way it had sold its charter inventory to package tour operators. The airline saw this as risk minimisation to fill seats on scheduled services. However, Dan-Air surrendered control over its scheduled seats to third parties whose sales were volume-driven. This deprived Dan-Air of the opportunity to boost the profitability of its scheduled operation by concentrating on maximising revenues from high-yield travellers.
The Failure Of Air Europe - Major Changes And Disaster
The original board members had started to turn the airline into a predominantly scheduled services carrier as early as 1988. Its scheduled services had been increasing steadily, loss making routes were dropped in favour of high yield trunk routes. Dan-Air had capitalised on routes taken away from British Caledonian and British Airways at the time of their merger. Several Gatwick routes were up for taking and Dan-Air were awarded six of them.
Dan-Air's
'Class Elite'
was also launched in 1988. A business class cabin that meant aircraft had to be refurbished. Where aircraft had six abreast eating the centre seat would not be sold, but instead a table would be placed. On five abreast the row with three seats would also see the centre seat unsold. Arthur Larkman, a senior board member who had recently retired was not impressed with the business class name. He had reservations about the cost too. Drinks would be free, passengers would have improved in flight catering with glass ware and china crockery as standard. The use of airport lounges would also be included in the fare. More expense came in the construction of a new hanger at Gatwick for Dan-Air Engineering (DAE) costing £10million . DAE had proved to be a successful company in its own right. The new hanger would be capable of handling aircraft up to the size of a Boeing 747 400.
Many experienced board members had now retired or passed away. Newer members came in their place. Dan-Air invested heavily into a computer reservation system that was way ahead of anything that its competitors had. The 1989 results were published in 1990 and did not make good reading. Out of a turnover of £376,000,000 a loss of £3,340,000 was recorded. In a damage limitation excercise the airline sold two Airbus A300 aircraft. This off set the loss to £1,856,000. Selling the aircraft at approximately £700,000 each.
By 1990 the figure was even more alarming a record turnover of £380,745,000 was recorded. The airline had carried more passengers than ever. Had a wider network and had met challenges that the Gulf War had presented. Fuel prices had increased however to alarming prices at $90 a barrell from a pre war price of $40. The Summer months of 1990 were looking positive. However, the war began in August - the busiest month of the year. Several people cancelled their holidays and many decided against flying altogether. August was also the month that airlines made requests to banks for funding to cushion them from the Winter downturn in business. In August 1990 Dan-Air's request was turned down. It was a stunning rejection. Davies and Newman had banked with Lloyds since 1922. Dan-Air had been in profit in all but two years of its existence. At the time of the request, Dan-Air was in debt to the tune of £26,000,000 which was normal for the time of year. These debts were widely known to be secured against the group's assets, of which there were many.
In a twist of fate, Air Europe's bankers were also Lloyds, As were British Island Airways - Air Europe's debt at this time was £90,000,000. They had financed their fleet through lease arrangements and had little in the way of assets. Furthermore, all of their office space was rented. Their first action was to waste no time trying to destroy the reputation of Dan-Air.
1990 was the year Air Europe announced that they would not be chartering ANY Dan-Air aircraft or using their maintenance services. Air Europe announced an operating profit of £35 million. This was all because of an increase in the value of their aircraft, because of this they were able to refinance the aircraft several times. Air Europe had actaully placed orders for their planes before the Amercian operators had. This made their aircraft more valuable. However The 1990 Gulf War brought about a spectacular collapse.
In the negotiations that followed a further loan of £30,000,000 was indeed secured to Dan-Air, bringing the debt to a total of £56,000,000. However this loan came with a wide range of heavy conditions. Firstly the company would have to have a new Chairman. This meant that Fred Newman would have to step down. The New Chairman was to be David James. He would have the freedom to choose who he wanted on the board. He quickly recruited his own team, Dan-Air's Graham Hutchinson, and EC Hartwell would leave. Other names too would be leaving, but agreed to stay until replacements were found. David James said on BBC's 'Money Programme' that: 'I will not have, or accept the responsibiltity for a rescue, unless I also have the total authority to see the job through. If I'm going to put my reputation, and indeed, in some cases, my own financial substance on the line then I'm darn well going to have the authority to back up that responsibility'.
Fred Newman and his family on the board even gave assurances that they would not using their voting rights. James was seen on camera saying:
'Operationally Dan-Air was heading in broadly the right direction.'
However he claimed that they
'didn't have a financial strategy to take it towards the future.'
It was, he said:
'Essential that Dan-Air recapitalise
'.
As 1991 approached it and it looked like the war was almost at its conclusion. Fuel prices had begun falling and people were once again flying. The directors who had left the board were astonished to find their services were no longer required. Between them they had years of experience in running a highly successful airline. The industry is known to be particularly specialised and it is not without dangers. Margins are low and competition is fierce. To replace board members with people from none aviation sources was a risk. Some of the outgoing directors were not given a formal farewell party. There was to be no formal recognition of these people from senior management in the new board room. Danny Bernstein had left to become Managing Director of Monarch Airlines. His great skill in the industry saw Monarch go from strength to strength and become one of the most successful UK airlines of the 1990s. Graham Hutchinson was aknowledged as a supreme airline manager, respected all over the World. Was it a wise move to let these two, outstanding people leave the company?
Only a few people on the new board had a background in aviation. Michael Newman, John Mayes and Peter Sommers. The new Davies and Newman Chairman himself, David James was well known in the business world. He had earned the moniker 'The Company Doctor' Banks the World over had recruited him to save ailing businesses. He was an accountant by profession and had been trained by Lloyds. James had saved companies from going under in the past, none of them however, were airlines. Others to come with James were Peter Ryan, a chartered engineer and Charles Whyte, an engineer.
On the board would be Roger Payton, Sir Ian Pedder and David Herbert. Herbert was a solicitor and had been deputy chairman of Dan-Air for six years. He would lose that role and instead be responsible for legal affairs, pensions and insurance. Sir Ian Peddar who had, prior to the changes, been Chairman and Director of Dan-Air Services. Peddar would be removed from that role and given the role of overseeing operational and engineering apects on behalf of the Dan-Air board. A newcomer to the board would be Roger Payton, who came from the collapsed Barings Bank. John Mayes was promoted to 'Director - Airline Services'. Dan-Air's new Chairman would be Peter Ryan. Fred Newman, the man who was respected throughout the aviation world bowed out and issued a statement. He was a man known to shun away from courting publicity. He was graceful in handing power over to James and his team. Newman must have been devastated at what was happening around him. He was widely known to have been a major force in shaping the airline. Not a soft touch by any means, but a kind hearted, decent and honourable man. By 1991 nine of the senior directors of the company had been removed.
The next move surprised everyone in the aviation world. On January 11th 1991 it was announced that a Danish engineering company called FLS Aerospace had bought Dan-Air Engineering for £27,500,000. Lasham Airfield had been leased by Dan-Air since 1954. It had several hangers and state-of-the-art testing equipment, ground equipment and spares. There was a second large base at Manchester with similar equipment. The newly built hanger space at Gatwick had cost more than £10 million and was able to handle the very largest of aircraft. Any debts DAE had would be almost all wiped out and all creditors would be paid. The deal had secured, for three years, the maintenance of Dan-Air's fleet. This was with a guaranteed payment of £15 million annually. In November 1990 a valuation of Dan-Air's spares in stock was carried out - The figure - £30,000,000! The sale seemed to happen very quickly. James announced that this was a "
Happy Occasion, where both parties achieve something of major benefit.
" He claimed that the sale would open the way for the new Davies and Newman board to concentrate on the development in future strategy. Dan Air engineering had been a profitable company, that gave priority Dan-Air own aircraft, but also serviced the aircraft of thirty other airlines. Could this been seen as a millstone around the compnay's neck?
In any case. The 1,600 employees would have to wait to hear their fate when new owners moved in.
James
was paid £30,000 a month. He stated at the time that it was a short term appointment. The advisors who would put together the route applications following Air Europe's collapse, cost the airline half a million pounds. Bank loans secured by James came with a heavy price tag. After selling Dan-Air Engineering and refinancing the airline, Dan-Air would owe NINE MILLION POUNDS to them alone.
Citibank had made many loans to Air Europe's parent company ILG on the security of their aircraft, and on March 7th 1991 they demanded that ILG had 24 hours to find new financing. Or they would call in all their loans. Lloyds Bank meanwhile who had been suprisingly negative to Dan-Air, had made restrictions so wide ranging, were now trying desperately to keep ILG afloat. This policy was understandable from Lloyds point of view. They were the Bank who ILG's owed the majority of their debts to. So misguided were Lloyds by ILG that they had attempted to persuade ILG to take over Davies and Newman as part of the D & N rescue package. As it happened, no financing came.
Air Europe only owned three aircraft in its fleet. (These were usually procured on highly favourable terms from the manufacturers and then sold upon delivery to ILG's in-house leasing subsidiaries, such as AE Finance or AE Norsk, or to third party lessors, such as Guinness Peat Aviation (GPA), from whom the airline subsequently leased them back. If you remember Air Europe had placed orders first and so the aircraft were particularly valuable as they were new on the market. This enabled AE to keep the aircraft off its balance sheet, thereby being relieved of the financial burden resulting from the aircraft's depreciation, while keeping a substantial interest in the aircraft's residual values, which were booked as profits. This sale-and-lease-back activity was a central plank of ILG's corporate strategy. It also constituted a major part of ILG's business and accounted for a large slice of its profits.
Neither did the group hold the titles to the freehold of any of the properties that housed its offices and other facilities that formed an integral part of the business. Consequently the airline went bankrupt with 4,000 jobs lost. What was breathtaking at this point was that a huge gap in charter business had opened up. Dan-Air was ideally placed to swallow up not only this available business, but also many of the bankrupt airline's scheduled routes. It would mean that Gatwick-Paris would now not face any competition from Air Europe. It could have been the saving of Dan-Air. It is widely regarded now that had they done this the airline would have gone into profit again that year. The board chose not to do this. They had already announced that they wanted to be a scheduled services airline. In fact - instead of taking on this available work they actually
reduced
the charter and IT work that year. After ILG had collapsed, Tour Operator, Sunword was formed by ILG bosses. They wanted to charter Dan-Air aircraft for their entire programme.
To compound all that was going on in the airline, even more changes took place in the board room in 1991. Vic Sheppard was appointed to lead a large team at the Traffic department. This would cover every aspect of in flight service. Meanwhile, David James addressed shareholders who had recently been invited to buy shares in a new share offer, aimed at giving the company a further cash injection. He stated that his prime objective was to bring a '
return to profitablility
' which he saw as being '
feasible
'. He also pointed out that all of the board had come to that conclusion. Furthermore he reiterated his intention to concentrate on making the airline a scheduled services operator. Just one month later, he announced that the company needed more funds. This time to the tune of £40 million. The vision the board had could only be achieved with this additional funding. He stated that the '
professional team of professional advisors
' he had assembled in the board room were going to assist in the process.
The majority of the new routes Dan-Air had applied to fly were ex Air Europe destinations. They had acquired some of British Airways and British Caledonian's routes at the time of their merger (Effectively a takeover) in 1987. Dan-Air had also benefitted from this, when the Government had only allowed the merger to go ahead if some of their routes were released. As it was, Dan-Air had gained Madrid, Lisbon and Mahon. The routes now lost by Air Europe were largely taken up by Dan-Air.
Subsequently, Dan-Air were given rights to operate from Gatwick to Cairo, Athens, Istanbul, Rome, Malta, Stockholm, Gibraltar, Ibiza and Brussels. Some of these had started and some would commence in late 1992 - early 1993. Route proving is a costly excercise and over the years Dan-Air had taken great pains to work out if a route was viable before applying to commence services. In addition to flying the service an airline would normally need a base manager, to recruit ground handling staff or use the services of a ground handling agent. Cash would need to be invested on signage, advertisments, office space and equipment.
Profitable routes can, and often do, supplement loss making routes until the correct load factors are achieved. Or dropped altogether should they fail. In the case of Dan-Air, their charter work was usually a safe way of ensuring this could happen. Charter flights carried much less risks. The airline was not responsible for selling seats. Tour Operators carry all the responsibility. If a flight is empty that is the tour operator's fault and the cost is theirs to bear. They have hired an aircraft, which provided catering, level of service and entertainment as the Tour Operator sees fit. The airline in return provide a serviceable aircraft with the correct flight crew. The airport provide assistance to passengers. It is a much easier operation from an airline's point of view. Not that this airline ever took their duties lightly. Dan-Air's standard of service was the same whatever flight you happened to be travelling on. Dan-Air had made the decision to feed all passengers on charter flights with the same food, even if varying Tour Operators had higher or lower requirements.
Running at a profit quickly is vital when implementing new routes. Even more so if you are taking the risk without the cushion of charter work as a back up.
By now just two members of Dan-Air's board had an aviation background. Sir Ian Peddar and Captain John Mayes. No significant noises were made opposing the policy of rapid, mass expansion. There had been disagreement over whether to obtain aircraft first or secure the route first. It had been Dan-Air's usual policy to make sure that if you were flying a route, that you make sure you had the epuipment to operate it. James and his board didn't agree, insisting aircraft were easy to get hold of. Not all aircraft were so easy!
All airlines know about route proving and implementation and how risky and expensive it is. It was a simple fact that Dan-Air did not, at that time, have the financial muscle or flexibility to expand in this way. Dan-Air had always been far sighted and cautious about expansion. Only ever taking the chance if there was a significant cash reserve and plenty of profitable charter work to support new routes. Only then would they ever add a new route. This had worked over years. Let's not forget that when the airline had carried more than six million passengers in 1991 - almost two million of them had flown on scheduled flights. Dan-Air had, at times, tried routes that had failed. Either because of poor load factors or aggresive competition on a route. All airlines had been through that. It was sometimes a case of
'Some you win, some you lose'
. A state airline may have a moral obligation to support a loss making route if it is servinig a remote community. An independent carrier has no such obligation. Dan-Air would often start a new route at the same time as dropping an unprofitable one. The Civil Aviation Authority were never even handed in the early days of independent airline history. The state owned airlines always having the pick of the crop, while the independents took the left overs. Independents were forced to try and make routes work from regional British airports.
The decison was taken to consolidate the Dan-Air fleet into just two types. The Boeing 737 and the BAe146.
The £30 million loan that had been taken out had almost been paid off. Things should have began to improve on the balance sheets. Sadly, new services and new management structures with many new departments and initiatives had proved to be costly. The debt had now risen again, this time to £11,250,000, although this included the £8,750,000 arrangement fee that Lloyds had arranged. Although Fred Newman had been ousted from his role of Chairman of Davies and Newman he could take some comfort from the sale of the ship broking company which David James now sold to Fred and Michael Newman. Through all of this, the company carried on as professional as it always had been. This professionalism irked British Airways who had been losing money on its scheduled services out of Gatwick. Various attempts were made by BA to strengthen is position at London's second airport. Long haul flights were trialed without success. The intention of turning Gatwick into a hub for UK and European feeder flights was not realised. Where it competed with Dan-Air at Gatwick BA was not successful either. Talks between BA's management and some of Dan-Air's board took place in October with a view of using Dan-Air as a franchise airline similar to what had been tried with success with Manx Airlines in the Isle Of Man and Loganair in Scotland. Not only would Dan-Air operate its own schedules, but those of British Airways short haul flights from Gatwick. This was a real lifeline to Dan-Air. Talks seemed to be going well. Dan-Air would have the added advantage of having surplus aircraft that could fly its charter programme simulataneously. At the late stages the
Dan-Air
team withdrew, to the shock of all involved.
With all this uncertainly, an Extraordinary General Meeting was called in late October 1991. David James formally introduced John Mayes to the board stating that "
H
e came with a wealth of experience in aviation
" Once again James insisted that he was working towards bringing the company back to profitability. He went on to point out that the board had been examining all aspects of the company with '
i
ntensive analysis and research.'
He also pointed out that '
both Barings Bank and County Natwest had required the company to appoint se
parate independent external professional advisors, specialising in civil aviation matters
' Looking back, this seems an odd decision. A board of extremely qualified, experts in aviation
had been released of their positions only the year before
. They had been replaced by men who were highly skilled in business, but had little or no knowledge of the airline industry. If these experts were to be recruited, what was the price of their renumeration? The figures were jaw dropping. From £400,000 in 1989, rising to £2,500,000 in 1990 and a slight reduction to £2,300,000 in 1991 - This was made even more disturbing when one sees that that figure was for only
SIX MONTHS!
Expertise does not come cheap! The fact that Dan-Air's existing board already had all the knowledge that
ANY
airline could possibly need, and had been relieved of their duties cannot be overlooked. David James announced at that time that he had '
N
ever been more certain about the wisdom and validity of any rescue in my life as this one.....I think that that what has happened in the last year has been one of the best demonstrations I have sever seen of a company getting off its butt end'
With substantial availability suddenly available, a new airline sprang up. Air World came on the scene from the ashes of ILG and Intasun's successor, Sunworld. Airlines grabbed all the spare capacity, leaving Dan-Air floundering with its new scheduled routes. During the Summer months, the airline reported a loss of £5 million, at a time when it had always made a profit from charter work. The Rights Issue offer in October was for 107,500,000 shares. A paltry 2,500,000 would be available to Dan-Air employees. Priced at 50p per share, David James was convinced of a surge in shareholders and he claimed it
'would immediately return the airline to profit'.
The reverse happened. As aviation analysts would point out - The Summer months were the most profitable for airlines. The share offer was made in the Autumn. The employees raised £1,250,000 and the share issue was a success raising £40 million - but the writing was clearly on the wall. Further expense came when the new board recruited John Olsen as the airline's new Group Chief Executive, David James would now be group chairman. Fred Olsen had an avaition background, working for Cathay Pacific for 23 years. His expertise was hoped to save the company. With him came a raft of new departments and managers. The question was whether an executive used to working with a large, international airline, flying long haul flights on super sized aircraft would be able to produce results with an airline with a mixed fleet of smaller aircraft and a European only operation?
The company was struggling for survival, and by June 1992 James once more claimed that he thought
''(It)reasonable to expect a return to profit for the 1992 year
.' He claimed that there was '
N
o dminuation of the board's confidence in the future of the company
' Just three months later, he announced that Dan-Air would run out of money by
'The third week of October
' All the money that the airline had made during the Summer months had been passed to the banks. On top of that, two BAe146 aircraft and six HS748 prop liners were sold. Shortly after this sale, all of the company's BAC 1-11 aircraft were sold, thus reducing the debt to £22 million. The bank would not be at any major risk with this debt as the airline still had considerable assets. By comparison Air Europe had crashed with debts reported, by the Guardian to be, £500 million.
Another lifeline appeared to be thrown by Virgin Atlantic. Richard Branson was quoted as saying that
'Dan-Air mustn't go bust
'.
As the final round of negotiations began with Virgin in October. The two sides indicated that there would be no statement until early the next week.
There were growing fears, however, that the deteriorating financial position of Dan-Air might make it impossible to agree terms.
Dan-Air was rumoured to be heading for losses of between £30 million and £40 millon in 1992, compared with the £20 million profit forecast at the time of its recapitalisation the previous year. '
It certainly isn't a pretty picture
,' One source, close to the talks was quoted as saying. However, suddenly Dan-Air withdrew from the talks. British Airways were now more than ever, aware of Dan-Air's weakened position, and for a second time, approached Dan-Air, this time with a revised offer. Now they wished to purchase 14 routes from Dan-Air and their fleet of Boeing 737 400 aircraft. Dan-Air rejected the offer. Despite heavy debts, the airline actually made a profit, asthey usually did, during the peak summer months. Assets for the company totalled almost £20 million. Was the company really in such a bad position? One must challenge that assumption. Government Ministers were invited to help with the European Commisioner for competition declining to get involved as the company was '
too small
'' It would be fair to say that despite debts, the company was more or less sound. If emphasis were placed on the charter market once more then perhaps it could have returned to profitability sooner. Even more so if the risky scheduled services had paid off. On the 8th November 1992 Dan-Air was sold to British Airways for the nominal sum of £1. Negotiations had been going on for several days behind closed doors. Often into late into the night. For the purchase of £1, British Airways would take
on Dan-Air's financial commitments of £50 million which included debts of £37 million. For its part, British Airways got 12 of Dan-Air's most modern Boeing 737s, all of the airline's short-haul scheduled routes from Gatwick, the Heathrow–Inverness feeder service and about one-fifth of its 2,500 workers. The rest of the aircraft would be sold. Dan-Air was absorbed into British Airways's Gatwick operation. On 27 November 1992, the company's name was changed from Dan Air Services Ltd to British Airways (European Operations at Gatwick) Ltd. This rump of the former Dan-Air formed the nucleus of what British Airways intended to be a low-cost short-haul feeder for its Gatwick long-haul scheduled services, with the aim of helping to return British Airways' loss-making Gatwick operation to sustained profitability. But was that all that British Airways would get? The short answer is '
No
' - Gatwick Handling was a success story in its own right. From its inception, Dan-Air owned 50% of it. Initially with Laker Airways being the other 50% shareholder. After Laker's demise, Delta and Northwest Orient bought 25% each. They would have one member each on the board.
The vast majority of airlines at Gatwick used Gatwick Handling - it was a precious asset. Then the landing slots at UK airports, and for that matter, European airports were of tremendous value. Particularly the daytime slots at Gatwick. People outside the industry would be unlikely to know how valuable they are. Dan-Air owned prime real estate in the shape of their purpose built headquarters in Horley - 'Newman House' as well as Norway House in London, new offices at New City Court in the centre of the capital. Bilbao House was a large property of great value. Dan-Air also had travel companies, an insurance firm, leasing companies, bonded stores, and a catering company. What's more, the pension fund of £20,000,000 was transferred to Britiish Airways. All of that for £1. All of the airline's flight crew had trained on specific aircraft. Only those qualified to fly Boeing 737 aircraft would go on to British Airways. Most of the Dan-Air staff were made redundant. The pilots who found themselves unemployed would have to train on other types to find work. Dan-Air were the only UK airline to use the Boeinig 727. Fortunately for them Sabre Airways set up shortly after Dan-Air's sale to grab some of the available charter work. They used ex Dan-Air 727s and some crews found work. It is interesting to note that Sabre Airways would become XL airways and have many years of profitable flying. Meanwhilie, the ex Dan-Air pilots had to pay for their own training to qualify on new types. Redundancy payments were not large for most people. With pilots receiving only two weeks basic pay for each year they had served in the company. In contrast, the severence pay for the former board members who were in charge of the airline for the last two years received a figures totalling £742,233. Having sold aircraft and the airline with it's assets David James issued a statement.
As the Company now has no assets the Board is of the opinion that that if the resolution of the voluntary winding up is not passed, the Board will have no alternative but to petition the court to wind up the Company - Yours Faithfully David N James."
He later went on to say
"I think what has happened is an unfortunate outcome, but it is an infinately better solution than the awful alternative of recievership"
The Company has no assets? if that really was the case, then someone had sold them!
Was that the end of the story?
Some time after the event is was disclosed that British Airways was set to inherit a tax credit of between £50 million and £100 million. Even the worst case scenario would mean that by taking on Dan-Air's debt of £55 million it would benefit to the tune of £15 million for a £1 investment. The rebate was only to apply if and when Dan-Air or the new subsidiary makes a profit. The British Airways plan was to run the Gatwick arm of its company as an independent holding company known as European Operations At Gatwick (EOAG) Dan-Air explained that this was known at the time of the takeover, but Dan-Air had no hope of making a profit so it could not claim the cash. Whilst the company folded and charter flights were grabbed by the llikes of Airtours, Air 2000, Inter European and Britannia, staff that had tansferred to the BA's new British Airways European Aviation At Gatwick would have different contracts to the ones that they held with Dan-Air. Some would be transferred to Heathrow and many contractual obligations were now disregarded and the unions seemed powerless to intervene. Shortly after the takeover many former flight deck crew got together and with a combined effort and with huge legal fees mounting, the crew took British Airways to a tribunal. BA was accussed of corporate arrogance. The Dan-Air crews won their case. This meant that British Airways was looking at a huge bill of up to £8million. The tribunal heard that: '
The criteria adopted to
make the pilots redundant was unreasonable
' Michael Ingle, solicitor, representing the Dan-Air Pilots' Action Group said that "
British Airways had been disingenuous in portraying itself as Dan-Air's saviour, when in fact, it stood to gain several lucrative routes in the deal.
' It was claimed that '
BA made much of the fact that it rescued Dan-Air when it completed the purchase in November 1992
' Going on to say
'It now appears rather disingenuous when British Airways achieved significant benefits from the way it structured the purchase.
' Lawyers claimed that it had acquired some very large tax losses but gained valuable new routes with which to boost its loss making operation at Gatwick. '
There was a complete failure
', the tribunal heard. '
To
inform the pilots about their redundancies or tell them it was likely. There was also a complete failure to implement redundancies on the basis of seniority, which is traditional throughout the airline industry, including British Airways. There was also a complete failure by BA to consider if it had any alternative jobs for pilots throughout the whole group.'
This successful claim was only the first hurdle in the pilots battle for compensation. On February 27th they returned to Croydon to make a claim for the maximum compensation the tribunal could award, £10,000 each. After that, the airline staff planned to take their case to the High Court where they could claim up to £40,000 each which would take the BA bill to £8,000,000. One pilot claimed he was 100% sure that a former pilot, who he refused to name, had taken his life because of the upset. Several families, the pilots claimed, had split up, with pilots being forced to work overseas. It was claimed that most of the pilots who had found alternative jobs were paid far less than when they were at Dan-Air because of the seniority system. Having to work for another airline meant that any seniority accrued would be wiped out on commencement of service with another carrier. The pilots union BALPA was critisised by pilots for advising pilots to accept the redundancies. British Airways said that at the time of the takeover, because of Dan-Air's troubled finacial status, it was not obliged to follow normal redundancy proceedures, an argument rejected by the tribunal. Lawyers said afterwards that '
The landmark decision would allow workers rights to prevail'.
The press had a field day calling British Airways "
Brutish Airways
" and one claimed that David James had treated Dan-Air like a horse with a broken leg.
On December 8th David James said he was donating £100,000 to a hardship fund set up to help unemployed staff of the defunct Dan-Air.
But his act of magnanimity failed to impress Dan-Air shareholders and employees, as they turned out in droves to attack the deal.
Shareholder after shareholder stood up to criticise the sale and the performance of Mr. James during a rowdy meeting to approve the voluntary winding up of Davies & Newman, Dan-Air's parent company.
Faced with the barrage of dissent, Mr James, chairman of Davies & Newman, disclosed that he was contributing £60,000 severance pay and £40,000 of fees to a trust to support hardship cases.
But this was not enough to placate shareholders, including a former Dan-Air captain with 22 years' service who was receiving just £4,000 in redundancy pay.
Shareholders had been treated with contempt, one small investor said to loud cheers, while another accused James of having '
conned
' staff about the prospects of saving the airline.
Some accused the banks of '
shamefully helping destroy another business
' but others laid the blame squarely at the door of Mr James and fellow board members.
There were gasps when James disclosed that severance payments to directors of Davies & Newman totalled £742,233.
James conceded that the situation for pilots was not satisfactory but said their severance payments had to be seen in terms of the
'
overall aggregate cost to make the deal possible at all'.
Maintaining an urbane delivery throughout, James explained that Dan-Air had fallen foul of the vicissitudes of the charter market, its own image, the banks and an ageing, expensive aircraft fleet. The deal with BA was not a pretty one but it had more merits than the 'awful alternative' of receivership.
But his critics were not persuaded.
'At the moment there are three losers - Britain, the employees and the shareholders,
' pronounced Peter Frankel, one of the latter group.
Although the resolution to wind up Davies & Newman was defeated overwhelmingly on a show of hands it went through on a poll with a 97.23 per cent vote in favour after proxy votes from institutions had been counted.
Dan-Air was no more.
There is still tremendous affection for the company throughout the World. This website has had more than one and a quarter million individual visits in the years it has been running. Facebook groups have been set up to reconnect staff members and this site has its own Dan-Air Directory where people can send pictures of their time at 'Dans' as it was, and is affectionaltely known by former staff. Whatever the rank of staff and whatever the job a person had with the company, held no discrimination. First name terms were the norm. People constantly refer to their time with Dan-Air as
"The best working days of my life"
There was a genuine affection for the company from all its staff. We have had only one person get in touch with us to tell us how much he hated working for the company. The ribbings that the airline received were mainly unjustified. Dan-Air was an incredibly large and complex organisation. It operated superbly despite the many obsitcles. In the early days, Government Ministries who regulated the industry with such an iron grip. that airlines like Dan Air were actively held back from growing.
Dan-Air consistantly grew in terms of passenger numbers, fleet size and profitability. Without the Government picking up the tab for any costs and losses. BA had the most prestigious route network from the most prestigious airports. They flew to almost every capital city in the world, direct from Heathrow. Most major cities in the UK were served by BA into Heathrow to link up those international flights. The independent operators were left with the crumbs. Despite this, Dan-Air carried on. The aircraft were not new in the early days. Neither were those of their rivals. The only carriers with enough funding to purchase new aircraft were the national carriers, BEA and BOAC, latterly British Airways.
In spite of these hinderences Dan-Air did manage to operate largely the same aircraft, at the same time as most other airlines. Let's not forget that in the 1980s BA still flew Tridents from the 1960s and their BAC 1-11s were still flying at the time of the takeover in 1992. When Dan-Air first entered the jet set in 1966, the only other independent airline in the UK with jets was British United.
Britannia and Monarch were flyiing old Bristol Britannia aircraft well into the 1970s. Caledonian flew across the Atlantic in DC6 piston prop liners well into the late 60s. If one reads the cabin staff manuals from Dan-Air one will see just how rigorous the standards were for in flight service. Even cabin crew uniform regulations, and where they stood on an aircraft or at the foot of the steps to greet passengers came with strict rules. Cabin crew could not smoke in eyesight of passengers!
Testiment to that finesse is that Air Europe poached Dan-Air's chief stewardess to train their new recruits. The standard of service was envied the World over. Many cabin crew members have since gone onto fly with the world's major airlines reaching very senior positions. It goes without saying that the same thing happened with flight deck crews. Engineers continued with their new company at Lasham with a new owner, many of the younger Dan-Air Engineering staff are still working. Dan-Air was a safe airline. One can forget the very early days when start up operators flew by the seat of their pants. Safety and navigation aids were in their infancy. Aircraft technology was basic. Dan-Air had commenced flying less than fifty years after man made the first successful flight!
Back then, ailrines flew cargo in old, ex RAF aircraft. Faults, sadly were inevitable. Dan-Air learned and improved while other carriers rightly went out of operation. Dan-Air had a period in its history that it would rather not have happened 1979-81, and yet there was not one of those tragic accidents where the airline itself was to blame. Its crews, its safety proceeedures or it's technical standards were first class. The capability of DAE was second to none. Rated by the CAA and the FAA in America, it maintained aircraft belonging to Royalty as well as private aircraft and the aeroplanes of other operators. The type of work undertaken by some of Dan-Air's operation with oil related work in the Shetlands carried higher risks than flying a jet to European sunspots. Other airlines had major disasters throughout their history. The aviation rule was never to critisise another airline's safety record because the next time it might be one of your aircraft that goes down. Despite that, an investigation was ordered to carried out on the airline. Even then, the CAA found nothing of any major concern. Dan-Air was a great airline - This website pays tribute to the skill of the airline and the great affection with which it is still held.
It was never set up to make money, or to point the finger at David James and his board. It was to tell the story as accurately as could be. The aim was to celebrate the wonderful memories and history of this incredible airline. To pay tribute to the staff - of all departments. To show what flying with Dan-Air was like. Yes in the old days as well as more recently. This is the 70th anniversay of Dan-Air's taking to the air. I wanted to say - you may be gone - but you are not forgotten.
DISCUSS THIS SUBJECT
25 Sep 2021
Absolutely brilliant!

.....................love the fleet summaries showing the individual aircraft!!!!

...............................should be done for other 'long gone airlines' including overseas ones like Pan Am!