1980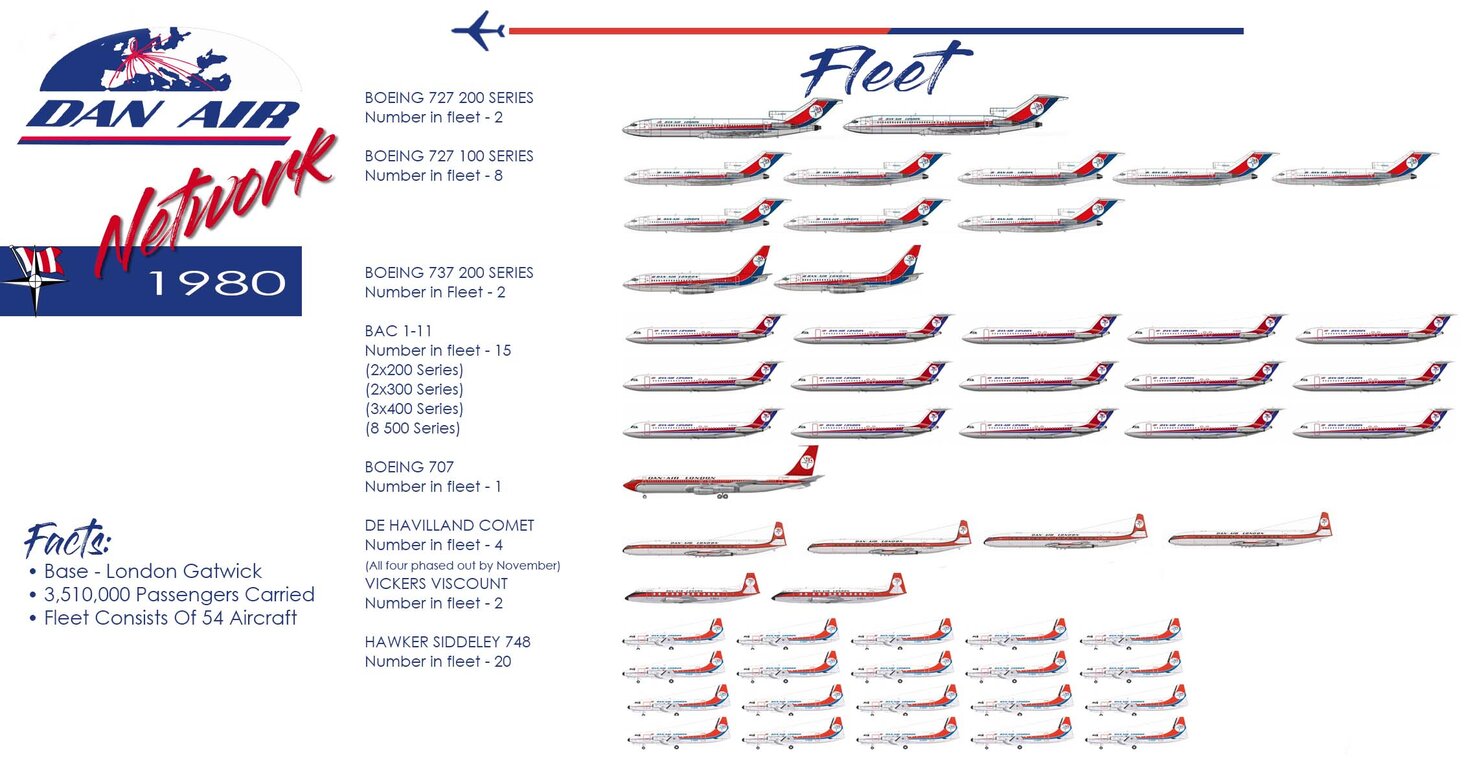 Dan-Air had decided to scrap all remaining services flown from Lydd into the Channel Islands. The transfer of Lydd services into Gatwick had been a successful operation. The Aberdeen-Gatwick service had been profitable from its inception. For two nights over the On Burns Night period, passengers would be given shortbread and a 'drop of the waters'. Dan-Air were also pleased to be secure a two year deal with Shell UK for the charter of two HS748 aircraft. Stengthening the position as the number one airline for oil related charter flights.
A new livery had begun to appear on aircraft from 1979. As each aircraft underwent maintenence. The new look was applied. The livery was even applied to some of the last Comets that were scheduled to leave the fleet no later than the end of 1980. The faithful Comet had reached the end of service now. At the start of the year four of them were in service. They were used less and less as the year went on, mainly as replacement aircraft when aircraft had technical issues.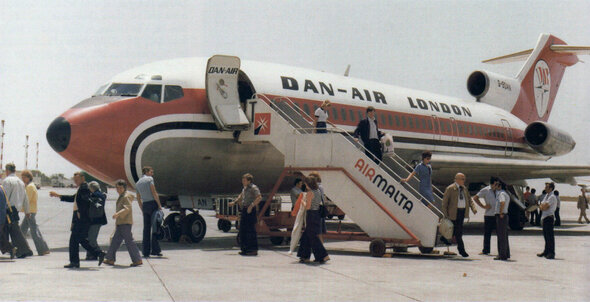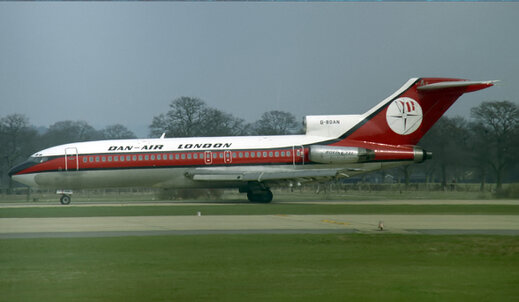 G-BDAN in 1978 (left) and with its new livery in 1980
The flagship Boeing 727 fleet was upgraded with the introduction of two Boeing 727 200 series in March. The company annouced there would be more of the type added in April. The 200 series was a much improved version of the 727 with increased seating, capable of carrying 189 passengers. Three of the type had been ordered. Dan-Air announced that the type would be able to fly further than other types in the fleet. 1980 saw the introduction of a new Civil Aviation Aurhority ag
reement which would allow greater liberalisation of air travel between any two countries. Something Dan-Air would take advantage of. Lower fares were introduced which broke the cartel that legacy carriers had over fares in Europe. These included Spouse Fares - Super Saver - Excursion Fares - Latesaver and and Last Minute Fares.
Dan-Air applied to the Civil Aviation Authority (CAA) to offer Advance Purchase Excursion Fares (APEX) on its
Aberdeen-Gatwick
service. This would see the return fare being as low as £38 return. Which was just 10p more than the second class rail fare between the two cities. It was £10 cheaper than British Airways flight between Heathrow and Aberdeen. The
Newcastle-Dublin
service was launched in April with fares as low as £69 return. The CAA had allowed Dan-Air a licence on the service, following British Airways' abandoning of it. Fares would not be cheaper than BAs, but Dan-Air promised improved in flight catering and service.
The number of airports serving the
Isle of Man wa
s reduced to nine. Dan-Air were able to offer 20% reductions on off season fares. The CAA then imposed an increase in fares of 28% which was a terrible blow to the carrier. To counter balance, this Dan-Air offered half price tickets for husbands and wives of business travellers. The increase in fares led to a barrage of critisism from travel agents for not giving add on discounts. The airline said it would look at fare structures with a view to including them. The standard fare from
Bristol and Cardiff
was £114 return. The travel agents said the public wouldn't or couldn't pay the fare. The agents suggested a fare of £78. by June Dan-Air had negotiated with the CAA and were approved to offer 'Latesaver' fares. The Latesaver could only be purchased after 1pm on the day before travel. the fare from
Belfast to Newcastle
would be £22 single. To
Cardiff or Bristol
£27. Dan-Air linked up with Europcar and offered flights to
Strasbourg
including car hire for £135:50 and
Cork from Bristol/Cardiff
with car hire for £117:50.
The flights would be using BAC 1-11 aircraft.
Prices from the UK to Ireland were notoriously expensive. Mile for mile it was the most expensive sea crossing in the World. It was Dan-Air's hope that they could break the stranglehold enjoyed by British Airways and Aer Lingus. Links between the two countries had always been an exceptionally strong, consequently the air routes and sea routes were also extremely busy. The two nations are important trading partners. With a Conservative government it was felt there would be less restriction on competition and protectionism of the state owned airline. As it stood, by far the cheapest way to cross the Irish sea was by ferry, Dan-Air was about to change that.
Aberdeen-Gatwick
was extended to include
Plymouth
and was deemed successful from the start. the connections that Dan-Air provided from
Aberdeen into Gatwick
for British Caledonian was improved with flights connecting Pan Am and Delta flights to New York Houston and Atlanta. A partnership with Braniff was enabled for passengers wishing to travel to Texas. Liverpool had not been served by Dan-Air for scheduled flights since 1976. In July the company stationed a Hawker Siddeley 748 permanently at Speke to carry out late night mail flights, having gained approval from Royal Mail to carry out posttal flights. For the first time, a Royal Mail logo was applied to a company aircraft.
The airport was seeking to provide cargo flights, Dan-Air was hopeful that the aircraft wouldn't be standing idle during the day, fortunately, Cathederal Tours of Liverpool found use for the 748 when they chartered it for one night breaks in Amsterdam.
This year saw the introduction of the the Boeing 737. Several years after Fred Newman had resisted attempts to force him to obtain the popular twin jet, the Tour Operator Thomas Cook had strongly urged him to order them by insisting that Thomas Cook wanted to fly their holidaymakers on the type. Strong competition was coming from both Orion and Air Europe.
One of our Pilot contribitors recalls;
"Thomas Cook was one of Dan-Air's largest customers and it was an incredibly successful partnership. But every winter the same thing happened. Tour Operators played a 'you win some you lose some' game. They had to make sure they had enough availability on popular destinations as well as trying to get passengers to try new destinations. Some of the 1-11s did not have an adequate range for up and coming resorts. The 727s and Comets did, but they cost a lot more to fly. There wasn't an aircraft in the fleet that had the range and the correct capacity. The other problem was that Thomas Cook's market research had noticed that Dan-Air was scoring badly on some of their aircraft. Obviously the Comet would have scored woefully, but all but one or two had gone by now. Cooks came to us and laid the law down. They wanted 737s and if we didn't get them they would go to an airline that did. Simple as that. We didn't operate every Cooks flight. They used several airlines and Air Europe was one of them. Air Europe had hit the ground running with the introdution of much improved meals on board and a very high level of service. Several of their key players were ex Dan-Air. I'm not saying there was a haemorrhage of personel, but senior stewardesses had been poached and quite a number of pilots. As much as the Comet was a beautiful aircraft, the thrill of flying a high performance, brand new Boeing 737 was incredibly tempting. I was approached by a friend who had left and told how great Air Europe was and that they had visions of long haul flights in the not too distant future. I was told that a job was waiting for me if I wanted it. Something stopped me, perhaps loyalty to the company or fear of the unknown. Still, I am glad I stayed with Dan'
A manager from the charter department says;
'Each year Tour Operators barter with how much they are willing to pay for time chartering, which is where the Tour Operator basically hires an aircraft for the whole period and uses it exclusively for themselves. Thomas Cook used to do that. They came to us and practically demanded that we obtain more modern aircraft. They even helped get the finance through Midland Bank who were also the owners of Thomas Cook. Fred Newman was a delightful chap, but he could be stubborn. He would say that we could offer the same rates as other carriers, so he didn't see a problem with our fleet. I think he was shocked at how direct Cooks were. Dan-Air was a thoroughly professional airline and Thomas Cook could find no fault in the way we worked. It was just some of the fleet they didn't like. I was informed rather haugtily by my manager that - We've dropped the Comet, what more do they want? I think holiday flying was about to change dramatically and I'm not sure some of the old boys were ready. "
The Boeing 737 that joined the Dan-Air fleet was just two years old. It was obtained through Guinness Peat Leasing. Its previous owner, Maersk Air had configured the aircraft with 140 seats. In keeping with Thomas Cook's requirements, the aircraft would lose ten seats as well as being repainted in Dan-Air's new livery at Lasham. Shortly after the purchase, one of the aircraft was leased to Nigeria Airways. It would return in January 1981 for services from Gatwick.
The local Tyneside Council paid Dan-Air £25,000 to subsidise some of its Norwegian flights from Newcastle-Bergen. The council wanted to keep exactly the same flights as the previous years. The costs in the UK for hotels and currency exchange problems had led to a fall in business. The Tyneside tourism chiefs were keen to attract more visitors. Dan-Air had asked for £40,000 to continue and said they would refuse any offer of less. In the end Dan-Air did accept the offer and agreed to keep the flights.
Dan-Air said 'You don't have to be an accountant to work out that two full flights operating a week is more profitable than four half empty ones.' The Tyne Wear County Council offered to repeat their supsidy the following year, but Dan-Air now said they needed £40,000 to operate the services four times a week. Dan-Air went on to blame hotels in the area for not offering reasonable rates for Norwegian shoppers. Finally Dan-Air agreed to keep the flights running with the £25,000 subsidy.
Captain Yvonne Sintes, the first woman Captain in the UK retired this year. She would be missed.
Dan-Air increased the frequency of flights between
Gatwick and Aberdeen
, The Latesaver fares would be introduced on
Channel Islands
routes with proces to Jersey from Gatwick from as little as £24. Since taking the Aberdeen-Gatwick service from BA last year Dan-Air had doubled the amount of pasengers carried. In August alone Dan-Air had carried more than 5,000 people on the route. Which carried out eleven flights a week. So popular was that service that passengers deserted BA's Aberdeen-Heathrow route in favour of the Gatwick service. In an attempt to stop the drainage of their passengers, British Airways said they would match Dan-Air's prices. On August 23rd Dan-Air sought approval to introduce Latesaver fares on flights to
Amsterdam and Paris.
In September Dan-Air announced it was going to reduce fares on domestic services with fares being up to £23 cheaper than before. An additional daily flight each way on the Gatwick-Aberdeen route began in October. The route would offer day return tickets for £88 return which was £15 cheaper than a standard return. British Airways declared a fare war on Dan-Air, reducing fares from
Newcastle to London Heathrow
from £42 to £21 on certain off peak flights with standby flights cut from £27 to £18. Dan-Air operated into
Gatwick from Newcastle
and responded by reducing its fares to £22 on all flights. The two airlines went against each other on the
Aberdeen-London
service with fares slashed. Dan-Air's latesaver was popular because your seat was confirmed. BA's standby, meanwhile, did not guarantee even a seat on a flight.
The Scheduled services that were carried out to major UK cities would be flown using BAC 1-11 200 and 300 series aircraft. Each one had reduced their seating capacity to 79, a loss of ten seats. This gave the carrier the chance to boast of unprecidented leg room on their jet flights.
Following the HS748 accident in 1979, 200 witnesses were called to attend an inquiry at Aberdeen's number one Sherriff's Court. Those called would be representetives from Dan-Air, British Aerospace, Sumburgh Airport and members of the public. Passengers and crew who had survived would also give evidence. The two week hearing heard that the Pilot had given approval for the co-pilot be in control of the aircraft for take off take off. Technically he was qualified to do so. Dan-Air's own internal ruling was that only first officers with more than 100 hours could take off. The first officer did not have the flying hours. It was noted that during take off that the 'gust lock' was engaged. The mechanism prevents parts such as rudders, flaps etc moving when the aircraft was idle. This turned out to be one of the reasons the aircraft failed to become airborne. Whilst engaged, the pilot could not move the column to llift the aircraft from the ground.
This was a dreadful time for the airline with Dan-Air was in the spotlight for the wrong reasons.
British Airways' decision to drop their Newcastle to Belfast, Bristol and Cardiff proved successful with Dan-air being awarded licenses on the routes. There would be five flights a week on each of the services. Discounts would be offered.
An even darker period followed
on April 25th when a company Boeing 727 100 (G-BDAN) crashed with the loss of all 138 passengers and 8 crew on board. The accident occured when the aircraft flew into a mountain in Tenerife. It remains the worst accident on the UK register in terms of lives lost.
Full details.
David Mellor, the MP made claims about Dan-Air having the worst safety record in the UK or any comparable European airline. The Minister concerned Jon Nott, rebuked him stating that Dan-Air was fully regulated by the CAA.
Following the loss of several aircraft and lives the CAA examines the company in depth. Nothing untoward is reported and the airline flies on. In August this year the company introduces 'Daysaver' fares in a further attempt to increase revenue and passenger numbers on it's scheduled network.
In April, it was announced that Dan-Air would be introducing a new red white and blue livery in time for the summer. There would be a company wide corporate make over.
As each aircraft underwent its regular maintainence they would also undergo a cabin refurbishment. The new look would see new, larger overhead luggage lockers on aircraft. Small lockers would be fitted into types that had hitherto featuredof hat racks. All aircraft would have new carpets, lighting, seating, galleys and a fresh new bulkhead and wall design. The new look would make each aircraft look lighter and give a 'wide bodied' feel. The cost was estimated at being more than £1 million. The new corporate identity followed the loss of G-BDAN in Tenerife. The previous new look was shelved as it had been perceived as inappropriate.
Royal Mail asked Dan-Air to fly postal night flights from Aberdeen to London in August. The Aberdeen services had been a phenomenal success with Dan-Air saying the route would be their 'Blue Ribbon Route'. This would mean that the service would have the highest priority when the airline expanded any services.
The end of year profits were shown in April turnover had risen from £117,505,000 to £129,487,000 whilst pre tax profits were up from £2,357,000 to £3,625,000 after tax profits were up from £1,807,000 to £3,561,000 this was most favourable.
There was also an insurance surplus on the 727 that had been lost in Tenerife. S
ome of the heavy taxes that had been in place in the last few years had began to be reduced or abolished entirely. This was to be important to the airline's growth.
The new fares were in place by September. The
Gatwick-Aberdeen
service in increased to three times daily.
Newcastle-Gatwick
which had previously only operated weekdays, now added Saturday and Sunday to its timetable. There is a new Government in the UK and it announces that British Airways will soon be privatised. This causes anxiety amongst the UK charter and scheduled airlines. BA would now be free to use its muscle with new funding to crush opposition. However the UK Government breaks a cartell on the London-Hong Kong service by allowing British Caledonian and Laker on the route - British Airways is furious. Laker Airways applies for several new European services that it says it will operate in the same manner as the transatlantic routes. Almost immediately the applications are rejected.
The number of passengers carried this year is down for the second consecutive year. The number was still substantial with 3,510,000 sector passengers. That was more than any other British airline with the exception of the state owned British Airways. The fifteen strong 1-11 fleet, they would also be fitted with Hush Kits to help with engine noise pollution. The cost was estimated to be in the region of £1,000,000.
The last of the remaining Comet aircraft were retired by November On October 17th G-BDIX flew from Gatwick to Hamburg and G-BDIW became the last commercial Comet flight on October 31st on a service from Gatwick to Frankfurt. November 9th saw the final ever Comet flight, especially chartered by aviation enthusiasts for a flight from Gatwick, returning an hour later. Twenty HS748s and two Vickers Viscounts worked on scheduled services as well as the Oil Related Charter Flights. The Beoing 737 joined the
New Routes
Newcastle - Belfast - April 1st - (Taken over from Bristish Airways)

Newcastle - Bristol

Newcastle - Cardiff

Dublin - Newcastle - April 1st - (Taken over from British Airways)

Dublin - Bristol - April 1st -

(Taken over from British Airways)

Dublin - Cardiff - April 1st -

(Taken over from British Airways)

Bristol - Jersey

- April 1st - (Taken over from British Airways)

Cardif - Jersey

- April 1st - (Taken over from British Airways)

Bristol - Guernsey

- April 1st - (Taken over from British Airways)

Cardiff - Guernsey

- April 1st - (Taken over from British Airways)

Leeds/Bradford - Guernsey

- April 1st - (Taken over from British Airways)

Bristol - Paris

- April 1st - (Taken over from British Airways)

Cardiff - Paris

- April 1st - (Taken over from British Airways)

Gatwick - Munich - May 1st

Berlin (Tegal) - Amsterdam - Rights granted.

Gatwick - Cork - Approved
1981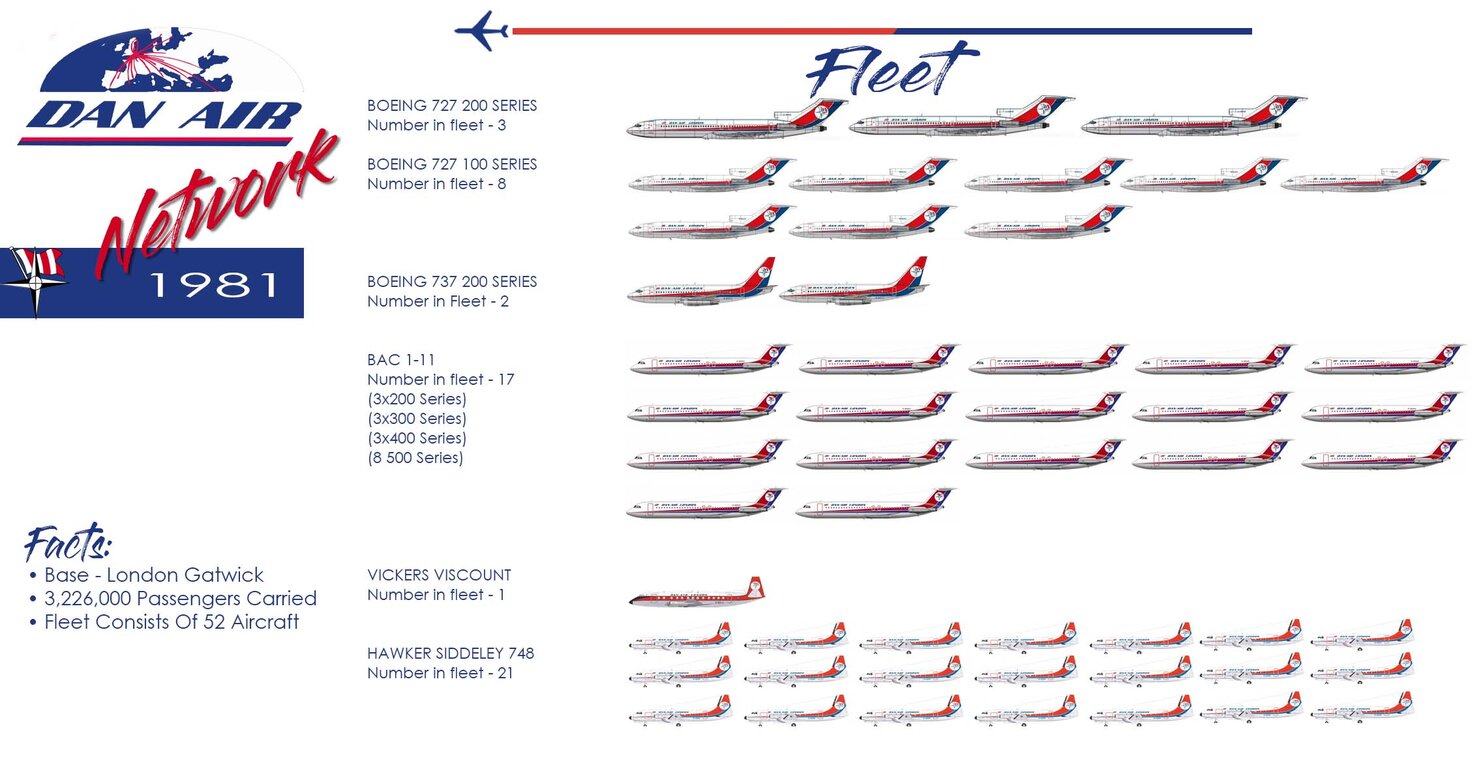 Dan-Air announced on 23rd January that the Link City Service, which had been operating for many years between
Newcastle/Manchester/Cardiff/Birmingham/Bournemouth
would close. Management said that it was not profitable. The company stated the bus stop service would cease on March 31. Dan-Air management were looking critically at all of their routes, with a view to trimming services that didn't make a profit. Airport officials and Newcastle Council wanted to save the service in view of what was considered an inadequate train service from Newcastle to the areas Dan-Air served. The deal between Europcar and Dan-Air continued to thrive. Several destinations were added to the programme. With reduced air fares and reduced car hire rates, the whole concept was attractive. The new livery that Dan-Air was steadily applying to all its new aircraft began to appear on publicity items and other corporate products. The vapour swish appeared for the first time as Dan-Air declared
'Fly into the 80s
' As British Airways dropped one of its seven daily services from Aberdeen to Heathrow Dan-Air increased theirs to four a day from
Aberdeen to Gatwick
with a second each way service on weekend days.
Dan-Air made the record books, and secured a small piece of history when the airline commenced services between
West Berlin and Amsterdam.
It was the first time an airline operated a service between two common market countries without touching the airline's country of origin. Dan-Air would operate the service twice daily. Tom Hill Holidays, a small, London based travel agent took a gamble chartering a Dan-Air BAC 1-11 for weekly flights to Palma. The firm had a newspaper campaign to sell its holidays and the gamble paid off. The 1-11 flew from Manchester full every week.
Dan-Air planned more scheduled flights, but warned of higher costs. A 10 per cent increase was likely on the
London-Newcastle route but a flexible super saver was available on the route costing £26 single with no Saturday restrictions. All the services from Newcastle were flown by jet and extra flights would operate to Belfast. A new Tees Side-Dublin route was to start immediately, operating three times a week, and a bigger programme of flights to Jersey and Guernsey would begin in March. "We are seeking a 10 per cent increase from April Ist on the Birmingham, Bournemouth
-Cardiff, Bristol, Manchester and Newcastle routes, but fares were reduced in winter 1980 and most services will be charged at lower rate than those for last Summer. This means that we have held fares for two years despite big increase
s in fuel, airport and landing charges. Many of our domestic air fares are now highly competitive with British Rail.' Said the Dan-Air spokesman.
Airports operated by the British Airports Authority (BAA) announced in late March that they would be increasing fees by 15%. The state owned airport group included
Aberdeen, Gatwick, Heathrow, Stanstead, Glasgow, Edinburgh, and Prestwick. Most of the airlines concerned were furious at the charge as they were constantly under pressure to reduce fares and deal with heavy fuel price hikes. The BAA said that they had reduced the increase from a planned 20%. This did nothing to help Dan-Air, Air UK, British Midland, Alidair and Loganair. In March Dan-Air Engineering went on strike in Manchester in a row over pay. Their three week
pay stoppage was solved on 6th April with a pay settlement of between 7-10%.
Meanwhile in April the airline offered free flights for anyone purchasing a full fare ticket on their
Aberdeen-Gatwick service. The voucher was transferable to other people. This was a clever response when Dan-Air was deemed to have broken sex descrimination rules by offering half price tickets to the husbands and wives of business travellers. It came the same time that the company reduced fares on the
Newcastle-Gatwick
service. The new price was £88 return. This was £8 cheaper than BA's service to Heathrow.
The UK economy was still plagued with recession in 1981. Dan-Air was to feel its effect, they announced that pre-tax profits had fell 30.4% to £2.350,000 in 1980 on turnover up from £129,409.000 to £153,800,000. Interest payable jumped almost one and a half times to £1,840.000. Chairman Mr. Fred Newman said the results 'Should be considered satisfactory in view of all the problems suffered On the aviation industry'. Newman went on to say, 'Activity the first quarter was lower, but the fleet is fully committed during the summer months'. Finally, he said 'I am confident that the effects of the recession , but I feel it only wise to make a cautionary note with regard to the current year.'

Overall, it had been a good year for Dan-Air with the fleet fully committed for the year and substantial investment in new aircraft.
In May, five passengers from the
Sumburgh air crash
of 1979 issued a writ to the high court in London for loss of earnings, injury, general loss and expenses. The amount was not disclosed.
Their solicitor said 'Their injury's were the result of negligence by Dan-Air, their servants or agents'. This was in addition to the four individuals who were suing Dan-Air under
the carriage of persons by air act of 1967
. It was expected to take a year before the court would convene. In October it was revealed that the group were looking at more than £1m in compensation.
In May Dan-Air applied to the CAA for permission to fly scheduled services from
Aberdeen to Kirkwall, Sumburgh and Scatsa. They would fly daily using HS 748 aircraft and significantly under cut the fares offered by British Airways. On 6th June Dan-Air began flilghts from Newcastle to Aberdeen using the HS 748 with fares from £22 standby. Dan-Air would be operating the flights under license from Air UK who had rights on the route. Air UK flew Monday to Friday but chose not to fly at weekends. Dan-Air would fill the gap. The same day saw Dan-Air commence services from Newcastle to Jersey.
Dan-Air suffered a further aircraft loss when a HS 748 on a mail flight crashed in
Nailstone
, Leicestershire. The crew of three persished as the aircraft plumeted to the ground over Nailstone in Leicestershire. Initial press reports told that the aircraft may have had a bomb on board. One onlooker said 'The aircraft seemed to come out of its dive and was practically stood on its tail when a large piece of metal fell off. The wings then folded upwards, the plane then fell to the floor.' It was fortunately the last fatal accident involving a Dan-Air airliner. It was dreadful time for the airline with three fatal accidents in as many years. The airline could take comfort, in July, when the official report cleared Dan-Air of any blame on the Sumburgh accident in 1979. Dan-Air also inistigated legal action agains the Spanish
Air Traffic Control Authorities. The Spanish report into the accident had been published blaming the crew. The British Airline Pilots Association (BALPA) said the report was a whitewash and that the fault lay with the air traffic controllers. The British government were also not happy with the report and wished to see it amended. The report can be seen
here
.
A company HS748 was converted at Dan-Air Engineering's (DAE) Manchester base.
he aircraft was fitted with a large cargo door. The first time such a task had been carried out. The 748 could land on short runways making it ideal for the Highlands services. The new door would enable a Land Rover to be carried. In total the aircraft could carry 5 1/2 tons of cargo. The 748 could be quickly converted into passenger use when not carrying cargo. Dan-Air had high hopes for cargo services should they be awarded any of the ex BA Highlands routes.
The Aberdeen - Gatwick service would drop from 17 flights a week to 15 for the Winter months. Although there was an increase in frequency at weekends there would be one flight a day less on week days. On September 29th Dan-Air asked the CAA
to revoke British Airways licence between Aberdeen and Orkney.
Dan-Air had already asked the authority for permission
to run scheduled service between
Aberdeen and Kirkwall.The latest move by Dan-Air would mean they would have no competition from British Airways if their flights start on April 1 as planned.
Shetland Islands council backed BA to retain their monopoly on th
e Sumburgh-Aberdeen s
ervice. That was in contrast to the Tourist board who were fed up of BA not assisting them in promoting holidays to the Shetlands. The tourist board were backing Dan-Air. At the hearing in October British Airways stated that they did not wish to lose their Highlands services. Dan-Air asked for decisions to be deferred. Davies and Newman, the Dan-Air group, revealed a £2.000.000 loss for the first half of 1981. The shares tumbled 20p to 65p.
Dan-Air's annual 'Operation Santa' saw Dan-Air
In September British Airways looked set to drop eleven of its unprofitable Scottish services. Dan-Air, who had slowly been eating into BA's network, had prepared arguments for the CAA hearing that would follow. Several other airlines expressed an interest in taking over the routes.
epatriate 3000 oil support workers. The company used all its available HS748s. The last flight would land on the mainland on the 22nd December. Scatsa would then close down. It would re open on January 4th 1982, when Dan-Air would once again start the exodus northbound to Scatsa. In total 140 flights were carried out to eight Scottish airports.
With the Comet now retired the fleet continued to expand. the introduction of the larger Boeing 727 200 series was well received. The BAC 1-11 proved to be a sturdy work horse on both charter and scheduled services. The aircraft adapted well into any role it was given. Although Dan-Air were later than other contemporary carriers introducing the Boeing 737, the type was absorbed into the fleet with seamless efficiency. It could be argued that the
HS 748 was not an attractive aircraft. It was a noisy machine, but its exceptionally large wing span and robust construction enabled it to operate into many Highlands airports that other airliners simply couldn't. The fact that Dan-Air had more than 20 of them, mainly based in Scotland was proof that they were the leading carrier for oil related charter flights.
The Viscount was never fully integrated into Dan-Air's fleet. Although ten of them joined for short periods throughout the 70s and 80s the propliner never won the hearts or minds of Dan-Air. None of the graceful looking aircraft were painted in the airline's new livery. A total of 3,226,000 passengers were carried, again, a reduction in the previous year's total. This was still more than any other UK carrier apart from British Airways. Dan-Air remained the second largest airline in the UK in terms of passenger numbers and aircraft fleet size. As scheduled passenger fares were higher and therefore potentially more profitable the reduction in overall figures was not problematic for the company as it had remained in profit. In January the
Cardiff and Bristol to Paris
service was closed due to poor loads. On 14th May a total of fourteen aircraft were chartered to carry passengers many of them V.I.P passengers for the official opening of the Sullom Voe Oil Terminal. The aircraft chartered were Boeing 727, BAC 1-11 and HS 748.
There had been plans for Dan-Air to take over British Airways' Highlands and Islands routes, however the airline withdrew its offer. The CAA granted Dan-Air a licence for a new
Gatwick-Dublin
service. Harry Goodman floated his International Leisure Group (ILG) on the stock exchange and made a sizeable return to invest in more aircraft. Dan-Air benefitted from the growth in ILG as they chartered more of thier aircraft. Although it had its own airline - Air Europe, it was still much too small to carry all its own passengers.
New Routes:
West Berlin-Amsterdam and Tees-side-Dublin services started - April 1st.

Gatwick-Cork - Commenced April 13th

Aberdeen - Newcastle - June 6th

Newcastle - Jersey - June 6th

CAA licence granted Gatwick - Dublin - August 27th
1982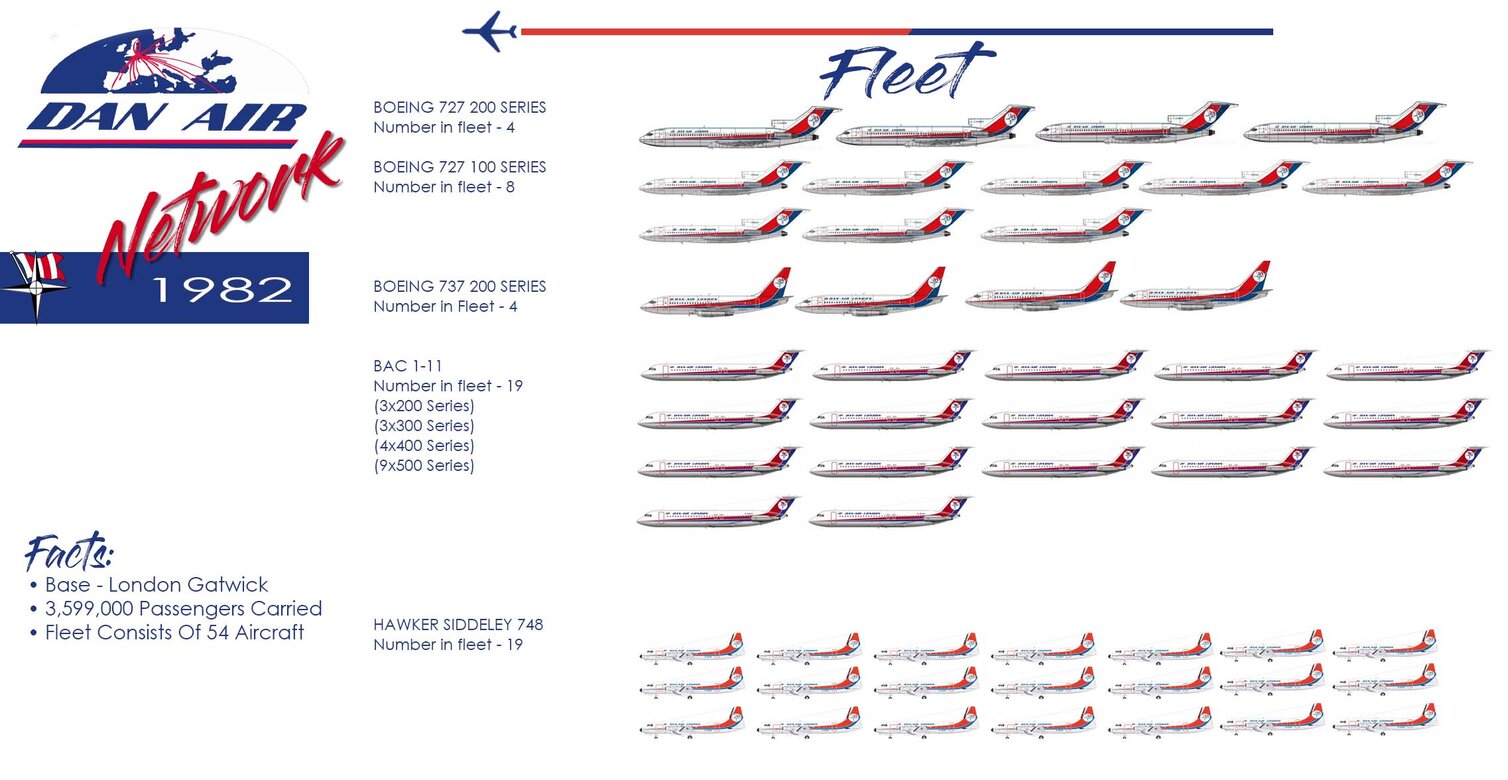 The year started with a new contract annoucement. Red Sea Flotillas, an Israeli/British owned company chartered Dan-Air Boeing 727s for the winter season for holiday flights to Eilat in Israel. The late night flights would take five hours, departing from Gatwick. The holidays were aimed at upmarket customers.
Meanwhile the Irish government refused Dan-Air's application to fly th
e Gatwick-Dublin service, despite British Airways having abandoned the route. Aer Lingus claimed that an existing 75 year old rule said that only BA could compete against them on Dublin flights. Dan-Air said it was inconsistent as they already flew into Ireland on the Cork service. The UK department of trade said they would have talks with their Irish counterparts.
British Airways meanwhile began replacing their Trident aircraft on domestic services with brand new, state of the art Boeing 757 aircraft. The new jets costing £18million could carry 180 passengers. Air Europe had placed an order for them, and Monarch ordered three. Boeing hosted an event to mark the arrical of the type onto the UK register and began a promotional campaign with UK airlines with Dan-Air being feted as a potential customer. Fred Newman, Dan-Air's chairman expressed an interest in the aircraft, stating that it would be ideal for their style of operation, but that it was at the maximum size for an aircraft they might use. Charter carriers would be able to configure the aircraft to a high density, single class layout with 225 passengers. Captain Alan Selby recalled at the time:
'Dan-Air had a formidable team who worked miracles every year to ensure that aircraft were fully utilised. One can't imagine just how complex a job it was. I think that, that was one of the reasons that tour operators stayed loyal to us. We had the ability to offer so many aircraft types, as well as ensuring Tour Operators didn't have to charter an entire aircraft, we had the numbers of aircraft, the staff and an undeniable reputation for service. I believe that counted for a lot. In terms of our aircraft, we were not in a position to re-equip with more modern aircraft as quickly as, certainly the pilots would have liked. The new 757 was a superb aircraft, they cost £18 apiece, that was, for obvious reasons, out of the question to the board of Davies and Newman. Leasing, in our world, meant getting an aircraft from another carrier for a short period. When one looks at an airline today, one can see that most airlines don't actually own a single aircraft. an-Air's rag tag jumble of aircraft were largely owned outright. Dan-Air saw that as an assett, which of course, they were when it came to the battle with Air Europe. I think the board just saw it in terms of heavy leasing payments and ignored the obvious fuel savings.'
Dan-Air franchised out the operation of its loss-making 'Link City' in March to Metropolitan Airways. Flights serving Newcastle, Manchester, Cardiff, Bournemouth and Birmingham would now operate by the Channel Islands operator
. The good news for passengers was that Metropolitan, owned by Alderney Air Ferries, planned to boost schedules on the routes from four times weekly to twice daily, Monday to Friday, starting on March 29th. Metropolitan would replace Dan-Air's 44-seat HS748 turbo prop planes with 20 seat 'Badierante' propliners, which would be based at Newcastle and Bournemouth. Dan-Air would handle all sales and reservations on the services in return for a profit related commission, and the aircraft would carry Dan-Air insignia. Dan-Air would continue to operate the longer routes from
London to Aberdeen and Newcastle.
These had now been grown to such a level that they could well be considered 'trunk routes'.
Dan-air's relationship with the Civil Aviation Authority (CAA) hit a new low in January. Dan-Air launched a new
set of fares with reductions aimed at increasing the their scheduled service network. Reductions of 10% were offered on Norwegian flights and discounts of up to 20% were offered on many routes including the Aberdeen-Gatwick and Isle Of Man
services. The Highlands of Scotland became a major battle ground for UK airlines with Dan-Air, Alidair, Air UK, British Caledonian, Air Ecosse and Loganair all vying for routes. Dan-Air's own Scottish flights had been a runaway success. British Airways, meanwhile, had been under financial pressure for some time, posting significant losses of more than £200 million. The Highlands routes alone had made a loss of £4 million this year. It was rumoured in the industry that BA was set to walk away from all but the most profitable of the Scottish services. In an astonishing move, BA
announced in late 1982 that they were, in fact, going to strengthen their Highlands network by ditching the costly to operate Viscounts and replacing them with a fleet of HS748 aircaft. Three of them leased from Dan-Air!! British Airways said it hope to be profitable by the end of the year.
Davies & Newman, after reporting a near trebled seasonal loss of
£1.900,000 i
n the first six months of 1982, could only pull back to a £342,000 profit before tax for the full year. In 1980, the pre-tax surplus was £2,350,000.
The talks with the Irish Department of Trade went according to plan. As an incentive to allow Dan-Air to fly into
Dublin, the UK Government would allow Aer Lingus to fly out of Belfast to three European cities. Following that Dan-Air commenced services to Dublin from Gatwick in May. Dan-Air would operate morning services and Aer Lingus the evening flights.
Although techically rivals in many spheres, Dan-Air and Laker Airways enjoyed a good relationship. Laker's BAC 1-11 fleet was regularly serviced by Dan-Air Engineering, and
both companies had a 50% share in Gatwick Handling. In January 1982. Laker had approached Harry Goodman at ILG and expressed a desire to sell off his Tour Operators, Laker Air Travel and Arrowsmith. The talks were held in secret and surprisingly did not leak to the press. No one in the industry was aware that Laker was in trouble, and certainly not as to how deep the trouble was. A deal between Lakaer and Goodman c
ould not be agreed, and the sale was called off. In February Laker spectacularly went bust. Laker Airways had suffered during the winter months of 1981. Pan Am had reduced fares on Transatlantic flights. There was not enough traffic to support the four airlines who flew the routes. Their DC10s had been refitted with a premium cabin (Regency Class) to try and lure business passengers with lower fares and premium service. The DC10 had suffered with bad press and it was noted people were actively avoiding the type. Mc Donald Douglas, the DC10 manufacturer and engine maker General Electric provided Laker with a £5millon rescue deal. When British Caledonian found out about the deal they wrote to GE and McDonnel Douglas saying that if the deal went ahead then they, along with a host of other carriers would not do business with them again. Laker collapsed with debts of £270 million, then the biggest corporate failure in UK history. Laker's fleet was immediately grounded, including 11 DC10s. British Caledonian, for their part set about trying to take over Laker's Los Angeles service. In the immediate aftermath of the collapse, thousands of Laker holidaymakers were stranded accross Europe. Flights en route to Tenerife had been called back to Manchester with passengers forced to hand over their Duty Free goods. Dan-Air was on of the carriers to take part in a resuce operation.
Harry Goodman's International Leisure Group (ILG) went on to benefit from the Laker's failure. Goodman, was part of the failed talks and knew of the state that Laker was in. In what could be seen as a brutal move, Goodman had charter aircraft on standby for a repatriation mission. Dan-Air picked up several of the charters that were previosly allocated to Laker Aircraft. Following the Laker collapse, Dan-Air took over sole trading of Gatwick Handling, expressing a desire to purchase Laker's share from the administrator. The British Airport Authority (BAA) refused this in a stroke.
Gatwick Handling's original ten-year licence to Laker and Dan-Air coincidentally expired in February 1982. However, the BAA insisted that other airlines should become additional shareholders to prevent Davies & Newman subsidiary Dan-Air from deriving an 'unfair advantage' as monopoly provider of third-party ground handling services at Gatwick Airport. This was nonesense. Caledonian had their own ground handling, as did British Airways and Serviceair.
US carriers Northwest and Delta used Gatwick as their London terminal as a result of restrictions on access to Heathrow. Both American carriers were Gatwick Handling customers, Delta and Northwest each acquired a 25% stake in the ground handler in 1983 and 1984, respectively. These moves ensured Gatwick Handling's continuity and stability. They also resulted in the new shareholders replacing the former Laker representatives on the ground handler's board of directors with their own people.
In March a Dan-Air HS 748 departed in the early evening on a flight to Bristol. On board was former Tory Prime Minister Edward Heath, who was one of 28 passengers on the flight. Shortly after take off two Dutch fighter jets streaked towards the civilian aircraft. The HS 748 could not take any diiversive action. Fortunately the two jets peeled off and flew either side of the Dan-Air prop. None of the passengers on board were aware of the incident. Captain Geoff Hopkirk immediately complained to the tower at Leeds/Bradford. When told of the incident that evening, Heath said 'I'm glad they missed.' His secretary said that Mr. Heath would have taken the whole thing in his stride as he was used to drama. The Dutch Defence Ministry recalled the pilots who were on a training excercise. They were supposed to be heading to an RAF airport to refuel.
The Metropolitan Airways franchise began operation on March 29th. Almost as quick as the flights got off the ground they proved unpopular. The replacement aircraft was heavily critised for being too small and not having any service or facilities.
Despite the bad reviews, a new Bristol - Cardiff - Glasgow service began on August 25th.
Dan-Air had been desperate to add
Gatwick-Dublin to its network to go alongside the Newcastle-Dublin service. Dan-Air was given the go ahead by the UK authorities, only to be refused permission by the Irish. The CAA were keen to see Dan-Air on the Gatwick-Dublin service and agreed to allow Aer Lingus to fly into Europe from
Belfast
in exchange for giving Dan-Air permission to fly to the Irish capital, completing the deal in May this year. Fares would be £70 return and £80 for weekend flights iin the peak Summer months.
By July of 1982 Dan-Air had reduced its fares on
its Gatwick-Bergen
service by 10% in an attempt to generate traffic, the new fare would be £121. The group of companies had been losing money for the whole of the year but they were still optimistic that they would be in profit by the last quarter. Dan-Air had to contend with five survivors from the
Sumburgh crash
in 1979 had now began law suits for compensation that the airline estimated would cost up to a million pounds. British Midland Airways opened the Edinburgh and
Glasgow to Heathrow route
s despite strong objections from Dan-Air, British Caledonian and British Airways. Meanwhile Dan-Air added
Heathrow
to its network for the first time when it commenced operations to Inverness. In July Dan-Air completed negotiations with British Aerospace to purchase two BAe 146 jets with a third on option. A company spokesman said one aircraft would be based at Newcasttle where it would be used on the Gatwick service from Mondays to Fridays. The aircraft would then go on to supplement the charter programme during the weekends.
Dan-Air thus became the world launch customer of this brand new aircraft. Captain Alan Selby recalls:
'As far as I can remember, British Aerospace wasn't bursting at the seams with orders for the 146. The word was that BAE were practically giving Dan-Air the aircraft for free. In some ways that is an honour. The fact that airlines around the world might be thinking; 'If Dan-Air have bought it new, it must be good.' is a something to be proud of. It wasn't an aircraft I wanted to fly. I was, by now, on the 727 as well as the 737, but I could see it had many qualities that would benefit us. The fuel savings compared to a BAC1-11 were huge. I think the introduction of the type was a bit of a turning point for Dan-Air and how it wished to be presented to the world.'
In August Dan-Air were in a position to announce that they were in the final stages of negotiation with British Aerospace for the purchase of two new BAe146 jets with more on option. On paper, at least, the aircraft cost £8,500,000 each. Dan-Air would be the world's launch customer. Dan-Air said they had been interested in the four engined airliner because of its remarkable fuel efficiency and the fact that it was so quiet.
In late July a service vehicle was involved in a collision with a Dan-Air Boeing 727 at Gatwick. The lorry tried to avoid the aircraft by speeding up. It then tore the engine off the 727, this happened on the same week that Dan-Air flew the Royal Philharmonic Orchestra, complete with instruments on a specially chartered aircraft to Aberdeen.
On September 28th British Airways announced that it was axing 17 routes from its Highlands and Islands services, despite promising earlier in the year to increase them. BA blamed a 37% drop in traffic and a loss of £1,400,000 on the services. This cost cutting measure would help towards reducing the £10,000,000 that the state owned carrier needed to save. British Caledonian was also in a desperate state. Despite losing £,2,000,000 British Caledonian were to enter the Scottish air routes battle. BCal wo
uld operate from Edinburgh and Glasgow to Gatwick with a return fare of £110, which was £8 cheaper than BA. BCal would have a standby fare of £33 one way for weekends and off peak travel. Whilst British Midland would be flying from Glasgow to Heathrow. Press reports at the time claimed 'Struggling airline Dan-Air had gone from £2m in 1981 to just £342,000 profit in 1982.' What this website finds remarkable, when looking at press coverage from the period, is that Dan-Air was one of only two scheduled airlines to post any profit at all that year. Yet the airline was suggested to be 'struggling'. British Caledonian received nothing but favourable press stories.
Dan-Ai
r had been contacted by the CAA and asked which routes it would like to be considered for. Dan-Air had never been an airline that took unneccesary risks, nor did the airline seek massive expansion over short periods of time. British Airways operated with much higher costs than most independent carriers. Certainly, the independents could make a route profitable. Dan-Air had always evaluated new routes long before seeking to commence services. Dan-Air had had to fight hard for its share of the market over the years. The company did not see many advantages in taking a large number of loss making routes over from BA. The short term losses would eat into profits even if the long term results were favourable. Each new route would need aircraft to fly the service, and new aircraft were not cheap.
Dan-Air did see the potential in the
Inverness-Heathrow service, which would give the airline access to Heathrow for the first
time. As it stood, BA had given the CAA six months notice, Dan-Air could evaluate things iover the next few months.
A New partnership was formed in October of this year. Scandinavian Airline System (SAS) along with Dan-Air and the cruise line company Fred Olsen would offer skiing package holidays to
Bergan. The lucrative programme would run from December to April 1983.
The contract for oil related charter flights was up for renewal in Oct
ober. Following negotiations with the oil giant, Dan-Air had stated that they would operate 44 seat HS 748 aircraft on the flights. The Scottish airline, Alidair had submitted their plans, detailing that they would operate three services each way between Aberdeen and Sumburgh using 75 seat Vickers Viscounts. Whilst it is unknown what quotes were submitted, Alidair were victorious with their tender. Announcing the news on the 23rd of the month
a Dan-Air spokesman said "Of course we are very sad to lose the contract, but we have been in business for thirty years and the loss of one contract is not going to be the end of the world."
Dan-air were not alone with their plans to take over British airways' loss making Inverness-Heathrow
route, B
ritish Midland, and Jersey based GB Airways also applied for it. Dan-Air submitted a formal application to the CAA on October 27th. GB Airways was part owned by British Airways. The Highlands Develpment Board said they were looking for an airline that would provide at least a twice daily schedule of flights. There would be a public meeting that would convene in January 1983. In the meantime Dan-Air had the backing of 60 Members of Parliament, The Highlands Development Board and several businesses. GB Airways quickly withdrew their own application having said they would acquire Viscount aircraft for the flights if they were successful. British Midland stated they would operate three flights a day with 80 seat DC9 jets. Dan-air would operate two flights each way with a third vi
a Aberdeen using BAC 1-11 with 89 seats. British Midland claimed that they would be best suited at Heathrow because they already operated several flights there making them better equipped where Dan-Air were strongest at Gatwick. Both airlines said they would open a base employing about eight people.
Dan-Air triumphed with their bid. However, before the service even began Dan-Air would have to deal with British Airways' new plans. BA would be flying fr
om Inverness to Glasgow with a flight timed so that passengers could connect to the Glasgow-Heathrow shuttle that would arrive at Heathrow at 9-30am. Dan-Air were given a landing time of 11:30 - The authority in charge of landing slots at Heathrow
was run by - wait for it - British Airways!
BA were now in a position to say their flights would arrive from
Inverness 90 minut
es before the Dan-Air flight. A spokesman for Dan-Air said they 'would take this to the very highest level'.
In a very short time Dan-Air turned a loss making route into one of the most profiable on their network. This was no small feat. Dan-Air employed local staff on the service and immediately implemented a level of service never seen on the route. Dan-Air would serve fresh Scottish produce on the service with salmon, beef and even haggis. On board servce would provide Scottish preserves to accompany tea and scones. On the inaugural flight the Dan-Air band played the bagpipes as passengers boarded the aircraft on Burns' Night. Passengers would even be served complementary whisky on selected flights. It would seem that Dan-Air would stop at nothing to provide the best service.
Metropolitan Airways' services that had been franchised in late March became profitable within six months. There had been some extraordinary changes to how the flights operated. There would be no cabin crew for a start - One of the two pilots would serve drinks and snacks! The aircraft were tiny in comparison to the HS 748 and BAC 1-11s. Sadly there had not been enough passenger numbers to justify the larger Dan-Air aircraft. The arrangement was working well for Dan-Air in particular.
Dan-Air's reputation had taken a knock when the airline suffered three fatal crashes within four years. The company was cleared of any blame in 1982 for the Sumburgh Accident. Dan-Air continued their law suit against Spanish Authorities over the Tenerife accident.
The half year finanical results in November revealed that the expected loss was £1,740,000 compared with the 1981 figure of £1,900,000. There had been hefty charges from leasing aircraft. In spite of this the airline was able to increase trading profit by 49% to £3,480,000. The turnover had also increased by 20% to £78,200,000. Shares went up a few pence to 72p. Fred Newman was able to report that the Summer charter programme was fully commited for the Summer. The recession had affected most airlines, most of whom lost money this year. Dan-Air, with a fleet of 54 aircraft, was certainly '
holding its own
' said Newman at the time. Both the airline and the shipping division had coped well in the ecconomic slump.
Despite there being a significant recession Dan-Air had carried over 3,599,000 passengers in 1982. It was the largest figure since 1979.
The size of the Dan-Air fleet was impressive. It was by far the largest fleet in the UK, excluding British Airways. British Caledonian who always claimed to be the second largest airline in the UK had just 29 aircraft in their own fleet. At the time no other airline came close to how many passengers Dan-Air flew either.
Gatwick - Dublin - Daily service started. - June 28th




Gatwick - Zurich - CAA Licence granted - August 11th

London Heathrow - Inverness - Route Applies for October 28th
1983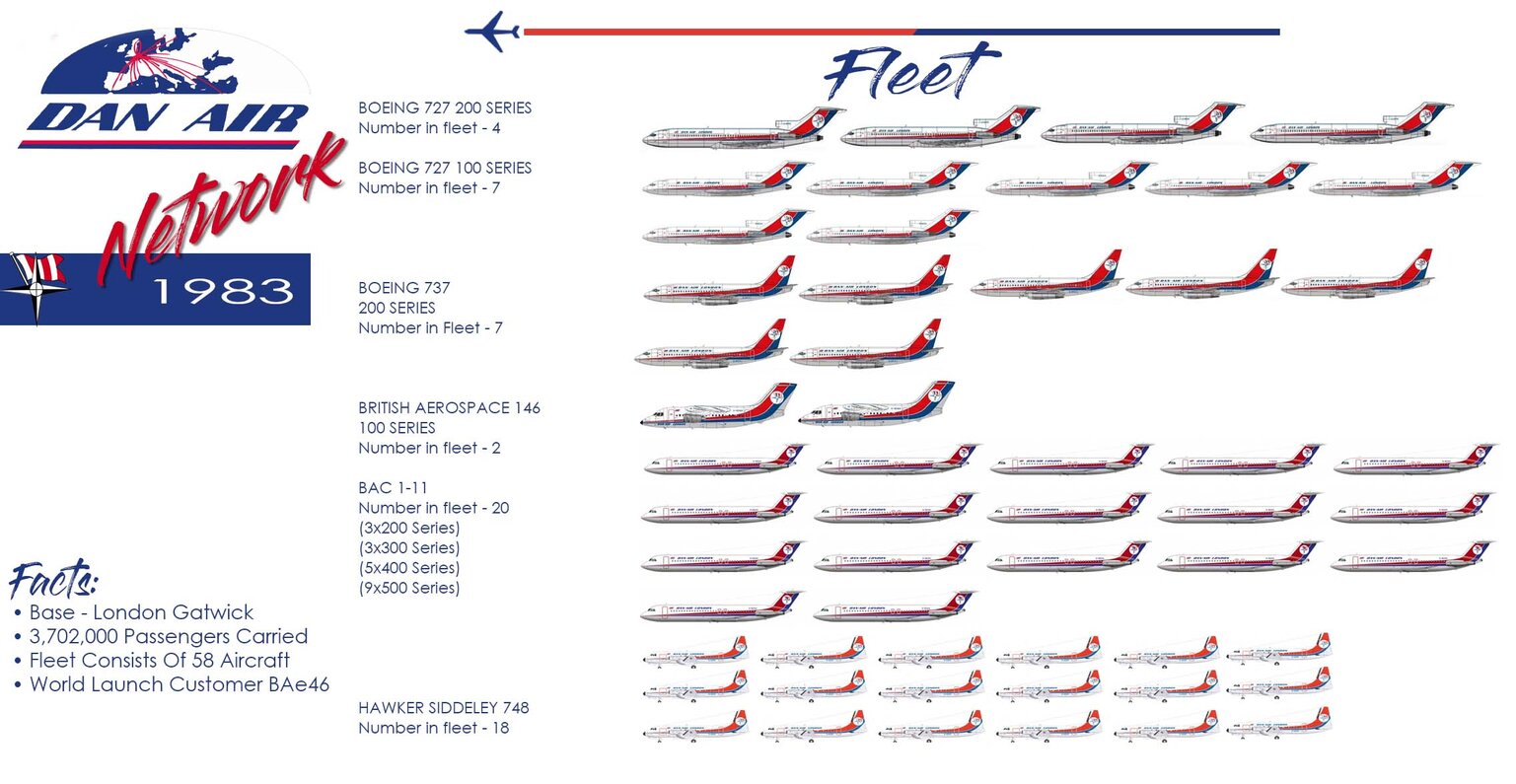 Dan-Air's 30th anniversary year had seen the fleet grow in size to 59 aircraft in 1983. This was reflected in the number of passengers carried, which totalled 3,702,000 passengers, including several thousand on the latest addition to the fleet - The BAe146. As the world's launch customer, Dan-Air had taken delivery of the first of three BAe146 100 series jets. They were to be used on the scheduled services network. Initially on th
e Gatwick-Berne, Dublin, Toulouse and Perpignan routes. Soon it was to feature on the Newcastle-Gatwick, Bergen, Stavanger fllights and the Leeds - Jersey service. The Newcastle based aircraft would supplement the charter fleet on weekends serving Northern European destinations from Tees Side.
The year began with a sales pitch for flights to Jersey. Dan-Air offered 1983 flights at 1982 prices, selling package holidays through their own Tour Op
erator - Dan-Air Holidays as well as several others. The more upmarket Tour Operators were advertising scheduled services as part of their holiday offers.
The
In
ver

ness-Heathrow service was to commence at the end of March. Dan-Air had been successful in changing the landing timings at Heathrow. British Airways had emplyed grossly unfair stalling tactics with landing slots at Heathrow and the victory was a hard fought battle. The flights would now depart just before 7am and arrive at Heathrow before 9am. The local Inverness Member of Parliament, Russell Johnson hit out at what he saw was British Airways' 'extraordinary behaviour' He accused the state owned carrrier of trying to frustrate the smooth take off of Dan-Air's Inverness-Heathrow service. British Airways had launched a new service from Inverness to Glasgow which would enable passengers to board the BA Shuttle Service to Heathrow, landing a full ninety minutes before the direct Dan-Air Inverness-Heathrow service. This had been a result of the landing slot allocation at Heathrow - Managed by British Airways! Dan-Air took their grievences to the Aviation Minister, Ian Sproat and it was heavily reported that the Civil Aviation Authority (CAA) were doing all they could to help Dan-air out. The Department of Trade, meanwhile, said they couldn't do anything to help Dan-Air, expressing the view that they couldn't understand why Dan-air didn't make use of Gatwick as it was their main base anyhow. Then Dan-Air retorted that it's own surveys had pointed out that 82% of passengers and businessmen wished to use Heathrow, throwing the gauntlet down Dan-Air gave the ultimatum that unless a fair slot time was given within ten days, they would withdraw from the service. Dan-Air even threatened British Airways with the high court. This seemed to do the trick, Dan-Air were granted a slot at 7:55am. Although it was not the time the airline preferred, it was better than the 11am slot originally offered.
An office was opened at Inverness
with nine staff who were trained in sales, reservatiions, check in, ground handling and cargo. The latter was something that had never been offered on this route. Dan-Air hoped to carry up to a ton on each flight. The disagreement with the slots committee at Heathrow had to be referred to the Department of Trade who said they couldn't intervene. Dan-Air had began taking reservations for flights and printed timetables.
Dan-Air Inverness - Heathrow flight took off at 6:40 am landing at Heathrow at 7:55am. The return flight would depart 8:55pm arriving in Inverness at 10:25am. The afternoon flight would depart Inverness at 5:30pm attiving Heathrow 6:55pm Departing Heathrow 7:25:pm arriving Inverness 9:00pm. APEX fares would be from £40 one way on standby. One way fares were: super saver - £55 and regular
economy fares £75. The Inaugural flight on Monday 28th March took off on time at 6:40am with 69 passengers on board, 17 shorter than full capacity. Passengers were treated to a cooked breakfast, complentary champagne, shortcake and fruit cake.
British Airways had managed to fly 60,000 passengers a year on the route the year before and Dan-Air hoped to improve on that.
Initially a BAC 1-11 series 200 was used with 86 seats. The plan was to introduce the BAe146 by May.
In May a new service
Inverness-Aberdeen-Gatwick would take off after a successful application to the CAA.
Dan-Air had spotted the opportunity to take over another route that British Airways had axed. Dan-Air wanted the Inverness-Aberdeen service. Passengers could carry on to Gatwick w
here hundreds of charter flights would be available. Tour Operators added supplements in their brochures for airports outside London,
these suppliments rose even higher for passengers wanting the most attractive flight times, often the supplements were higher than the cost of the scheduled flight fare into London.
The BAe 146 was ready at Hatfield for delivery in April. Dan-Air arranged for almost 200 councillors fro
m Inverness, Aberdeen and Newcastle to visit the aircraft. Once in service the aircraft would serve on the Newcastle-Gatwick route. It was a busy month for Dan-Air as Scotland would be in the final at the European Cup Winners Final in Gothenburg. Altogether 11 Dan-Air aircraft would join 22 other carrier's aircraft on specially chartered flights from Aberdeen to Gothenburg. The end of year financial result showed a record profit for the carrier. With pre tax profits at £3,330,000 on a turnover of £183,800,000. The previous year s
aw profits dwindle to £342,000. The demise of Laker Airways the previous year had seen some business move to Dan-Air who also had undergone a cost cutting blitz. In
the first month of the Inverness-Heathrow service Dan-Air carried 5205 passengers, 5% more than BA had carried the previous year.
was the only jetliner able to land at Berne airport due to its short runway. As the launch custom
er for the 146 Dan-Air were able to take advantage by advertising jet flights to the ski resort area early in the year. To increase reservations performance the company introduced the Travicom Reservations System.
Laker had tried once again to get an ATOL licence. His application was refused. Laker had new brochures, TV advertisements and had began recruiting resort staff. He had panned to charter Dan-Air aircraft on his European charter operations. Naturally Dan-Air were disappointed.
As soon as the BAe146 entered service on the scheduled service network it proved to be popular. It carried 100 passengers in quiet comfort. The aircraft was able to contribute further by joining the charter fleet when it was not on scheduled services. The first charter flights it operated were on behalf of the Airways Holidays group.
At the end of May Dan-
Air announced that it was adding a third daily flight from Inverness-Gatwick via Aberdeen. This brought the number of Dan-Air flights between Scotland and England to 80 per week. British Airways introduced the 189 seat Boeing 757 on its Aberdeen-Heathrow flights. Flights had previously been operated by the giant Tristar which was simply too large for the service. The 757 was the perfect size. It was seen as a move by British Airways to make themselves much more efficient.
In May, a new Dan-Air stewardess, Sarah Lipyeat made headlines when she saved the life of a passenger on her first flight! Sarah was on her return flight from Malaga when passenger Alan Dow had a heart attack mid air. Sarah gave Mr. Dow the kiss of life and administered cardiac massage. Mr. Dow briefly recovered before his heart stopped a second time. Once more Sarah carried out CPR while the Captain radioed for an emergency landing in France. Medics were on hand to meet the patient at Nates where he later recovered in hospital. Sarah said 'I remembered my nurse training and just calmly got on with the job. I hoped that my second flight would be less eventful.'
Further good news came when Dan-Air won the contract to supply flights from Aberdeen to Scatsa in the Shetlands as part of the Sulham Voe oil platform. Some 25,000 people would fly on the charters. Zurich would be served from April 30th with scheduled flights from Gatwick.
The Inverness-Heathrow service proved to be a smash hit from day one, and by June of 1983 almost 20,000 passengers had flown on the route. It was further enhanced when Dan-Air joined forces with Loganair who introduced flights from Caithness and Orkney with time
s scheduled to link up with the Dan-Air service.
In an effort to show how committed the airline was to the the service August 12th saw an opportunity to publicise Scotland and Dan-Air. The 12th is known throughout the world as 'Glorious 12th' for Scotland's grouse shoot. Birds were shot at 3am by the Earl of Cawdor, six and a half brace were then taken straight to Inverness airport, packed into the BAC 1-11 hold whe
re they were ferried to London to be roasted and served just after 10am at the London Inn at the Park Hotel. Not all the birds were carried as cargo though. Some were cooked and prepared at Inverness to be served to passengers with champagne at 33,000 f
eet on the early morning flight to London Heathrow. Dan-Air launched a bid to increase their presence at Heathrow. The airline wanted the chance to compete head to head with British Airways on the busy Heathrow to Aberdeen and Heathrow to Manchester routes.
Until earlier in 1983 British Airways had the sole licence for these services. British Midland had been successful with its application to
serve Belfast, Glasgow and Edinburgh from Heathrow, despite objections from the state owned airline. Dan-Air's plans to fly to Belfast from Heathrow would be cheaper than British Midland who had given the route up. The Government had wanted to introduce freer competition with air licences. British Airways said they were studying Dan-Air's bid and that they would almost certainly obje
ct. Briti
sh Airways carried more than 500,000 on the Heathrow-Manchester route and 370,000 on the Aberdeen-Heathrow one. In September Aberdeen based Air Ecosse became the fourth airline to apply to fly between Aberdeen-Heathrow.
I
n June Davies and Newman share prices rocketed to 240p. There was growing confidence in Dan-Air as an airline.
Intasun was, by now, the second biggest Tour Operator in the UK. They had increased their business buy more than 27% since 1982, Winter holidays increased by 107%. Bookings for 1984 stood at 590,000 holidays Intasun was part of the International Leisure Group (ILG) who also owned Air Europe, who, by now, were carrying 1.2 million passengers. The success of Intasun meant that they
would increase the number of flights they would charter from Dan-Air and Monarch Airlines as Air Europe did not have enough capacity. A
ir Europe had built up a fleet of seven Boeing 737 200 aircraft by 1983. In addition, two new Boeing 757s had been obtained via British Airways who had ordered 19 but because of restructuring for its forthcoming privatisation could only take 17.
Intasun's style of operation was different to many other Tour Operators, they would wait until the other Tour Operators had booked they carter programmes for the year ahead, then at the last minute, Intasun would snap up any remaining or
surplus seats. This was seen as a win win situation. If a smaller Tour Operator wanted to charter 100 seats a week from a UK airport to a holiday destination using a Boeing 737, then 30 seats would be going spare. This particularly suited Intasun on destinations that were less popular. Intasun would also choose to charter entire aircraft on high density routes to destinations such as Spain. For this
Intasun would charter as many as six Dan-Air aircraft for the Summer months. To cut costs, ILG, the owners of Intasun, Lancaster, Club 18-30 and several other smaller brands, would again wait until airlines had completed their programme and then charter aircraft when they were not operating. This would usually mean late at night. Night flights would be a lot cheaper to operate as they would not be operating at peak times and therefore take off slots cost considerably less.
After only four years of operation as a charter only carrier, Air Europe had surprised many in the industry by applying for a licence to fly scheduled services from Gatwick to Gibraltar late in 1982. The service was already operated by GB Airways, so it came as no surprise that the application was rejected. It left no doubt, however, that the fledgling airline had high ambitions for the future.
A third airline commenced operations between Aberdeen-London when
Air UK began flights in
August. Dan-Air did not need to worry too much as the Air UK flight would depart
from Stanstead and land at Norwich before continuing to Aberdeen.
Norwich was an under utilised airport, but Air UK had skillfully worked with KLM to feed UK passengers into Amsterdam for worldwide onward connections. The carrier had been formed by a merger of Air Anglia and British Island Airways as well as a couple of regional operators.
Dan-Air set its sights on Belfast, in September when the airline replaced British Midland on the Belfast - London Heathrow service. Dan-Air would slash not only fares, but flight times as well. Proposed fares would start from just £35 one way on twice daily fligh
ts. The service would see Dan-Air go head to head with British Airways. The state airline was getting into a much healthier financial state, having reduced staff numbers, cutting eighty aircraft from the fleet and disposed of several routes. On this particular servi
ce Dan-Air would be offering flights £9 cheaper than those of BA.
Egon Roney who for many years had reviewed some of the best restaurants in the world decided carry out reviews of airline food. All European airlines came in for hostile reviews. Caledonian for its narrow seats, British Midland for noisy aircraft food that made the reviewer ashamed to be British. British Airways for unsmiling stewardesses and Air UK for a miserable affair of a lunch box. How did Dan-Air compare? Well, good and bad - Narrow seats and meals that were ok - if you were not hungry. Dan-Air was the only airline to comment to the press, saying ' It's a pity that the reviews were carried out on flights that were not at meal times. On the Newcastle - Bergan and Gatwick - Zurich flights, all passengers received canapes and free drinks. If they had flown on the Aberdeen service they would have had the benifit of a full catering with a delicious hot meal and free bar.' The airline went on to say that they thought the report was unfair. Egon Roney replied that they had complemented Dan-Air on their cabin crew!
Dan-Air was the only airline in the UK to make a profit the previous year. This year's results were even more improved, the company posted profits of £4m. Even the cargo business was improving with high yields on the Inverness-Heathrow
service. After only six months on the route it had become profitable, compared with British Airways who lost £500,000 on the route the previous year.
With the Heathrow - Inverness service proving to be a success, Dan-air were keen to expand their Scottish network. British Airways had undergone a restructuring process on their Highland and Islands network division, which led to a profit for the first time in forty years. The Aberdeen-Heathrow service was rumoured to make a profit of up to £20 million. BA's restructuring process was carried out for the carriers forthcoming privatisation. British Airways did not want any competition on the Aberdeen route and objected when Air UK, British Midland and Dan-Air all applied for a licence. The Civil Aviation Authority conceeded that it was fair that BA face competition from at least one other carrier. Going on to say that the service could be profitable for at least two airlines. The British Airports Authority were not of the same opinion,stating that Heathrow was perilously close to its capacity. Dan-Air would operated BAC 1-11 jets on the flights if they were successful. This would be more of an incentive to would be travellers who, as it stood, had to fly on HS 748 propliners with BA. British Airways said they were looking at replacing the 'old 748s' with Dash 8 propliners of re-equipping the 748s with improved engines. This was seen as a swipe at Dan-Air, as three of the 748s that BA used were leased from Dan-Air.
The first half financial results announced in October showed the usual losses. They had climbed by a £1m to £2,870,000 turnover remained steady at £78,700,000. The half year figures always made unpleasant reading. Most of the loss was accounted for with aircraft leasing. Twelve of the fleet were leased aircraft. These had to be leased for longer this year. Fred Newman refused to say if he thought the airline would go into profit for the end of year results in April next year. He went on to say that the charter fleet had been fully utilised and that the scheduled services continued to perform satisfactorily.
Late in the year the Spanish Government said they wanted 50% of all holiday flights flights from the UK to be with Spanish Airlines. Dan-Air, Monarch and Britannia all called for an emergency conference. This came at a time when Isle Of Man based airline, Manx Airlines announced that they were dropping out of the
ir planned Gatwick - Belfast applic
ation, stating that they didn't think they would be successful against Dan-Air who would be using jet aircraft. Manx had planned to serve the two cities with older Viscount aircraft.
New Routes:
London Heathrow - Inverness - 27th March - (Taken over from British Airways)

London Heathrow - Belfast (Taken over from BMA)

Gatwick - Zurich - Daily from April 30th

Aberdeen - Gatwick - 21st May

Inverness - Gatwick - 21st May
1984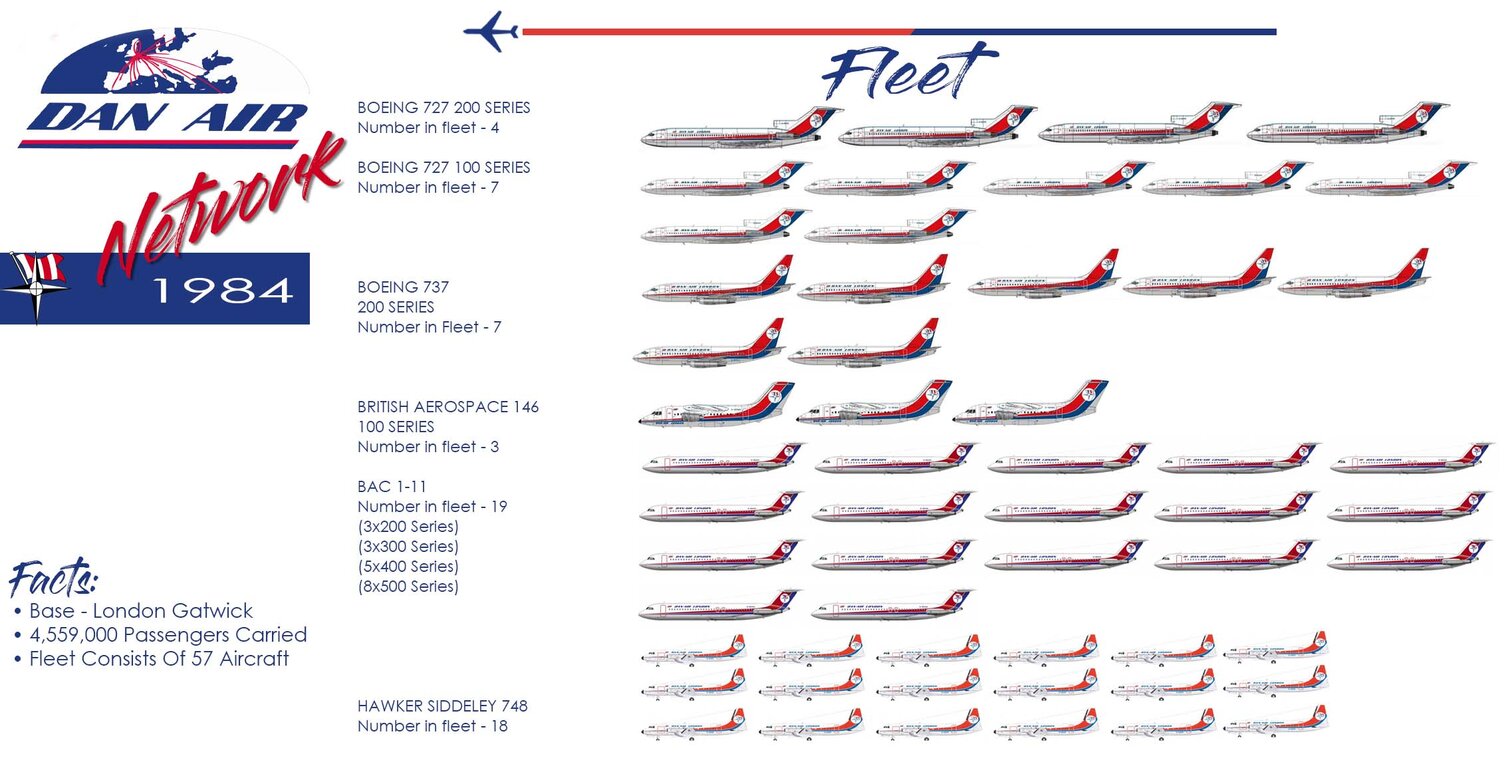 The Civil Aviation Authority (CAA) announced that it would convene a hearing to consider the propo
sed Aberdeen-Heathrow service. British Airways (BA) were the sole operator on the route and had made large profits on it. Although BA didn't disclose the profits on individual routes, it was claimed that the airline made as much as £20 million on the service. Four airlines,
Air Ecosse, British Midland, Air UK and Dan-Air all applied to serve the two cities. Dan-Air would fly BAC 1-11 jets on the service, currently flown with BA's HS 748 propliners. Dan-Air would provide full catering and a free bar.
British Midland (BMA) had bought out the Scottish airline, Loganair to help extend its profile in Scotland. BMA would also improve cabin services' beyond anything their competitors were offering'. Air Ecosse had leased a BAC 1-11 in advance and claimed it was in the best position to meet Aberdeen passengers' needs as they were Aberdeen based. Air UK were keeping what they would offer secret until the hearing. Only revealing that the flights would use jet equipment. Every airline would object to every other application. Why was this so service being so heavily contested? Of the ten busiest routes that British Airways flew, Aberdeen-Heathrow w
as tenth, making it a 'blue ribbon' route. 360,000 flew it annually.
Dan-Air's second service fro
m Heathrow would be to Belfast. Br
itish Midland had recently dropped the route. Dan-Air said they would offer fares from £35 one way, £9 cheaper than British Airways. With the expansion Dan-Air's share price went up to a record 182p.
Thomas Cook chartered a Dan-Air Boeing 737 for a programme of holiday flights from Stansted to Majorca, Ibiza, Menorca, Tenerife and Malaga. Cooks said that if the flights were popular Portugal and Greece would be added the following year. It would mean that a Boeing 737 would be based at Stansted for the season. Essex based travel agent 'Classic Tours' offered holidays to the destinations using surplus seats that Thomas Cooks did not require.
One former Dan - Air employee told us:
'It was apparent to us that we did not have what is known as a 'vertical integration' with a major Tour Operater. So, for instance, Thomson had Britannia, Cosmos had Monarch and Intasun had Air Europe. Although most Tour Operators used us and some used us a lot - we were not ever going to be the first choice of say Intasun, who would use Air Europe as much as they could. We hardly every worked with Thomson! As the years went by we saw new airlines pop up and more often than not they were backed by a Tour Operator. There were talks of buying into a major company or even starting one up ourselves. We had 'Dan-Air Holidays' but surprisingly they were a upmarket brand who offered packages to the Channel Islands and cities that were served by Dan-air Scheduled Services. The holidays were quite expensive in fact. We never got a foothold with a Tour Operator that would naturally use us as their 'go to' carrier. As far as I am concerned it was a huge mistake. Thomas Cook used us a great deal and I wish that we had a formal link with them. They were respected in the industry and as well as having the Tour Operation they also had a chain of high street Travel Agents. It was the way that travel was headed. You have to bear in mind that there was no internet then - the only way you could travel really was by expensive scheduled flights or as part of a package. Dan-Air did very well to have a share of the market as high as it did. But, it was so complex compared to our rivals. We had aircraft flying out with a dozen people booked on one Tour Operator and then twenty with another and thirty with another. It was incredible that we were able to put together such a system. Lucky old Thomson just used Britannia 737s on 99% of their flights. Thomson took the majority of them and the rest were filled with Thomson's other, smaller Tour Opertors like Skyways or Twenty's. Far more simple than our set up. With a company like 'Claissic Holidays' that would probably be a small Travel Agent who fancied putting together a few packages. Thomson would not be remotely interested in that. We would listen to the proposal and do our best to make it happen. But working with more than a hundred Tour Operators made life very complicated. It also made work a complete thrill. My days at Dan were the best of my life. I can't tell you the times I have had twenty seats left each week on a flight for a season and being told to find someone who wanted to buy that block - phoning every contact I had and hammering out a deal was exciting - Somehow we managed to do it every time, sometimes with only a few hours left to spare.'
As March approached rumours circulated that Dan-Air would be withdrawing it
s application for the Heathrow-Aberdeen servi
ce. Dan-Air fiercely deinied the rumours and stated that nothing had changed as far as they were concerned. Just two weeks later Dan-Air withdrew their application. A company spokesman said they were being realistic and that not only did they not want to fly the route, they didn't think anyone else should either claiming "We just don't think that there is enough room for two operators
on the route let alone three or four. We think the status quo should be retained."
A Dan-Air BAC 1-11 was chartered by Pickford's Travel in April for trials of a new pleasure flight. The aircraft was sat idle at Aberdeen for six hours every Monday. Pickfords offered would be passengers a one hour flight for £27. The pleasure flight would travel around the scottish Highlands, giving passengers stunning views of the Scottish landscape. The first two flights were massively over subscribed with Pickfords saying that they could easily have filled another aircraft. The flights offered a paid bar service. The flights were successful and several more were carried out.
For a short time in 1984 the company used a Handley Page Herald on its scheduled network. This aircraft had to be leased in from British Air Ferries. The Herald was involved in a full scale emergency landing within days of joining the Dan-Air fleet. It was returned to BAF soon after. The type never flew with Dan-Air again!
There had been a large increase in passenger numbers this year and share prices in January jumped to a record high of 181p. Davies and Newman claimed that this was due to an unprecidented surge in Summer Sun bookings. The charter programme for 1984 was looking to be a packed season with the entire fleet fully utilised. In July of 1983 Dan-Air announced they would be starting flights from
Newcastle to Amsterdam in addition to the flights that were already operating from Tees Side - Amsterdam. There would be a three month trial and iff successful the route would became permanent. The new service would use the brand new BAe146 jet which had proved to be so popular that a third of the type was leased.
The schedule would fly from Newcastle to Tees Side to before flying direct to Amsterdam. The service would be in direct competion with British Caledonian. BCal, who operated BAC 1-11s on the service had a monopoly on the service. Dan-Air would reduce excursion fares to £79 return, which was cheaper than BCal's £102 fare.
End of year profits for the Davies and Newman group rose from £3.32m to £4.31m shares rose again to 198p.
Dan-Air were successful in their application for a service f
rom Belfast to Amsterdam which would start in July. The small regional airline Genair went bankrupt in July and Dan-Air quickly took over the now vacant Belfast-Tees Side via Newcastle sevice.
The new Newcastle - Tees Side - Amsterdam service which had seen Dan-Air take on British Caledonian head to head was an overnight success. British Caledonian withdrew from the route leaving Dan-Air with a monopoly on the service. Keen to capitalise on this, it was announced that the airline wanted
to link Glasgow to the newly acquired service.
If the new routes were successful they would add them as point to point destinations. Manchester traffice was given a boost when a
new service from Manchester to Zurich commenced this year and t
he Gatwick - Jersey s
ervice became an all year round service this year.
Talks with the Secretary of State for Transport Nick Ridley went ahead in July this year. The Government had announced that British Airways would be privatised the following year. A group of 18 independent airlines lobbied ministers to try to get them to ens
ure BA's Gatwick operations would transfer to the independents ahead of the anticipated £1000 million sale. BA however, did not want to lose the routes. The independent carriers saw it as the only way they could survive against a newly privatised airline with increased financial muscle, a ready made network that was second to none in the world and a fleet of aircraft that was 200 strong. The Government had already invested heavily in BA to make it more attractive for public sale. Dan-Air and others claimed that the report concentrated so heavily on British Airways and Caledonian that it all but disregarded every other UK airline. The independents accused the government of investing too much in the state airline in preparation for its privatisation. A White Paper issued by the Government in October was heavily critisised by Dan-Air who accused the Government of setting back aviation in the UK by ten years.
This didn't stop Dan-Air applying for new routes to Bergen, Stavanger Montpellier and Toulouse.
On May 24th Dan-Air revealed that they had ordered a 149 seat Boeing 737 300 series. The latest, most technologically advanced version of the jet. More and more services were now being operated by jet aircraft, t
he BAe 146 in particular was ideal for services that had previously been flown with propliners. The BAe146 had double the capacity of the HS748 and used about the same fuel. The 146 was quieter and had a galley that could prepare hot food. This was an important factor, BAC 1-11 and HS 748 aircraft had galley limitations. Neither of the aircraft types had ovens, therefore on flights that offered hot food, the catering
would have to be brought on board in pre cooked in vacuum storage boxes. These boxes could keep food hot for up to three hours. The advantages of the BAe146 were obvious.
The BAe146 outperformed the 1-11 and the 146 in almost every way -
for the first time, since joining the lfeet, the HS 748 was under employed, especially as Dan-Air had lost the oil charter contract in 1982. Three of the 748s were therefore leased to Phillipines Airlines.
British Airways now saw Dan-Air as a potential threat to them on scheduled services, BA then stepped up its
London Gatwick-Aberdeen service adding greater frequencies. Dan-Air responded by linking with American Airlines to provide feeder flights for their transtlantic services. Business Class passengers would benefit from the use of executive lounges at Aberdeen and Gatwick. BA then offered free helicopter flights from Gatwick to Heathrow to connect to their own long haul services. Single trips would be £60 with a super saver fares avaialble at £48. Even cheaper would be the extra saver at £30. British Airways' regular single fare was £87. British Airways had lost the battle to stop Dan-Air. Flights would commence in April 1985.
Dan-Air was in the news for the wrong reasons in August when it was brought to everyone's attention that they did not have male cabin crew. This was true, a statement put out at the time said "
We honestly believe that the majority of our passengers prefer young ladies as cabin crew
." Dan-Air did employ a few men as cabin crew, known as '
Loadmasters
' these men were mainly based in Scotland to work on flights carrying out oil related charters. The Equal Opportunities Commission said there would not be a formal investigation. Saying that they preffered
'Persuasion
'.
September 28th saw the CAA licence Dan-Air and Air UK to fly direct fro
m Newcaslte to Amsterdam. For the third year running Dan-Air would be offering long weekend flights from Newcastle to Stavanger or Bergan for £130. The offer would apply for flights departing Thursday, Friday and Saturday for the winter months. Dan-Air also hoped to fly into Oslo as well as Bergen and Stavanger from Gatwick in 1985.
Dan-Air announced that they wished to extend their links with Heathrow and Inveness. In addition to the flights they already operated between the two cities Dan-Air now wished to add a daily service from Inverness to Heathrow via Manchester. Dan-Air claimed that passengers often flew to Heathrow to catch long haul flights that were not available to them from Inverness. As Manchester had a large network it would make sense to offer a closer airport with many available connections. The Inverness-Manchester-Heathrow service would replace the existing Inverness-Gatwick service. The year's figure on the existing Inverness-Heathrow route was up 20% to 88,000. The route was an unqualified success.
As the year drew to a close Dan-Air anno
unced that it had applied to serve Lourdes in the south of France with return fares from £102. Despite the dire economic situation in the UK Dan-Air seemed to be bucking the trend and looked to 1985 with confidence.
For the first time the company carried over four million passengers. In fact, 4,559,000 were carried, making 1984 by far the busiest for the airline. The tie in between Metropolitan Airways and Dan-Air had not been entirely successful. After initial successes some of the flights began to lose money. The airline was not in the best of financial health. After further expansion with Dan-Air Engineering, a third base was opened - this time at Gatwick. Lengthy talks resulted in the airline receiving planning permission for the largest hanger at Gatwick to date. With Inverness being so successful Dan-Air were looking at Engineering facilities at the airport as well as a dedicated cargo facility. The cargo handling had been a major boost to profits on the route. As the company looked back on the year they could boast that many of the routes that had been established now saw extra flights being added, and newer, larger aircraft began to appear throughout the network. The base at Berlin also prospered following the approval of the Berlin - Saarbruken service using HS 748 aircraft. This was the second route to be operated from within Germany that did not land in the UK. Dan-Air had approval from the Allied Air Attache for the licences to operate the services. This year was im
portant to the charter industry as a whole. Most of the restrictions concerning charter flights were removed. From now on
there would be total freedom of pricing, choice of destinations, of who they sold seats to, flight times, discounting and seat only selling. Only Cyprus within Europe refused to allow seat only clients, feeling that such a practice may lower the tone of holidaymakers to the island.
New Routes & Improvements To Existing Routes:
The airline started a Saarbrucken-West Berlin service, taking over the contract TAT. - January 9th

Heathrow - Belfast (Aldergrove) - Taken over from British Midland.

Dan-Air operated twice daily until March 26th then 3 x daily jet service - introduced the lowest fares on the route. - 5th February

Gatwick - Zurich route now twice daily - 30th April

Berne services increased to nine weekly - 30th April

Manchester - Zurich - Daily service commenced - May 14th

Gatwick - Jersey all year round service commenced - May 30th

Newcastle / Tees-side - Amsterdam Commenced - July 16th

Tees Side / Newcastle - Belfast - Replacing Genair on this service.

Jet service to Guernsey from Bristol and Cardiff (Replacing HS748)

London Hathrow - Manchester - Approval granted. This service would be in direct competition to British Airways' Super Shuttle - Plans to commence services April 1st 1985

Inverness - Manchester - Route applied for - Hopes to comence April 1st 1985

Birmingham - Geneva - 16 Weeks ski flights
1985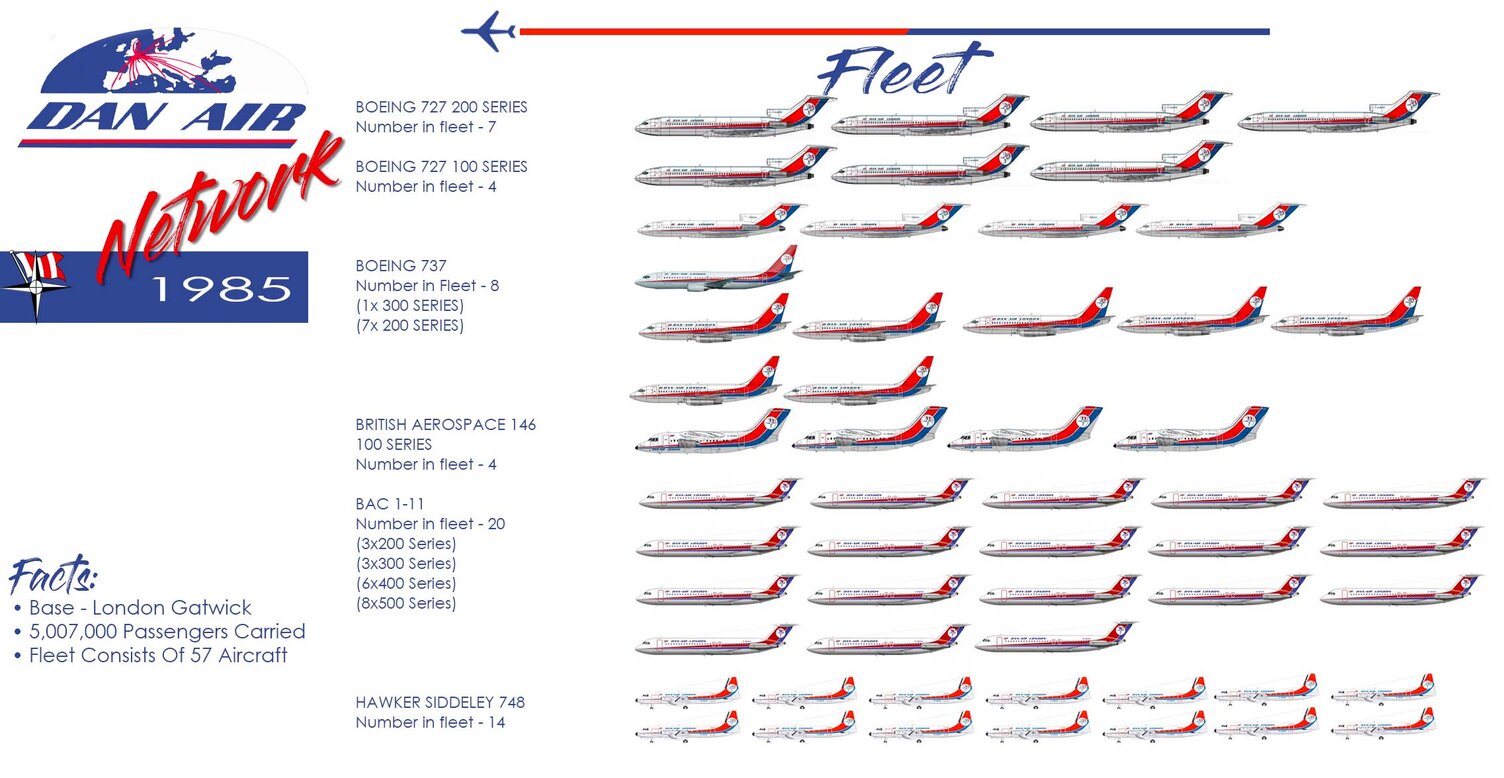 1985 got off to a flying start when in January the millionth BAe146 passenger was carried. Two of these superb jets were based a
t Newcastle. As well as their work on the scheduled network they would be used on Dan-Air's charter programme for 1985. They were fully booked at maximum utilisation for the entire year. Over Christmas and well into the new year the 146 was able to fly a series of charters to Innsbruck from Gatwick. The first time a British service had operated there in 20 years. The aircraft also flew to the Swiss capital Berne, the only jet airliner that could operate into the city. In addition to all of that the 146 was connecting Guernsey to the mainland. The only jet aircraft to do so at the time. Newcastle was home to five 146 flight crews. A further eighteen pilots were based at the airport. Cabin crew, ground staff and engineering support was also carred out at the important base, which was also the home of pilot training.
Newcastle Airport played host to the Sun Newspaper holiday 85 show for two days in February. Nineteen company stands offered promotions including Dan-Air. Pleasure flights were available for just £15 on Boeing 737, BAe146 and BAC 1-11 aircraft. February 26th saw Dan-Air place applications for scheduled services from Gatwick to Berlin, Madrid, Alicante and Lisbon using Boeing 737 aircraft. The same day Dan-Air heard that it had been successful with its application to serve Amsterdam from Manchester. This would benefit Aberdeen and Inverness as they had direct flights to Manchester with Dan-Air.
In March British Airways leased another Dan-Air HS 748 for their Highlands and Islands divisio. British Airways had recently increased their dominance in Scotland. Dan-Air had a surplus of the aircraft as oil charters had declined dramatically. New
er, long range helicopters could fly directly onto oil rigs from the Mainland. Therefore the reliance on fixed wing aircraft ferrying oil rig workers to the Shetlands for onward helicopter flights became redundant. It was also a contradiction of British Airways' stated aims of previous years that they wanted to get rid of 'old 748s' and replace them with Dash 8s.
Captain Peter Hogg started his flying career in the RAF before joining Court Line where he eventually flew the giant Tristar. Hogg made headlines when Court Line collapsed whilst he was in Vancouver. Upon hearing the news Hogg gathered his crew and told them he was going to fly the crew and passengers home immediately, fearing the Tristar would be impounded. The aircraft departed Vancouver and landed to great fanfare at Luton. Hogg told the media that his duty was to get his crew and passengers home. Following the collapse of Court Line, Hogg then joined Dan-Air where he flew as a Captain. His wife, Margaret was involved in an extra marital affair and following an argument over finances he killed his wife with what he described as an accident. He had found her slumped in his arms after he squeezed her neck. Hogg then bound the corpse with plastic and weighed the body down. Then the pilot drove to Wast Water in the Lake District. There he rowed to the middle of the lake and dropped his wife into the water. Had he rowed just 20 meters further, the body would have dropped to the deepest part of the lake where she would almost certainly, never have been discovered. Scuba divers discovered her whilst searching for a missing French student. She was identified as Hogg had left her wedding ring on her finger with an inscription on the inside. The plastic he had wrapped the body in also bore a Guilford stamp on it. Hogg had carried on his life as if nothing had happened. He left Dan-Air to join Air Europe in 1978. In 1979 he was arrested and at the Old Bailey he was sentenced to four years in prison for manslaughter. Hogg was later released and worked as a window cleaner. No one had a bad word to say about Captain Hogg. A few years ago Captain Alan Selby said:
'He was a lovely chap, mild mannered and capable. His wife had a bit of a reputation, she had many lovers and Peter knew of them. One in particular he knew of. She drank heavily. In fact, they opened a restaurant and she was notorious for flirting with the customers. She had an affair with one of the staff there. She had been like that for a long time. Peter eventually took her car from her in an effort to calm her down. It had the opposite effect and she went for him. Sadly he snapped. He must have been devastated not to be flying anymore. Pilots earned about £25,000 back then - which was an excellent salary.'
The new Heathrow-Manchester service, in direct competition with British Airways, commenced in April. The going was tough from the onset. British Airways immediately introduced their new Boeing 757 aircraft on the route that was already firm
ly established. Dan-Air's load factors were a disaster from day one. In an attempt to muscle in on the available passengers, Dan-Air increased their number of flights each day, this was quickly matched by British Airways. BA's extra aircraft were timed so their own departures would take off ten minutes before the Dan-Air flights were due to depart. In late May Dan-Air offered two for one flights on the route for the entire month, provided the two passengers travelled together. This, they claimed was an attempt to raise awareness of the route and when pessengers had experieced the Dan-Air difference they would be hooked. In reality, all it did was increase load factors for the month of June. No amount of free drinks, promises of hot meals and great service would enough, if every time you had an aircraft scheduled to depart, the competition put one on ten minutes beofre.
What mattered was flight timings, frequency of flights and possibly aircraft type. Despite this brutal form of competition Dan-Air extended the two for one offer through July. The Boeiing 757 that British Airways used was a magnificent aircraft. It had been an instant hit for British Airways as well as several charter operators. Air Europe, Britannia and Monarch had ordered the 189 plus seating aircraft. Even Dan Air themselves stated in public that they were considering it. Dan Air's BAC 1-11 was old and noisy when compared to the 757.
Also in April things came to a disastrous conclusion with Metropolitan Airways. The commuter airline had taken over Dan-Air's Link City Network. The small airline's aircraft were painted in Dan-Air colours and had the additional benefit of Dan-Air's ticketing, sales and promotional assistance. Metropolitan would provide the flights and Dan-Air would take a commission. To be frank, Metropolitan Airways used tiny aircraft with very limited passenger appeal. None could provide a full meal service. In some instances one of the pilots even served drinks. R
outes that had been fairly successful throughout the 1970s and early 1980s began to lose money. Metropolitan Airways asked Dan-Air for financial assistance, Dan-Air refused to bail the airline out and in April Metropolitan went out of business. The routes connecting Cardiff to Glasgow via Manchester and Newcastle/Cardiff to Leeds Bradford / Bournemouth - Cardiff via Birmingham would now be up for grabs.

Results for the full year announced in May saw Dan-Air's profits fall from £4.3m last year to just £3.1m. The airline said intense competition on both the charter and scheduled services were to blame. The fall of sterling did nothing to help. There had been many efficiencies made over the year with better performing aircraft. Turnover was up 20% at £242.8m. Interest payments were down 48.6% at £1.69m. There had been a £1.4m benefit from the share of profits from associated companies.
In May Dan-Air were able to boast another scheduled service from Manchester, this time to Montpellier i
n France with fares from £135 return. Flights would be operated by BAC 1-11. May also saw Air Europe enter the scheduled services market with flights from Gatwick to Palma starting. Air Europe would be in competition with four other airlines on the route.
Orion Airways had been formed as part of the Horizon Holidays Group. It commenced operations with two Boeing 737 200 aircraft. By 1984 their fleet had grown to eleven aircraft. In 1985 the airline began operating 737 300 aircraft. for the first five years of its existence Orion flew exclusively for Horizon who were one of the largest Tour Operators in the UK. They also used Dan-Air to carry out their programme. In 1985 it was announced that Orion would now carry out charter flights for other Tour Operators. With so many competitors Dan-Air were being squeezed. Air Europe, Britannia, Monarch and Orion were all after the same business. In most cases the major Tour Operators had their own in house airline. Dan-Air were the largest exception. Britannia had even commenced operations with widebody aircraft, when the Boeing 767 joined their fleet. Britannia Airways carried 4.5 million passengers, half a million less than Dan-Air, but the Thomson profit was £26 million.
The first half financial results didn't paint the prettiest of pictures the profits were down 20% or £605,000.group turnover was up 23% at £123m. Davies and Newman group profits were up at £5.5m. But hire charges had cost £5.6m and interest charges had leapt to £1.2m. The charter fleet had been fully utilised during the Summer months but margins had been put under severe pressure.
In May a group of boozy rugby players boarded a company HS748 on a flight from Cardiff bound for Jersey. Many of them were already drunk and shortly after take off began singing bawdy rugby songs and dancing in the aisle. Six of them dropped their trousers in front of cabin crew. The Captain had twice ordered them to behave before landing at Jersey. Upon landing one of the men opened an emergency door and stepped out onto the wing. He then jumped off the wing onto the runway. The danger cannot be overstated as the propellor driven engines were still turning and the man could have been torn to shreds by the blades. The men were arrested and later fined £60 by Jersey magistrates for reckless, drunken behaviour. Dan-Air then refused to carry all fifty of them back to Cardiff, saying 'We simply cannot risk that kind of behaviour on board our aircraft.' The men had to make their way home by sea and road as other airlines also refused to carry them.
The
Inverness-Manchester-Heathrow route was finally put out of its misery in September when Dan-Air withdrew the route from its network. It had been unprofitable from the start and subsidising it for longer would have been pointless. Both Skybridge Tours and Century tours went into receivership in August. This badly affected Dan-Air's Gatwick-Nice service as the two companies booked 90 holidaymakers onto Dan-Air scheduled service flights every Saturday. Although the Dublin service was given a boost when the CAA gave permission for both Dan-Air and Aer Lingus to reduce their fares to £89. In 2022 - It must surely come across as strange that government departments were responsible for determining the price of an air ticket. The CAA had recently refused the independents requests for a few pounds increase on the grounds that "They were already making enough money on the routes."
The launch of the Newcastle-Amsterdam
service in November came as a result of British Caledonian withdrawing from the route. The CAA awarded both Air UK and Dan-Air the licence. KLM, The Dutch Airline was also well established on the service, having operated Glasgow-Newcastle-Asterdam for some time. KLM claimed they were not in competition with the other airlines as they only operated it to get people to Amsterdam to connect to long haul onward flights.
The challenge of taking on Air UK was something Dan-Air were more than prepared for. Dan-Air had secured the first departure slot from Newcastle at 6:45am fifteen minutes earlier than Air UK's departure time. Air UK's flight departed from Glasgow before landing at Newcastle to pick further passengers up before flying to Amsterdam. The service used the Fokker F28 until the time Dan-Air commenced the service,when Air UK replaced the Fokker F27 turboprop aircraft with a BAC 1-11. Dan-Air would be using the Brand new BAe146 on the service. Dan-Air had also secured the latest arrival time back at Newcastle, giving businessmen a full day in the Dutch city.
Finally, hot meals would be provided on all Dan-Air services. Local press decided to review each operator. Air UK's launch saw just 30 passengers, and although the carrier scored highly with service, the return flight was delayed for an hour and then cancelled because of a leak in one of the engines. Return passengers were booked onto Dan-Air and a KLM flight (KLM had refused to take part in the review) Meanwhile the Dan-Air flight had only 10 of its 88 seats empty. The tasty breakfast comprised of grapefruit, then a hot omelette, sausage,mushroom, tomatoes a roll and jam, orange juice and tea or coffee. The return flight had a complemtnary bar. The reviewer was impressed with service and praised Dan-Air for using metal cutlery and even serving milk from a jug! The meal, he said, was the best packaged breakfast he had ever had on board an aircraft.
Two Boeing 727s left the fleet in 1985 to be replaced by a Boeing 737 and a BAe146 bringing their total to eight and four respectively. Capt Lynn Barton gained command on the BAe146 being the first female Captain of the type in the world. Although the company had a poor reputation with recruiting male cabin crew, Lynn was one of four female pilots who were employed at the time. The airline had employed several more women in the flight deck. The oil support flights had seen a further downturn in numbers. This resulted in a reduction of the HS748 fleet further still. Following changes in charter flight rules and the EEC making regulation easier Dan-Air submitted applications for licences to fly from Gatwick to Madrid, Lisbon, Alicante, Santiago, Seville and Berlin. With further applications for Manchester to Lisbon and Oporto to commence in 1987. The Gatwick-Lourdes licence applied for in 1985 was successful as was the Innsbruck application
The Newcastle-Oslo service that Dan Air applied for in 1985 took to the air this year. It was the fastest route to the Norwegian capital. Fares were from £122 and consolidated Dan Air's position as number one carrier from Newcastle. Dan-Air had been operating for thirty two years it was only right that the CAA were giving more routes to them.
One source told this webmaster
"There is no doubt about it - The CAA were heavily in favour of British Airways. I think that they just did not understand what Dan-Air did. They saw us as a charter airline. I think it perplexed them when we applied for scheduled services. I don't know how they thought charter flights operated. There's very little difference. If we were carrying more than four million people a year we must have known what we were doing. By the 1980s we had the 146 and the latest 737s. We had earned the right to fly these routes. I won't say the names of some of our rivals, the independents - but some of them were flying aircraft that were bloody ancient - and we were the ones that that got the bad publicity - One such company that had nothing but praise heaped upon it was in such a mess financially that it paid for maintenance by giving us a BAC 1-11 because they had no money! We were in a good position financially and we were very well run with an excellent management structure, but such is life I'm afraid."
1985 was also a milestone in terms of passenger numbers with more than a million passengers carried on Dan-Air Scheduled Services for the first time. Altogether 5,007,000 people flew with the company in 1985.
For a British independent airline to carry more than five million passengers was unprecedented. The company was second only to British Airways in terms of passengers carried. It was half a million more passengers than Britannia Airways, who claimed to be the largest charter airline in the World. That was a downright lie, in fact, Dan-Air carried more charter passengers than any other UK airline in 1985, and for many years afterwards. British Caledonian was behind Dan-Air in terms of passengers carried on either scheduled or charter services. In the early 1970s, the UK Government had decided that there would be a 'second force' in UK aviation. The Government had chosen British Caledonian to be that carrier. British Caledonian would be the UK's flag carrier to South America. British Caledonian operated many impressive scheduled service routes their most profitable being that of London Gatwick to Buenos Aires, with the right to pick up passengers at Madrid. The Buenos Aires route was cancelled in 1982 following the Falklands War. In 1984 the UK Government had almost completed their privatisation plans for British Airways. The newly invigorated British Airways, with a new board of directors, an enhanced fleet and a staggering 83% of all UK scheduled airline passengers would pose a significant threat both Dan-Air and British Caledonian. BCal carried a mere 12% of UK scheduled service passengers. British Caledonian were well aware that British Airways would have a disproportionate share of routes and that their financial clout could well put smaller airlines out of business. BCal wanted the Government to allocate several of BA's routes directly to them, including
BA's profitable Saudi Arabian routes. Morover BCal felt they had a right to take over
routes to Abu Dhabi, Kuwait, Harare, Islamabad, Kolkata, Singapore, Kuala Lumpur, Tokyo, Seoul and Beijing.
In what was seen by many as an arrogant demand,
BCal also proposed the transfer of BA's short-/medium-haul routes from Heathrow to Vienna, Helsinki, Athens, Istanbul, Malta and Larnaca, which BCal wanted to serve from Gatwick, The airline furthermore proposed to take over BA's services from Gatwick to the Iberian peninsula and that airline's services from Gatwick to the Caribbean. British Airways dismissed the demands. Meanwhile BCal lobbied the Government to find a solution to the problem. It is fair to say that the independent airlines would struggle to compete. It was suggested that British Caledonian and Dan-Air might take some of the routes and operate them from Heathrow. Caledonian wished to remain at Gatwick. The least preferred option was to be merged with British Airways. British Airways' new chairman, Lord King had offered £200 million to buy BCal's assets, which British Caledonian said was a 'smash and grab raid'
This culminated in 1984 with eight UK independent airlines making a joint proposal to reduce BA's share of the scheduled services market to 60% (from 83%) and increasing the independent carriers share to 40%. The Government produced a white paper on the matter and the CAA agreed with the some of consortium of independent airlines airlines requests. The CAA produced a report called the CAP50 that suggested all long haul trunk route flights out of Gatwick be operated by British Caledonian with British Airways being the dominent airline out of Heathrow.
The CAA also suggested that BCal take over the Saudi and Caribbean services.
In the event the Government decided not to implement all the recommendations of the CAP50, instead it proposed giving BCal the
Saudi Arabian routes to Dhahran and Jeddah and a new route to the Saudi capital Riyadh.
The route transfer on which BCal had agreed with BA and the Government took effect at the start of the 1985 summer timetable period, when BCal commenced scheduled operations from Gatwick to Dhahran and Jeddah, replacing the BA service from Heathrow. At the same time, BCal relinquished its traffic rights to Recife, Salvador, Rio, São Paulo, San Juan, Caracas and Bogotá. British Airways acquired these traffic rights and began serving most of these destinations from Heathrow. BCal made record profits in 1985.
Gatwick Airport had by now become very busy. The Government rejected plans for a second runway and with breath taking arrogance British Caledonian called for all charter flights that operated out of Gatwick to be recolcated to Stansted. The Government for their part agreed to meet BCal half way and said that
all scheduled flights from Gatwick would have preference to charter services in all future slot allocations at the airport.
Dan-Air's route planning team had to work hard to find ways to increase the network without huge risks as the margins in the airline world are notoriously small. The prospect of deregulation was on the horizon and airlines like Dan-Air were not looking forward to a 'free for all'. But the prospect
of challenging other carriers on a route by route basis would, Dan-Air hoped, mean a more level playing field.
New Routes & Improvements To Existing Routes
January - Applied for weekly Gatwick-Lourdes service - January.

London Heathrow - Manchester service commenced in direct competition with BA - April 1st

Manchester - Inverness

Manchester - Newcastle - Oslo service that connected at Newcastle with Bergen & Stavanger flights began

Gatwick-Lourdes commenced - April 6th

Gatwick - Munich services resumes 3 times weekly after break of 4 years - May 1st

Manchester - Montpellier service begins - May 24th

London Heathrow - Manchester service discontinued. August

Gatwick - Innsbruck service begins - December 15th

Dan Air applied to Civil Aviation Authority to serve Lisbon & Oporto from Manchester commencing 1987

The company appealed against a rejection for the flights to operate from Gatwick - Lisbon

Gained Civil Aviation Authority approval to operate London Gatwick - Santiago (Portugal) & Seville (Spain) subject to Portugese & Spanish government approval.
1986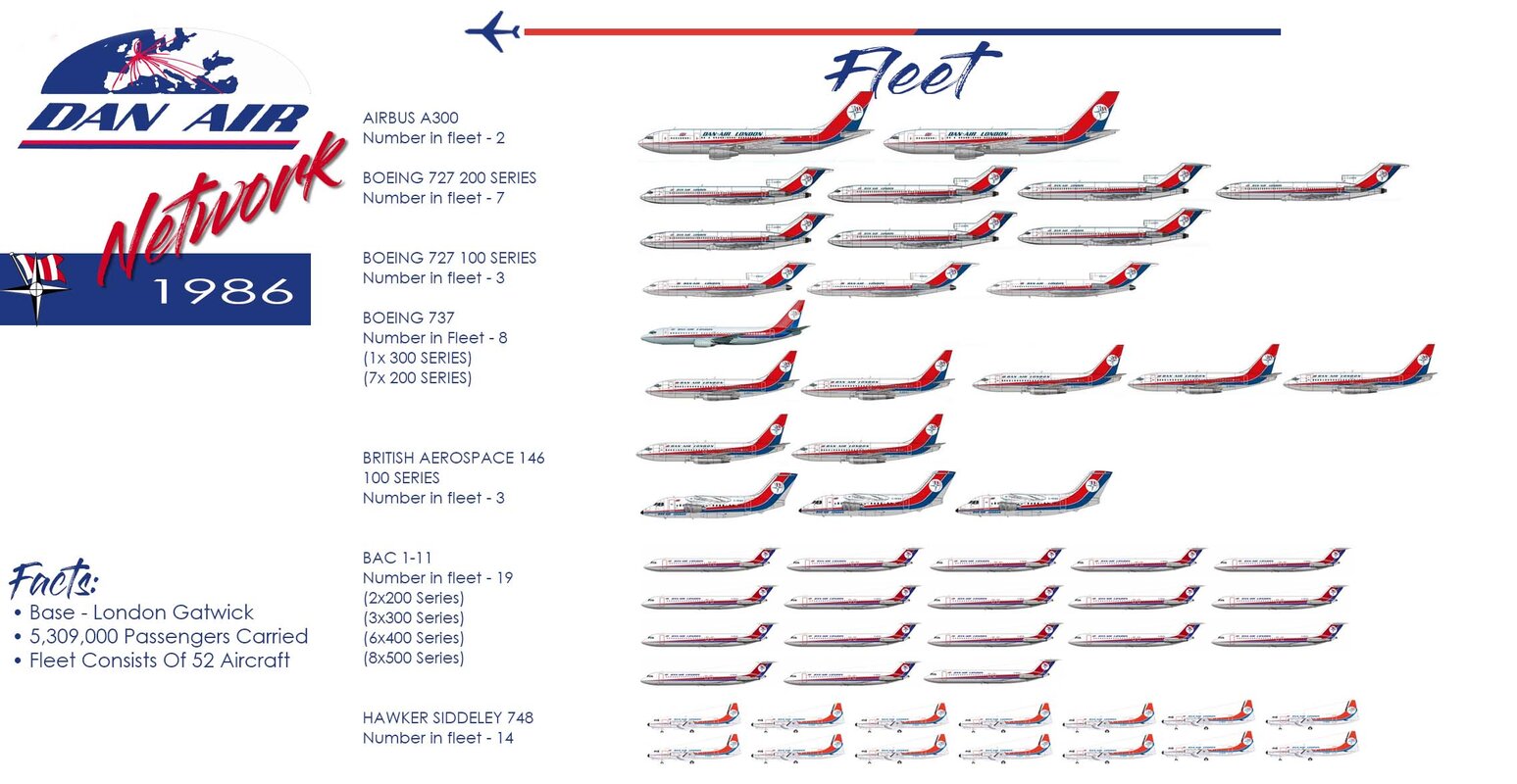 Dan Air carried 5,309,000 passengers in 1986 - up several thousand from the previous year. The network of scheduled services was seadily growing. This was in no small part to the UK government relaxing laws on how independent airlines could apply for routes. Dan-Air crossed swords with the CAA in January after th
e UK licencing authority had been investigating how to handle proposed increases in traffic up to the year 2000. The CAA had suggested that Charter traffic be shifted to Stanstead and that certain airlines should relocate their schedules from Heathrow to Gatwick. Dan-Air were not happy - In a swinging broadside they quipped "It is up to airlines to decide how they are going to cope with 80 milion passengers by 1995 and 100 million by 2000."
'Who did they think they were? If traffic was going to grow why the hell should it be at the expense of airlines like Dan-Air? And why should charter passengers have to be the ones to suffer? That was exactly what I said to you before. they didn't understand Dan-Air and I think they thought charter flights were second class.British Caledonian, who let's face it, were a relatively small airline, when compared to BA were demanding all sorts of things and the Government were listening. We had a bigger fleet, and carried far more passengers, but that didn't seem to interest the Government.'
At the start of the year Dan-Air completed the task of fitting the BAC 1-11 fleet with 'hush kits'. This would enable older aircraft, such as the 1-11 to meet new noise restrictions that came into force on January 1st. The BAC 1-11 flew the Inverness-Heathrow service with great success and by January 24th the route carried its 200,000th passenger.
The Newcastle-Amsterdam service which the CAA had awarded to both Air UK and Dan Air in 1985 had been a hard fought battle with both airlines losing money by throwing everything they had at it to out do the other. As there was only 15 minutes difference in the departure times it was a brutal, pointless excercise that saw neither airline achieving dominence. As a result the two companies decided to share the route with each offering one flight in each direction each day instead of them both operating two returns each. Dan-Air's presence at
Newcastle was not entirely diminished as
the summer service t
o Jersey was very popular as was the one from Leeds/Bradford.
Dan-Air was keen to be part of the growth in Newcastle Airport. In March it could boast that it served nine routes from the city, as well as a considerable charter programme.
Dan-Air was never a boastful airline, preferring to carry out business quietly efficiently. The airline relied on an increasing reputation as a quality scheduled service operator. One extra touch that was deployed on Valentines day this year was to present every female passenger on a scheduled service with a rose. It was noted and word soon reached the press who reported the lovely gesture.
In January it was reported that Dan-Air were to be the subject of a full investigation by the Equal Opportunities Commission (EOC) regarding their failure to employ male cabin crew. A few men did work carrying out a similar role with the job, but they were not called 'Stewards' instead they had the title 'loadmaster'. One such man, Russell Smith carried out his duties on the oil related charter flights. The EOC's Helen Holden reported;
'We received a complaint asking us if we knew that the airline was operating a sexist recruitment policy. We investigated it and the company confirmed it was its policy and that they were not prepared to change it. Its says people prefer to be served by a woman.' The complaint came from a man and the EOC launched a formal investigation into the airline, only the ninth time in the EOC's history. For their part Dan-Air said they would fully co operate wiith the EOC but were refusing to make a further comment until the investigation was completed.
Dan-Air found itself in hot water in February when a cargo flight carrying four tonnes of radioactive nuclear fuel from Liverpool to Dounreay flew over Aberdeen city. The aircraft was supposed to only fly in controlled airspace over the country side. Air Traffic Controllers had not been guiding the aircraft as it was claimed to be flying at over 40,000. Air Traffic Controllers had been in contact at take off w
ithout knowing what the aircaft's cargo was. The United Kingdom Atomic Energy Agency said they moved the fuel ten to twelve times a year and that Dan-Air had been carrying out the flights for four years. Local MP Bob Hughes said he was trying to find out the exact route of the flight, reported to be a HS748. The Secretary of State Nick Ridley told him that the aircraft had never flown in Dyce airspace, despite reports claiming that the aircraft had flown directly over Aberdeen.
March saw a new service from Manchester to Amsterdam introduced with daily flights to the Dutch city. As an introductory offer, passengers who booked an APEX ticket could enjoy the return fare for just £77. The Aberdeen-Gatwick service was reduced. The morning and early evening flights would be unaffected but the lunchtime service was scrapped as it was losing money. This was not the case with the Cork-Jersey service which was profitable. Irish links were further strengthened when the Gatwick-Dublin service had three more weekly flights added.
A blueprint for the restriction of domestic flights into heavily congested Heathrow emerged in late March. It detailed a possible end for two services into the capital, those of Dundee and Inverness. Looking further ahead it could also spell restrictions on the number of flights from regional airports with the exception of Glasgow, Edinburgh and Belfast. The Civil Aviation Authority (CAA) had been reviewing the future of UK avaition at the Government's request. It was reported that Heathrow was already congested and that something would have to be done. The CAA recommended that in future, small aircraft and cargo flights should not have access to the airport. There would also be a ban on any new domestic flights. The CAA did not envisage much opposition with the move. However, the third stage was to phase out services with limited inter lining. In other words, flights that did have many passengers joining international flights at Heathrow. This move certainly caused a stir at Dan-Air. Top of the CAA hit list was Euroair's Dundee-Carlisle-Heathrow service and Dan-Air's Inverness-Heathrow flights. Other flights earmarked were those from Plymouth, Newquay, The Isle Of Man, Guernsey and Jersey. The CAA said that they had been analysing the flights for two years and these flights were mainly those simply wanting to fly into London. The CAA claiimed that if those flights were diverted into Gatwick or Stanstead, then there would be 10,000 slots opened up for lucrative international flights. The CAA defended their recommendations saying that international air service agreements demand opportunities for international airlines to fly into Heathrow, and there was increasing demand for more international flights into Heathrow. The CAA said they might also have to 'frequency cap' some of the internationalservices as well. The blueprint would next go to airlines and the Government for consideration. Dan-Air's scheduled services manager, John Jones said;
'We are greatly concerned at the prospect of being forced to switch our flights to say, Stansted, as this would deny our passengers from the Inverness area the right to connect to international and intercontinental flights.
One of our regular contributors said;
'It was the same old story - if it wasn't the CAA kicking us in the guts then it was the Government with regulations. When I saw this so called 'blueprint' I contacted the CAA and said to them 'So you have discovered that a flight between two cities is full of people wanting to go from place A to place B - And that took you two years! What in God's name is wrong with that? We had obtained loss making service developed it into a blue ribbon trunk route that was carrying a great number of people. It helped Dan-Air make a profit and created jobs. What's more, Dan-Air paid for the landing slots at the going rate and the fuel. We had earned the right to use that airport and to fly to wherever we were licenced. This blueprint ignored the fact that our flights carried mainly businessmen who had work to carry out in the capital city. They needed to go there, do their work and go home in the evening. How dare the CAA tell the Government, or our passengers that they would have to fly into another airport, a great deal further away from the city. How dare they.'
Charter services continued to be regulated. For example, When UK airline Orion Airways applied to have 50% of its charter aircraft seats sold as seat only, its request was rejected. Orion was told to accept that it already had 15% of seats sold as seat only!! Since 1984 the oil support charters had faced a huge drop in numbers. Most airlines had seen a similar fall in the charters. One exception was British Air Ferries who had secured a £3m deal with Shell to take over from Alidair who went bankrupt in 1985. British Air Ferries was a relative newcomer to the oil charter scene. Air UK had been operating as a scheduled airline for six years it came as no surprise when the carrier announced that it was forming a charter airline of its own - Air UK Leisure, funded by Unijet who were one of Dan-Air's biggest charterers. The new carrier would initially operate with a couple of Boeing 737 200 aircraft. Two 130 aircraft could carry 250,000 passengers a year. Once again Dan-Air was being challenged by a start up carrier and once again, the carrier was backed up by a large Tour Operator.
In time for the busy summer months Dan-Air took celiver of their first wide body aircraft, in the shape of the magnificent Airbus A300. The new aircraft could carry 336 people. With twin aisles, and low operating costs the aircraft enabled Dan-Air to compete with Britannia's 767. The Airbus came from Germany's Hapag Lloyd and began operating in a hybrid colour scheme before being repainted in the Dan-Air livery. The Airbus was put to work immediately on Spanish and Canary Island charters.Air Europe meanwhile were expanding into scheduled services and continued to eat into Dan-Air's core business. Former Dan-Air board members
Errol Cossey and Martin O'Regan headed Air Europe and were in a strong position in that they knew how Dan-Air had operated throughout most of its history. They were keen to avoid some of the pit falls that Dan-Air had fallen into. With Air Europe they had
consciously rejected a second-hand fleet, variable food and short term expansion. Air Europe, perhaps incorrectly believed Dan-Air operated in this way. To be fair on them,
from the late 1940s until the early 1960s this short-termist approach was typical for new independent airlines.
From the very beginning Air Europe had been critical of what it perceived as Dan-Air's
undercutting, opportunistic risks taken style. They correctly saw that Dan-Air had
become highly diversified carrier, but Cossey and O'Regan knew that
many of its sectors never turned a profit.
This weakness, they felt, overwhelmed the Dan-Air management with activities that were seeing a negative return on investment. Dan-Air justified their diversification strategy by its low marginal cost as aircraft and crews were already available. For many years for Dan-Air each aircraft type represented a "cost centre line" that was financially accountable for itself.
A typical example of Dan-Air's opportunistic diversification into activities was its long-term commitment to start a comprehensive network of regional scheduled services linking secondary airports across Europe, many of which operated on a seasonal basis only. This took up massive resources – financial and managerial.
Cossey and O'Regan therefore honed in on low-risk activities, specifically, a few but core activities. These being
Short-/medium-haul charter flights.
Long-haul charter flights,
Scheduled services serving markets where half of the available capacity could be profitably filled with Intasun customers. Intasun the sceond largest Tour Operator in the country at the time were beginning to show a reluctance to charter Dan-Air aircraft.
British Caledonian had been riding on a wave of good fortune for quite some time. BCal had been seen by the Government as the second force in British avaition for many years and to some extent was treated exceptionally well by authorities. That is not to say that the company wasn't deserving of this. The airline was a credit to the industry. Four events in 1986 changed the company forever. The airline had formed a charter division - British Caledonian Charter - which later became Cal Air. The three DC10s of Cal Air did not have the impact on the charter scene that BCal had hoped for, despite its large aircraft flying to high density Spanish destinations and to far away places such as the USA. Two incidents had a huge impact on BCal in April when the US bombed Libya in reprisal attacks and in Chernobyl, Ukraine, a nuclear reactor suffered the world's worst nuclear accident.
These events almost emptied the cabins of BCal's widebodied planes plying the transatlantic routes of Houston, Dallas/Fort Worth, Atlanta, New York JFK and Los Angeles because of a sudden surge in cancellations, especially from passengers based in the US. Many of BCal's American passengers cancelled or postponed their trips at that time because they feared retaliatory attacks by Libyan secret service agents and did not want to risk exposing themselves to the radioactive fallout from the Ukrainian nuclear catastrophe while conducting their business or spending their holidays in Europe. At the time, BCal's transatlantic scheduled services accounted for a quarter of the airline's worldwide revenues and 37% of its passenger traffic. The Libyan bombings also dashed any hopes BCal had to resume operations on its profitable Gatwick—Tripoli route later that year, resulting in a further loss of expected revenues and profits.
What followed is text book testement to how close any airline is away from failure. The profit margins are notoriously low.
Suddenly the Nigerian currency was devalued. T
he adverse impact of the devaluation of the Nigerian currency on BCal's earnings from passenger and freight bookings originating in Nigeria and paid for in the local currency, which the Nigerian government of the day prevented from being repatriated to the UK.
The combined forces turned BCal's record breaking profits the previous year into a loss of £14 million. Next came the shattering news that BCal had lost the licence for their helicopeter shuttle between Gatwick and Heathrow following the opening of the M25 orbital ring road. Altgether, British Caledonian suffered losses of £80 million. A thousand people would be made redundant and significant asset selling became a priority. Two relatively young DC10s were sold and the entire BAC 1-11 fleet were sold to British Aerospace only to be immediately leased back. One BAC 1-11 had been given to Dan-Air as payment for engineering work carried out.
'The thing is, and I would get a roasting for this, I thought Caledonian thought they were something special. They always behaved like every other carrier was inferior. What people didn't see was what went on behind the scenes. So, they mad a holy stink that charter flights should get out of Gatwick because it was busy and should only have scheduled flights - they almost got their own way with that - then they rubbish charter flights - then they start a charter airline - then - when they are down on their uppers because they lose a ton of scheduled passengers - they come back to the charter scene and start throwing their weight around there. It was as if they were saying - you guys might have been in the charter business forever, but you are amateurs and should be doing it this way. To be honest I was not a fan of the management of their airline.'
Dan-Air debuted a new slogan to go with its advertisements - '
We're Going Places
' i
n May, which co-incided with the launch of the new Dan-Air cabin crew uniform. The uniform had been tweaked slightly over the previous eight years but a whole new lo
ok was premiered this year. Cornflower blue would remain as the main colour, the new uniform featured a brand new new hat design and a blouse print. Skirt lengths had to be changed to keep in line with current fashions. The double buttoned jacket had a redesign and now featured a single button. Sizes were also changed! The designers had discovered that the average uniform had gone from a 36-24-36 in 1978 to a hippier 36-24-38. Dan-Air told journalists 'We can't understand it - It's not because our girls haven't deveoped in this area because they have been sitting on the job.' The new uniform would also allow for the girls to wear longer hair and jewellery. The spokesman continued; 'We're expanding'.
No doubt the ladies were pleased at the changes. A male uniform would have to be selected for very soon in the future.
Dan-Air were furious in December when British Caledonian was granted rights in direct c
ompetition on their Aberdeen-Gatwick service. BCal had got around the rules by having a 15 minute stop in Manchester. It was now known within aviation circles that British Caledonian was in serious financial difficulty. It was rumoured that a merger with SAS was on the cards. Harry Goodman, the owner of ILG had offered to buy the entire company for £36 million. He wanted BCal's European routes and the slots at Gatwick. By now his company (Air Europe) had started scheduled operations. The CAA balked at the idea.
At the same time Britannia, Monarch and Orion had all launched scheduled services to sunshine routes to destinations such as Alicante and Palma. The semi deregulation of flights in the EU zone had brought large increases in the number of flights. As far as international flights were concerned the rule was that if one country agreed to an airline flying the route then it could go ahead. The Irish, who wished to protect their state owned, heavily subsidised airline, Aer Lingus, objected to Dan-Air and Ryanair flying across the Irish sea, Mrs.Thatcher's UK government gave them both approval, so the routes went ahead. Meanwhile the CAA recommendations from earlier this year reached their conclusion. Because Heathrow was so busy the CAA decided to move some routes from the main London airport to Gatwick or Stanstad

,

as they had threatened to do. For domestic flights the criteria was to be the number of interline passengers the route had. So, for instance, 80% of Birmingham passengers went on to catch another flight immediately. In the case of Dan-Air's Inverness routes only 17% did. That was explained simply because the vast majority of passengers needed to go to London alone, for business or leisure. The route had been so popular for Dan Air that they desperately wanted to retain it. The CAA saw otherwise. This led to Dan-Air taking the matter all the way to the then Secretary Of State for Transport - Malcolm Rifkind, who would have the final say. Fortunately he backed Dan Air. The Civil Aviation Authority had such power that often an independent would have no redress other than
to appeal to the Secretary of State. Ryanair had not yet become the giant that it is today, they did however start something of a price war on
the Dublin - London route. Ryanair began flights to Luton for half of the present £208 return. The UK -
Ireland routes were the most expensive per mile trips in the world. Dan Air, Aer Lingus and British Airways reduced fares initially to a little over £100, then Dan Air reduced them to £91. Days later Aer Lingus were offereing seats for £74 return. This was all done before the Irish Authorities had actually given approval. In the end the Irish Aviation Aurhority agreed that the airlines would be able to carry out their price reductions. Ryanair was kept at bay by being refused to increase the number of flights it offered until they could prove they could carry out what they was already operating! Ryanair had 94% load factors on its HS748 aircraft and were looking at leasing BAC 1-11s. As fares had been so traditionally high 60% of crossings between Ireland and the UK were by ferry. The ferry companies then entered the price war offering crossings for £79 including rail connections.
Airtours holidays signed a multi million pound deal with Dan-Air to charter two BAC 1-11 and a Boeing 727 200 for the winter and summer of 1987. Two of the aircraft were to be based at Manchester and one in Birmingham for Carousel Holidays.
There was no doubt that the BAC 1-11 suited Dan-Air's style of operation. The problem was that so many of them were quite old. The BAe146 used a third less fuel than the 1-11. The 1-11 used as much fuel as a Boeing 737 carrying 130 people. Depending on the model the 1-11 carried between only 82 passengers and a maximum of 119 on the largest 500 series. A disaster was averted at Manchester in August when one such BAC 1-11 was taxiing to the runway when a fuel leak was noticed. The fuel on the ground caught fire. Luckily a Dan-Air Engineer spotted the fire and quuickly put it out with an extinguisher. The aircraft, with 109 passengers on board was evacuated. Following repairs the aircraft departed as normal a few hours later.
In September Dan-Air finally agreed that they would recruit both male and female cabin crew following the months long dispute with the Equal Opportunities Commission. Dan-Air claimed that the decision had nothing to do with the EOC's ruling stating 'Dan-Air has traditionally always employed female cabin crew, but we have taken a firm decision to emply people of either sex, provided the applicant meets the qualifications for the job.'
Along with other airlines, Dan-Air's oil charters continued to decline -
The drop in this work saw a reduction in the number of HS748 aircraft that the airline needed.
The BAe 146 fleet now totalled three and they had proved to be effective in the 100 seat market. This had presented opportunities for Dan-Air to replace the HS748 with it on many routes. Over the last few years the airline had been considering new aircraft. Fred Newman, the airline's Chairman, had stated that he was interested in the Boeing 757, stating that a 200 seat aircraft would suit their style of operation on high density charter routes. The McDonnel Douglas DC 9 Series 80 was also considered. Both aircraft had massive fuel efficiency savings compared to the 727 carrying roughly the same number of passengers. It was the preferred option of British Island Airways who, having broken away from Air UK were set on taking away Dan-Air's charter work by offering Tour Operators the same sized aircraft as Dan-Air's 727s at a greatly reduced rate. One Boeing 727 was scheduled to be sold to an Irish consortium who had plans to form a charter carrier in the republic. As it stood Aer Lingus had the monopoly in providing charter aircraft for Irish Tour Operators.
NEW ROUTES & ROUTE CHANGES
Manchester-Amsterdam service started - March 31st

A300 G-BMNA start to enters servics - May

Bristol-Amsterdam - Route cancelled after 8 years.

Luxor charter flights begin - May
1987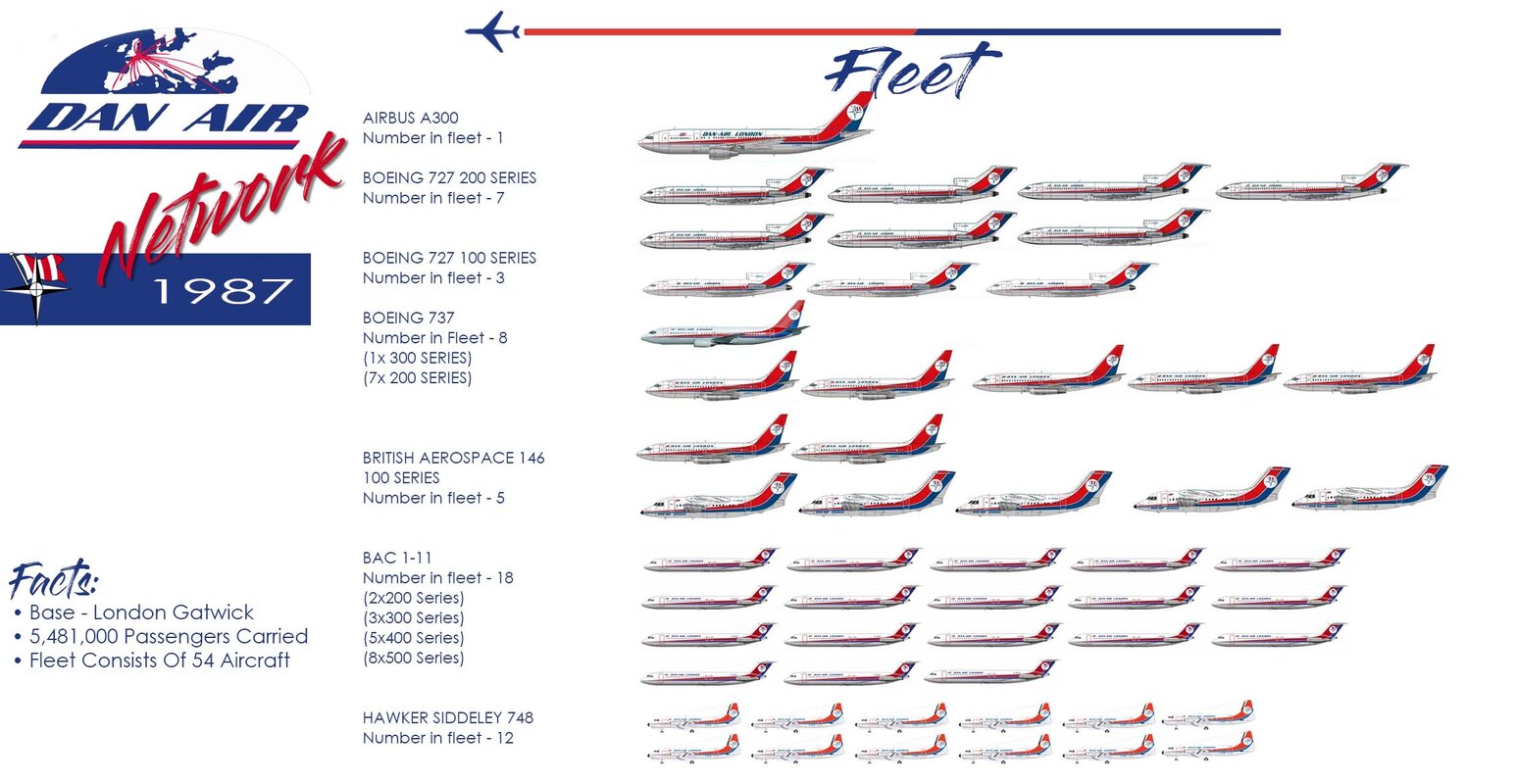 The year got off to an impressive start. The Dublin price war was nearing its climax. Ryanair were now selling seats on BAC 1-11 jets for £94:99 from Dublin to Luton. Dan-Air and Aer Lingus reduced their fares to £95 return to Gatwick and Heathrow. Dan-Air offered free hot meals and a free bar, Aer Lingus gave snacks and hot drinks - Ryanair offered bar sales and the added inconvenience of travelling from Luton. The Inverness-Heathrow service continued to exceed all expectations. On Burns night all passengers on the service were fed Haggis with a free miniature of whiskey. The Stansted charter programme that started in 1985 with a Boeing 737 was replaced with a Boeing 727 as it had a larger capacity and bookings were up on the previous year.
The airline was rocked in February when the Equal Opportunities Commission (EOC) made its final decision and ruled that Dan-Air had been in breach of of the law. If one reads the 1985 timeline you might recall that Dan-Air had been investigated by the Equal Opportunities Commission following an investigation into the company about its policy of employing only female cabin crew. The EOC ruled that the airline must change its policy. Dan-Air went on to say that it had made a 'firm decision to employ people of either sex, provided the applicants meet the requirements of the job.'
It transpired that a male applicant had been planted, and when his rejection letter told him the company policy was to employ only females the EOC were able to investigate further. I have to give full disclosure here. I was interviewed for a cabin crew post at this time. As a defence Dan-Air had claimed that it didn't recruit men because up to 30% of male cabin crew were homosexual. They also stated they thought cabin crew were generally promiscuous. Furthermore Dan-Air went on to say that because AIDS was spread by saliva and blood that there was a risk of infecting passengers. The EOC ordered that Dan-Air begin recruiting male cabin crew immediately. My disclosure comes at the way I was interviewed and some of the questions that were asked of me. It was a regrettable experience that tarnished etirely my view of the airline. Whilst the crews, I suspect with very few exceptions, would have a positive attitude to male crew some of the 'higher ups' including Arthur Larkman who wrote about it in his book. He actually believed this so called 'defence'. It was bad judgement on Dan-Air's part, inexcusable, insulting to even female cabin crew and uninformed. The airline deserved to be discredited. Experts at the hearing said Dan-Air were wrong to assume that anyone was at risk as the disease was not spread by food or food handling. The EOC they said general hygiene and common sense would be enough to stop any risk of passing on the disease. This was assuming that a person who had AIDS would be working. HIV could be carried for a long while before developing into AIDS. By which time it would be unlikely anyone would be in good enough health to work. Granted, HIV awareness was less than it is now, but simple research back then would have revealed the answers. Even the Transport Unions carpeted Dan-Air saying that it was an insult to suggest that Cabin Crew were any more promiscuous than people employed in any other industry. At the time Dan-Air said they had relied on the words of their in house Doctor. Was this Doctor a HIV and AIDS specialist? Did Dan-Air or the Doctor engage with AIDS charities or organisations to find out facts? Dan-Air initially refused to comply with the EOC's recommendations, saying that by having to employ men they would be actively discriminating women! When confronted with evidence about the spread of the disease Arthur Larkman says in his book that the EOC had no experience in aircraft and galley conditions. Really? Did he believe that people were injecting drugs an
d having sex in the galleys? Of course he did not. The close proximity of cabin staff in a galley was no in any way a risk to anyone. How could it be?
From my own viewpoint; it seemed that a lot of middle aged men in middle and higher management simply preferred female cabin crew. At the time, no females were on the Dan-Air board of directors.
Whilst Dan-Air boasted that they employed female pilots and praised them for making a success in a male dominated environment; they would not offer the same courtesy to cabin crew. Dan-Air had employed male cabin crew as 'loadmasters' who worked on routes where special duties may need to be carried out. That was to say on cargo flights and flights carrying oil workers. Cargo flights may require manual lifting. From every angle, even in the 1980s, this could be looked upon as blatent sexism. When forced into employing males crew these men had to endure the indignity of an AIDS test - something that no employee should ever have to undergo. According to Larkman, the first applicant tested positive for HIV -
Not
AIDS as has been claimed. The EOC rightly said that this was depriving people of their right to privacy. To which the airline pointed out that therefore every test was an depravation of privacy! Incidentally Arthur Larkman, whilst acknowledging that male cabin crew served the airline well, went on to write that his opinnion is unchanged! He even bemoaned that their proud record of employing female pilots had been somewhat hampered as British Airways knew that they had not employed female pilots. Following the EOC investigation BA went on to poach Dan-Air female pilots. One of Dan-Air's female pilots left the company to fly long haul Boeing 747 with British Airways. The only part of this lamentable story that can soften the blow is that it was the 1980s. Had there been a great deal of soul searching gone on by some people and opinions have changed. It might have been just a regrettable episode. To still have that opinion today when medication (PREP) is available that means an infected person cannot spread the disease, is inexcusable.
Following the hearing the Dan-Air Stewardess were incensed. They had, in an open forum, heard from Dan-Air that cabin crew were promiscuous. This was met by Dan-Air girls and Unions with fury. The Dan-Air board sent all stewardesses a bouquet of flowers and an apology letter. The unique releationship Dan-Air management had with all their staff had been put in serious jeopardy through ignorance.
From a public relations point of view - this was a disaster
- Some good news was needed.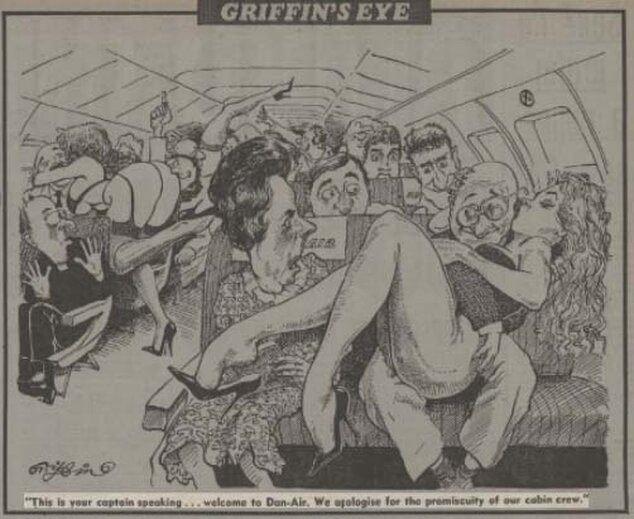 The good news came when Andrew(Mitch) Young became Dan-Air's first male flight attendant in March. His first flight was from
Inverness to Heathrow.
A new uniform for male cabin crew was introduced and with each intake of new recruits men became visible.
One former male cabin staff told us; "I had applied before and travelled all the way from Scotland to London for my interview, I wanted to relocate anyway because I felt trapped in a fairly small town I am a gay man and I needed to experience city life. At the interview I was asked some very perculiar questions. I won't say who interviewed me, because she is still around, and I do really adore her. She knew the questions were bizarre. Without saying it, she was trying to find out if I was gay or not, not that it bothered her as it happens. She asked if I would be prepared to take an AIDS test which I baulked at. I agreed because I was desperate to fly. As it happened it was the day after the company lost at a hearing. So I never had to have the test. As a matter of fact, I had the test regularly anyway, but that's another story. When it came to the training I knew I was with a great airline. They helped me find some temporary accomodation and I ended up sharing a house with two Dan-Air girls, I had five fantastic years with Dan-Air and I was never made to feel uncomfortable by any of the cabin crew. There were a few pilots who I knew weren't impressed with the boys. But we weren't impressed with them either, and the girls felt the same way as us. We called them fossils and dinosaurs. One nameless pilot once said to me that he was ok with gay men as long as they didn't try it on with him. My female collegue relplied 'He's not that desperate!!' That borders on arrogance don't you think? There I was, a fairly good looking young man, well turned out, and the pilot was this flabby, middle aged bloke who obviously thought gay men will go with any man. I told the First Officer my thoughts and he confided in me that he was bisexual! Actually the First Officer was a bit of a hunk. We both laughed about the Captain's remarks.
After Dan was taken over I went to BA and did a year - but I resented what they had done to us. Our terms were not as good as those already at BA so I went to Virgin, where I am still flying today.'
Dan-Air's recruitment drive for cabin crew in 1987 proudly boasted that 'Dan-Air is an equal opportunities employer'.
In April this year, another UK charter carrier was launched this year when Air 2000 took to the air in a blaze of publicity. The airline would fly brand new Boeing 757 aircraft based at Manchester to twelve popular Mediterranean destinations. Air 2000, in common with most new airlines had the backing of a major Tour Operator, Owners Abroad. Air 2000 claimed all passengers would enjoy Bucks Fizz, a hot three course meal and hot towells on the flight. The airline claimed its service would be at a level never seen before on European charter flights. Owners Abroad had started as a Tour Operator in 1972 having been founded by a taxi driver, ice cream van owner and movie extra Neil Scott. The company was created after Neil had been working in travel agents for six years. His idea was to buy blocks of seats direct from airlines - most notable Dan-Air. He would then sell the seats to owners of overseas accomodation and time share clients. In his first year he sold 400 tickets. By the mid 1970s Owners Abroad could boast twelve destinations with flights from Manchester, Gatwick, Tees Side, Luton, Newcastle and Birmingham and East Midlands. Owners Abroad then commenced selling the blocks of tickets he had purchased direct to Tour Operators who needed extra seats without the expense of chartering a full aircraft. By 1980 Owners Abroad flew to 18 destinations. In 1977 Owners Abroad had sales of £3 million and just five years later that had increased to £24 million. Profits had zoomed from £37,000 in 1977 to £1,250,000 in 1982. The company sold 310,000 tickets in 1981 just 75,000 of them to those who owned overseas accomodation. Neil was a millionaire by the time he was forty. At the time of the Stock Exchange floatation in 1982 shares were offered at just 10 pence each. The tag on his own investment was £1,800,000. Within three days the shares stood at 15 pence, by March the value of each share had risen to 24 pence. After just one year the company made a profit of £2.5 million. By 1983 Owners Abroad extended their reach by offering time share properties of their own. In 1985 Owners Abroad bought out ailing Tour Operator Arrowsmith Holidays for £1, thus giving them access to thousands of Hotel holidays. At this tiime Owners Abroad bought Bena Holdays - a golf holidays specialist. For the first time Owners Abroad would sell package holidays. This was a winning situation for Dan-Air. Owners Abroad did not have their own airline and chose Dan-Air as their main airline. By 1986 Owners Abroad had become Britain's sixth biggest Tour Operator. When the news broke in May 1986 that the company was starting an airline Dan-Air must had taken a deep breath. One of our regular contributors said;
'The airline industry can be exciting, but it is can sometimes mean you are on a fairground ride. When Caledonian went there was the good news that you had been successful in gaining some of their routes. So their is a high period, knowing your schedule services are going to bring in revenue. Scheduled services can make good profits and had, at that time, better margins. Then there is the swing backwards when a new airline comes along, especially one that is backed by a large Tour Operator. You know that they will want to use their own airline. It was bad with Air Europe in the late 70s. They had two 737s with 130 seats and they carried a quarter of a million people that first year. Air 2000 had got much larger 757s. It was a blow. I guess us at Dan-Air had got used to going with the flow, it happened a lot to us. From Clarksons in the early seventies to this. We knew it was only going to go one way - worse. The management should have bought a tour Operator of their own, or tied up with one. Like this, the charter division was just dripping blood from its veins. The Scheduled Services was another option, and that was the route that they seemed to want to take.'
That same year, Inter European Airways was formed. The airline would take delivery of two Boeing 737 300 early in 1988.
The spring campaign on t
he Dublin-Gatwick route saw the airline offering passengers free train travel to central London and two nights accomodation at any one of 180 hotels throughout the UK for every ticket purchased. For this they joined with Aer Lingus. The intention could not have been more obvious. They had to remove the threat that new upstart Ryanair posed. Ryanair offered the flight, a cup of coffee and a newspaper. For just one penny more you could have all this from Dan-Air or Aer Lingus. The cost of this campaign was in excess of £50,000. Dan-Air and Aer Lingus must have all thought the threat from Ryanair was very real. The Dublin-London route was traditionally a lucrative one with high fares and thus high profit, the last thing they wanted was to lose their profit to Ryanair. Dan-Air announced in January that it had carried a record 5,300,000 passengers, up 300,000 on the previous year. A new contract was signed with Kuoni Holidays for flights to be flown in Summer on the newly ordered Boeing 737 400 to Luxor. The company would then use the Boeing 727 for Winter flights to Luxor. Another upmarket Tour Operator to join the list of Dan-Air Tour Operators was Hayes and Jarvis.
In May this year Dan-Air gave another blow to competitors on the Dublin and Cork routes
when they announced new fares of just £57 and £67 respectively. The only fare rule being that the flights be booked two weeks in advance. Full cabin service would be provided on all flights. Dan-Air's BAC 1-11 fleet did not have ovens, but the airline wanted to give a higher standard of catering to all its passengers. A system had been advised whereby meals were cooked in a convector oven before being sealed in containers. The containers could stay at their exact temperature for three hours. This solution meant that Dan-Air passengers could tuck into a hot breakfast or dinner while their competitors served their passengers snacks!
By July 1987, British Caledonian (BCal) had already exhausted most of the proceeds from the asset disposal programme.
The proceeds from the sale of two DC-10s to Continental Airlines was all that was left to keep the airline in business. Senior management realised that the company was unlikely to survive on its own and that it needed to act fast if it wanted to avoid BCal's collapse.
BCal's dilemma at the time can be summed up as follows: The airline
had become a mid-sized airline that was too big to be a specialist, niche operator. Yet it was too small to effectively compete with BA and the US giants. At the same time, BCal was unable to match the significantly lower costs of emerging, aggressively expanding airlines.
BCal's precarious financial position made it obvious for most of its rivals and seasoned industry observers that the ailing airline lacked the financial strength to survive on its own for much longer.
BCal had valuable traffic rights to operate scheduled services on a number of lucrative, long-haul routes to parts of the world that were not served by any other British airline at that time. It therefore became a desirable takeover target and a bidding war ensued between several potential suitors.
The chief protagonists in this takeover battle were BCal's archrival BA as well as ILG/Air Europe and SAS. For its part, Dan-Air was not interested in breaking into the long haul market, but several of the Gatwick slots to European capitals were being eyed up. More to the point, Dan-Air knew that British Airways (BA) would no longer be given the most favoured position that it had previously enjoyed with the Civil Aviation Authority (CAA). It was felt within the board, that should BCal go under, the routes would be shared out between several airlines. Dan-Air's worry was that a much larger carrier, including BA, would take over BCal and with it, all the route network. This was something Dan-Air would most strongly resist.
On 16 July 1987, Sir Adam Thomson and Lord King, chairmen of British Caledonian Group and British Airways respectively, announced at a press conference the intention of BAr to acquire the BCal in an agreed £237 million bid. Officially this was presented as a "merger between equals" but within the industry it was widely acknowledged as a rescue deal to avoid the collapse of BCal. In addition, BA, was keen to get hold of BCal's assets. These included BCal's lucrative traffic rights to cities BA did not serve itself as a result of the now defunct "Second Force" policy. BA also saw this as a necessary move to fill the gaps in its global route map to acquire routes that would permit it to compete against the giant US carriers on a level-playing field. BCal's financial difficulties furthermore presented an opportunity for BA to forestall any competitive threat a revitalised BCal could pose to it in future. It therefore wanted to get hold of these assets before any competitor could lay its hands on them.
Following Sir Adam's outright rejection of ILG chairman Harry Goodman's offer to purchase BCal's short-haul operation, the previous year to merge BCal's operation with the short-haul operations of ILG owned Air Europe in return for not having the proposed BA-BCal deal referred to the Monopolies and Mergers Commission (MMC), ILG decided at the end of July 1987 to launch a counter bid for the entire British Caledonian Group.
Air Europ, like Dan-Air were concerned that a new entity combining BA and BCal had the power to destroy the UK's remaining independent airlines, especially with regard to their ability to compete with such a giant. At the time, Air Europe had ambitions of its own to become a major short-haul scheduled operator. Air Europe was planning to launch 11 new routes from Gatwick to Europe, many of them competing with the services BCal had provided. Given a combined BA-BCal's superior financial strength, considerably lower borrowing costs and far greater economies of scale, Air Europe's management felt that it would be imprudent to launch these new routes if it had to compete with BA out of Heathrow and Gatwick as well. Therefore, its parent ILG had decided to make a counter bid, which it hoped would either kill off BA's proposal to take over BCal lock, stock and barrel or result in it being referred to the MMC.
To enhance its credibility as a serious contender, Air Europe's bid contained a detailed proposal to return BCal to profitability by way of a reorganisation. This proposal had been prepared by a retired BA head of route planning whom ILG had specifically hired for this purpose. BCal would be split into four businesses, each of which with its own management accountable for the performance of that unit. The businesses would be a long-haul operation under the BCal brand, a short-haul operation merged with Air Europe's existing short-haul operation using the BCal brand on business routes and the Air Europe brand in leisure markets, and an engineering and a ground handling unit. Scandinavian Airline,
SAS was also prepared to offer £110 million for 26% of the British Caledonian Group's stock, valuing the entire group at £400 million. The SAS group were well aware that so-called "nationality clauses" in most bilateral air services agreements would restrict SAS's direct involvement in BCal's finances to acquiring a minority stake in its holding company.
SAS faced a barrage of hostile propaganda and delaying tactics from BA that were designed to stall any third party's competing bid to acquire BCal for as long as possible and got a mixed response to its planned counter bid for BCal from various departments of the UK Government.
To counter these negative sentiments, SAS's proposals also included a plan to offer Dan-Air the right to participate in its merger with BCal by merging their scheduled services division with the new airline's combined scheduled operation, thereby strengthening its position at Gatwick and the airport as a hub.
The ILG deal would see BCal's short-haul operation have a fleet upgrade with brand-new aircraft, which would have resulted in replacing BCal's ageing BAC One-Eleven 500s with the new Boeing 737-300s Air Europe had on order. It would also have resulted in adopting the Air Europe short-haul inflight product.
BCal's senior management rejected ILG's bid. BCal felt that both airlines' nature of operations and their business strategies were incompatible and that therefore there were nothing to be gained from combining BCal with what was in their opinion "essentially a charter company".
Therefore, the search for a financially strong partner acquired a renewed sense of urgency.
A minor dispute was resolved in April. In a cost cutting move Dan-Air had planned to issue ground staff with second hand uniforms! Ground staff and the trade unions were not happy at this proposal and threatened industrial action. Dan-Air, backed down and agreed ground staff could be issued with new uniforms.
The Summer season brought a large increase in the number of passengers carried on charter services. The news carried stories of three separate incidents involving aircraft that had to divert due to unruly passenger behaviour. One four hour delay gave a passenger amplle time to drink his duty free and cause havoc on a BAC 1-11. A Boeing 727 had to divert to Toulouse after a 23 year old Welshman became so anxious he began pacing the aisle whilst smoking. When the crew instructed him to stay seated, he attempted to open the emergency door. This led to the aircraft landing and the passenger being kicked off. One similar problem arose when a passenger claimed to have a bomb, before attempting to open the main passenger door. September started with a 6 foot 5 inch Irishman who went beserk on a scheduled service. He tried to throttle a fellow passenger before thumping the first officer and attempting to open an over wing exit. These incidents are still happening on aircraft.
The UK to Ireland price was continued unabated with all parties still trimming fares and offering better timings. Dan-Air were the only carrier offering a free bar and hot meals on flights. To try to tempt passengers Dan-Air offered free train tickets from Gatwick to London central, two nights free accomodation in england or Ireland. Aer Lingus offered business class lounges and upgrades to business class, a days car hire or two nights free hotel accomodation. Dan-Air's advertisiing claimed that every seat on its flights was the equivalent of a business class seat. Indeed, the cabin on their BAC 1-11 had reduced the number of seats to improve leg room. In May, British Air Ferries announced they wished to compete head to head with Ryanair on the Luton-Dublin service before Virgin Atlantic also applied for the same route licence. In this latest fare war Dan-Air had reduced their prices to £57 to Dublin from Gatwick. The only restriction being that it was booked 14 days in advance. In June, Dan-Air replaced the BAC 1-11 with a British Aerospace 146 whisper jet. The replacement would greatly save on fuel that the aircraft of other carriers on the route were using.
Dan-Air had plenty to celebrate when the CAA awarded them the licence to fly scheduled services from Gatwick to Mahon in Minorca and Ibiza. Orion Airways had also applied to fly the route but were rejected. The CAA said that Dan-Air already had a sound record on the services and that they would not be drawing business from other carriers, unlike Orion or Monarch who also wished to serve the destinations. Orion said they would appeal the decision and that it was anti - competitive to have only one carrier on a route.
Dan-Air introduced a new computer reservations system at Newcastle in August. The system, a forerunner to today's internet, was served by a satellite that sent the details to a host in the United States and back to Dan-Air within three seconds.
It came to the public's knowledge that British Caledonian were in a desperate financial state. They had been in secret talks with several companies with a view to a merger. SAS had the offer that pleased Caledonian the most. They would keep the name and routes. This deal was all set to go when the UK Government stopped the take over. It wasn't that they wanted to, the European Union forbade an outside country from owning more than 40% of a member state's company. SAS were not interested in owning 39% of Caledonian. The deal was off. British Airways was in a position to take control. The independents objected and the merger was referred to the Monopolies and Mergers Commission. The dilemna that the Government faced was that a very large airline employing over 6,000 people could go to the wall with thousnads of job losses. Then there would be a scramble to carve up the routes between alll the other airlines. If BA bought BCal the government could attach conditions so that some of the routes would go to other UK airlines. The deal went ahead. British Airtours had been the charter division of BA for many years. This was to be scrapped and Caledonian (Not British Caledonian anymore) would be the new charter division of BA. It was quite the insult to a once proud airline.
A Dan-Air flight from Manchester to Venice in August saw one passenger strip naked and run up and down the aisle. Crew reported that the man 'went beserk he was very violent and was doing very strange things' The UK Foreign Office denied that the passenger had shouted 'I have a bomb' and had tried to open an emergency door over the Alps. Police escorted the man from the aircraft at Frankfurt where the jet had made an emercency landing. The man was arrested and names as Paul Sturhaug of Manchester. This incident was followed a few days later when a man flying from Palma to Stansted was booted off an aircraft by passengers! The man kept walking up and down the aisle smoking, something forbidden on aircraft. Crew had repeatedly asked him to sit down. The aircraft was forced to divert to Toulouse where police were expected to arrest the man, Gendarmes would not board the aircraft. So, instead, passengers kicked him off the aircraft. The man, John Lindley from Cardiff was sedated and taken to hospital. French medics conducted a brain scan to see if Lindley was fit to fly home. Concluding that he was the French Police said that they could not allow an ill man to be left to find his own way home. It transpired that Lindley, who was described by his Father as 'self confident' had cut short his holiday in Majorca by a week. On board the aircraft he suddenly developed a 'manic fear of flying' this led to him smoking in the aisle. Once seated Lindley's anxiety increased and the man tried to open an emergency door on the Boeing 727 whilst it was cruising at 35,000 feet. This forced the pilot to land at Toulouse. Dan-Air said it had to ensure the safety of the other 145 passengers and crew of eight. In September, in a further incident a 6 foot 5 Irishman went 'beserk' when he tried strangle a fellow passenger before attempting to open an overwing emergency door at 30,000. He then belted the co pilot. The aircraft was diverted and the man taken to a mental hospital.
In October Thomas Cook chartered a Boeing 727 for a series of 'fear of flying' flights from Stansted. The flights would have a full complement of crew to help people get over their fears. The hour long flights would follow a morning in a classroom and were priced at £39
Dan-Air sponsorship deals continued to give good publicity to the airline with a football team and the Ulster ladies squash team being sponsored by the airline.
Dan-Air applied for the ex B
Cal Manchester-Gatwick and Manchester-Aberdeen services. It also had to evaluate how many of the Gatwick services to apply for. They had their eyes set on Gatwick-Glasgow - Gatwick-Edinburgh and Gatwick to several European cities.
Plans were drawn up to refurbish th
e fleets interiors. A company called Fliteform was recruited to overhaul current fleet's look. This involved new cabin walls and ceilings. The overhead luggage space was to be replaced with large modular luggage bins and the cabin seating was refitted with wide body look seats. Altogether, the fleet comprised of 50 plus aircraft. A new record of 5,481,000 passengers were carried. Dan Air joined IATA this year, giving them an enhanced status.
NEW ROUTES & ROUTE CHANGES:
4 April - Manchester-Lourdes service started - April 4th.

Gatwick-Lisbon service started - May 4th.

Gatwick - Toulon (South of France) Route approval

Gatwick - Perpignan becomes all year route

Gatwick - Mahon

Gatwick - Ibiza
1988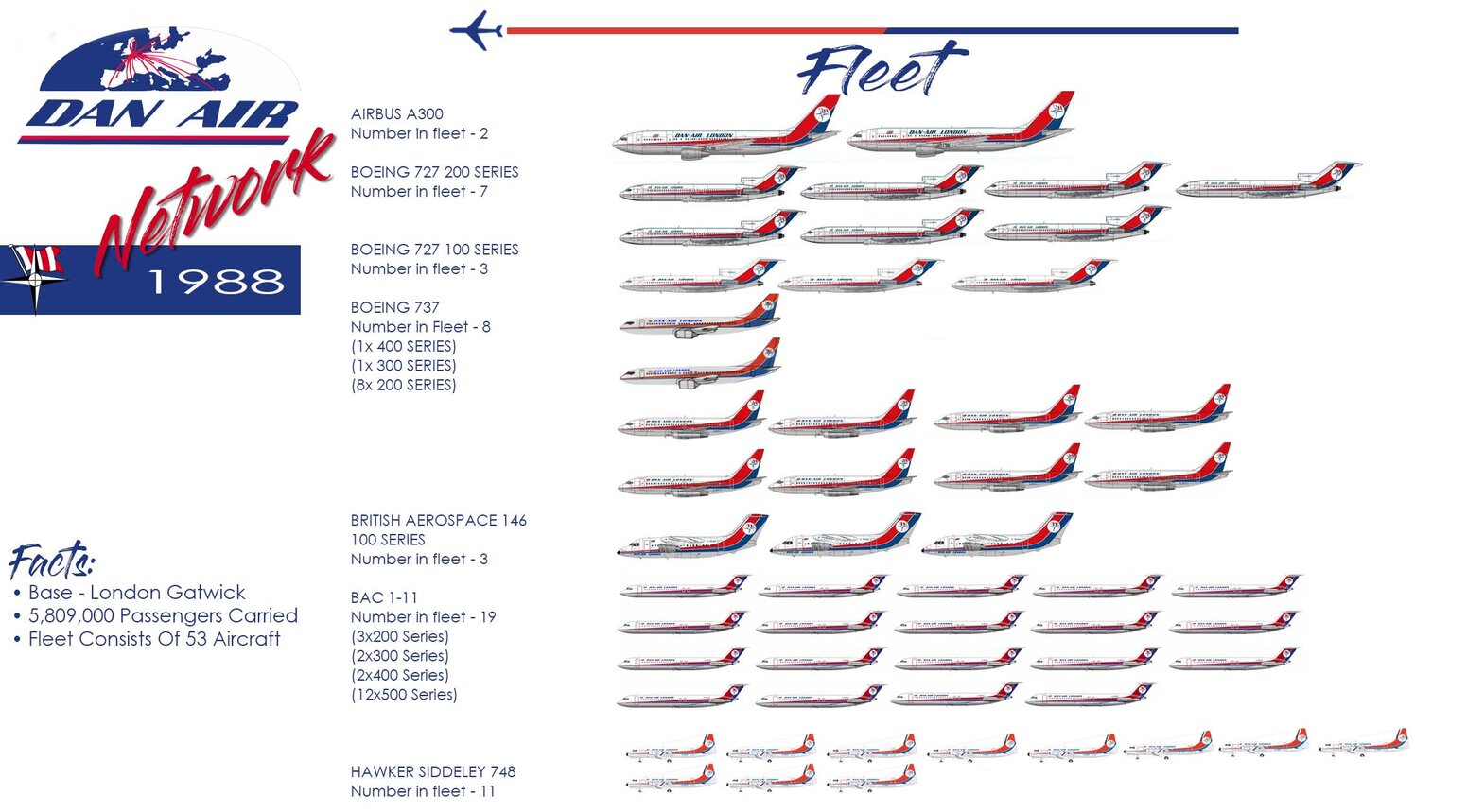 The price war on
the Gatwick-Dublin route had became quite fierce. Dan-Air reduced its fares once again in early 1988, this time to an all time low of £66. Within days the price had dropped to £63. Following the British Airways takeover of British Caledonian several of their services were removed and put up for tender by other carriers. The Civil Aviation Authority (CAA) had also taken some of British Airways' Gatwick services and they too became available. Following the BCal takeover Virgin Atlantic became the only UK independent airline providing long haul scheduled flights. Even if any other carrier had ambitions to enter the arena, the Monopolies And Mergers Commission had not instructed the CAA to take any of British Airways' long haul services and offer airlines to apply to operate them. Air Europe, who did have desires to enter the long haul market would have to be content with competing with Dan-Air, British Island Airways and other smaller airlines for the European routes on the table. Two services were of interest to Air Europe and Dan-Air Aberdeen-Gatwick and Aberdeen-Manchester. Dan-Air placed applications for the two services in late 1987. In January 1988 Air Europe placed a similar application for the Gatwick-Aberdeen service.
The domestic services were the first to become available - the highlands routes were highly sought after and in addition to Dan-Air airlines including Loganair, Air UK, British Island Airways and Virgin Airways all placed applications. It is not an understatment to say that the independents were horrified to find that the CAA made it clear that they would welcome applications from British Airways who had only just had the services taken off them!
As Dan-Air waited to find out if they were successful with route applications, the airline placed further applications.
In 1988 Dan-Air celebrated the fifth anniversary of the Inverness-Heathrow service by announcing that it was doubling the service on Saturday and Sunday to two flights each way and introducing a third daily flight on weekdays. The service had been such a great success for Dan-Air who had carried 110,000 passengers on the service in 1987. What surprised Dan-Air was the success o
f the cargo that was carried on the route. Loads included fresh salmon, lobster, and shellfish which was up 25% with 381 tons of those items alone carried. The demand for the seafood produce was e
xceptional with much of it heading to London restaurants and hotels. A great came boost for Dan-Air came in February when it was announced that the company had been successful with route applications from Gatwick to Alicante, Madrid, Ibiza and Mahon. The new flights would commence in May and would be operated by Boeing 737 aircraft, including the brand new 300 and 400 series aircraft, the latter of which had joined the fleet this year. The 11th February was the
last day that applications to the CAA could be submitted and by waiting until the last day Dan-Air were hopeful that fewer airlines would apply. It would prove to be a worthwhile tactic. Dan-Air were confident that these applications would be successul, and that the services would go on to be profitable in a very short time. Provided fares could be priced at the right level and have good departure times, Dan-Air felt the services would be highly marketable. There had been an increase in the number of people with second homes at the destinations. Time shares were still enjoying good business and the number of independent travellers who rented villas and sought accomodation on arrival was also on the increase. Dan-Air had been squeezed out of some tour operator programmes as most of the major companies now had in-house airlines of their own.
would suit perfectly the growing number of people who had second homes in Spain or had time shares. The way people took holidays was beginning to change. Holiday makers were now renting apartments from publications such as Dalton's
In March Dan-Air applied to serv
e Gatwick-Nice Gatwick-Paris and Gatwick-Edinburgh. Dan-Air were also working with Continental Airlines, the major US carrier, feeding flights from regional UK airports into Gatwick for onward flights into the UK. Continental were also selling Dan-Air onward connections for American flights heading into Europe.
Dan-Air Schedule Services provided a new level of service on domestic flights this year when passengers would be offered free Bucks Fizz or Champagne on domestic flights. Air 2000 had offered Bucks Fizz in a plastic, yogurt style pot. Dan- Air would serve Moet & Chandon in glassware to all passengers.
Dan-Air's press campaign for its scheduled services told potential customers that whilist some airlines offered great service at high prices in Business Class, others offered one class at a cheap rate with very little service. Dan-Air, they insisted were the only airline offering the entire cabin a Business Class service. This would include dedicated seating with improved seat pitch, a complimentary bar, hot meals on even short flights, hot towels and even free newspapers.
The Gatwick Zurich service had proved to be successful, when the service began there had been a daily service which was increased to twice daily, in April a third daily flight was added. Profits announced in April showed that the airline had made £9.1 million plus £1.4 million as a result of cash injections from the sale of surplus aircraft. The share price rose sharply to 490p, including a jump of 70p in a single day. Dan-Air stated that if the route applications were granted, four new aircraft lined up to operate the them. Air Europe made the decision to commence scheduled service operations, making their announcement with a great deal of fanfare. AE would attempt to go head to head with Dan-Air's appications on many routes. Dan Air were successful with their applications for internation flights from Gatwick to Nice and Gatwick to Madrid. Domestic licences were awarded to Gatwick-Manchester and Manchester-Aberdeen. Loganair who thought they were well placed to win with their bid to fly Glasgow-Gatwick in fact lost out to Air UK. It wasn't only Loganair that were peeved at the decision. British Island Airways lost out with an application for the Gatwick-Nice ro
ute. Dan-Air went on record saying they would be expanding none stop from now unitl 1992.
A unique cloak and dagger charter occured in April when P&O ferries chartered a company Airbus A300 to fly 237 Ferry staff to Rotterdam to bring back two ferries that were stuck in the port after unions called a strike. The passengers had agreed to P&O's new rules. The secrecy of the operation was a result of Sealink also joining the action.
April this year saw Dan-Air in the headlines when Captain Wilson refused to allow a drunk passenger on his return flight from Tenerife to Manchester. The Spanish Authorities insisted the passenger be carried. Captain Wilson refused and a stand off ensued when the airport refused to allow Captain Wilson to take off. After two hours the aircraft took off without the drunk passenger. Captain Wilson said;
'In aviation law, like maritime law, the Captain is in charge of the vessell and it is him alone who decides who may fly on an aircraft.'
This incident followed a similar event earlier in the month when a fight broke out on board a flight to Tenerife, also from Manchester. The guilty man was met by police at Tenerife. Soon afterwards the police kicked the man from the island. Dan-Air would not carry him home, and the British Consulate had to negoctiate a return flight home with Britannia Airways.
In May the CAA awarded Dan-Air licences to fly the Gatwick-Paris service and Air Europe won the Gatwick-Brussels licence. British Airways said "We are disappointed at a descision which appears not to be no consistent with a deisre for increased competition." They then went on to say "Our arguement at the hearing was that the main arbiter should be the consumer, and it is not necessarily the CAA that should make the choice for the consumer. If t
hose carriers which wish to fly the route were licensed competition and the consumer would dictate preferences. This is particularly true on the Brussels route, where the Government specifically negotiated an agreement with Belgium which allows any carrier to operate at any frequency and any fare. Against that background the CAA has chosen to reduce competition by cutting the number of British carriers from two-British Caledonian and Air Europe - to one. It cannot be good for either consumer choice or the national interest."
The CAA said "Our decision to grant Dan Air's application for the Gatwick-Paris route was to encourage competition between services from Heathrow and from Gatwick. Both Dan-Air and Air Europe welcomed the CAA decision. D
Inter European Airways was launched this year, concentrating on Cardiff, Bristol and Manchester the airline was backed by Tour Operator Aspro holidays. Once more, a Dan-Air charter client.
The Summer programme of charter flights was affected, as usual, by industrial action at various places. The worst of which was in Spain and Greece where Air Traffic Controllers went on strike. The ATC staff as always, chose the month that would have the maximum impact. Several Dan-Air aircraft had passengers sat for up to five hours on aircraft returning back to the UK. Greek controllers would only give flight crews ten minutes notice when a slot became free. One member of the operations team told Dan-Air Remembered:
'We had problems every year with one country or another. I remember the Spanish and Greek problems in 1988 vividly. Air traffic controllers were on strike and Manchester had been badly affected with nearly flights del
ayed. As well as our passengers, nearly 30,000 others had been delayed at that one airport, Birmingham and Luton had their fair share too. With all that chaos, a Boeing 737 then went tech at Newcastle. We had 126 passengers headed for Corfu when the engine developed a major fault. Engineers thought they could fix it on the ground but they couldn't manage it. The flight was due out at 2235 and by the time we had a replacement engine fitted it was Nearly 7pm the next evening. People had been getting angry because we hadn't put them up in hotels - but that was because we thought we could fix it. It's was not just that flight that was hit though. Our aircraft worked 12-13 hours a day and that one had been out of action for 20 hours. It took days before things got back in order. The Greek dispute was sorted out pretty quickly. But no sooner had we got things right by the Thursday then we had to go through it all again for the second week of the Spanish strike action. No sooner had that eased when the bag
gage handlers in Spain went on strike."
June saw yet another charter airline take to the skies. Air UK Leisure took deliver their first Boeing 737 which was to be based at Stansted. The aircraft would make 41 flights a week. Twelve Tour Operators name Air UK Leisure in their programme. A second aircraft was to be based at Manchester. Within a few weeks of the airline starting operations, the airline placed an order for the Boeing 737 400,making the carrier the first UK airline to order the type. All of Air UK Leisure's aircarft would be on lease. Several of the Tour Operators who had named Air UK Leisure were Dan-Air clients.
Mid June saw the CAA decision to award Dan-Air the Gatwick-Nice service. Whilst British Airways fumed, it is fair to say, that Champagne corks were popping in Dan-Air's offices. British Island Airways did not join in the celebrations either and launched an appeal against the Nice decision. Late June saw the Gatwick-Manchester and Aberdeen-Manchester licences gain approval, giving more reasons for Dan-Air to celebrate. The Inverness-Heathrow service continued to break records. The route was flown by 20,000 extra people this year, bringing the total to 130,000 in a single year. Fares on the Gatwick-Nice service were announced with one way offers from £125.
December saw three Boeing 737 400 join the fleet. They would immediately commence services on the scheduled network as well as supplementing the winter charter programme.
The troubles in Northern Ireland were a constant heeadache for all airports and airlines flying in and out of the province. A Dan Air Boeing 727 had flown 170 children and their minders into
Geneva
for a school holiday. As the aircraft boarded to return home the airline had a call from a man claiming to be from the IRA. He said the airport had 15 minutes to clear the aircraft before it would be blown up. The call, was in fact, a hoax and although the aircraft was evacuated no device was discovered.
In June a Dan-air Airbus burst a tyre upon landing. This led to a hydraulic cable being severed. Thanks to the skills of the pilots, the aircraft landed safely and passengers were ferried to the terminal by coach. Meanwhile a group of Baptist pilgrim had booked 20 seats on the scheduled service from Aberdeen to Gatwick where they would join a Dan-Air charter Boeing 727 on a flight to the holy land in Israel. The passengers arrived on time in Aberdeen with tickets in hand only to be told that the seats had been resold. Dan-Air's state of the art computer reservations system which was based in Los Angeles had wiped their booking clear. Dan-Air then resold the tickets. Being the professional airline that it was, Dan-Air were able to charter a British Airways HS 748 especially for them to get them to Gatwick on time. The HS 748 was due to stay in Aberdeen anyway for a later flight. Dan-Air said the reservation system had done this on more than one occasion and a full investigation was launched.
Fred Newman, Dan-Air's chairman stated in September that package holiday prices would increase by roughly £20 per person after 1992, when duty free sales on board aircraft would be abolished. He added that flights could see a further £15 per person on a return flight following a European Commission directive that would make Tour Operators fully liable for clients. Newman foresaw that higher fares would come down, but that lower fares would increase. European Commission Air Transport Ministers had issued several new rules. Newman said he welcomed many of them as they were taking steps at liberalisation of European air routes saying;
'some of these new rules will be of benefit to consumers, but there are other EC proposals that will have the opposite effect if implemented, by increasing airline and travel trade costs.' He
also warned that the addition of Value Added Tax (VAT) on aviation fuel, catering and airline tickets would lead to increases passed on directly to consumers, while 1992 harmonisation policies could lead to increased labout costs. He concluded by saying; 'We believe market forces should be left to determine fares and capacity, smaller airlines could be 'swept' away by larger airlines like British Airways and their continental counterparts.'
1988 saw the bitter rivalry between Dan-Air and Air Europe become public knowledge. Dan-Air had, for many years, been the major carrier of Intasun holidays' flights. When Intasun began its own airline in 1978 it did not pose much of a threat to Dan-Air. With only two aircraft Air Europe couldn't fly more than four return flights a day. International Leisure Group (ILG) who owned Air Europe along with their many tour operatos under the ILD banner would still
need Dan-Air to carry out the vast majority of their flights. In any event, Dan-Air found new
contracts with new Tour Operators and those who wished to expand.
Air Europe had, until 1987, been operating the majority of its business as charter flights (
80%) After the British Airways (BA) takeover of British Caledonian in 1987 several of the latter carrier's routes had now been taken over by Aur Europe including Copenhagen, Gibraltar and Brussels. Air Europe were then successful with an application to serve Stockholm. This was a major diversion from Air Europe's tradional operation. In 1988 Air Europe announced that they had placed a huge order with Boeing for 22 Boeing 757 aircraft that had been adapted to enable them to fly accross the Atlantic. A further order of eight Boeing 737 400 was also announced shortly after. Some of the jets would join the fleet of Air Europe's sister carrier Air Europa. This would bring the Air Europe fleet to close to 60 aircraft. ILG then announced that they wished to fly out of Gatwick throughout the night. At the time this was not possible as noise restrictions meant a curfew was imposed late at night. Air Europe wanted to be exempted from this as their aircraft were new and 'super quiet'. Air Europe fully understood, they said, why the airport wanted to stop old aircraft that would disturb residents. It was not unnoticed that the snipe was headed at Dan-Air.
Air Europe then continued their offensive in by changing their handling agent at Gatwick from Gatwick Handling to Servisair. Gatwick Handling was half owned by Dan-Air. Over their ten year history Air Europe had grown in size, and now had a fleet of 30 aircraft
with several more on order including the MD11 for long haul flights and the Fokker 100 which would operate European Scheduled services from Gatwick.
British Airways had complained that its market share was being eaten away by Air Europe. However the CAA pointed out that BA's Heathrow operation was entirely protected. The CAA then awarded Air Europe licences to fly on the
Gatwick-Paris and Jersey
routes in direct competition with Dan-Air. It was in late summer that Air Europe were successful in offering a reduced fare on the Paris service, with flights as low as £59 return on flights November to March. Air Europe then began a business cabin on their scheduled flights - Premier Class. Return flights in that cabin were as low as £92 return for the winter months.
ILG's Intasun brand had now become the second largest Tour Operator in the UK, several off-shoot tour operators were under the ILG umbrella including Club 18-30, and Lancaster. Fortunately for Dan-Air, ILG's Tour Operators sold many more
holidays than Air Europe could fly. Consequently as many as six Dan-Air aircraft were chartered by ILG to fly their holiday passengers. ILG were known to want charter flights at the lowest rates. In some cases, when flights were operated by Dan-Air's Boeing 727s, the charter revenue earned less than the fuel and operational costs. This would partly explain why Fred Newman was anxious at the threat of duty free being abolished. Every bit of income on these flights was critical.
When Dan-Air introduced the Boeing 737 400 series to the fleet it was seen as a major breakthrough. The operating costs of the 400 series were dramatically less than the Boeing 727s. In particular the 100 series. Realising this, Dan-Air had to seriously look at consolidating the fleet into a more modern, fuel efficient type. More 146 aircraft were on order. These would replace some of the ageing BAC 1-11s.
Thomson Holidays purchased Horizon Travel in late summer and with it Horizon's charter airline, Orion. This would give Thomson 23% of the market. Travel analysists reported that they envisaged Thomson moving away from 'price pitching' which would lead to higher holiday prices. Thomson responded that it was 'Abosultely denying'
that they were planning increased priced saying; 'We will aggresively seek customers by offering high quality and keen prices.' adding 'By increasing prices we would simply be shooting ourselves in the foot.'
Harry Goddman, chairman of ILG countered; 'There is a much needed opportunity here, to raise prices, but if Thomson uses its position to get predatory and offer low prices, there will be a price war, that will bankrupt 60-70% of the opposition, a
dding; 'If there is going to be a new war, the others haven't got a hope in hell.' Goodman revealved that he had asked the Office of Fair Trading to look into the takeover. Thomson's airline had 27 boeing 737 and six Boeing 767, Orion had eight 737s and two Airbus A300.
Dan-Air completed the new
£5,000,000
Gatwick engineering hanger.
The hanger would increase Dan-Air Engineering's capacity and was capable of providing maintenance on aircraft up to the size of Boeing 747.
The Gatwick Engineering base was the third of its type. The others being at Lasham and Manchester.
In an effort to show how much the airline had progressed with scheduled services over the last few years Dan-Air introduced a new business class to some of their flights. the two class cabins would begin at the start of the winter timetable.
'
Class Elite
' became the gold standard in European Business Class over the next few years, and was now widely regarded as being the best in the sky.
The new business class offered dedicated check in desks, the use of business lounges at airports, priority boarding, a dedicated area of the cabin with centre seats replaced with a table. Improved seating was standard as was extra leg room, complimentary drinks including champagne and superior catering. There was to be a higher ratio of cabin crew per passenger and a frequent flier programme offering rewards to passengers. There was even a free taxi service from Gatwick.
There was uproar at Gatwick when the British Airports Authority wished to increase prices on landing slots. check in costs and use of airline lounges. A delegation of 90 airlines demanded to see the BAA to protest at the increases, some of which were said to be in the region of 700%.
As winter approached there was a significant show of strength from charter carriers. Britannia Airways placed a £500 million order for 16 new Boeing 767 wide body jets, Monarch orders six Airbus A300 and was looking at acquiring the Boeing 767. Air Europe would purchase the MD11 and claimed the carrier would carry 400,000 passengers on long haul flights in 1990. Dan-Air had no plans for such rapid expansion, the first of three brand new Boeing 737 400 jets joined the fleet in December in time for winter charters. P
assenger numbers had risen to 5,809,000. the charter fleet had been fully utilised this year, which shows great skill.
On a final note for 1988 - Body builder Dave Gaudier helped achieve publicity for Dan-Air when he broke his own strength record in December. Dave had previously pulled a 100 tonne Concorde and had now set his sights on larger record. Seventeem stone Dave attempted to pull a 130 tonne Airbus. At the first attempt Dave fell in front of the aicraft and medic had to ask the Captain for emergency oxygen. On his second attempt Dave pulled the fuel laden jet for 24 seconds, before collapsing, out of breath. After more oxygen Dave had achieved his wish. Guinness said they would investigate to see it a record had been broken.
NEW ROUTES & ROUTE CHANGES
Gatwick - Madrid service commences - May 1st.




Gatwick - Ibiza service commences - May 1st.

Gatwick - Mahon service commences - May 16th.

Gatwick - Nice - service commences - October 23rd.

Manchester - Aberdeen service commences October 23rd.

Gatwick - Paris Charles De Gaulle - October

Gatwick - Manchester - Service Commences - October
1989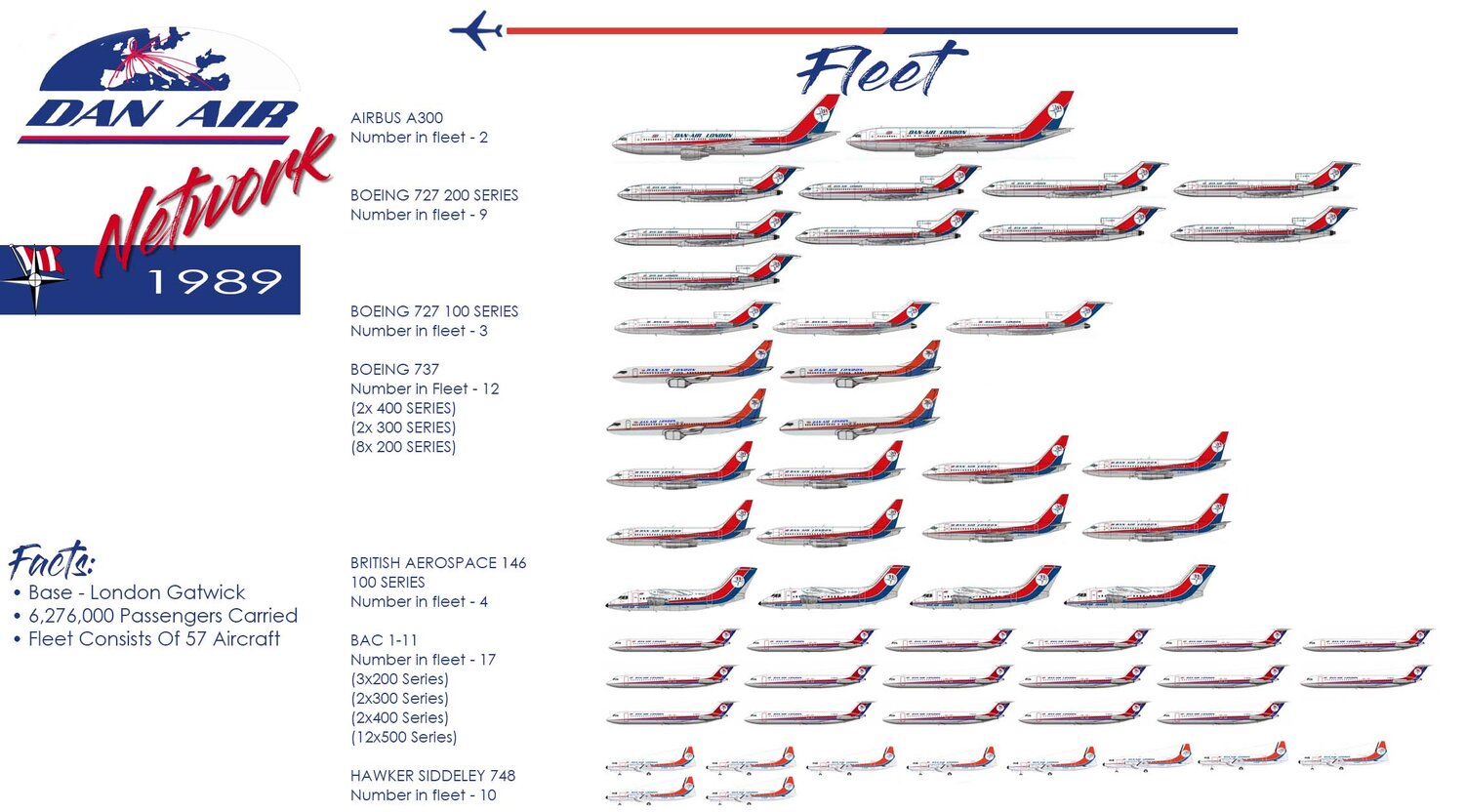 The recently delivered Boeing 737 400 had entered service with Dan-Air in winter 1988, the aircraft had been performing well with crews delighted. In January 1989 a British Midland Airways example of the type crashed just short of the runway at East Midlands. As a precautionary measure all 737 400s were grounded while checks were carried out.
Dan Air had voluntarily withdrew the aircraft from service. There had been an issue with warning lights that indicated problems with engines. When the pilot of th
e BMA aircraft closed down an engine following a fire, he closed down the wrong, working working engine. This was not his fault, it had been a wiring problem. The aircraft were out of service for a short time before resuming flying.
The Inverness-Heathrow service continued to thrive. As well as adding an additional daily flight Dan-Air announced it would be using a BAC 1-11 500 series, replacing the 200 series. That would be an increase of capacity from 82 to 99 seats. Problems arose when delivery of the larger aircraft was delayed. Passengers complained about being sent on alternative aircraft and ever from alternative aircraft. The problem was that the 200 series had 17 fewer seats that the series 500. The problem was made worse when Dan-Air could not give a firm date for delivery. In the end, the delay was four weeks! Air Ecosse had recently bee
n purchased by Peregrine Air Services and the newly refinanced airline planned to restart their closed
Aberdeen-Manchester service. At the time British Airways and Dan-Air were both serving the two points. Air Ecosse would be flying at different times of the day and said they posed no threat to the other airlines. In Ireland, the Gatwick-Cork service was dropped. Dan-Air placed a positive spin on the bad news by saying that they had been unable to get the timings that they needed or the frequencies to enable them to develop the route. Instead Dan-air would be focusing on the Gatwick-Dublin service. Dan-Air said jobs would therefore be safe. Dan-Air would be increasing services on the route and featuring the new 'Class Elite' on all flights.
The thorny topic of licences emerged again in February. A fairly new airline Scottish European Airways applied for several routes from Newcastle. Dan-Air objected to them all, even though it didn't presently fly to any of the routes aplied for, other than Gothenburg which Dan-Air chose not to operate anyhow. Dan-Air claimed it was their policy to object to all newcomers. Whilst Scottish European said it couldn't think of any reason why Dan-Air would object apart from protectionism. Meanwhile several companies in the Orkney Islands had got together to ask Dan-Air to apply to for a license to fly to
Wick and Kirkwall from the
mainland, as they were not happy with the level of service, but not the fares that current operator British Airways were offering.
Air Europe continued to expand ordering six 400 seat MD11 jets for long haul flights. Within the industry eyebrows were raised, one of our contributors said;
'Oh my gosh, almost every week they were announcing that they had ordered new aircraft. I had a friend who worked for them and she ribbed me about how big they were going to be, and that I'd be knocking on their door for a job. He had been ex Dans and so he had an insight into how aviation worked. I asked him - where's the money coming from? Aircraft aren't cheap you know. They cost millions each. Air Europe boasted no aircraft was older than two years of age. Then he let slip how they ordered them early and as soon as they got them, they sold them to a leasing company. Then leased them back - the bloody aircraft weren't theirs! He said on more than one occasion that they were trying to rub us out. So, one time he tells me that they were opening a new engineering facility to carry out a lot of day to day repairs. Dans had always been their engineers. I thought for the first time - maybe there is something in this.'
Not only were Air Europe expanding their fleet at an alarming rate, but their network too. Malta and Vienna were added to their rosta with Malta being served from Manchester and Gatwick.
In March the EEC Commisson ruled that price fixing of air fares was illegal. The Court Of Justice in Luxembourg ruled that a West German travel agent could sell tickets it bought abroad cheaper. Sales had been stopped because the fares undercut prices offered by airlines. The courts ruled that airlines which offer price fixing agreements and try to keep out competition are beaking EEC law. The Government said they would study the ruling carefully. The independent airlines welcomed the move that they said could reduce air fares by up to 20%.
The forthcoming Summer season was looking poor
for several operators, in particular those flying from Newcastle. Thomson holidays had expected to sell over 3.9 million holidays this year, an increase of 10 per cent. The brochures had been out since August 1988 and the revised figure was reduced to 3 million. Thomsons had axed 800,000 holidays, shortly followed by Cosmos and Horizon who dropped a further 200,000 from their own programmes. Intasun chartered several Dan-Air aircraft, but they too had noticed a downturn in short haul bookings but an increase in Mexican and American holidays. The Cosmos and Intasun reductions
did affect Dan-Air. The increase in scheduled flights would make up the shortfall.
In April, Dan-Air's new hanger at Gatwick was opened by Princess Alexandra. The £5,000,000 hanger was the largest single span hanger at the airport and would give Dan-Air Engineering extra capacity for their own and third party engineering work. The hanger could handle wide bodied aircraft as large as the Boeing 747.
Red faced Dan-Air officials could not understand why a company HS 748 carrying 33 passengers landed at a disused American WW2 base in Northern Ireland. The aircraft was not damaged but was sitting on a runway two miles away from where it should have landed. Capatin Reg Hood who was Newcastle based had not issued a may day and there was no 'technical' reason for the landing. The two pilots were flown to London for an internal investigation. Dan-Air claimed they were informed that the weather was hellish with driving rain. Despite the Met office saying it was 'good but with low cloud'.
This came at a time when a Dan-Air jet was incvolved in near misses over Spain. One incedent saw an LTU Tristar flash over the top of a company Boeing 727 headed for Manchester from Malaga when the incedent occured 80 miles from Madrid. The Beoing
with 187 passengers on board was piloted by Captain Charles Nassh. A
ir traffic control instructed the Dan-Air Captain to dive 2000 feet to 33,000 feet. Captain Nash complained that he had received a 'garbled message' from controllers before he dived the aircraft. the two aircraft had come within 300 feet of each other. In other words 3 seconds from collision. Newspapers reported that the secondCaptain Nash saw the Tristar, he cut power and pushed the aircraft nose down. Captain Nash for praised for his skill. Captain Nash then calmly handed control to his First Officer before walking through the aircraft to reassure passengers.
D
an-Air submitted an official air miss report.
British Airways pulled out of t
he Aberdeen - Jersey
route, which would be taken over by Dan-Air in May when they would be introducing jet aircraft onto the
route. Inverness-Manchester was reintroduced after a two year gap with good yields from the start. Sortly after starting services, the BAC 1-11 400 was replaced by a 500 with seat increases from 89-99.
Pre Tax profits were recorded of £9.9 million. Including £1.3 million from aircraft sales. The turnover was marginally increased by £9m from £330m to £339m. The charter division consisting of 30 aircraft was doing exceptionally well with one week in this financial year seeing 450 return flights out of the UK. Cosmos Holidays began selling holidays to Palma from RAF Manston on Dan-Air BAC 1-11s. The RAF airbase recently relaxed its rules on commercial flying. A second flight soon followed, using Dan-Air Boeing 737s.
Dan-Air were now offering champagne breaksfast on all their scheduled services, and they were promoting the Class Elite service more through press adverts.
Dan-Air suffered negative press when it emerged that a Boeing 727 200 that Dan-Air had bought two years ago had been written off in an accident whilst in the service of Mexicana. The 16 year old aircraft had been fully repaired by Dan-Air Engineering. George Yeoman head of Public Relations said "Dan Air Engineering were second to none". The repair had taken 24,000 man hours. The aircraft was featured on ITV's
World In Action
who did a reasonable hatchet job on the aircraft.
In what seemed to be becomming an annual event, Dan-Air and other carriers had to contend with drunken passengers. Certain destinations might appear to be more likely to suffer from this problem. One doesn't expect it on a return flght from Rimini. One expects even less, the culprit to be a 67 year old granny who started slugging it out with her daughter. Sheila Morrissey, from Stretham began the fight with her daughter Pat Tate twenty minutes after the flight had taken off. The BAC 1-11 had to return to Rimini after cabin crew had wrestled Ms Morrissey to her seat. Ms. Morrissey was still in resort the next day but Dan-Air did not press charges. In further incedents in August, six men were refused boarding after stripping naked in a departure lounge in Malaga in front of other passengers waiting to board a flight to Manchester. The drunken men shouted abuse at airport staff and passengers. Three of the six had their tickets stamped 'refused carriage' and therefore not permitted to fly home on any charter carrier. The other three were being assisteded three days later by representatives of Airtours who had chartered the aircraft. Themen were from Mansfield, Nottinghamshire. And two men were refused travel from Bristol after being drunk and rowdy. At the end of August 11 passengers had 'refused carriage' stamped on their tickets after drinking all night before heading to Malaga Airport to fly home, again to Manchester. One passenger was unconscious on the floor while the other ten were drunk and rowdy. The consulate in Spain said they would have to purchase new tickets, but this time for rail and sea crossings.
in an attempt to stem the drunken behaviour Dan-Air were to give restraint training to its cabin crews, crews were also issued with plastic straight jackets. The devices are not as gruesome as would appear. The devices only retrained wrists and were wrapped around arm rests. The more a person struggled, the tighter the straps became! Three Liverpool men who were denied boarding claimed that they had been the victims of mistake identity and were seeking compensation from Dan-Air. Both Dan-Air and Air Europe called for rationing of drinks on charter flights. Both carriers called for a limit of two drinks for each passenger. This was a shame on charter flights as it was a good source of revenue.
Sir Ian Peddar, the firmer RAF Spitfire ace replaced Fred Newman as the Chairman of Dan-Air in May.
Captain Elizabeth Overbury retired this year. Dan-Air had a fine reputation with
female pilots
last year Lyn Roberts left for British Airways. Captain Yvonne Sinntes retired in the early 1980s and now Elizabeth retired. She flew her last flight aboard a HS 748 into Newcastle.
The increase of alcohol related trouble on board Dan-Air charter had grew to a frightening level with 30 passengers having been removed from their aircraft by the end of August. The trades unions were urging Dan-Air management to instigate a rationing scheme, limiting passengers to two drinks per flight on short haul services. Dan-Air in fact issued crews with plastic wrist straps that would restrict a passenger to their seat until the aircraft landed.
Group profits for the first half of the years showed a large loss. This was standard within the company, but trading set for the Summer was down. Turnover was up 16% at £163m, whilst losses were at almost £8m from £1.7m the previous year. Two of the airline's Airbus A300 were sold at profit over their book price and one was immediately leased back for the upcoming Summer programme of charter services. The Zurich scheduled service was provinng a success and an extra daily service was added bringing the number to three daily.
Further problems hampered the Boeing 737 300/400 one example belonging to USAir crashed in America. Boeing asked all operators worldwide to report if there had been any faults. Dan-Air had two such incidents one in mid air. Now it seemed that not only had there been rewiring issues with engines, but that rudder controls had been installed incorrectly. Dan-Air were able to modify the fault before any further incidents. It did mean that with two aircraft grounded Dan-Air had to sub charter aircraft for the short period.
Although it had been decided that the Boeing 727 should be replaced by the Boeing 737, replacements were not so easy to find. Further charters had come Dan-Air's way. Extra aircraft were needed. This resulted in the addition of two Boeing 727 200 and a further new Boeing 737 400 series. For the first time in the company's history more than six million passengers were flown (6,276,000)
'Class Elite
' was rolled out onto more flights, with
Dublin, Zurich, Madrid, Toulouse and Lisbon now served. In October, Dan-Air chartered two Boeing 727-100s and crews to the new Imperial Air Cruising Company set up by Target Marketing to offer a highly luxurious tour service. Three tours were offered: The 7 day cruise took in Paris, Vienna and Moscow; a 12-day trip called at Vienna, Istanbul, Luxor, Cairo, and Rome and the 30-day cruise visited Cairo, Luxor, New Delhi, Bangkok, Beijing, Hong Kong, Singapore, Ph
uket, Kathmandu, Tashkent, Moscow, and Paris. The aircraft were re-
configured with 75 executive
style seats instead of the normal
140.
All flights operated in
daylight, and the captain
hosted cocktail parties and formal
dinners on some of the longer
stopovers. The cruise service was
scheduled through to
May 1990.
The threat posed by Air Europe grew even greater this year when its parent company, Intasun, announced it was reducing the six aircraft it chartered from Dan-Air by half to just three. It stated in public that it did not wish to use Dan-Air's "Old, gas guzzling jets". This was a severe blow to Dan-Air. The Boeing 727 aircraft in question had been time charters. This meant that they were used exclusively for Intasun. Each one was capable of carrying 189 passengers; The six aircraft would make roughly two return fllights a day, over a six month summer this could translate as losing almost 250,000 passengers.
ILG made a further announcement in this regard, stating that Intasun was no longer going to charter any Dan-Air aircraft for the 1990 summer season and that Air Europe was going to cancel its maintenance contract with Dan-Air Engineering.
Air Europe succesfully applied for several routes that British Airways had been forced to drop when they took over British Caledonian. Air Europe were already operating head to head against Dan-Air on the
Gatwick-Paris route and Gatwick-Jersey
service. Now they stated that they wished to operate cut priced scheduled services to the United States, New Zealand and other exotic locations. Dan-Air had been successful with many of their route applications that they had placed with the CAA. For the first time since 1981/82 the company made an operating loss of £3m, compared to a £10m profit the year before. But darker times still lay ahead.
NEW ROUTES & ROUTES CHANGES
Gatwick - Dublin - Increased weekly services from 9 to 12 - March 26th.

Gatwick - Cork - Service withdrawn

Manchester-Berne - Weekly service from December 17th - March 18th 1990 for use of winter sports travellers.